Poker is a numbers game. Winning, losing, breaking even and ROI are just a small selection of words that relate back to those numbers. While the numbers all make sense for the players competing at the highest level, they are easily misinterpreted for the outside world.
So, seeing the eye-popping $4.5 million behind Bonomo's name in 2017 might make you think that it was the best year of his career, but in truth, it's a bit more complicated.
Selling action, getting staked or just a straightforward bad stretch heavily influence a player's year, but it's easy to take the public numbers at face value. During the U.S. Poker Open, we caught up with Justin Bonomo, winner of Event #1, and gained tremendous perspective on how numbers can be deceiving.
"I've been working on my game a lot over the past two years, but at the end of November in 2017 I was still having a losing year, and then December turned it around," Bonomo said in a matter-of-fact way after we brought up his impressive string of recent results.
Bonomo By The Numbers
Cashes in 2017
22
Average cash in 2017
$205,844
Average buy-in events cashed in 2017
$42,993
Total 2017
$4,528,569
Career earnings
$20,372,670
Career cashes
135
Largest results
2012 Monte Carlo €100k
$2,165,217 (1st)
2013 Seminole Hardrock $5k
$1,163,500 (2nd)
2018 PCA $100k
$1,077,800 (2nd)
All-time money list rank
14th
Tournament wins
13
For even the most dedicated poker follower it's hard to comprehend the finances of a high roller regular, but there's a glaring truth in a player of Bonomo's stature providing this kind of context.
Coming into December of 2017, Bonomo had cashed for just shy of $4 million. In December, Bonomo recorded three results totaling $548,000. When it was all said and done, Bonomo finished 15th on the 2017 money list, in front of the likes of Doug Polk and Jason Koon, who had the biggest year in gross earnings of their careers as well.
"I mean, I've had losing poker years before," Bonomo continued.
"If you play tournaments it's just part of the game. There's no way around it. Obviously, cash game players can do something about it, whereas tournament players can't really. It sucks, but it's part of the game and that's what I signed up for. However, I think I have a mentality that makes me pretty well suited to handle it."
Turning it around in late December, leading into a great string of results brought Bonomo to the final table of the first U.S. Poker Open event on Friday.
The Heater
Date
Buy-in
Event
Place
Payout
December 1 2017
$25,000
Bellagio Five Diamond High Roller
1st
$310,500
December 2 2017
$25,000
Bellagio Five Diamond High Roller
4th
$97,500
December 10 2017
$25,000
Bellagio Five Diamond High Roller
1st
$140,000
January 6 2018
$100,000
PCA Super High Roller
2nd
$1,077,800
January 12 2018
$25,000
PCA High Roller
4th
$310,150
January 17 2018
$50,000
Lucky Hearts Super High Roller
3rd
$197,200
January 19 2018
$3,500
WPT Lucky Hearts Main Event
104th
$6,090
January 22 2018
$25,500
Lucky Hearts High Roller
1st
$556,873
February 1 2018
$10,000
U.S. Poker Open Event #1
1st
$190,400
Total
$2,886,513
"Obviously the last two months have been insane, just an incredible hot streak," Bonomo reflected on his luck turning.
"I think a lot of people like to justify their hot streak, like "Oh, I started meditating, eating healthy and playing better." I mean, I'm always getting better, so yeah that's part of it, but really I'm just winning all-ins that I wasn't 3 months ago."
Bonomo's self-reflection speaks towards the mentality needed to perform at the highest level on a consistent basis, but even he admits that it's impossible for it not to affect him.
"It's impossible for it not to get to you at all, the frustration. When things turn around you just have all the confidence in the world and it's just smooth sailing, and obviously, that feels fantastic."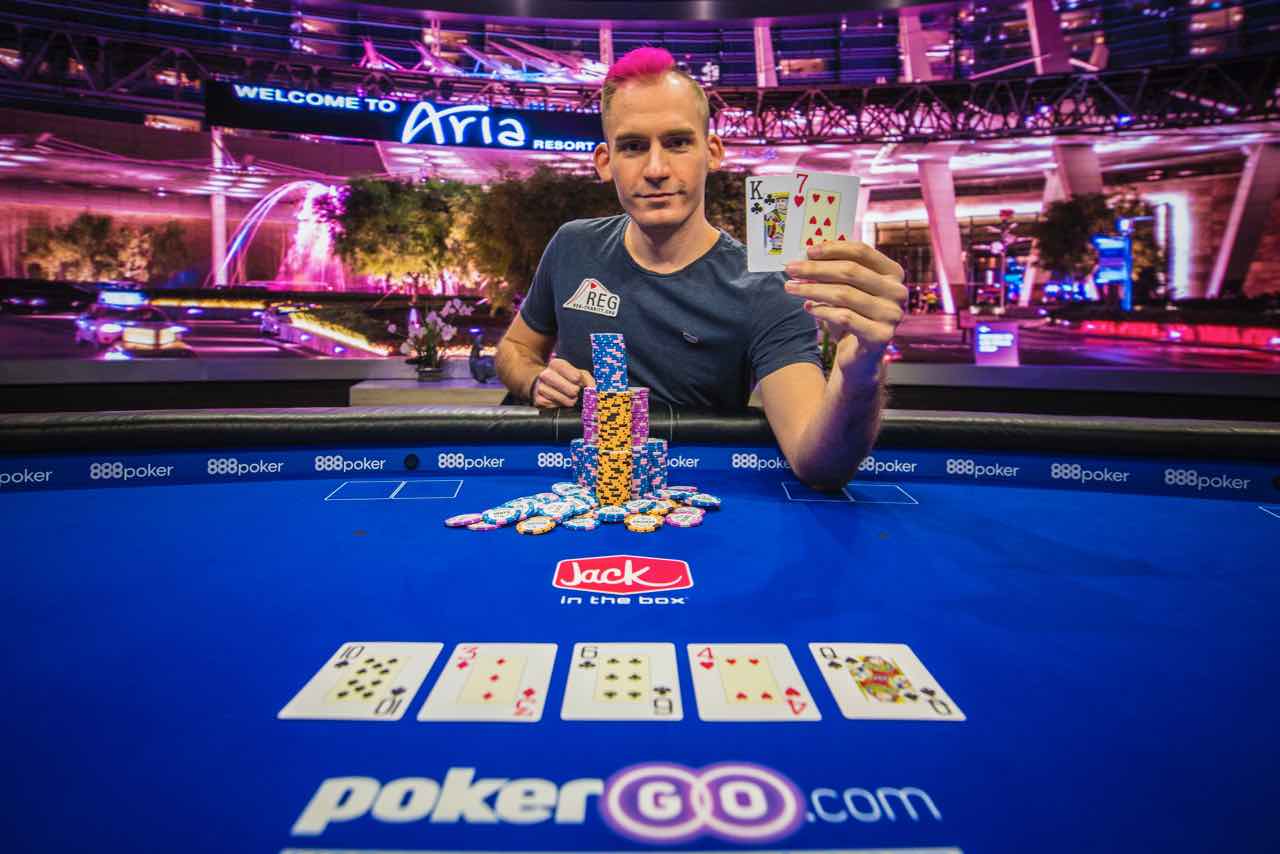 "One thing that really helps me is studying the spots even after they happen, run hands by friends, or look up my hands on a shove chart. It's really nice that sometimes you can just be like, 'So the best players in the world agree with me,' or 'The math says this shove was correct.' Sometimes when you're running bad you will start to doubt yourself a lot more than you would otherwise have. I guess what it comes down to for me is, the more confidence I have in the mathematics of a poker spot, the less the psychology can kind of bring me down."
At the final table of Event #1 of the U.S. Poker Open, Bonomo dominated and brought home the first prize, as well as the current leader in the standings for the championship trophy that awaits the winner. While trophies and leaderboards aren't the motivation behind his lasting career at the highest stakes, he can't deny that it feels good to add those notches to his belt.
"The prestige is not the number one reason why I play. But it's definitely a nice bonus at the end of the day. My parents love watching me play in these tournaments and are huge supporters of me, and I know it means a lot to them. I get to make my parents proud, and that's a huge benefit for sure."
"The truth is if I was a perfect poker player I wouldn't be thinking about things like GPI Player of the Year. But it is in the back of my head. And I wish it wasn't. I don't want to poo-poo on the glory because it's fun. It's fun being on TV and my parents love watching me. Also, the trophy looks really sick. So, while it's not my primary motivation it's certainly a nice benefit."
Rewatch Justin Bonomo's dominant performance at the final table of Event #1 of the U.S. Poker Open right now on PokerGO. Don't miss any of the upcoming PokerGO live streams, as the U.S. Poker Open runs through Sunday, February 11th.