Defending U.S Poker Open champion Stephen Chidwick has taken the Championship lead with another incredible win, taking down the $25,000 Pot Limit Omaha event for $351,000 after defeating Cary Katz heads up. This marks Chidwick's second win of the series, his fourth in total, after making nine of a possible fifteen final tables.
"It does seem to be going pretty humorously well this week, I'm kind of expecting to wake up at some point, and winning is definitely not getting old. This is a lot of fun," an exhausted but excited Chidwick said after his win.
Chidwick (540 points) had to overcome a big chip deficit heads up to defeat Katz, who was at his third final table of the series. Katz (340) now places third on the overall standings with Sean Winter (440) dropping down to second place.
Comparing his 2018 run to this year, Chidwick said, "It feels kinda similar, pretty unbelievable both times and I couldn't have expected it to go any better."
During the heads-up battle, Katz made a huge river bet to put Chidwick all in and at risk. Chidwick had made a flush and called to take an almost five-to-one chip lead. Katz had eliminated all but one player at the final table before the heads up match but could not find a way to eliminate the man who seems to be unbeatable at the PokerGO Studio.
Katz started the day by eliminating Anthony Zinno in sixth place ($58,500) when he made a flush to crack Zinno's aces.
Then Chidwick sent Sean Rafael to the rail in fifth place. After getting most of his chips in preflop he got the rest in on the flop. Unfortunately, Chidwick flopped trips and had an easy call. He filled up on the turn and Rafael was left with just the $78,000 for his fifth-place finish.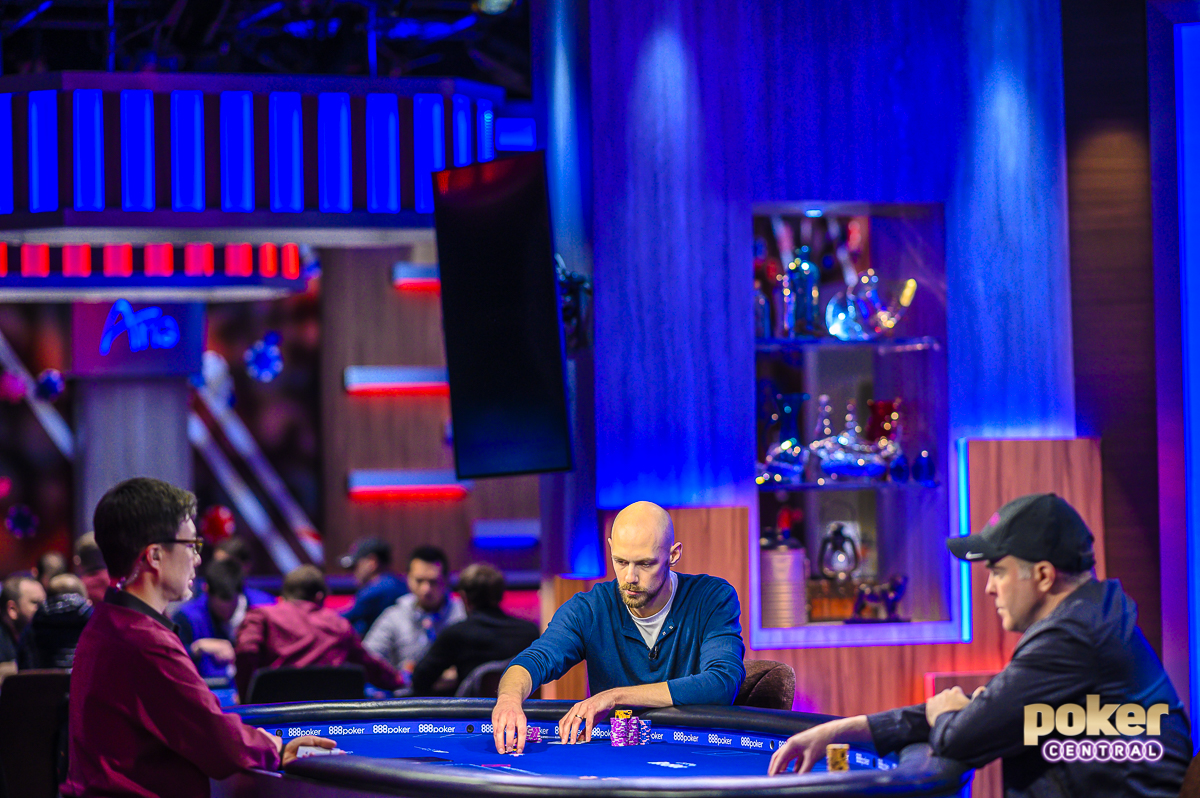 Katz then went back to work eliminating Ben Lamb in fourth place ($97,500). Katz had two pair against Lamb's wrap and filled up on the river to bust Lamb.
Shortly after, Katz sent Tom Marchese to the rail in third and took a lead into the heads up portion of the tournament. Marchese bet the pot with an overpair on the flop and Katz put him all in and then made a flush on the turn to eliminate Marchese and send him home with $156,000.
Katz and Chidwick battled for a few levels before Chidwick eventually took the win and extended his lead in the overall standings at the 2019 USPO. The full event payouts are as follows.
2019 U.S. Poker Open Event #6 Payouts
Name
Points
Cash
1
Stephen Chidwick
200
$351,000
2
Cary Katz
140
$234,000
3
Tom Marchese
100
$156,000
4
Ben Lamb
80
$97,500
5
Sean Rafael
60
$78,000
6
Anthony Zinno
40
$58,500
At the completion of this event, both Catz and Chidwick jumped straight into the Event #7 $25,000 No Limit Hold'em, updates of which you can find here.
"I don't want to get ahead of myself, there's still four events left to be played and a lot of points up for grabs in the $100k," Chidwick humbly said about his chances to repeat as U.S. Poker Open champion.
"It would be very special to win it again. This, in my eyes, is the most prestigious thing you can win. To me, this is kind of like the $50,000 Poker Players Championship but stretched out over a week-long series. Competing with the best in the world in a variety of games would definitely be a career highlight to come out on top again."
The overall U.S. Poker Open Championship standings are as follows.
2019 U.S. Poker Open Standings
Name
Points
Cash
1
Stephen Chidwick (4)
540
$705,950
2
Sean Winter (4)
440
$419,900
3
Cary Katz (3)
340
$580,200
4
Jordan Cristos (2)
240
$206,200
5
Ali Imsirovic
200
$442,500
6
Lauren Roberts
200
$218,400
7
Manig Loeser (2)
180
$146,200
8
Ben Lamb (2)
160
$139,500
9
Dan Shak (2)
140
$232,100
10
Koray Aldemir
140
$159,200
New to PokerGO, subscribe right now to watch the conclusion of the USPO as well as on-demand replays of Super High Roller, Bowl, Poker Masters, and the World Series of Poker.
Cary Katz was left short, and a few hands after losing a big all in to Stephen Chidwick, Katz reraised his remaining stack blind with just about four big blinds.
Chidwick called the remaining stack holding
against the
of Katz.
The board ran out
, giving Chidwick a wheel and leaving Katz only drawing to a chop on the river. Katz couldn't find the chop and was eliminated in second place. This is back-to-back runner-up finishes for Katz who is now firmly in third place in the overall USPO standings.
Cary Katz and Stephen Chidwick had been playing relatively small pots. Until Chidwick potted and Katz repotted preflop.
The two got the rest of the chips all in on the
flop.
Katz:

Chidwick:
The turn was the
and the river was the
, giving Chidwick the flush and almost all the chips.
Level
Level 24
Blinds
60,000 / 120,000
Big Blind Ante
120,000
Stephen Chidwick bet the pot preflop with
and Cary Katz called with
.
The flop came
and Katz checked. Chidwick bet 225,000 and Katz called.
Both players checked the turn when the
paired the board.
The river was the
and Katz checked again. Chidwick bet 575,000 and Katz called.
Stephen Chidwick and Cary Katz got 300,000 in preflop.
The board ran out
and Katz led for 200,000 holding
and Chidwick called with
.
The turn was the
and both players checked.
The river was the
and both players checked again, giving Chidwick the win.
Level
Level 23
Blinds
50,000 / 100,000
Big Blind Ante
100,000
Cary Katz raised preflop to 190,000 and Stephen Chidwick called.
"You really don't want me to fold this hand," Chidwick remarked as he called.
"I don't," Katz replied.
The board ran out
with both players checking through to the river. Chidwick bet 150,000 and Katz mucked.
Stephen Chidwick doubled up through Cary Katz.
Both players limped preflop again and the flop came
.
Katz players checked holding
and Chidwick bet 175,000 with
. Katz called.
The turn was the
and both players checked. The river was the
and Katz asked Chidwick how much he had behind. Chidwick answered 835,000 with the pot sitting at 900,000. Katz put about 830,000 out and bet, putting Chidwick at risk. Chidwick called and showed the flush for the win.
In a limped pot preflop, Cary Katz and Stephen Chidwick saw the
flop and they both checked.
The turn was the
and Katz bet 80,000 with
. Chidwick raised with
, making it 275,000. Katz went up even further and raised to 800,000 and Chidwick folded.
You're all caught up!
No more pages to load