At his first U.S. Poker Open final table, Ali Imsirovic came, saw, and conquered! The Bosnian-born American washed way his slow start to this series by taking down Event #5 – $25,000 No-Limit Hold'em for $442,500. With the win, the reigning Poker Masters champion also jumps into the top five for the overall leader board and is in contention for the added $100,000 which is designated for the top spot at the end of the USPO.
Imsirovic entered the day as the chip leader and never came close to relinquishing it. Heads up, Imsirovic took a commanding lead after third-place finisher Dan Shak ($206,500) four-bet shoved against him, drawing to two outs. After that, he made quick work of Cary Katz (2nd place, $295,000) when he called Katz's all in with a pair and dodged a flush draw to secure the victory.
"Today just went so fast," Ali Imsirovic said with a big smile, "As first the two short stacks doubled up but then I had back-to-back bust outs against Nick Petrangelo and Dan Shak, and the heads up with Cary didn't last too long either. If he had doubled up, however, we might've been here a while longer."
Comparatively speaking, Imsirovic has only been around for a short time but this is already his fourth big outright victory including back-to-back Poker Masters victories. About that, Imsirovic said, "I'm much less risk-averse than other players and I'm more aggressive, so I might make fewer final tables but when I do I usually have a lot of chips and perhaps a little better chance of getting the win."
The day started with Joseph Cappello ($88,500), making his second 2019 USPO final table appearance, coming in as the short stack. He got it in with the best of it against Nick Petrangelo, but Petrangelo rivered broadway to send Cappello to the rail early.
Then Kristen Bicknell was eliminated by Shak when she shoved all in on the button with
and Shak reraised all in with two nines. Bicknell couldn't hit one of her two overs and was eliminated in fifth place ($118,500).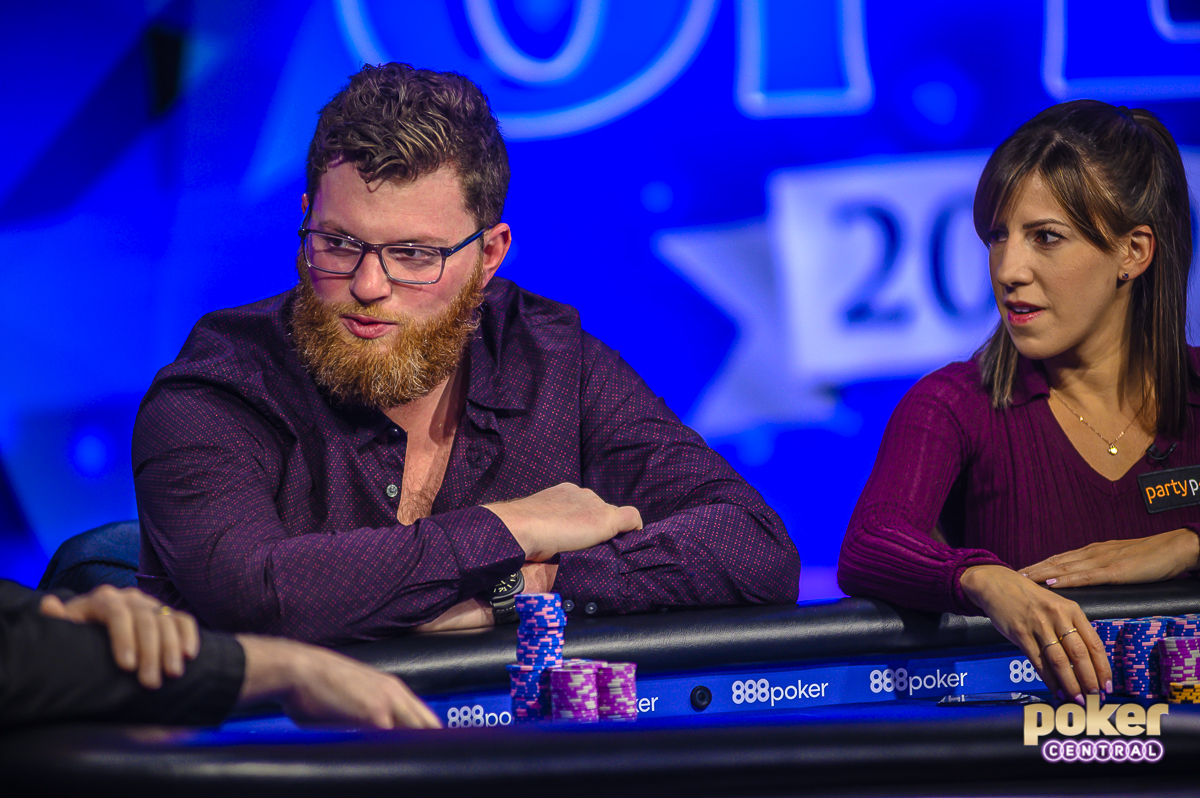 Petrangelo hit the rail in fourth place after three-betting pocket jacks from the big blind into an Imsirovic button open with pocket aces. Both players hit a set and Petrangelo was left drawing to only quads. He couldn't catch up and took home $147,500.
This finish puts Imsirovic within striking range of the top spot on the USPO leaderboard behind Sean Winter who, after making four final tables in a row, claimed the top spot over defending champion Stephen Chidwick.
After his win, Imsirovic was very excited about the upcoming events and his chances of competing for the $100,000 first prize.
"This win now gives me a chance with the $100,000 tournament still to come," Imsirovic said, while there are still three more chances for him to get points aside from that.
2019 U.S. Poker Open Event #5 Payouts
Player
Points
Cash
1
Ali Imsirovic
200
$442,500
2
Cary Katz
140
$295,000
3
Dan Shak
100
$206,500
4
Nick Petrangelo
80
$147,500
5
Kristen Bicknell
60
$118,000
6
Joseph Cappello
40
$88,500
7
Brandon Adams
40
$73,750
8
Chris Hunichen
40
$59,000
9
Justin Bonomo
40
$44,250
"Both Sean and Stevie have a lot of points, but at least I'm live now even though I probably have to get points in at least two more events."
"It would be insane to win the U.S. Poker Open after the Poker Masters and I even had a shot at winning Super High Roller Bowl. These are some of the most prestigious events possible and I'm just running good in the right events."
2019 U.S. Poker Open Standings
Name
Points
Payout
1
Sean Winter (4)
440
$419,900
2
Stephen Chidwick (3)
340
$354,950
3
Jordan Cristos (2)
240
$206,200
4
Ali Imsirovic
200
$442,500
5
Cary Katz (2)
200
$346,200
6
Lauren Roberts
200
$218,400
7
Manig Loeser (2)
180
$146,200
8
Dan Shak (2)
140
$232,100
9
Koray Aldemir
140
$159,200
10
David Peters
140
$100,800
There are still more events to come as the USPO draws to a close, including the $100,000 Main Event which will be worth 350 points for the winner. You can to watch the conclusion of the USPO and event replays of past events like the Super High Roller Bowl, Poker Masters, and the World Series of Poker. As always you can follow the updates right here on PokerCentral.com.
Cary Katz was eliminated in second place after battling all the way with no more than about 15 big blinds. He made it to heads up and after a few hands and a limp preflop, he check-raised the
flop with
and Ali Imsirovic called with
.
The turn was the
.
"Now you have too many outs, good game Cary," Imsirovic said standing to shake Katz's hand.
Katz preferred to wait for the
on the river before returning the handshake and congratulating Imsirovic on yet another win in the PokerGO studio.
You can subscribe right now to PokerGO. Watch the remaining events of the U.S. Poker Open on PokerGO. You can also watch on-demand replays of Super High Roller Bowl and the World Series of Poker.
Ali Imsirovic continued to press his advantage and raised under the gun with
and Dan Shak defended the big blind with
.
The flop came
, giving Shak top pair and a flush draw. Imsirovic had middle pair with a better flush draw.
The action got a bit wild on the turn when the
paired the board. Shak led for 150,000 and Imsirovic raised to 550,000.
Shak looked at Imsirovic and over to the 600,000 remaining chips of Cary Katz, who was not in the hand, and announced, "all in."
Imsirovic called again with the best of it and Shak needed only a nine on the river to double up. The river was the
and Shak hit the rail in third place, leaving Imsirovic with a ten-to-one chip lead over Cary Katz who entered the day in fifth place. Katz managed to ladder all the way up to at least second place after being the short stack all day once Joseph Cappello was eliminated.
| Player | Chips | Change |
| --- | --- | --- |
| Ali Imsirovic | 6,700,000 | 2,180,000 |
| Cary Katz | 680,000 | 45,000 |
| Dan Shak | Busted | -2,180,000 |
Ali Imsirovic opened from the button with
and Nick Petrangelo moved all in from the big blind for 1,220,000 with
and Imsirovic snap-called and tabled his aces.
The board ran out
, and both players flopped a set. Petrangelo was left looking for only quad jacks, but couldn't get there and was eliminated in fourth place for $147,500.
Kristen Bicknell raised all in on the button with around 800,000 and Dan Shak reraised all in from the small blind with
. Bicknell knew it was going to be trouble, showing
and hoping to hit one of her two overs.
It was not to be as the board ran out
and Bicknell was eliminated in fifth place. She takes home $118,000 and her first-ever Poker Central event cash.
Level
Level 21
Blinds
30,000 / 60,000
Big Blind Ante
60,000
Kristen Bicknell raised the button to 125,000 into the big blind of Ali Imsirovic. He called with
.
The flop was the
and both players checked.
The turn was the
and Imsirovic led for 100,000. Bicknell called behind holding
for a straight.
The river was the
and gave Imsirovic a better straight. He bet 175,000 and Bicknell called to see the bad news.
| Player | Chips | Change |
| --- | --- | --- |
| Ali Imsirovic | 2,900,000 | 625,000 |
| Kristen Bicknell | 1,535,000 | -10,000 |
| Dan Shak | 1,430,000 | -5,000 |
| Nick Petrangelo | 880,000 | -320,000 |
| Cary Katz | 635,000 | -85,000 |
Level
Level 20
Blinds
25,000 / 50,000
Big Blind Ante
50,000
You're all caught up!
No more pages to load