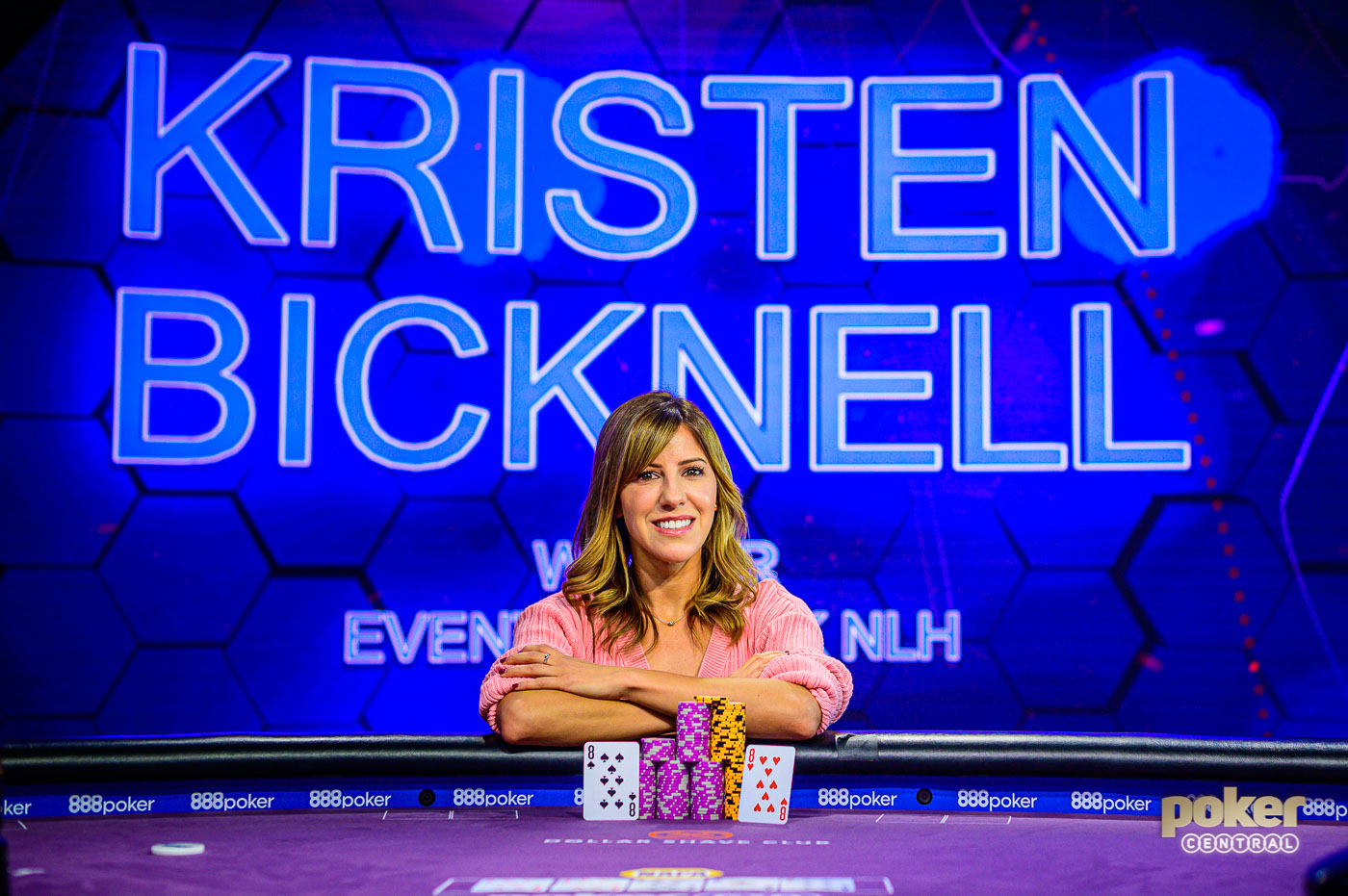 Kristen Bicknell has locked up the biggest score of her professional career by taking down Event #6 of the Poker Masters for a whopping $408,000 by defeating Chance Kornuth heads up. Kornuth is now the runaway Poker Masters Championship leader with more than double the points of the six event winners that trail him by 330 points.
Relive the entire final table on PokerGO right now.
"It feels incredible to win this event. I final tabled the World Poker Tour event last week and I did not feel happy with my final table play, so that run was kind of bittersweet. I wasn't planning on playing this tournament but I felt the itch and in Las Vegas and I'm very happy with how it played out!" Bicknell said after closing it out.
2019 Poker Masters Event #6 No Limit Hold'em Results
1
Kristen Bicknell
300
$408,000
2
Chance Kornuth
210
$267,500
3
Ali Imsirovic
150
$178,500
4
Andras Nemeth
120
$127,000
5
Ralph Wong
90
$102,000
6
Ben Heath
60
$76,500
7
David Stamm
60
$63,750
8
Elio Fox
60
$51,000
The first player to get knocked out was Ben Heath who ran kings into the aces of Andras Nemeth. Nemeth's aces held up without a hiccup and he chipped up into a comfortable stack. Just a few hands later, Chance Kornuth applied pressure on all the big stacks with a jack-seven shove. Kristen Bicknell made the call for her tournament life with ace-ten and her hand held up to turn Ralph Wong and Ali Imsirovic into the short stacks.
Ralph Wong busted in fifth place when he shoved all in with ace-nine of spades into the ace-jack of chip leader Chance Kornuth who saw his hand hold up. After this hand, Kornuth chipped up to 3.8 million while his remaining three opponents had just 2.4 million combined.
Andras Nemeth busted in fourth place when Chance Kornuth put him all in again. Kornuth had been pushing the other players around a fair bit and, as the short stack, Nemeth took a stand with ace-three. Kornuth's pocket fives held up.
The three-way battle got very intense as Imsirovic doubled up first after which Kristen Bicknell did so as well and a fairly even battle ensued. Bicknell had Kornuth all in for his tournament life twice before she managed to knock him out when her pocket eights rivered a straight against Kornuth's nines.
"I came into this tournament with a good attitude, I was focused and tried to play my best. Playing in this event, especially at the final table against guys like Andras and Ali, I felt like I'm below the top level because I don't study GTO like they do. I was definitely the underdog but thankfully I didn't get put into too many difficult spots and things went my way."
The Poker Masters Championship Standings are now as follows.
2019 Poker Masters Championship Standings
Name
Points
Earnings
Results
1
Chance Kornuth
630
$556,400
3
2
Kristen Bicknell
300
$408,000
1
3
Isaac Baron
300
$223,100
1
4
Ryan Laplante
300
$186,000
1
5
Julien Martini
300
$166,400
1
6
Jared Bleznick
300
$153,000
1
7
Jonathan Depa
300
$133,200
1
8
Sam Soverel
270
$151,800
3
9
Jorryt van Hoof
270
$109,800
2
10
Alex Foxen
270
$108,200
2
Next up at the Poker Masters is the final table of the $25,000 Pot Limit Omaha tournament that you can follow right now in the Live Reporting section. The final table stream on PokerGO starts at 4:00 pm ET. New to PokerGO? Subscribe right now.