Event #5 $10,000 Big Bet Mix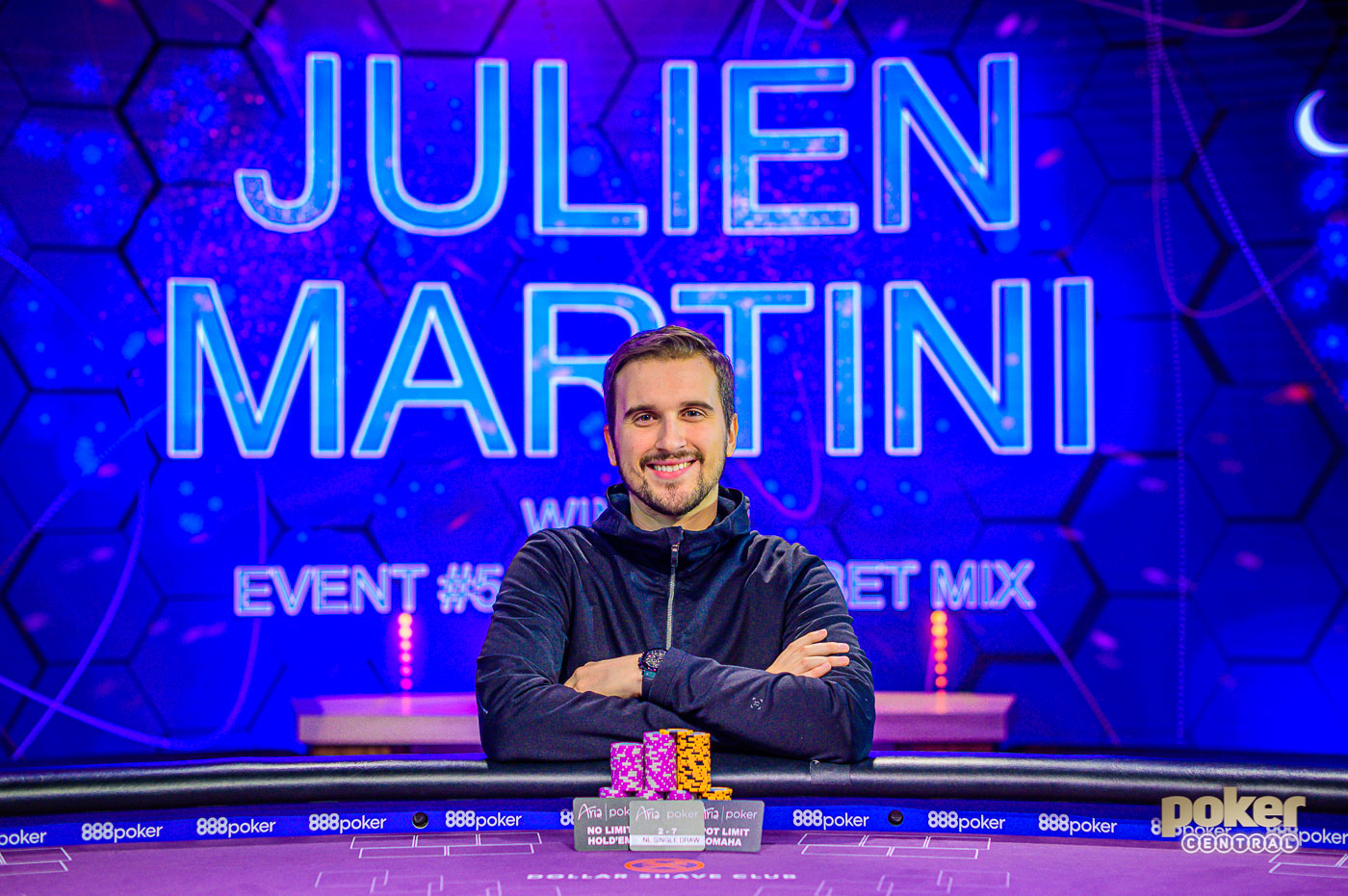 French pro Julien Martini was down to just half a big blind three-handed in Event #5 $10,000 Big Bet Mix of the 2019 Poker Masters but that didn't stop him from mounting an epic comeback and taking the win! Martini beat out Jorryt van Hoof and Kahle Burns on his way to victory and with that, he took home $166,400.
"I came to the Poker Masters because even though I'm having an incredible year I didn't have a single win and I really wanted one. I'm very happy to get this one!" Martini said as he's now up to over $4.5 million in live tournament cashes.
About winning after being down to less than half a big blind Martini joked, "When I won my WSOP bracelet I was down to less than a big blind as well on the final day, so it's like a lucky sign for me."
2019 Poker Masters Event #5 Big Bet Mix Results
Player
Points
Cash
1
Julien Martini
300
$166,400
2
Kahle Burns
210
$109,200
3
Jorryt van Hoof
150
$72,800
4
Sam Soverel
120
$52,000
5
Stephen Chidwick
90
$41,600
6
Pedro Bromfman
60
$31,200
7
Yuri Dzivielevski
60
$26,000
8
Erik Seidel
60
$20,800
The action started with six hopefuls remaining lead by Stephen Chidwick who held 65% of all the chips in play to start, but it became clear very quickly that this was not going to be his day. Chidwick doubled up numerous opponents during the early goings of the final table before Pedro Bromfman was the first player to bust out. Bromfman busted in No Limit 2-7 Single Draw where he was drawing to a 10-7 low but he wasn't able to beat Kahle Burns who drew to an 8-6 and made his hand.
Moments later, Chidwick busted out in No Limit Hold'em when he jammed jack-nine suited and got called by Sam Soverel who tabled ace-queen. Soverel's hand held up and that vaulted him into the chip lead closely followed by Burns. Soverel's chip lead was short-lived as he was the next player to get eliminated during a hand of 2-7 Single Draw. Soverel drew one to an 8-6 low versus Burns who held a pat J-8 low. Soverel did not hit his draw and exited in fourth place.
The three-handed battle went back and forth for quite some time and while Kahle Burns extended his chip lead, it was a clash between Julien Martini and Jorryt van Hoof that seemingly pushed this event to its heads-up stage. Martini doubled up Van Hoof and was left with less than one big blind, but miraculously he managed to get back in the game, leading to a crazy three-way all in.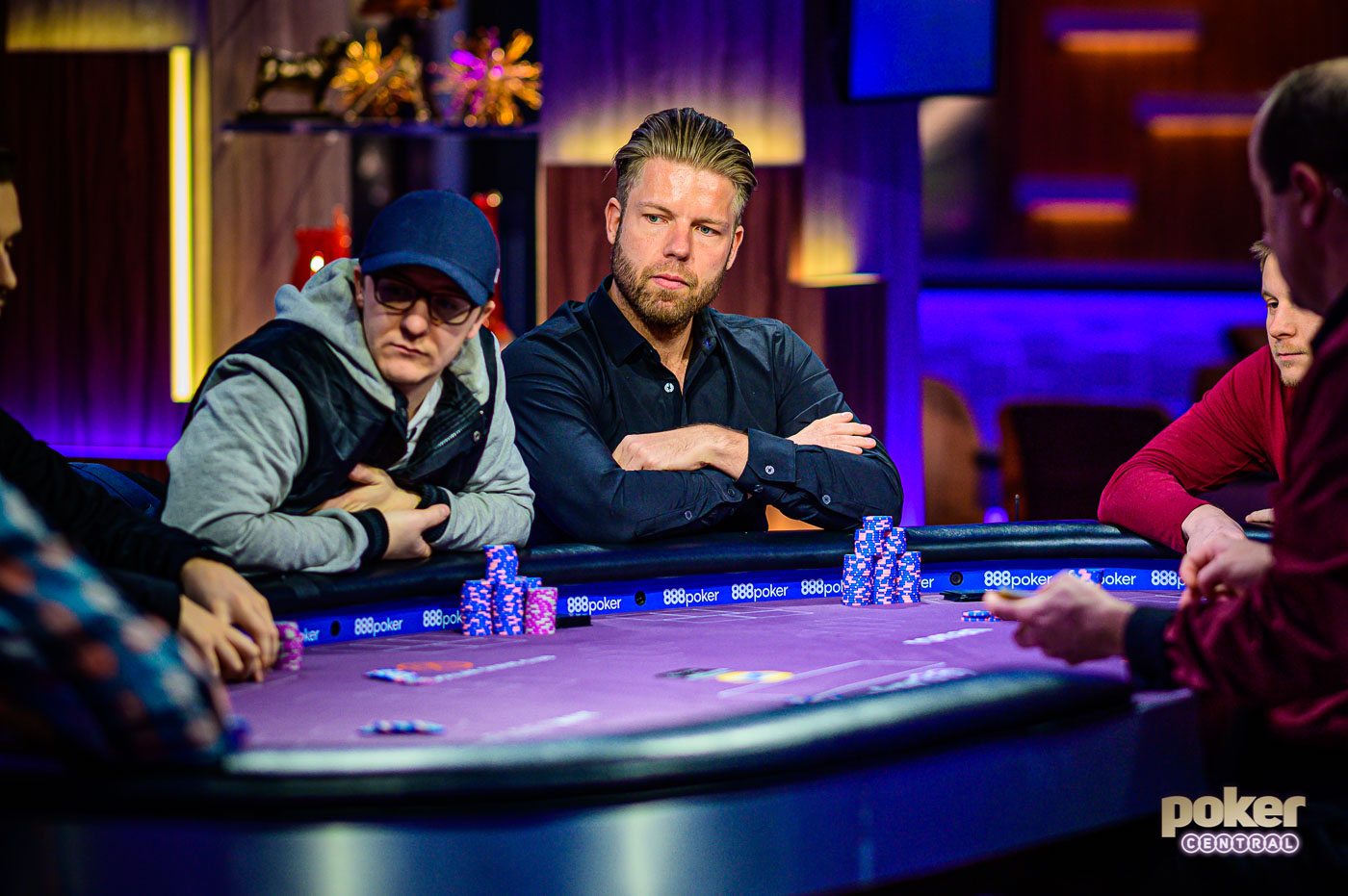 Van Hoof moved all in with a 10-7 draw, Julien Martini moved all in with J-8 and from the big blind, Kahle Burns called with a J-8. Burns tanked for a while before standing pat with his hand, Van Hoof threw two cards to draw to a 7-5-4 after which Martini drew one card to an 8-7. Burns' pat hand did not hold up as Van Hoof turned his hand into two pair but Martini made his 8-7 to knock Van Hoof out and doubling through Burns.
Martini and Burns then started a slow and steady heads-up battle that lastest for nearly an hour before the latter got felted. On the final hand, Martini put his incredible poker skills on display when raised with ace-eight and Burns called with king-three. The flop brought out ten-five-four and Burns check-called a small bet before the jack of spades hit on the turn. Both players checked on the turn and the river completed the board with the third spade, a deuce.
On the river, Burns moved all in for 3 million chips with 1.5 million in the middle and Martini made the call with ace-high to win the tournament.
"I was already putting on my backpack but the dealer told me to come back," Martini joked after winning about his miraculous comeback that lead to this win.
2019 Poker Masters Championship Standings
Name
Points
Earnings
Results
1
Chance Kornuth
420
$288,900
2
2
Isaac Baron
300
$223,100
1
3
Ryan Laplante
300
$186,000
1
4
Julien Martini
300
$166,400
1
5
Jared Bleznick
300
$153,000
1
6
Jonathan Depa
300
$133,200
1
7
Sam Soverel
270
$151,800
3
8
Jorryt van Hoof
270
$109,800
2
9
Alex Foxen
270
$108,200
2
10
Thai Ha
210
$124,800
2
Despite mentioning that he's not a full-time high roller player and that his initial plan was only to play three events at the Poker Masters, ending with the Big Bet Mix, Martini quickly jumped into the $25,000 No Limit Hold'em Event #6 that got underway today. Martini is strongly in the hunt for the Purple Jacket and the $100,000 top prize after his win today and it seems likely at this point that we'll see him battle in the PokerGO Studio as we head into the second week of events.
Follow the Poker Masters on PokerGO. New to PokerGO? Subscribe right now and never miss another minute of thrilling live or on-demand viewing. PokerGO provides more than 100 days of live poker every single year including the World Series of Poker, Super High Roller Bowl, Poker Masters, and U.S. Poker Open.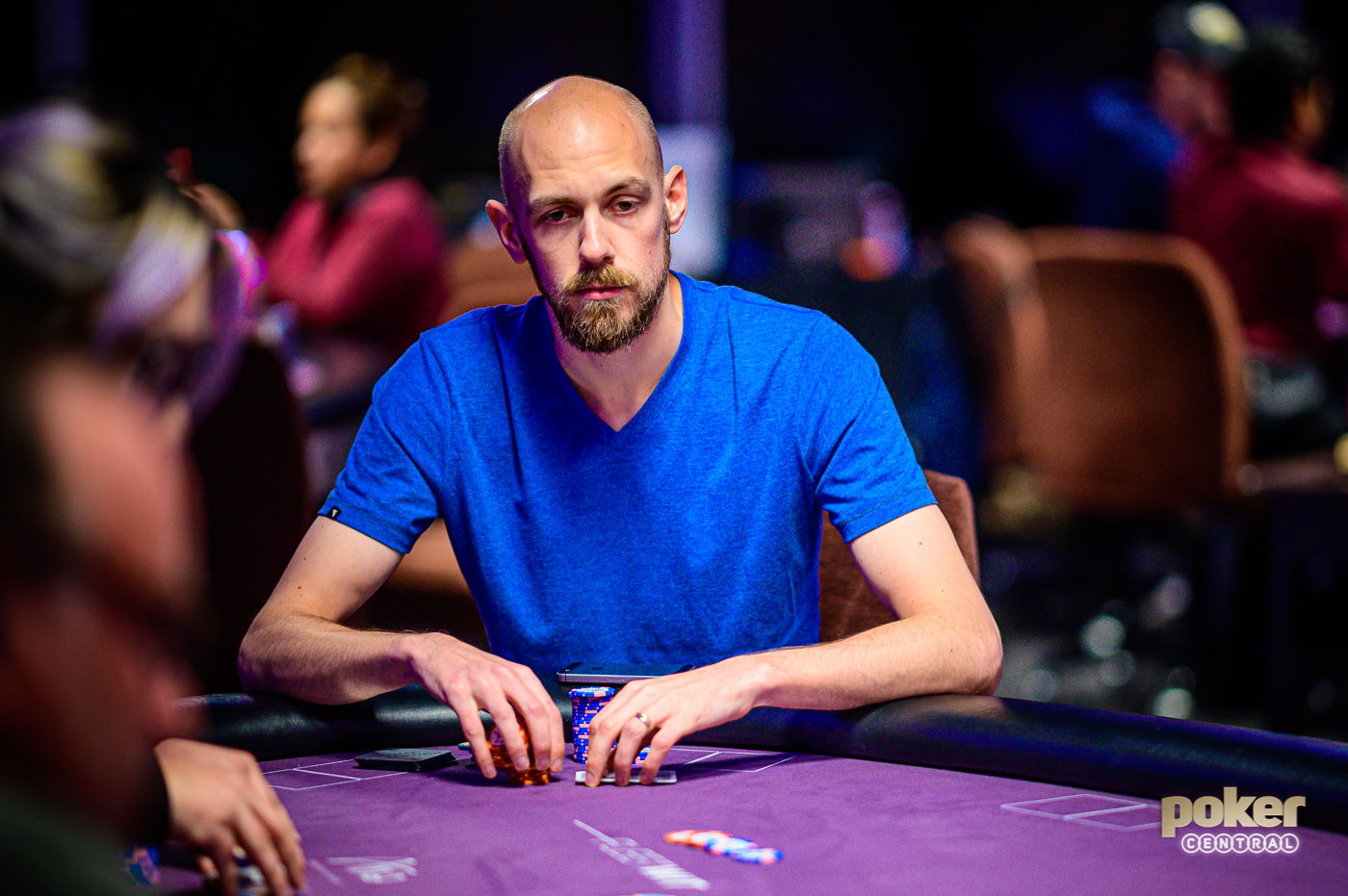 The stage is set for an epic final table headlined by former U.S. Poker Open Champion Stephen Chidwick who holds an enormous chip lead over the rest of his opponents. Besides the money that's up for grabs, Chidwick is also eyeing the 300 points up top for the win that would vault him immediately into the second spot on the Poker Masters leaderboard.
Battling against Chidwick are, in order of chip count, Kahle Burns, Pedro Bromfman, Julien Martini, Jorryt van Hoof, and Sam Soverel. Tune in for live-action at 1:00 pm PT/4:00 pm ET in the PokerGO player below. Starting today is the $25,000 No Limit Hold'em event of which you can follow Live Updates right here.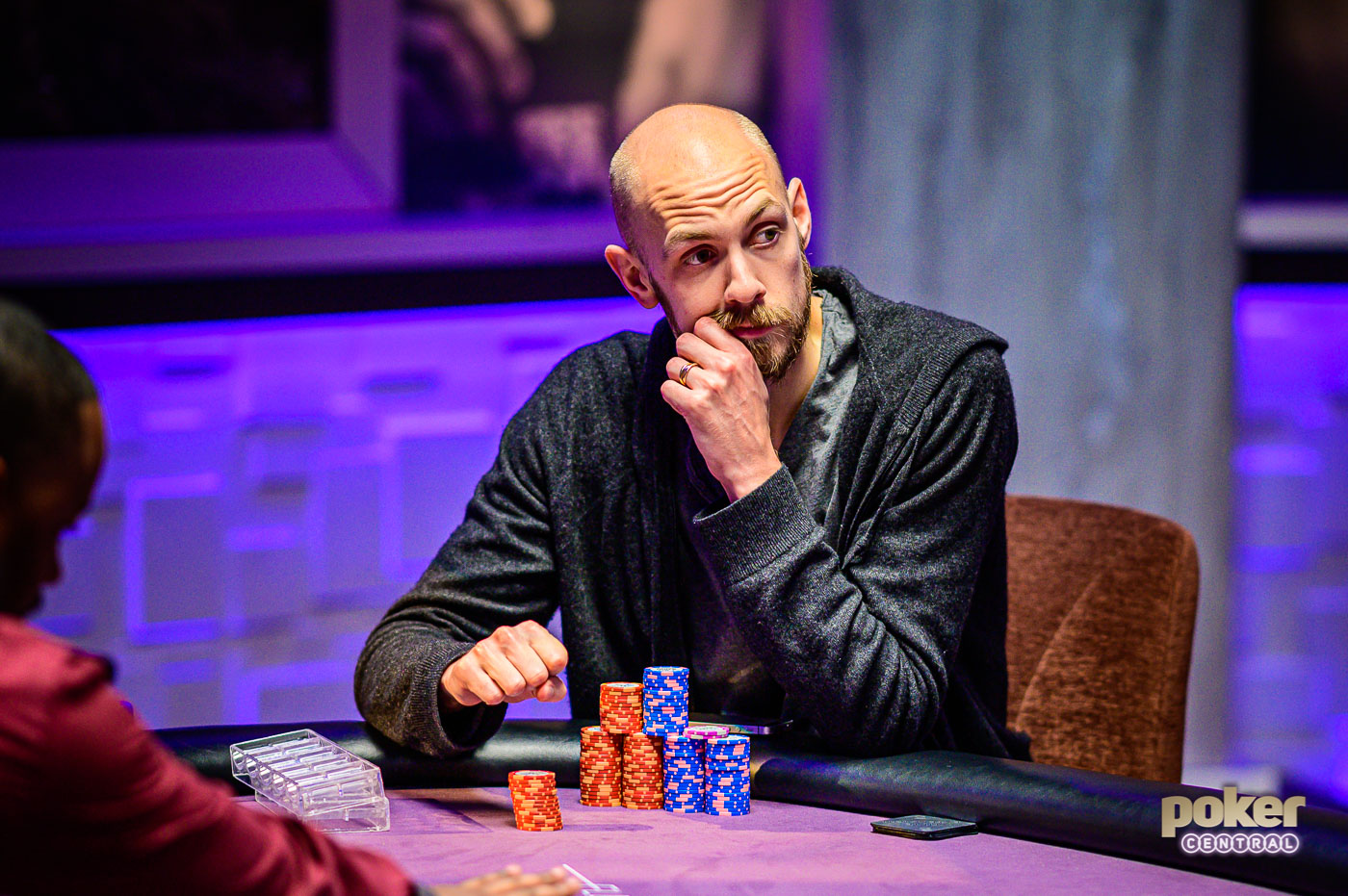 The fifth event of the 2019 Poker Masters saw another poker variant as 52 entrants took a seat inside the PokerGO Studio to partake in Event #5: $10,000 Big Bet Mix. In a game rotation consisting of No-Limit Hold'em, Pot-Limit Omaha, and No-Limit 2-7 Single Draw, the field would be reduced to the final six players in the 19th level of play as Stephen Chidwick would hold a dominating chip lead heading into Saturday's PokerGO streamed Event #5 final table.
Another new crop of players took a seat inside the PokerGO Studio to partake in the Big Bet Mix, and with 52 entrants, a prize pool of $520,000 was set which paid the final eight players. Action was intense from the start as players looked to build stacks in all differing variants. The redraw to the final two tables however put a stall to the pace of play as a very interesting dynamic developed which saw one table holding roughly 75% of the chips in play, while the other sat with all under-average chip stacks. Once Cary Katz (12th), Anthony Zinno (11th), and John Cynn (10th) were all eliminated and play entered the hand-for-hand stage, it would be high stakes cash game player Sean Perry finishing as the Event #5 bubble boy.
With everyone in-the-money but just one spot off redrawing to the final table, play hit another stall as the short stacks attempted to wait each other out. However, it would be Erik Seidel taking a stand against overwhelming chip leader Chidwick, and when Seidel's ace-king lost a race to Chidwick's pocket fives, the final seven players were down to one table. Play would continue for another few levels before Yuri Dzivielevski would fall in seventh place to conclude play for the day.
The final six players are all currently guaranteed a $31,200 payday, but eyes are on the $166,400 first-place prize and title of Event #5 champion. So far during the 2019 Poker Masters, there hasn't been a chip leader holding such a dominant lead then the one Stephen Chidwick holds. Sitting with 3,680,000 in chips which is good for nearly 60% of the chips in play, Chidwick is chasing his first title of the series following a 14th-place finish in Event #1. Chidwick owns two U.S. Poker Open titles, and one British Poker Open title, but has yet to claim a Poker Masters victory.
Second overall in chips is Australian Kahle Burns fresh off winning two WSOP Europe bracelets. Burns sits with 990,000 in chips, and at one point during seven-handed play was the short stack before finding two doubles to sit in striking distance at claiming his first High Roller Triple Crown event win. Third overall is Brazilian musician, film composer, and music producer Pedro Bromfman who bagged 595,000 in chips. This is Bromfman's first appearance in the PokerGO Studio, and it has already become a profitable one.
Fourth overall is Frenchman Julien Martini with 505,000 in chips. Like many others at the final table, Martini was the short stack at one point in the money, but he rallied back to find himself right in the middle. This is also Martini's first cash in a High Roller Triple Crown event. Fifth overall is Dutchman Jorryt van Hoof with 425,000. Van Hoof finished in fourth-place in the Short Deck event a few days ago and will be hoping to better that result in Event #5. Rounding out the final table is the 2019 High Roller of the Year, and Las Vegas resident, Sam Soverel. Soverel entered the final table sitting second in chips, but after a few hands didn't go his way, he will take 305,000 into the final table as he collects his third cash of the 2019 Poker Masters.
| | | | |
| --- | --- | --- | --- |
| Seat | Name | Country | Chip Count |
| 1 | Pedro Bromfman | Brazil | 595,000 |
| 2 | Stephen Chidwick | United Kingdom | 3,680,000 |
| 3 | Julien Martini | France | 505,000 |
| 4 | Kahle Burns | Australia | 990,000 |
| 5 | Jorryt van Hoof | Netherlands | 425,000 |
| 6 | Sam Soverel | United States | 305,000 |
The button is on Pedro Bromfman, and there is 22:03 remaining in Level 19 with blinds at 20,000-40,000 and a 40,000-big blind ante.
The Event #5: $10,000 Big Bet Mix final table begins at 12 p.m. (PT) on Saturday, November 9, with action continuing until the Event #5 champion is crowned. Follow every hand when the PokerGO coverage begins at 1 p.m. (PT) / 4 p.m. (ET).
Follow the final table exclusively on PokerGO through your favorite devices and in the embedded player below. Can't watch live? Catch the action on-demand at your leisure. New to PokerGO? Subscribe right now.
| Player | Chips | Change |
| --- | --- | --- |
| Stephen Chidwick | 3,680,000 | 540,000 |
| Kahle Burns | 990,000 | 185,000 |
| Pedro Bromfman | 595,000 | -455,000 |
| Julien Martini | 505,000 | - |
| Jorryt van Hoof | 425,000 | - |
| Sam Soverel | 305,000 | -20,000 |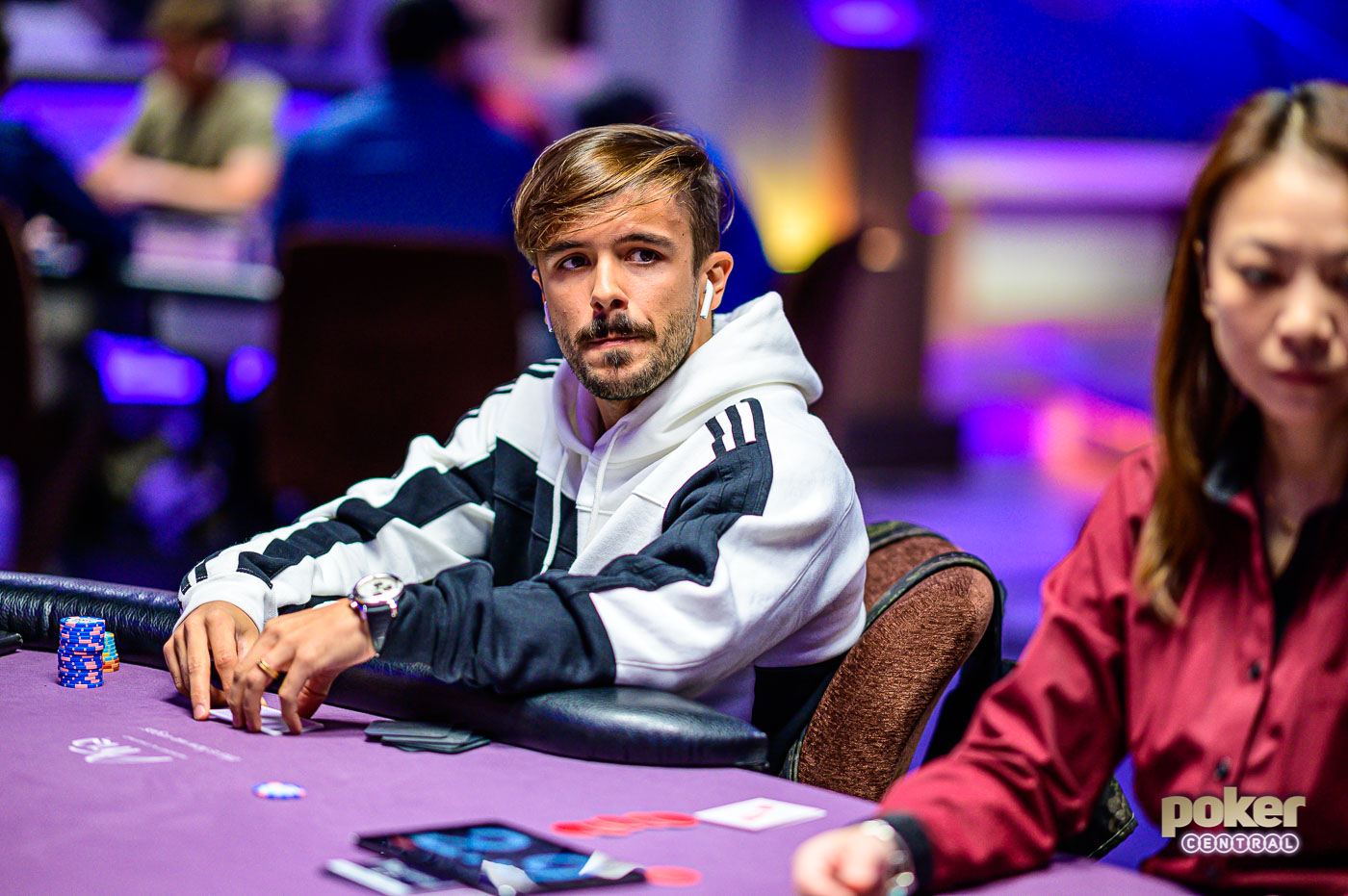 No-Limit 2-7 Single Draw
Yuri Dzivielevski moved all in from the button for 145,000 and Pedro Bromfman called in the small blind.
From the big blind, Stephen Chidwick reraised to 375,000 and Bromfman called. Bromfman drew one, Chidwick stood pat, and Dzivielevski drew one.
Bromfman checked and Chidwick moved all in. Bromfman folded.
Chidwick tabled his
and Dzivielevski showed his
and was eliminated in seventh place for a $26,000 payday.
Level
Level 19
Blinds
20,000 / 40,000
Big Blind Ante
40,000
| Player | Chips | Change |
| --- | --- | --- |
| Stephen Chidwick | 3,140,000 | 170,000 |
| Pedro Bromfman | 1,050,000 | - |
| Kahle Burns | 805,000 | -80,000 |
| Julien Martini | 505,000 | 15,000 |
| Jorryt van Hoof | 425,000 | -75,000 |
| Sam Soverel | 325,000 | -80,000 |
| Yuri Dzivielevski | 245,000 | -15,000 |
Pedro Bromfman raised to 75,000 in the cutoff and Stephen Chidwick called on the button.
The flop landed
and Bromfman checked. Chidwick bet 150,000 and Bromfman called as the turn landed the
.
Bromfman checked, and Chidwick bet 325,000. Bromfman used a time extension and then folded.
No-Limit Hold'em
Kahle Burns opened to 60,000 from under the gun and Sam Soverel called in the hijack.
The flop landed
and Burns checked. Soverel bet 90,000, and Burns check-raised all in for 345,000. Soverel called.
Soverel:

Burns:
The turn and river landed the
and
, and Burns scored the double with a flush on the river.
Level
Level 18
Blinds
15,000 / 30,000
Big Blind Ante
30,000
You're all caught up!
No more pages to load