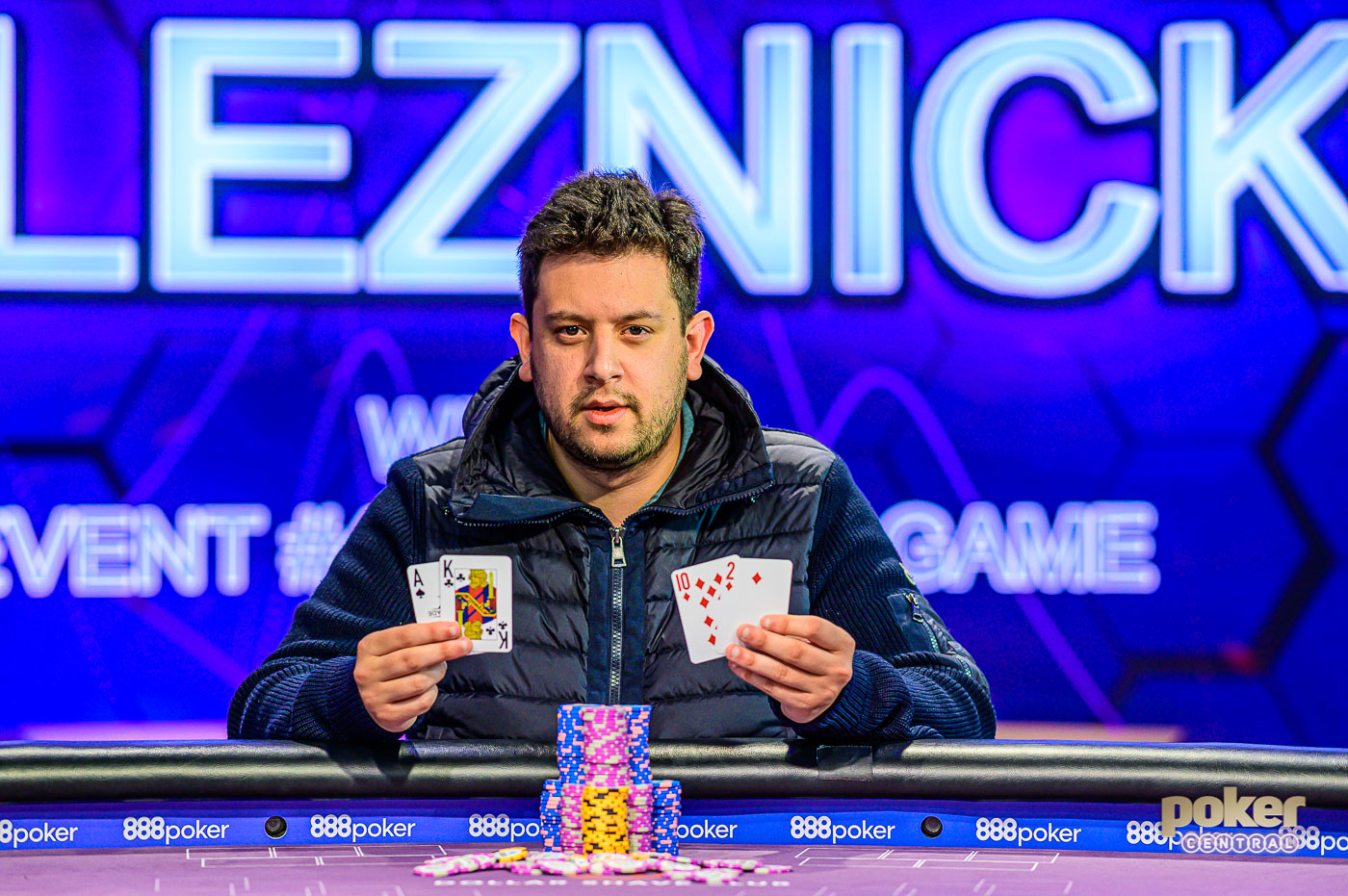 It has taken many years but Jared Bleznick, formerly known by his online handle Harrington10, has taken down his first-career live tournament! Winning the $10,000 8-Game event at the 2019 Poker Masters, Bleznick outlasted the likes of Cary Katz, Nick Schulman, and Brandon Adams at the final table on his way to claim the $153,000 top prize.
"Poker is very tough right now and it feels good to get a win," Bleznick said after closing it out. The long-time online pro who transitioned into becoming an established cash game player in the high stakes rooms across Las Vegas no longer plays the game for a living, picking and choosing his moments to play tournaments. Read Jared Bleznick's full story right here.
Relive the full final table on PokerGO right now. Next up: $10,000 Big Bet Mix final table on PokerGO on Saturday, November 9 at 4:00 pm ET. Catch Early Action streaming and Live Reporting from the Big Bet event by clicking the links. 
The action started with seven players vying for the 2019 Poker Masters 8-Game title lead by Bleznick who took a massive chip lead to the PokerGO streamed final table. Brittish Poker Open Pot Limit Omaha champ George Wolff was the first play to bust in 2-7 Triple Draw. Wolff was dealt a 9-6 low and pondered for a long time before standing pat and betting out into his two opponents, Nick Schulman and Brandon Adams. Wolff ended up all in after the second draw with Adams and Schulman both drawing and on the last draw, Schulman made the winning hand with an 8-5 to send Wolff to the rail.
Brandon Adams busted in sixth place on the next hand in 2-7 Triple Draw as he was down to fewer than two bets. Adams was drawing to a 9-8, made his hand but was drawing dead after the first draw when Nick Schulman made an 8-7. Jake Abdalla also busted in 2-7 Triple Draw moments later when he ran into Mike Gorodinskiy who made a 7-6 low after drawing three cards on the first draw.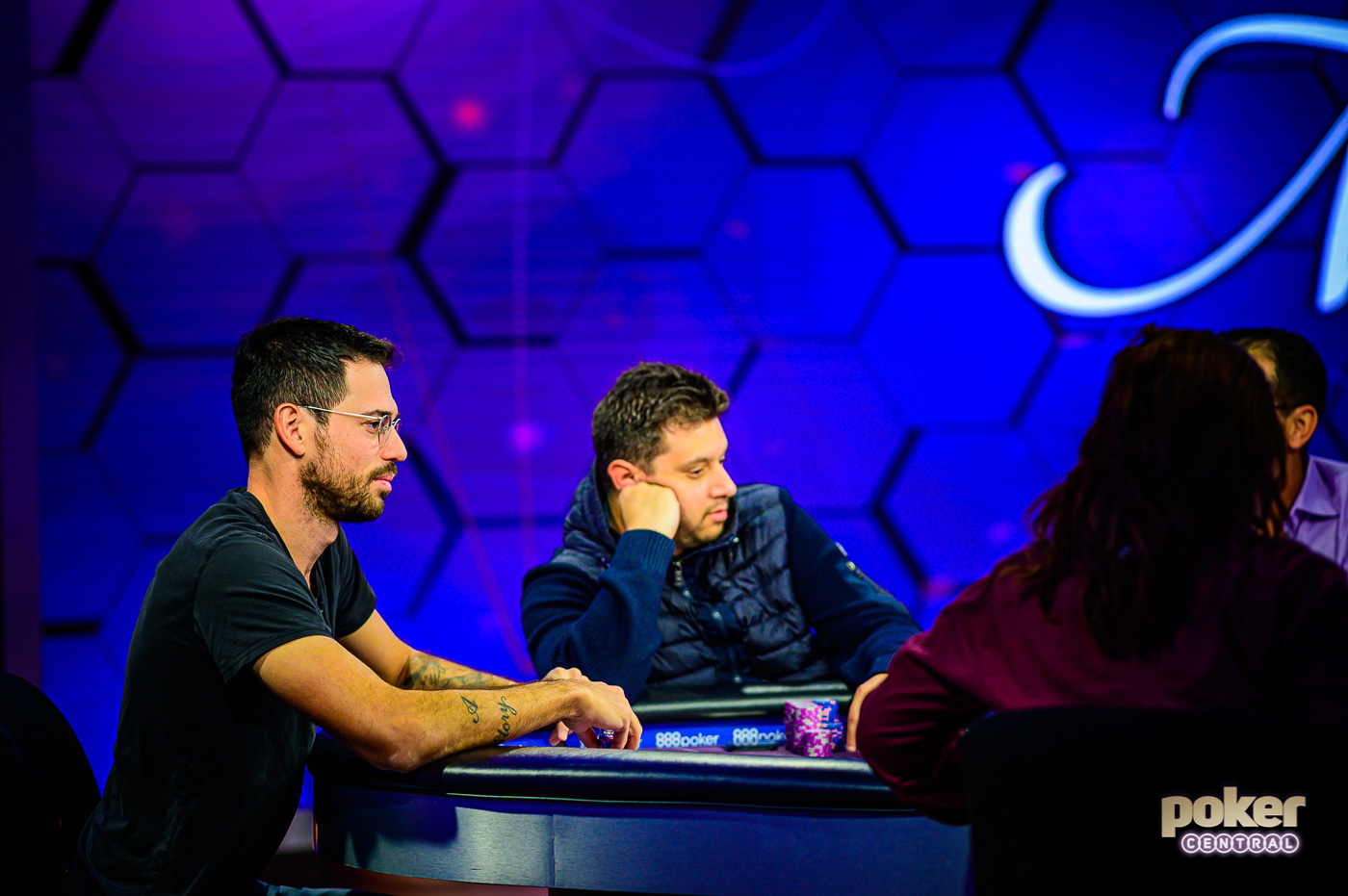 Mike Gorodinsky was all in with nine-seven of clubs during No Limit Hold'em and he was called by Jared Bleznick who looked down on ace-nine in the big blind. The board brought no help and Bleznick extended his already large chip lead. Nick Schulman busted in third place during a hand of Stud 8 when he started with split kings but that was not enough as Bleznick made both a low and two pair to win the hand.
On the final hand of the tournament, Cary Katz was eliminated in Pot Limit Omaha holding an inferior two pair against Bleznick who took the win with aces and tens. The Poker Masters Championship standings are now as follows.
2019 Poker Masters Championship Standings
Name
Points
Earnings
Results
1
Chance Kornuth
420
$288,900
2
2
Isaac Baron
300
$223,100
1
3
Ryan Laplante
300
$186,000
1
4
Jared Bleznick
300
$153,000
1
5
Jonathan Depa
300
$133,200
1
6
Alex Foxen
270
$108,200
2
7
Thai Ha
210
$124,800
2
8
Cary Katz
210
$99,000
1
9
Ralph Wong
150
$116,400
1
10
Sam Soverel
150
$99,800
2
New to PokerGO? Subscribe right now and never miss another minute of thrilling live or on-demand viewing. PokerGO provides more than 100 days of live poker every single year including the World Series of Poker, Super High Roller Bowl, Poker Masters, and U.S. Poker Open.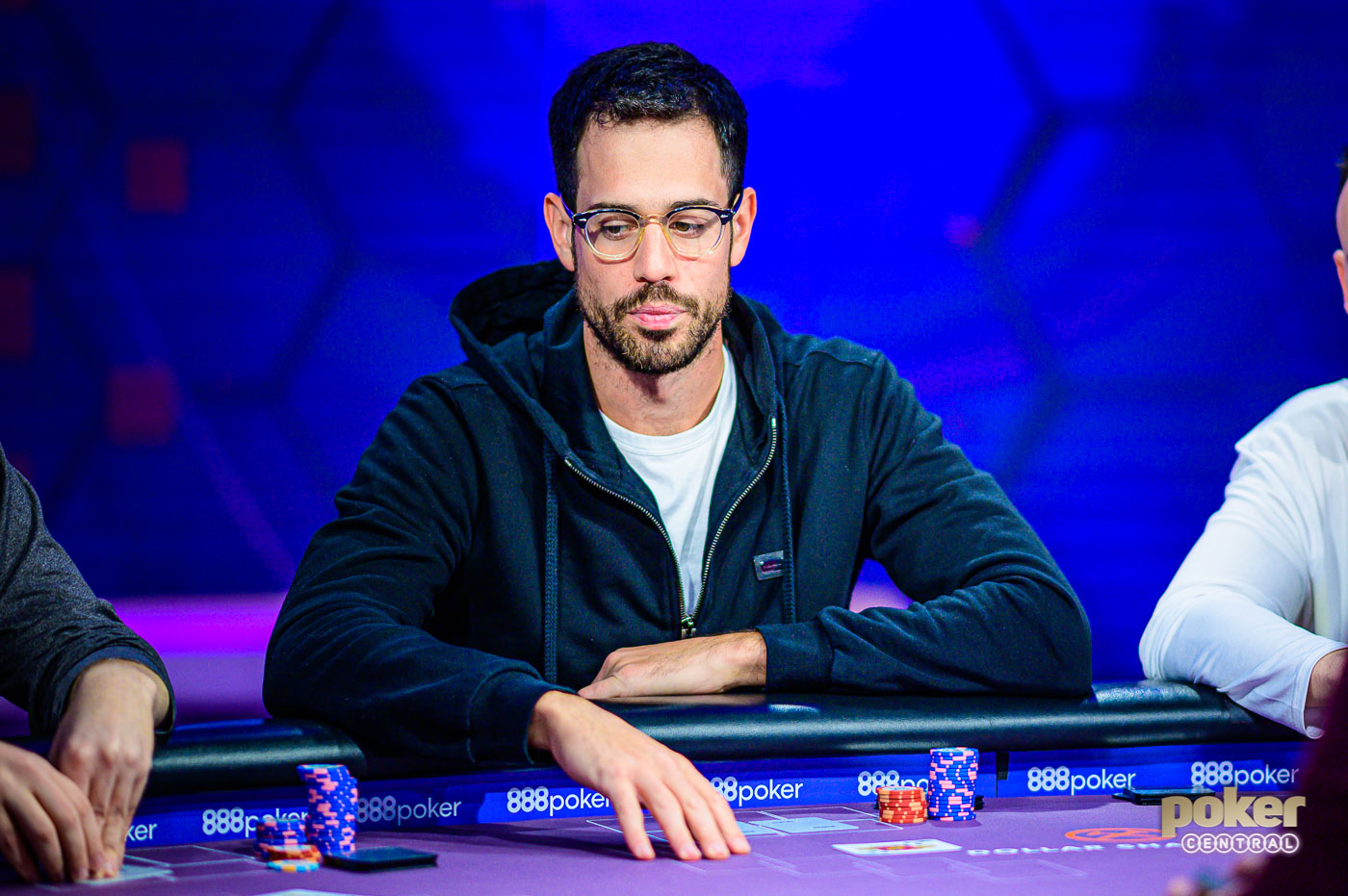 It's not every day that you get to watch the best in the world compete in a mix of poker's eight most well-known games, but today is one of those days! The 2019 Poker Masters Event #4 $10,000 8-Game final table is set and you can follow the action exclusively on PokerGO today.
New to PokerGO? Subscribe right now. Scroll down to read the full recap and Live Reporting action from Day 1 of this event.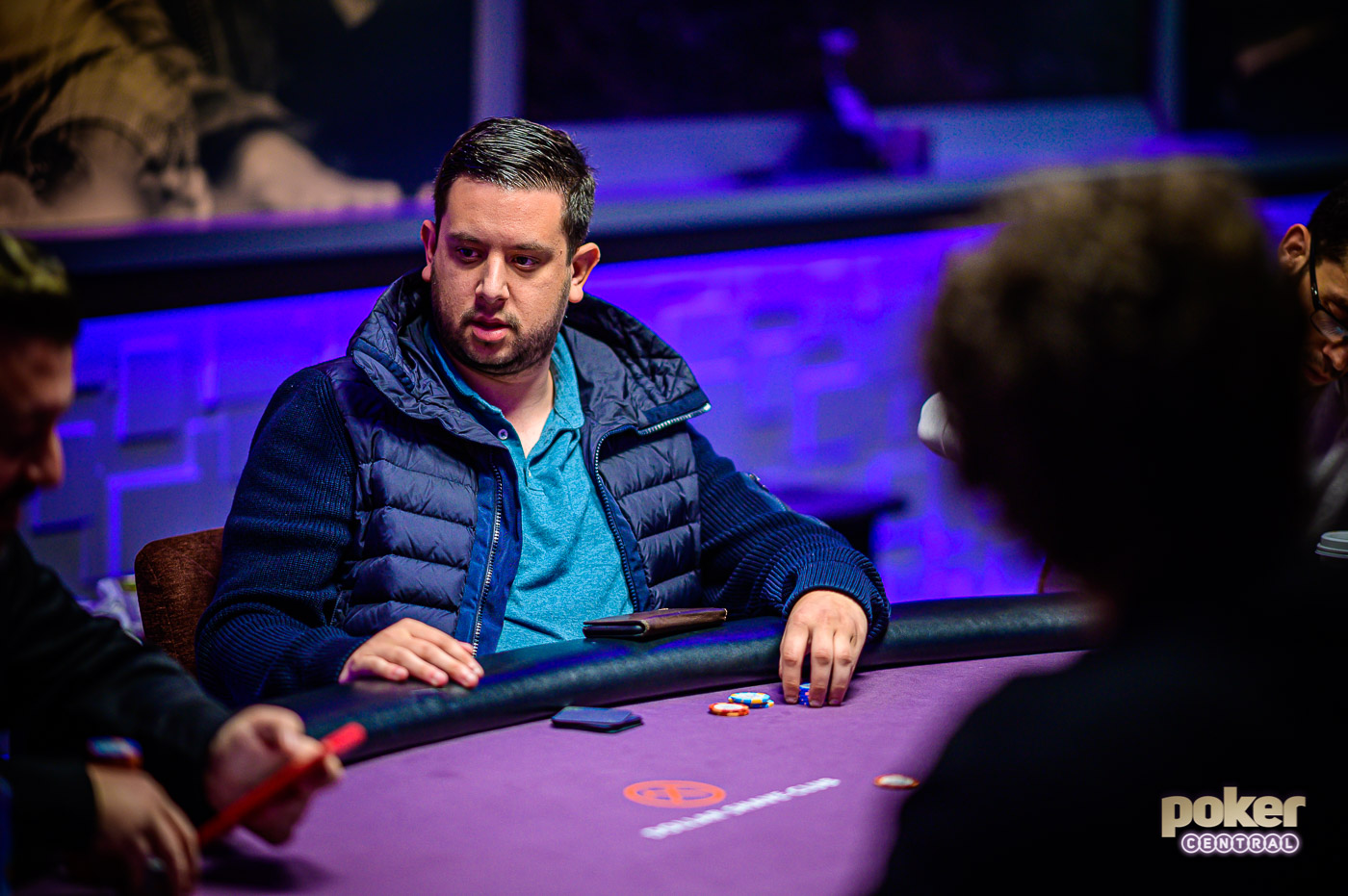 The fourth event of the 2019 Poker Masters saw the a total of eight games added to the mix as 45 entrants took a seat in the Event #4: $10,000 8-Game Mix event. With play lasting nearly a full 12 hours, seven players would remain with Jared Bleznick the chip leader with 2,155,000 heading into Friday's PokerGO streamed Event #4 final table.
For the fourth consecutive event, the game variant has changed as 8-Game became the mix of choice. A plethora of players yet to play in a 2019 Poker Masters event took a seat inside the PokerGO studio as the likes of Mike Gorodinsky, Nick Schulman, Eli Elezra, David Brookshire, Chris Vitch, Robert Mizrachi, Kyle Miaso, Kevin Gerhart, Richie Sklar, Adam Friedman, and John Monnette were some of the new blood taking part in Event #4.
With less re-entries then events in the High Roller Triple Crown normally get, action was slow until after registration closed. As the limits climbed, the action intensified before the final two tables were reached. As players tried to wait out the eliminations, play would slow before soft hand-for-hand and then normal hand-for-hand came into play. Eventually, it would be Elezra finishing as the Event #4 bubble boy when he was eliminated in eighth place to conclude play for the day.
The final seven players are all currently guaranteed $22,500, but everyone will be gunning for the first-place prize of $153,000 and the title of Event #4 champion. The final seven players are filled with regulars in the high stakes mixed games held around town and each player is collecting their first cash of the 2019 Poker Masters. Jared Bleznick in the lead with more then double his nearest rival. Bleznick has yet to cash in a High Roller Triple Crown tournament, but he has over $1.4 million in lifetime earnings from predominately mixed game tournaments. His all-round skills, aggressiveness, and dominant chip stack will all be put on the line at the final table as he looks to collect his first Poker Masters title.
Second in chips is Jake Abdalla, who at one point was also the dominant chip leader. As he put his table in tough spots, he eventually was on the losing end of three double ups before ending the day with 830,000. Like Bleznick, Abdalla is collecting his first cash as part of the High Roller Triple Crown. Third overall is Cary Katz with 780,000. Following his win at the Super High Roller Bowl London for £2.1 million, Katz has managed to gain any momentum this Poker Masters until now after gaining a late double up through Abdalla.
Fourth overall is Mike Gorodinsky with 665,000 in chips. Not a regular in the PokerGO Studio unless part of the Poker After Dark cash games, Gorodinsky has a U.S. Poker Open title to his name from last year and will be hoping to add part two of the High Roller Triple Crown. Fifth overall is another high stakes cash game regular in Nick Schulman who ended the day with 610,000. Schulman has two victories to his resume inside the PokerGO Studio including a win the $25,000 8-Game Mix earlier this year at the U.S. Poker Open.
Rounding out the final table is Brandon Adams and George Wolff with 325,000 and 260,000 in chips respectively. Adams is collecting his fifth Poker Masters cash to go along with his three U.S. Poker Open cashes, while Wolff is fresh off a first-place and second-place finish in the two Pot-Limit Omaha events at the British Poker Open.
| | | | |
| --- | --- | --- | --- |
| Seat | Name | Country | Chip Count |
| 1 | Nick Schulman | United States | 610,000 |
| 2 | Jared Bleznick | United States | 2,155,000 |
| 3 | Brandon Adams | United States | 325,000 |
| 4 | Jake Abdalla | United States | 830,000 |
| 5 | Mike Gorodinsky | United States | 665,000 |
| 6 | George Wolff | United States | 260,000 |
| 7 | Cary Katz | United States | 780,000 |
The button and game will be drawn for at the recommencement of play, and there is 15:05 remaining in Level 19 with limits at 50,000-100,000.
The Event #4: $10,000 8-Game final table begins at 12 p.m. (PT) on Friday, November 8, with action continuing until the Event #4 champion is crowned. Follow every hand when the PokerGO coverage begins at 1 p.m. (PT) / 4 p.m. (ET).
Follow the final table exclusively on PokerGO through your favorite devices and in the embedded player below. Can't watch live? Catch the action on-demand at your leisure. New to PokerGO? Subscribe right now.
| Player | Chips | Change |
| --- | --- | --- |
| Jared Bleznick | 2,155,000 | 75,000 |
| Jake Abdalla | 830,000 | 10,000 |
| Cary Katz | 780,000 | 5,000 |
| Mike Gorodinsky | 665,000 | - |
| Nick Schulman | 610,000 | -110,000 |
| Brandon Adams | 325,000 | -150,000 |
| George Wolff | 260,000 | -225,000 |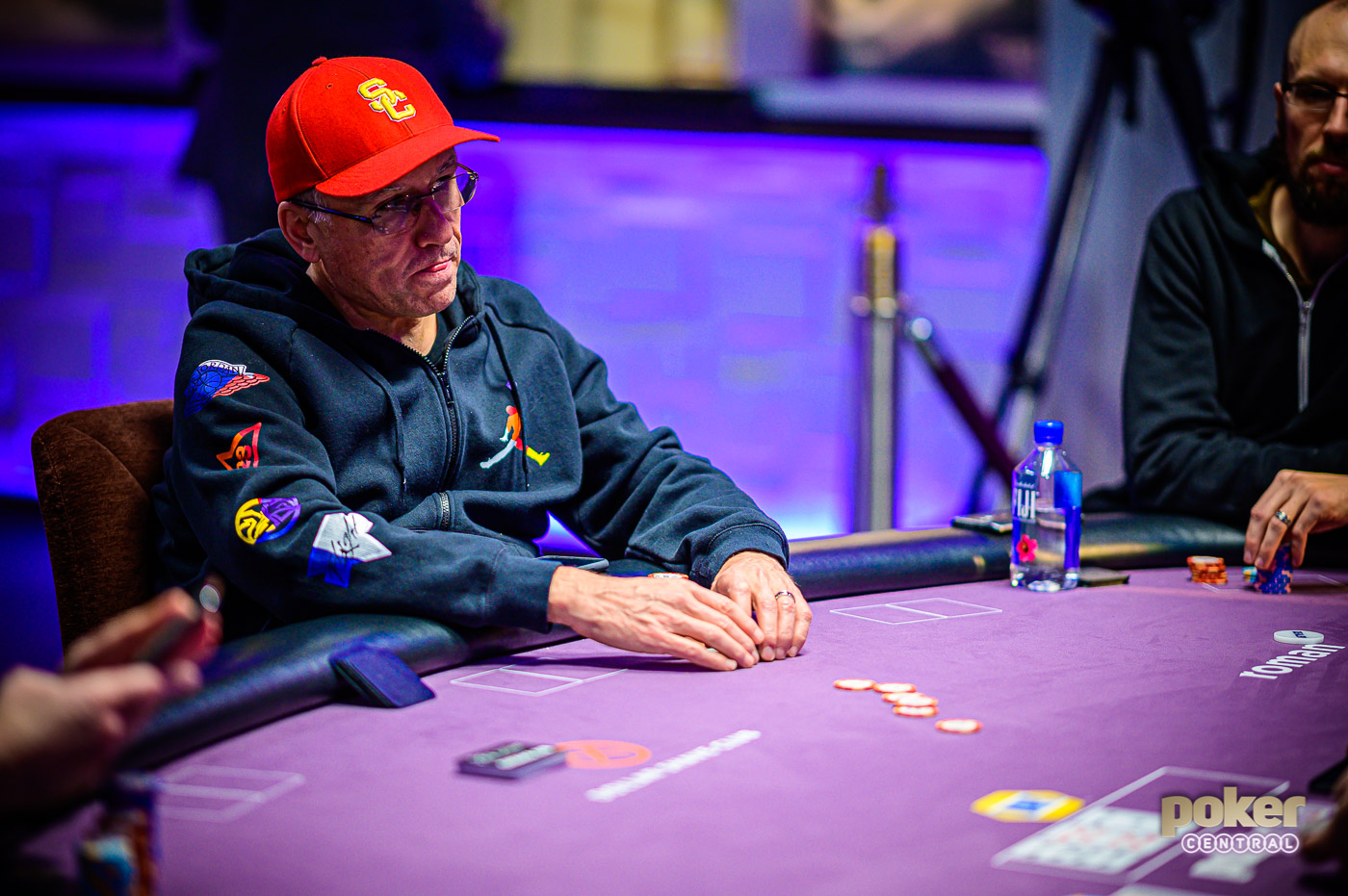 Stud Hi-Lo
The remainder of Eli Elezra's chips got in the middle in a hand of Stud Hi-Lo against Mike Gorodinsky.
The final boards read:
Elezra:
-
-

Gorodinsky:
Gorodinsky caught a straight to beat the short stack's two pair and Elezra's elimination marks the end of Day 1. The remaining seven players are all in the money – with at least a min-cash of $22,500 locked up.
A recap of today's action and a list of the final chip counts will be posted shortly.
Limit Hold'em
Jared Bleznick raise the button and Eli Elezra re-raised from the big blind. Bleznick called to see the
flop and after Elezra bet, Bleznick raised.
Elezra instantly folded
face up and Bleznick flashed
before taking the pot.
Elezra is now on the shortest stack on either table, while Bleznick is over 2,000,000.
Hold'em
Jake Abdalla raised to 100,000 from under the gun and Cary Katz defended his big blind.
The flop landed
and Katz checked. Abdalla bet 50,000, and Katz check-raised to 100,000.
Abdalla called and Katz bet out 100,000 in the dark as the turn landed the
. Abdalla pushed forward a raise, and Katz called all in for 175,000.
Katz:

Abdalla:
The river landed the
and Katz faded Abdalla's plethora of outs to double through.
Level
Level 19
Limits: 50,000/100,000
Big Bet Blinds: 15,000 / 25,000 / 25,000-big blind ante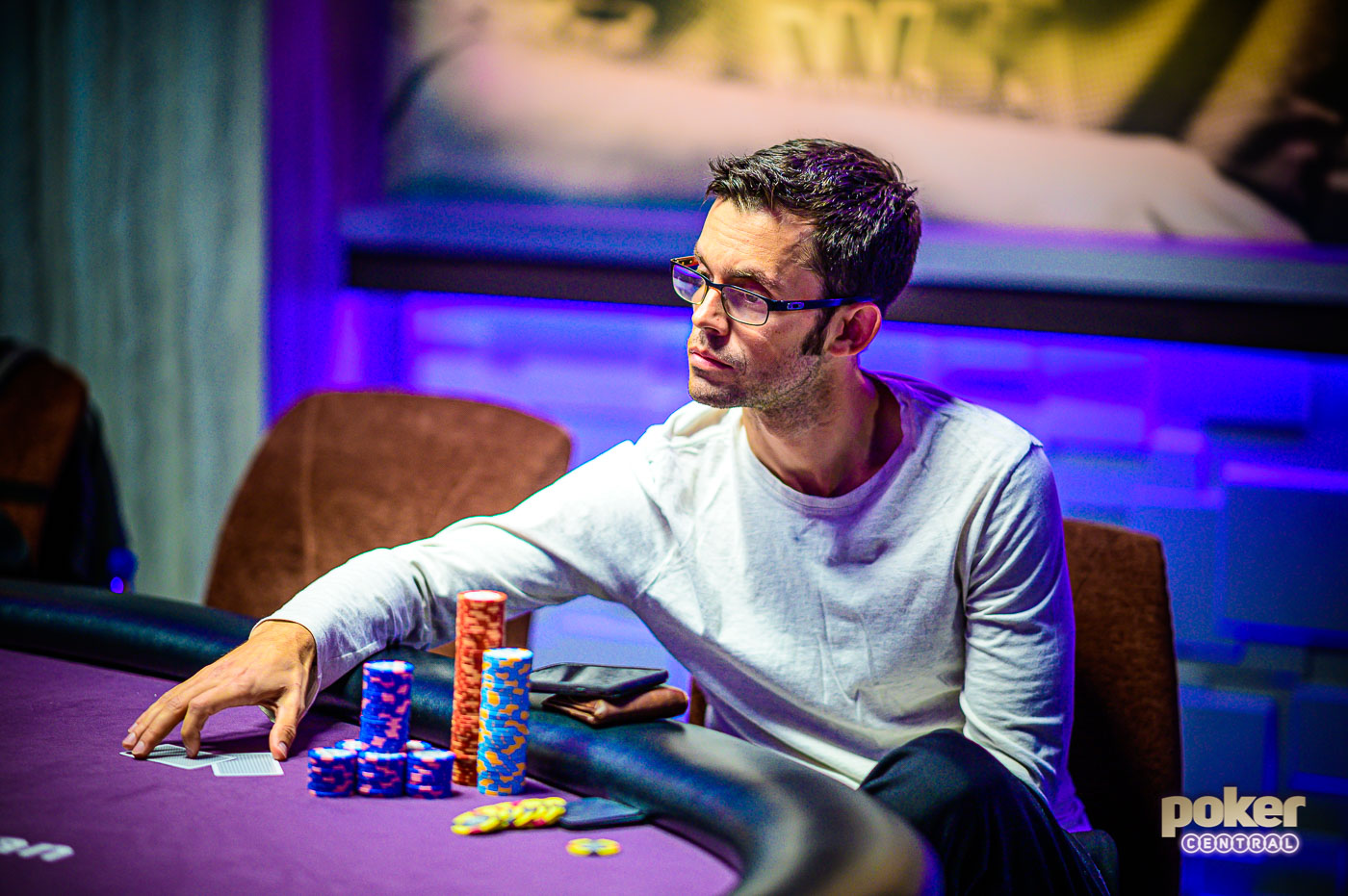 Razz
Action was picked up on fourth, after Eli Elezra bet and Mike Gorodinsky called. Elezra bet fifth, Gorodinsky raised, and Elezra called to see sixth. Elezra checked and Gorodinsky bet again – this time forcing a fold.
Gorodinsky:
–

Elezra:
–
– fold
With each table being four-handed, and the tournament just one elimination away from leaving the final seven players in the money, hand-for-hand play will be implemented.
For every hand dealt during this process, there will be a two-minute run-off from the clock until at least one more elimination occurs.
You're all caught up!
No more pages to load