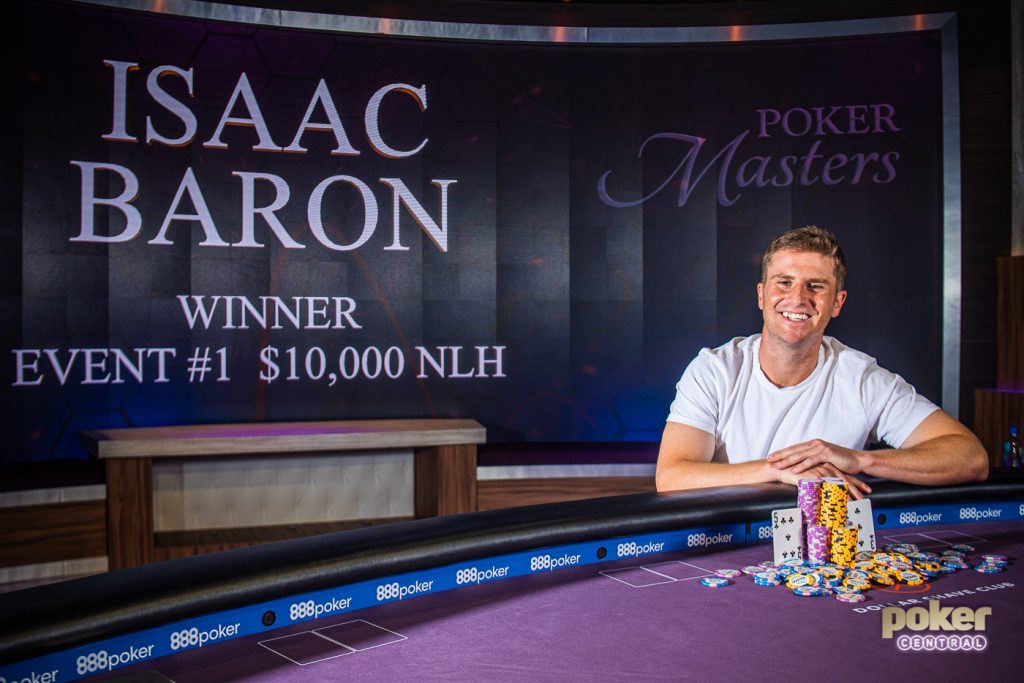 Isaac Baron is the winner of Event #1 of the 2019 Poker Masters after defeating a field of 97 entries in the $10,000 No Limit Hold'em series opener! Baron collected $223,100 for his win just a few months after winning his first career WSOP gold bracelets this summer. The long-time tournament pro is now the clubhouse leader as the Poker Masters champion will end up taking home a $100,000 top prize along with the highly coveted purple jacket.
"There were obviously some small dips along the way, but in general it was a straight-up trajectory and a really smooth tournament for me."
"It's been amazing playing at the PokerGO Studio. This is the nicest place I've ever played poker. The whole setup, the dealers, the free food, it's tough to beat. it's great."
Relive the entire Poker Masters Event #1 final table on PokerGO right now. Check out all the upcoming Poker Masters live streams on the Live Events tab. Check out the full payouts of this event right here. Read Isaac Baron's full story on Poker Central.
Breaking Down the Action
After the quick eliminations of Thai Ha (8th – $38,800), Dan Shak (7th – 48,500), and former WSOP Main Event champion Scott Blumstein (6th – $58,200), the remaining five were tightly packed together with Baron racing ahead and grabbing a big chip lead.
Aces for the chip leader? That ain't fair! 😰
Can anyone stop Isaac Baron? Watch the Event #1 final table to find out: https://t.co/5rUlItuiNK #PokerMasters pic.twitter.com/euMychx3Bs

— PokerGO (@PokerGO) November 5, 2019
Baron then found aces to knock out Sam Soverel as the High Roller of the Year leader's pocket eights did not find any help. Soverel took home $77,600 for his fifth-place finish. Jeremy Ausmus was next to bust when he shoved all in for 9.5 big blinds with queen-seven offsuit. In this blind battle, Baron called from the big blind with queen-nine offsuit and his nine proved to be decisive at showdown. Ausmus collected $97,000 for his fourth-place finish.
Ralph Wong busted in third place for $116,400 when he was unable to hold up with king-nine offsuit versus Baron's jack-six of diamonds. Baron hit a jack and sent Wong to the rail to begin the heads-up battle against Chance Kornuth with a massive chip lead.
On the first hand of heads-up play, Baron shoved with five-three of clubs and Kornuth called all in for 10 big blind holding ace-nine offsuit. Despite Kornuth's advantage, Baron won the hand by spiking a three to end the tournament. Kornuth collected $164,900 for his efforts while Baron took home the top prize of $223,100.
Can @ChancesCards survive or will Isaac Baron go wire-to-wire?
Watch more #PokerMasters action tonight with Early Action from Day 1 of the $10K PLO starting at 11 PM ET: https://t.co/5rUlItuiNK pic.twitter.com/ZE5RlaX7WD

— PokerGO (@PokerGO) November 6, 2019
Isaac Baron's Road to Victory and Poker Masters Aspirations
Baron still considers himself a poker player even though we don't seem him on the tour as much as in his younger years. Working on some business ventures and real estate away from the tables, the player formerly known as westmenloAA, always finds his way back in with big results to show for. Today, Baron took down Event #1 of the Poker Masters for $223,100, and he was delighted to take this one down.
It was all smooth sailing for Isaac Baron over the last two days as he told us this event was unlike most tournaments he's played in his life.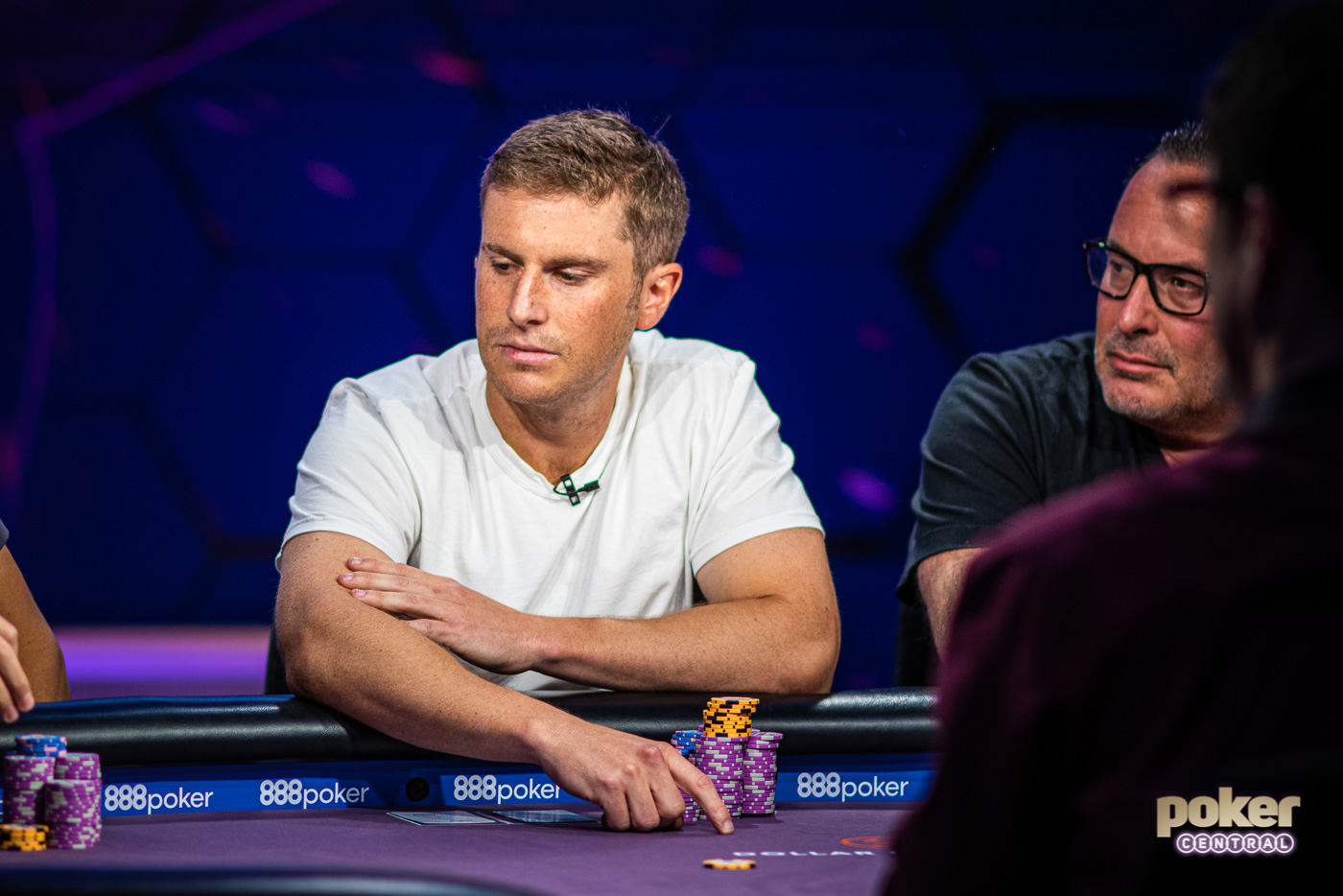 Looking ahead at this chance to win the Purple Jacket and the $100,000 championship prize, Baron is highly motivated to use his lead on the standings to his advantage.
"I highly doubt I'll play the Short Deck because I've never played that game before but to me, at this point, I'm committed to these events with the top prize and the jacket to play for. I'm a big golf fan and The Masters is my favorite sporting event of the year. While the money will always come first I love the accolades and accomplishments and having something more to play for at the Poker Masters."
Follow all Poker Masters final tables exclusively on PokerGO. Can't watch live? Catch the action on-demand at your leisure. New to PokerGO? Subscribe right now. For all Day 1 coverage please follow the Poker Central Live Reporting.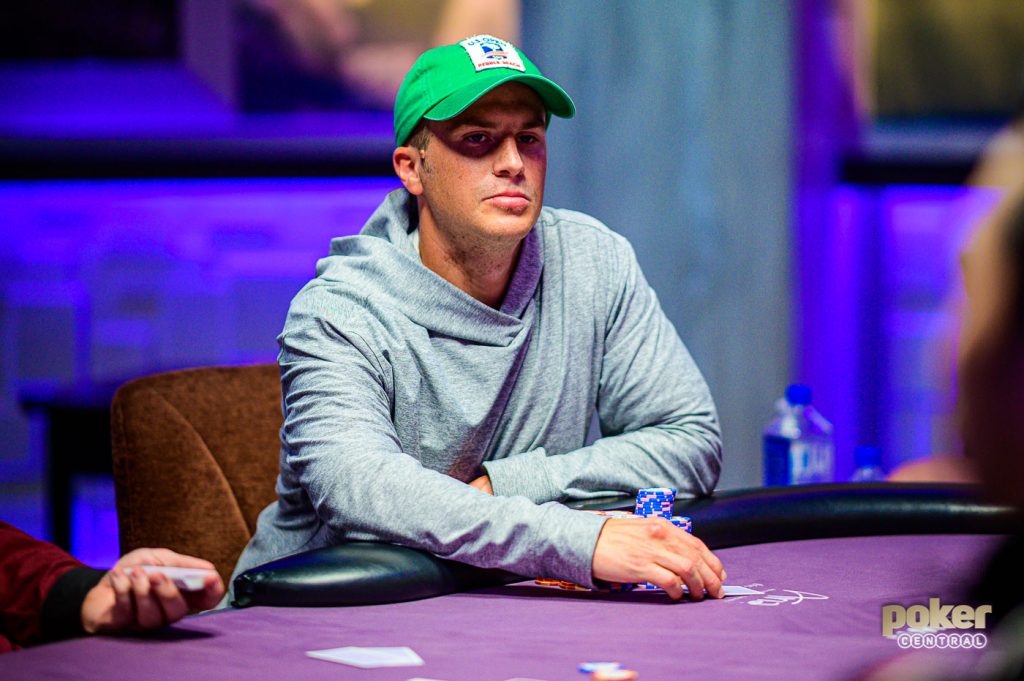 Every final table of the 2019 Poker Masters will be streamed live on PokerGO starting at 1:00 pm PT/4:00 pm ET or 10:00 pm CET, and we kick things off today with Event #1.
The first event drew a total of 97 entries creating a prize pool just shy of a million dollars and the winner will see a return of $223,100 on their $10,000 buy-in. Leading the way is Isaac Baron, formerly known as WestMenloAA, who bagged up a whopping 3,055,000 with his next closest rival, Jeremy Ausmus, sitting on 1,995,000.
The full final table seat draw is as follows.
| | | |
| --- | --- | --- |
| Seat | Name | Chip Count |
| 1 | Chance Kornuth | 455,000 |
| 2 | Thai Ha | 655,000 |
| 3 | Jeremy Ausmus | 1,955,000 |
| 4 | Isaac Baron | 3,055,000 |
| 5 | Dan Shak | 480,000 |
| 6 | Ralph Wong | 1,770,000 |
| 7 | Scott Blumstein | 765,000 |
| 8 | Sam Soverel | 630,000 |
Follow the final table exclusively on PokerGO trough your favorite devices and in the embedded player below. Can't watch live? Catch the action on-demand at your leisure. New to PokerGO? Subscribe right now.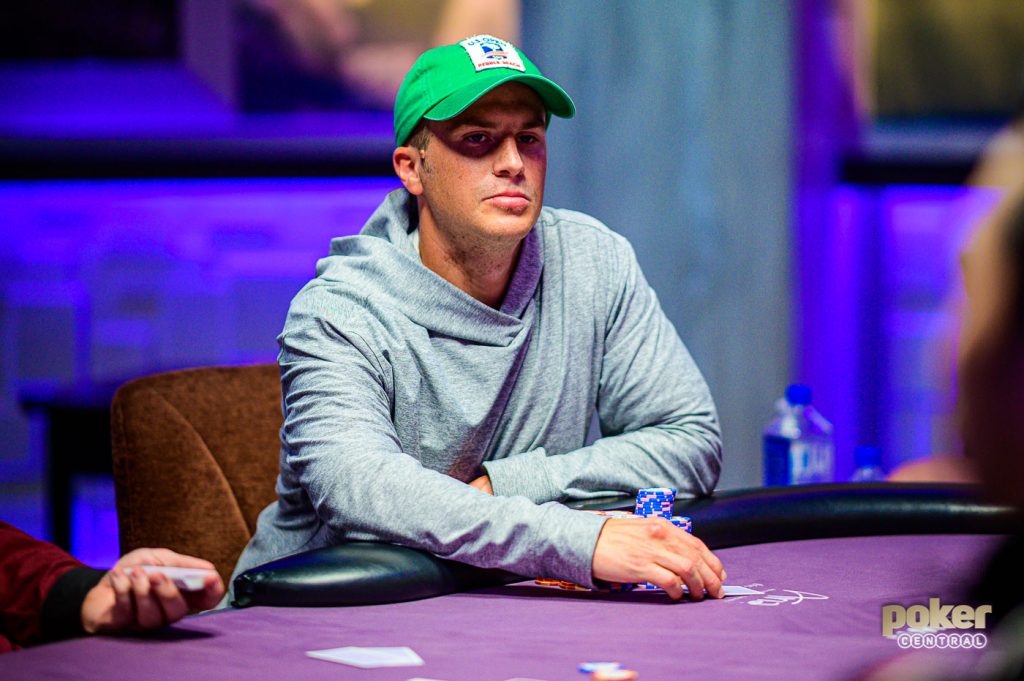 The 2019 Poker Masters opened with one of the biggest High Roller Triple Crown events in history and when the dust settled after 19 levels of play, Isaac Baron bagged the biggest stack for Tuesday's PokerGO streamed final table.
Baron returns at the top of the leaderboard, with more than 1,000,000 chips than his closet competitors – Jeremy Ausmus and Ralph Wong. All three are experienced cash game players and while their tournament resumes may not include previous HRTC cashes, they're no strangers to the highest stakes.
They'll look to open the highest stakes week of the year with a win, but first they'll have to figure out how to stop British Poker Open champion Sam Soverel. The defending High Roller Player of the Year leader is coming off a dominate run where he recorded five podium finishes and two outright wins en route to winning series honors.
Soverel returns near the middle of the pack, alongside Scott Blumstein. The 2017 Main Event champion likely would have ended the night among the big stacks – until he ran the second nut flush into Ralph Wong's nut flush right before the final table redraw.
Thai Ha, Dan Shak, and Chance Kornuth round out the Event #1 lineup. They'll be under the most pressure tomorrow, but are all just one double away from contention. The Event #1 final table resumes at 12:00 PM PDT and PokerGO coverage will begin at 1:00 PM PDT.
A list of the final table chip counts and remaining payouts is provided below:
Final Table
Chance Kornuth – 455,000
Thai Ha – 655,000
Jeremy Ausmus – 1,995,000
Isaac Baron – 3,055,000
Dan Shak – 480,000
Ralph Wong – 1,770,000
Scott Blumstein – 765,000
Sam Soverel – 630,000
Remaining Payouts
$223,100
$164,900
$116,400
$97,000
$77,600
$58,200
$48,500
$38,800
| Player | Chips | Change |
| --- | --- | --- |
| Isaac Baron | 3,055,000 | 255,000 |
| Jeremy Ausmus | 1,995,000 | -205,000 |
| Ralph Wong | 1,770,000 | -105,000 |
| Scott Blumstein | 765,000 | -185,000 |
| Thai Ha | 655,000 | 195,000 |
| Sam Soverel | 630,000 | -45,000 |
| Dan Shak | 480,000 | -140,000 |
| Chance Kornuth | 455,000 | -320,000 |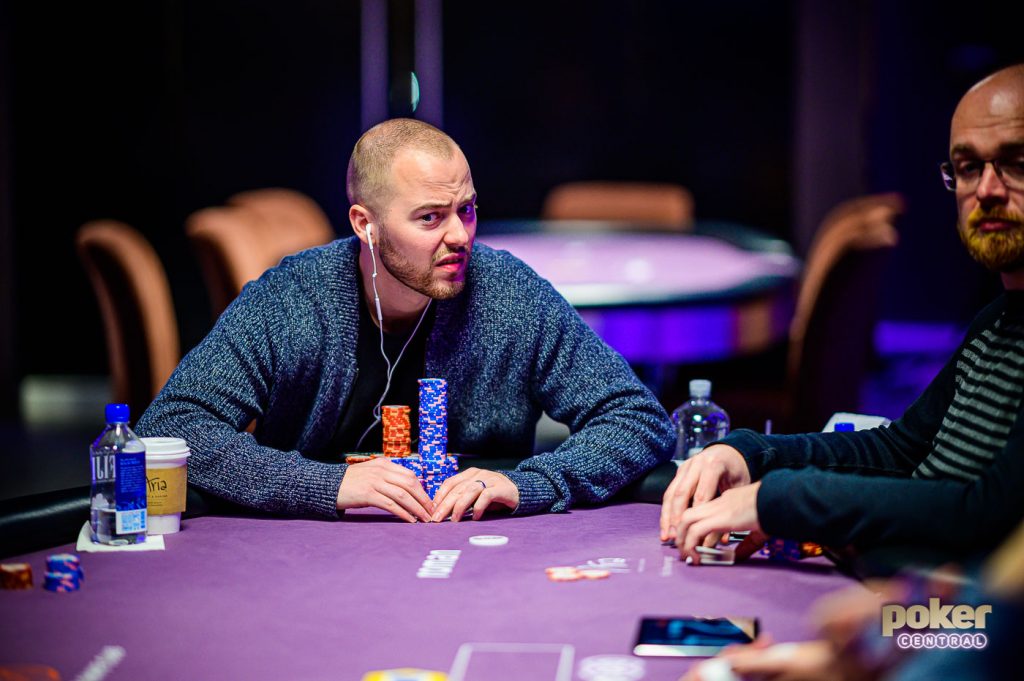 Sean Winter was all-in for his final 500,000~ and Isaac Baron called to put the short stack at risk.
Winter held
and he needed to hit to stay alive against
.
The board ran out
and Winter was eliminated in 9th place. He'll earn just shy of $30,000 and the remaining 8 players are scheduled to play until the end of Level 19 before bagging for tomorrow's PokerGO final table live stream.
Sam Soverel fell to the bottom of the leaderboard and then quickly doubled to get back into Event #1 contention.
Action was picked up with Isaac Baron opening to 80,000 and Soverel calling in the big blind.
Soverel check-called 60,000 after the
flop and check-called 130,000 after the
fell on the turn.
The
paired the board and Soverel checked for a third time – but he didn't call after Baron moved all-in, instead electing to save his final 270,000.
That stack got in the middle a few hands later, after Jeremy Ausmus opened and Soverel shoved for 275,000.
The chip leader called and Ausmus needed to hit with
against
.
The board ran out
and Soverel doubled.
Level
Level 19
Blinds
20,000 / 40,000
Big Blind Ante
40,000
The final nine players have redrawn for their seats at the Event #1 final table. Their seating assignments are listed below, along with a list of updated chip counts.
Chance Kornuth
Sean Winter
Thai Ha
Jeremy Ausmus
Isaac Baron
Dan Shak
Ralph Wong
Scott Blumstein
Sam Soverel
| Player | Chips | Change |
| --- | --- | --- |
| Jeremy Ausmus | 2,040,000 | 240,000 |
| Isaac Baron | 1,960,000 | 20,000 |
| Ralph Wong | 1,875,000 | - |
| Scott Blumstein | 950,000 | - |
| Chance Kornuth | 775,000 | 225,000 |
| Dan Shak | 620,000 | 310,000 |
| Sam Soverel | 610,000 | 250,000 |
| Thai Ha | 460,000 | -60,000 |
| Sean Winter | 350,000 | -730,000 |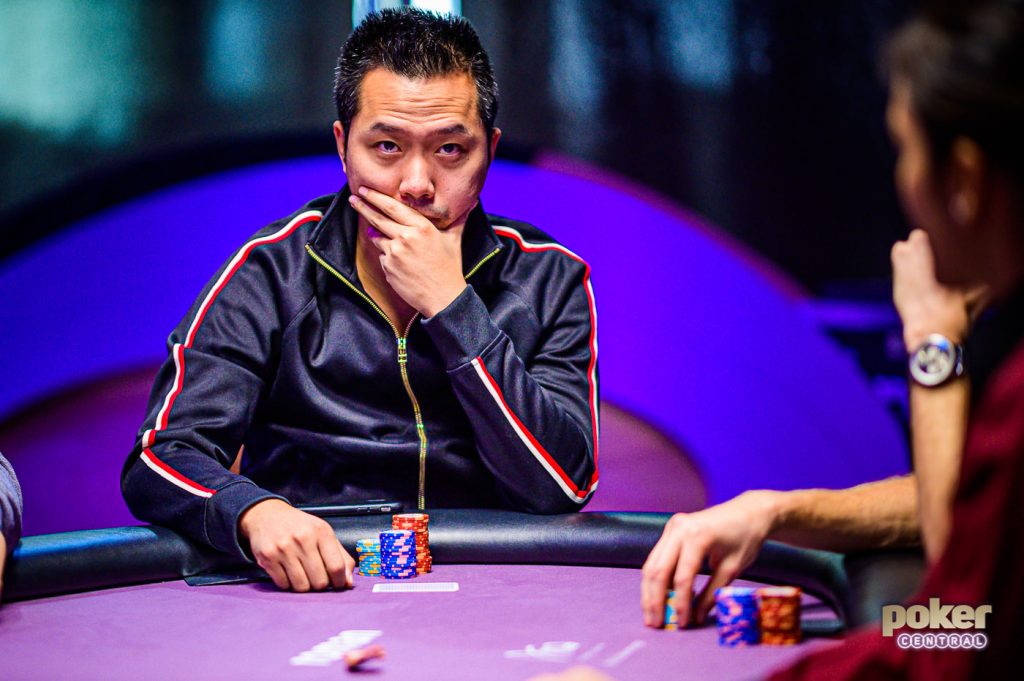 As Antonios Roungeris was being eliminated on Table 1, Ralph Wong and Scott Blumstein were playing the biggest pot of the tournament on Table 2.
Action was picked up after Isaac Baron opened, Wong called on the button and Blumstein called in the big.
All three players checked the
flop and Baron bet 80,000 after Blumstein checked the
turn.
Both players called and Blumstein led for 250,000 after the
completed the board. Baron got out of the way and Wong took a few moments before he shoved – for 705,000.
Blumstein went deep into the tank and burnt through his final two time extensions before he eventually called.
Wong tabled
for the nuts and it was a cooler for Blumstein. He showed
before cutting out chips to send across the table and he'll now enter the final table just under the chip average.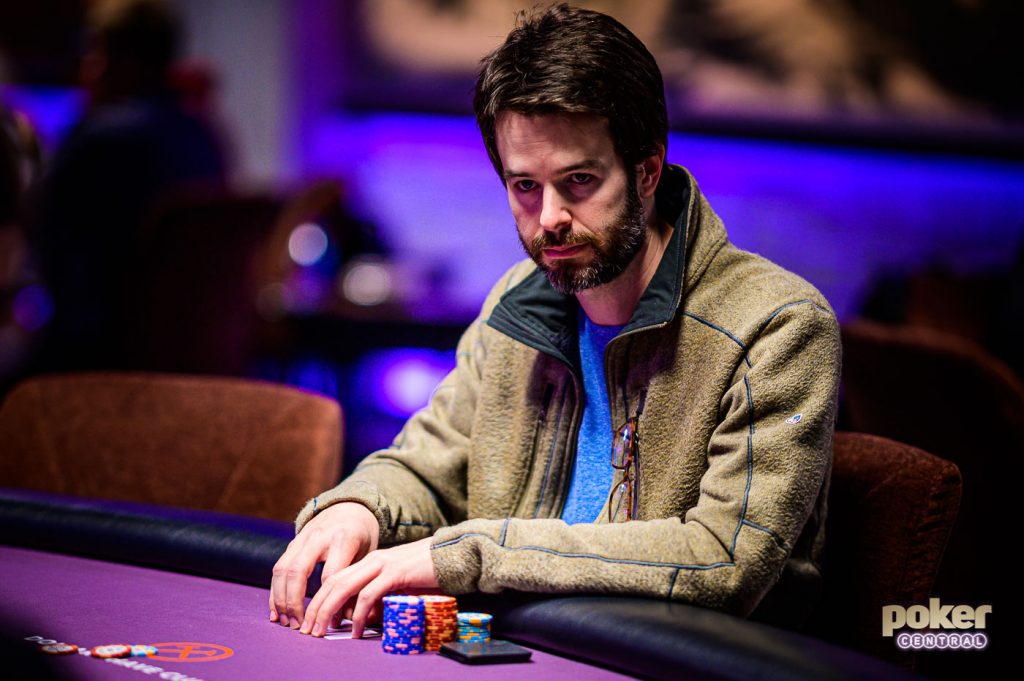 Joseph Orsino (pictured) and Antonios Roungeris were two of the shortest stacks remaining after the flurry of post-bubble eliminations.
Orsino was eliminated in 11th place midway through Level 18 and with a handful of minutes remaining in the period Jeremy Ausmus sent Roungeris to the rail.
Both players will take home $29,100 and the remaining nine players will now redraw for their seats at the final table.
You're all caught up!
No more pages to load