Button Rainer Kempe raised to 25,000 when it folded to him, called by both small blind Alex Foxen and straddle Sam Grafton.
All three players checked the
flop to see a
turn.  Foxen checked quickly, Grafton slowly, and Kempe at moderate tempo.
On the
river, Foxen led out for 37,000. Grafton alone made the call, mucking when he saw Foxen's
.
With the straddle to 10,000 on by Leon Tsoukernik under the gun, Sam Grafton properly opened the action to 25,000 from the cutoff. He found callers in Christoph Vogelsang (small blind), Ben Heath (big blind), and Tsoukernik (straddle.)
The action checked around on
, so the
on the turn was seen for free. Vogelsang led out for 60,000, and Heath folded right away. Tsoukernik, though, had bigger plans and shoved for just over a million in chips. This got rid of Grafton, and Vogelsang followed suit after contemplating a call for a bit. Tsoukernik showed
and collected the chips.
Tsoukernik, clearly not in Nottingham to play tight, was at it again the next hand winning against Grafton in a small pot with pocket eights.
Another hand later, the action folded to Tsoukernik in the small blind, and he raised to 35,000. Big blind Rainer Kempe called, and so did straddler Alex Foxen. Tsoukernik bet 75,000 on
and Kempe folded. Foxen called. The
on the turn saw Tsoukernik bet 225,000, and Foxen called once more. The
on the river paired the board, and Tsoukernik shoved. Foxen folded.
"What happened?" Tsoukernik exclaimed as he showed
. "What happened?!"
Foxen and Tsoukernik discussed the hand a bit – the table is in good spirits with lots of banter and laughing.
Eighth to the table (and the tournament) is Leon Tsoukernik, Derren Brown-ed into Level 1 by Sam Grafton, with the magic words, "I promise you. We will not make it boring!" and proceeded to gain concensus from the whole table to play this tournament's first level with a straddle.
So, an unconventional 2,000/5,000/10,000 blind it is; Tsoukernik took his seat after predicting, "I feel I will donate 25k, then end up winning it back."
"It does feel better with the roller-coaster," admitted Igor Kurganov, illustrating his point with a wavy hand motion.
Sam Grafton won the first two pots with little contest, exclaiming that he was now the chip leader. But he lost the third to his new neighbor Igor Kurganov.
Kurganov, having just sat down for his first hand, opened the cutoff for 15,000. Grafton called from the button and Ben Heath called from the big blind. On a flop of
, the action checked to Grafton who bet 31,000 in position. Heath folded, Kurganov wasted little time calling. Both checked the
turn and
river.
"Oh no!" Kurganov said, showing
for the turned set. Grafton quietly mucked.
Level
Level 1
Blinds
2,000 / 5,000
Big Blind Ante
5,000
So far, five players have signed up with action set to get underway shortly. Numerous other players are still hoovering around but expected to sign up.
| Player | Chips | Change |
| --- | --- | --- |
| Alex Foxen | 1,000,000 | - |
| Christoph Vogelsang | 1,000,000 | - |
| Rainer Kempe | 1,000,000 | - |
| Ben Heath | 1,000,000 | - |
| Sam Grafton | 1,000,000 | - |
We are experiencing a short delay to the start of the $25,500 Super High Roller. A good number of potential players are still in the milling-round-the-MILLIONS phase of their week in Nottingham (Sams Grafton and Trickett, Anatoly Filatov, Bertrand Grospellier, Dietrich Fast among them) but not, as yet, signed up and sat down.  As soon cards look in danger of being airborne, we'll bring live coverage of the early action. Please stand by.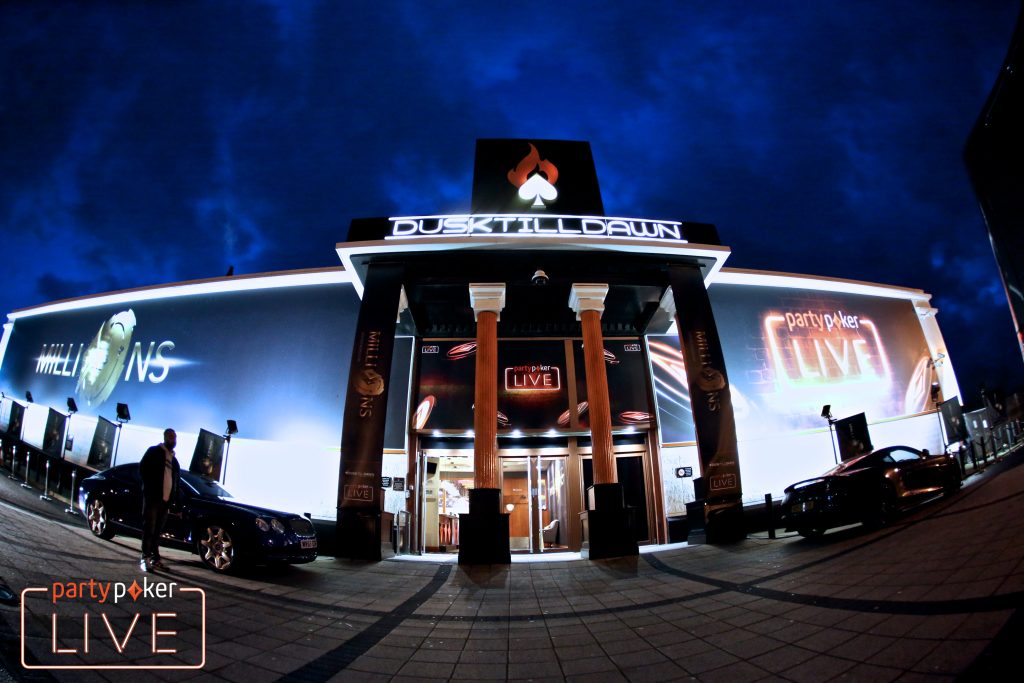 Welcome to Dusk Till Dawn Poker and Casino, the home of poker in the United Kingdom. It's time for another partypoker MILLIONS UK event, and it promises to be a massive one. With players from around the world qualifying online through partypoker, and others buying in directly, the MILLIONS UK is a poker festival not to be missed. There's no better way to start the year than heading to Nottingham for first-class poker action in one of Europe's premier events.
While the $10,300 Main Event is set to run January 8 through January 12, the festival is already underway with satellites and online days having started in December. The MILLIONS Mini Main Event kicked last weekend, but today it's time for a more significant event. We kick off coverage of the partypoker MILLIONS UK with the $25,500 Super High Roller. Some of the biggest names in poker are expected to give acte de présence with some already having shown their face in prelim events earlier this week.
In 2018, Steve O'Dwyer wreaked havoc in Nottingham by winning not one but two events. He not only triumphed in the closing £10,300 High Roller but also laid claim on the top prize in the £25,500 Super High Roller overcoming a field of 51 entries. Taking home £314,000 ($407,734) in the closing high roller and £450,000 ($592,448) in the Super High Roller, October 2018 was a good month for O'Dwyer. In the Super High Roller, O'Dwyer butted heads with some top tier poker players; beating online wizard Fabrizio Gonzalez Cataldi (second for £286,750) heads-up, while Turkish high stakes regular Orpen Kisacikoglu (£200,000) received bronze.
This same event saw fourteen players sign up the year before, with Canadian bracelet winner Pascal Lefrancois winning the event for £151,300. Lefrancois stayed ahead of Mustapha Kanit (second for £120,300) and Poland's Bartlomiej Machon (third for £67,900.)
Play in the partypoker MILLIONS UK £25,500 Super High Roller is set to get underway at 1 p.m. local time. With twelve 40-minute levels scheduled for the day, players are welcome to re-enter until late-registration closes at 8:25 p.m. Anyone handing over the momentous sum of $25,500, gets 1,000,000 chips in return. The first of twelve levels is 2,000/5,000 with a 5,000 big blind ante, making for a 200 big blind stack to kick things off. The first break is scheduled after four levels, which should be around 3:40 p.m. Another break is scheduled three levels later, with the final break at the end of late registration. A final two levels after that make for a closing level of 30,000/60,000.
To view the partypoker UK MILLIONS schedule, click here.
To view the partypoker UK MILLIONS $25,500 Super High Roller structure (PDF), click here.
Photos by Mickey May/partypoker.
Follow the partypoker MILLIONS UK exclusively on PokerGO through your favorite devices. Can't watch live? Catch the action on-demand at your leisure. New to PokerGO? Subscribe right now.
You're all caught up!
No more pages to load