Level 22
Blinds
300,000 / 600,000
big blind ante
600,000
players remaining
1
entrants
95
Posted January 10, 2020 at 7:05 pm ET by Jen Mason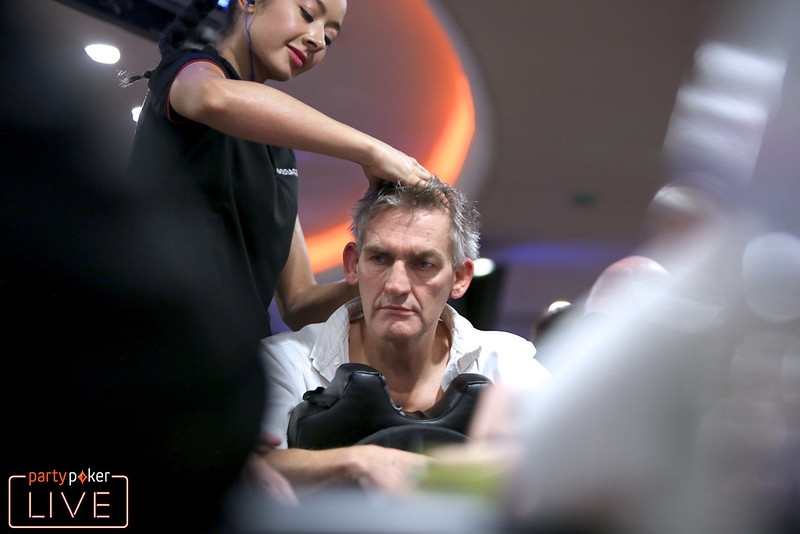 Govert Metaal had dropped to a short stack of 140,000, at the 6,000/12,000 blind level.  After Alexandros Kolonias opened preflop to 27,000, he moved all in next to act.  It folded to Igor Kurganov in the blinds who repopped it to 257,000, ridding the pot of Kolonias. On their backs:
Kurganov:

Metaal:
The board ran out
busting Metaal.
Elsewhere, chip leader John Duthie put shortest current stack Christoph Vogelsang to the test for his stack.  The hand started with an under the gun raise to 28,000 from Duthie and three-bet to 74,000 from Vogelsang, which he called.  Both players checked the
flop, bringing a second five on the turn – the
.  Now Duthie led out for 105,000, called by Vogelsang.
The river brought a second pair to the board with the
.  Now Duthie simply plonked down a big stack of blue 100,000 chips, asking Vogelsang if he wished to call off his remaining 280,000.
"Don't do it, son, don't do it," warned Duthie.
Vogelsang finally folded, showing
, while Duthie showed a bigger house with
.
| Player | | Chips | Change |
| --- | --- | --- | --- |
| John Duthie | | 3,300,000 | 1,050,000 |
| Igor Kurganov | | 1,900,000 | 330,000 |
| Christoph Vogelsang | | 280,000 | -420,000 |
| Govert Metaal | | Busted | -450,000 |