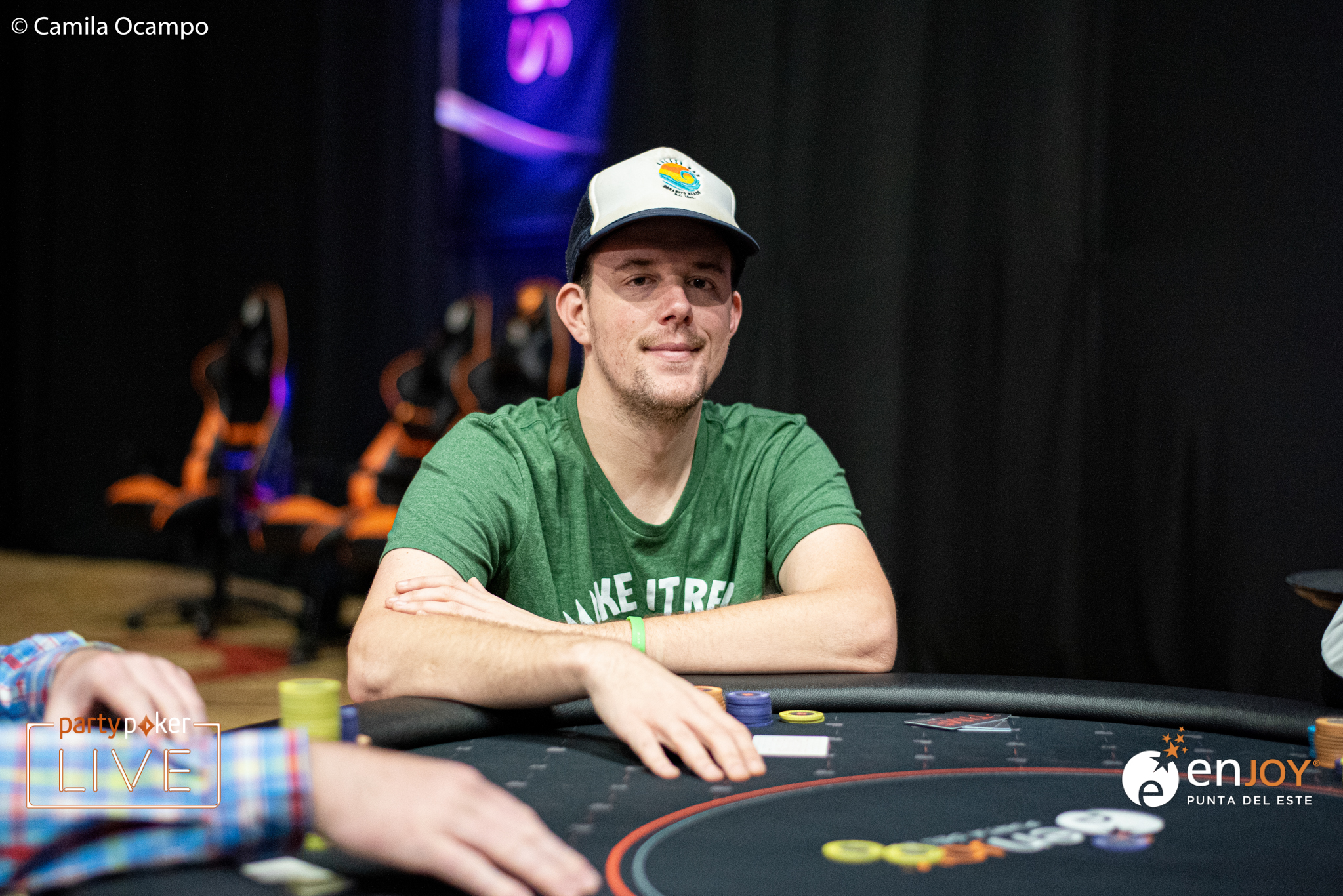 Last year's partypoker MILLIONS South America Main Event winner Marty Mathis now leads the 2020 edition's Super High Roller. Mathis, a player with legendary status, known as "TheLipoFund" online, bagged 4.315 million in chips as fifteen players survived Day 1 of the $25,500 buy-in two-day event.
Play got underway in Uruguay's biggest buy-in tournament at 1 pm local time, with four players taking their seats. Before the first level was in the books, that number had grown to nine players, with more players joining the action throughout the day. A total of 27 unique players made for 35 entries in total.
Antonio Martinac was the first player to make use of the option to reenter and faired much better on his second bullet. Leo Fernandez followed Martinac to the buy-in desk for his second try, having run out of chips losing with a rivered set of queens to De Albuquerque's turned straight.
Such famous players as bracelet winners Anthony Zinno, Yuri Martins Dzivielevski, and regular high rollers Robert Heidorn and Felix Bleiker tried their luck in the $25,500 buy-in tournament but exited well before the end of the day.
partypoker's Dzmitry Urbanovich and Joao Simao shared a tabled for the last few levels and will both return tomorrow at noon for Day 2. Urbanovich brings 2.675 million in chips, while Simao will start with 1,395,000.
They both trail Marty Mathis, who bagged 4,315,000 in chips after twelve levels of play. Mathis is just ahead of James Romero, who entered halfway through the day and turned his 1,000,000 starting stack into 4.3 million. Mathis busted both Heidorn and Scholten to finish with the top stack in the room.
The fifteen remaining players vie for a part of the $848,750 prize pool. Ten players will leave Day 2 of the event empty-handed as the Top 5 take home a piece of the pie. The min-cash is worth $60,000, while the winner gets $325,000 and the trophy.
Check back tomorrow as coverage of the partypoker MILLIONS South America in Punta del Este gets underway at noon local time.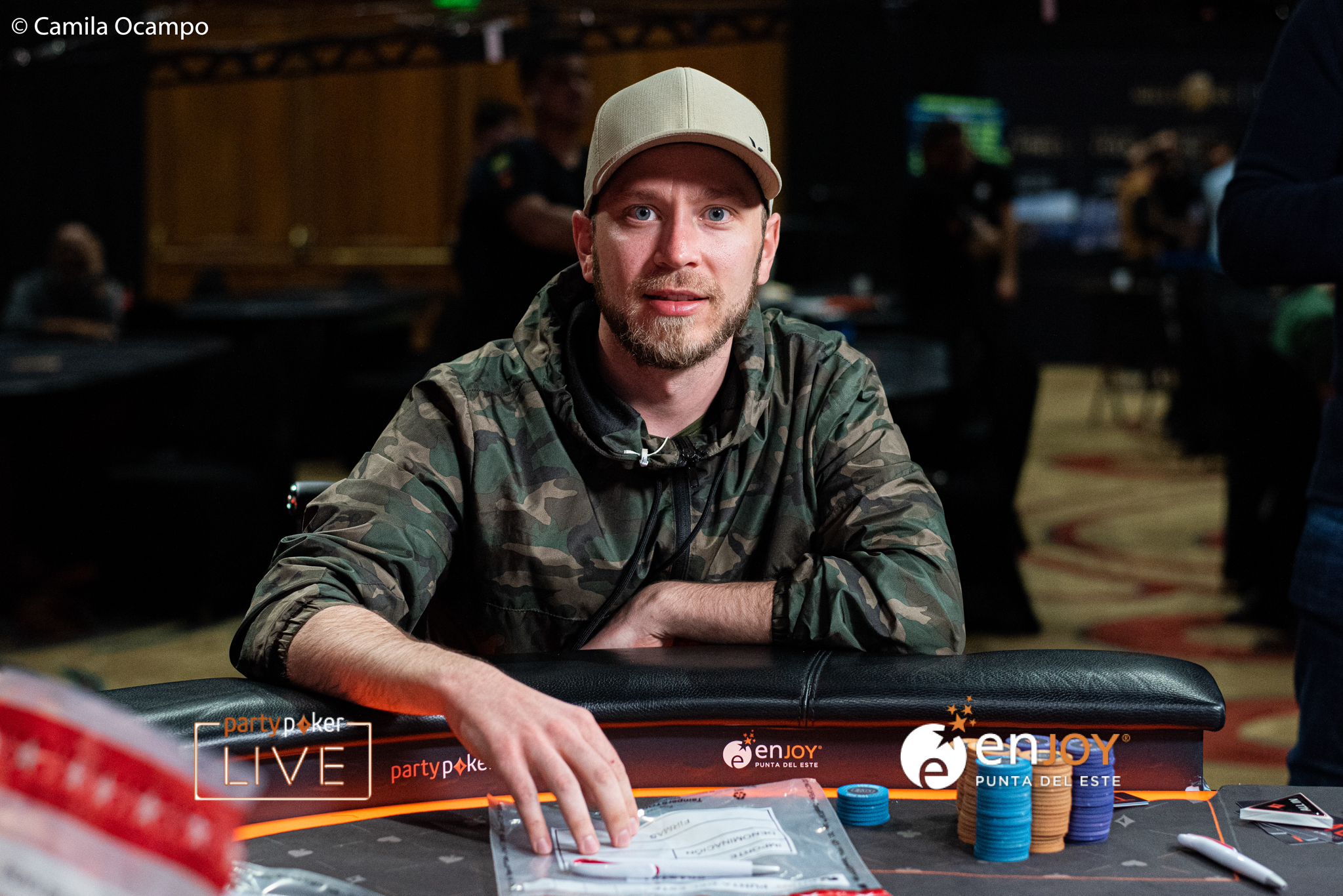 | Player | Chips | Change |
| --- | --- | --- |
| Marty Mathis | 4,315,000 | -85,000 |
| James Romero | 4,300,000 | -520,000 |
| Niall Farrell | 3,600,000 | 540,000 |
| Rainer Kempe | 3,205,000 | -470,000 |
| Dzmitry Urbanovich | 2,675,000 | 1,445,000 |
| Luis Peluso | 2,450,000 | -115,000 |
| Jake Daniels | 2,260,000 | 660,000 |
| Francisco Benitez | 2,100,000 | 405,000 |
| Leo Fernandez | 1,620,000 | 680,000 |
| Jack Sinclair | 1,585,000 | 15,000 |
| Brunno Botteon De Albuquerque | 1,525,000 | -725,000 |
| Ivan Luca | 1,425,000 | 105,000 |
| Joao Simao | 1,395,000 | -155,000 |
| Sergio Iralasky | 1,230,000 | -470,000 |
| Antonio Martinac | 1,125,000 | -570,000 |
Fabrizio Gonzalez has been eliminated from the $25,500 Super High Roller at the 2020 partypoker MILLIONS South America. He wasn't able to recover from his flush over flush cooler, losing the last of his chips with jack-nine against Francisco Benitez' ace-deuce.
With 15 minutes left in the last level of the night, the clock has been paused. Four more hands are to be played before the players start the bagging and tagging process. We'll report back shortly with end-of-day chip counts. A recap of today's action is to follow later tonight.
Fabrizio Gonzalez opened the hijack for 120,000 and big blind Luis Peluso called. Peluso led for 200,000 on
and Gonzalez called.
Peluso bet another 400,000 on the
turn and Gonzalez shoved for 1,000,000 exact. Peluso called instantly for 925,000 total.
Fabrizio Gonzalez:

Luis Peluso:
Gonzalez was drawing dead so the
on the river was just for show. Gonzalez with three chips and a chair.
Level
Level 12
Blinds
30,000 / 60,000
Big Blind Ante
60,000
Aaron Been was eliminated by James Romero. Been raised to 125,000 from the cutoff with
in front of him. James Romero pushed all in from the small blind with
. The big blind folded and Been ended up calling for a little over a million in total and was at risk of elimination.
The board ran out
and Romero hit a jack to eliminate Been.
They are with 16 players left and the three remaining tables will be combined into two.
James Romero raised to 105,000 from the hijack and Rainer Kempe three-bet from the small blind to 390,000. Romero put Kempe all in for effectively 1,775,000 and Kempe called.
James Romero:

Rainer Kempe:
The board ran out
and Kempe doubled up through Romero. Both have about the same amount of chips in front of them after this hand.
Freek Scholten was all in for his last 890,000 in chips and found a challenger in Marty Mathis. Scholten had
and was up against
. The board ran out
and that was it for Scholten as he exited the tournament room. Down to 17 players now, one more bust out away from the tournament being down to two tables.
Aaron Been jammed his last 425,000 in the middle with
from the cutoff. The action was on Niall Farrell and he looked at
. He thought about it for a second and he called. The blinds got out of the way.
The
flop left Been drawing very slim, but the
turn gave him some extra outs. The river was the
and that gave Been a straight to scoop the pot and double up back to about a million.
You're all caught up!
No more pages to load