Matthias Eibinger raised in the hijack to 120,000 with
, and Webster Lim, second in chips, three-bet him to 340,000 with
.  Eibinger made the call.  The flop was
; Eibinger checked his overpair, Lim bet 240,000 and Eibinger jammed for 2,210,000.  Lim folded, and the Austrian extended his chip lead.
| Player | Chips | Change |
| --- | --- | --- |
| Matthias Eibinger | 3,295,000 | 725,000 |
| Chin Wei Lim | 1,465,000 | -585,000 |
| Michael Addamo | 1,380,000 | -215,000 |
| Adrian Mateos | 1,205,000 | 5,000 |
| Paul Phua | 1,055,000 | -45,000 |
Kahle Burns was unsurprisingly all-in again right after his double, this time moving 340,000 (under six big blinds) all in from the hijack when it folded to him with
.  Big blind Adrian Mateos took him on with the dominating
.  Burns flopped a pair of threes, but Mateos hit his jack; the overall board of
was to be Burns' last.
Kahle Burns found himself in the unenviable position of going through the blinds super-short with no playable hand, folding
in the big blind to an under the gun raise from Matthias Eibinger (who held
).  Able to survive one more orbit with no forced showdown, it was in the cutoff that he made his move with
for just 1.5 big blinds (95,000).  Button Eibinger threebet to 170,000 getting it heads up with
.  The board ran out
and Burns has another couple of big blinds.
"Start of the spin, one big blind and a dream," he said.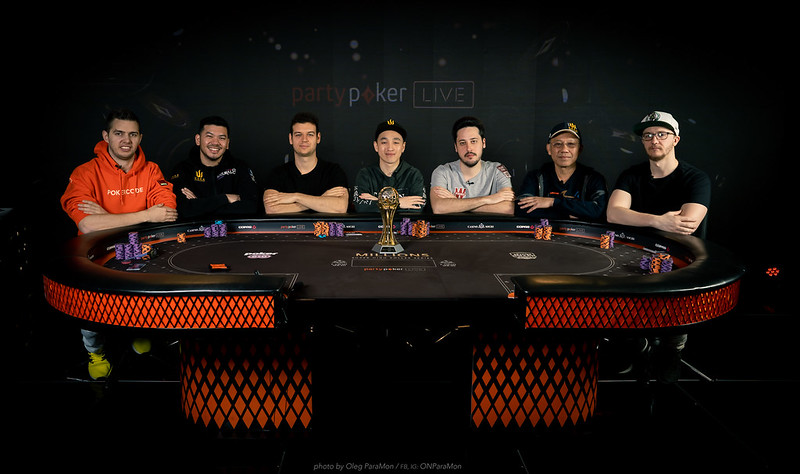 Kahle Burns opened to 120,000 under the gun with
.  It folded to big blind Paul Phua, the only player with fewer chips left at the table (430,000), who flat called with
.  The flop portended action:
.  Phua checked his set, and Burns bet 60,000.  Phua called, checking again on the
turn.  Burns bet 140,000, Phua raised all-in for just 310,000 total (after a slow recheck of his cards), and was immediately called.  Burns was drawing dead to the
river and is down to just four big blinds.
It folded to Matthias Eibinger on the button. He paused, then moved his stack of 1,145,000 into the middle with
.  Small blind Michael Soyza had woken up with the ace-dominating
and called all in for nearly that amount (1,145,000).
"That's not good," remarked Eibinger, and it looked just as bad after the
flop and the
turn.  He had picked up fives as straight outs, however, and one popped out on the river:
.
Soyza demiked still smiling, but the others seem even happier as the bubble has now burst and everyone is guaranteed $252,000.
Level
Level 15
Blinds
30,000 / 60,000
Big Blind Ante
60,000
Under the gun, Matthias Eibinger raised to 90,000 (from a stack of 740,000) with
.  It folded to big blind Kahle Burns, who made the call (from almost the same stack size) with
.
Flop:
.  Burns checked and Eibinger bet 100,000 with top pair; call.
Turn: 5h.  Now Burns led out for 105,000.  After a think, sat stone-still, Eibinger moved all in and Burns threw his hand in the muck.
Adrian Mateos opened to 80,000 in the hijack with
, called by button Kahle Burns with
and big blind Michael Soyza with
.  On the
flop, Soyza and Mateos checked and Burns had a stab at it worth 75,000.  Both players called.  The
turn checked around and Soyza hit his straight on the
river.  Soyza led out for 125,000 and Mateos, using a timebank card, came to the decision to fold as did Burns (without timebanking).
Mid position, Webster Lim picked up
and raised to 80,000.  It folded to small blind Ben Heath, who considered his 685,000 remaining chips and the
he'd been dealt, then announced "all in."  He could not, of course, have been called faster.
Drama ensued as Heath flopped a flush:
.  Webster's pair up prayers were answered with the
on the turn and Heath was drawing thin (to the
) to stay in the tournament.  The river was the
and the final table of Event #6 is now on the bubble.
Paul Phua limped under the gun with
, Michael Addamo followed suit with
and Adrian Mateos checked his option with
.  On the
flop, Phua shoved for 530,000 and both of his opponents folded (Mateos after getting a count).
"Misclick," said Phua.
"You probably got more," came a disembodied answer.
You're all caught up!
No more pages to load