Event #5 $50,000 Short Deck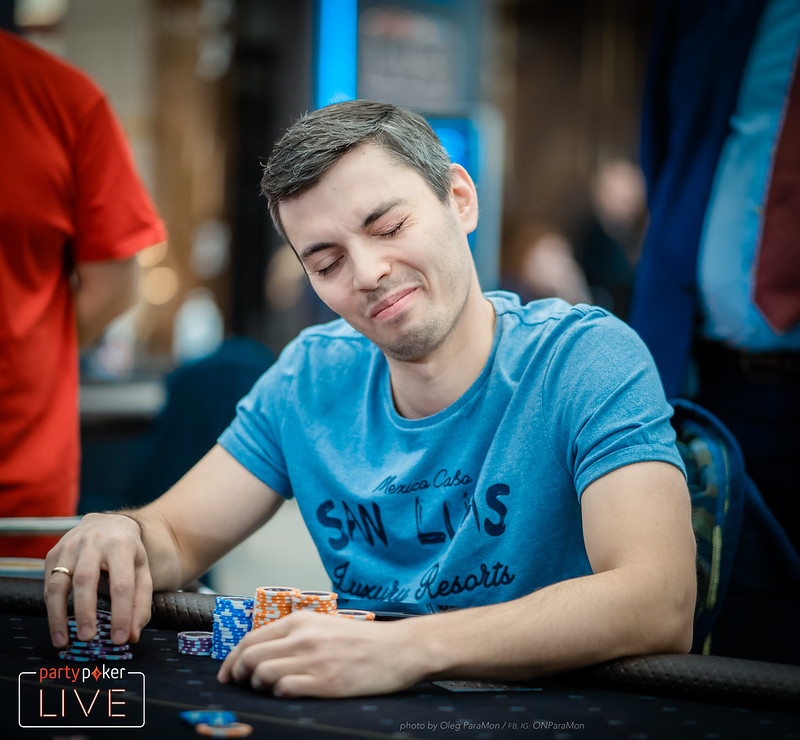 After building confidently since Day 2 began, Mikhail Rudoy has found himself abruptly on the rail after a giant flip vs. Phil Ivey.  Ivey called in the hijack with
, Wai Kin Yong came along with
, then button Rudoy moved all in for his whole 3,400,000 with
.  Ivey called (Yong understandably instantly getting out of the way) and it was off to the races for half the total chips in play.
The board ran out in Ivey's favour with
; we now have a huge chip leader.
| Player | Chips | Change |
| --- | --- | --- |
| Phil Ivey | 4,260,000 | -40,000 |
| Mikhail Rudoy | 3,245,000 | - |
| Sam Greenwood | 2,660,000 | 160,000 |
| Cary Katz | 1,780,000 | -120,000 |
| Wai Kin Yong | 1,640,000 | -360,000 |
| Aaron Van Blarcum | 1,460,000 | -340,000 |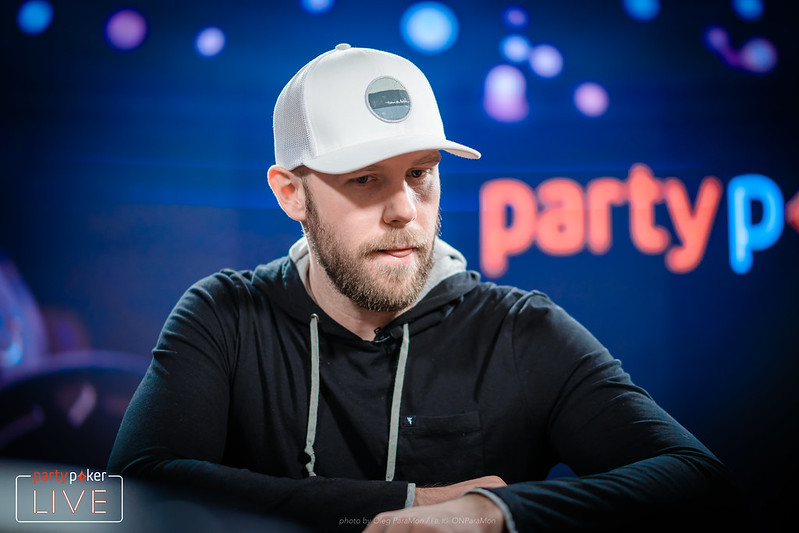 Seth Davies had not seen much in the way of playable cards after the seven-handed final began.  He picked up a few chips here and there (as when he recently jammed the cutoff for 1,030,000 with
when it folded to him), but in the end, he was first to the rail after his first major confrontation here, picking up $125,000.
Phil Ivey limped under the gun with
, Mikhail Rudoy followed suit with
.  Over to Davies who jammed for 1,380,000 with
; Rudoy made the call.  The board ran out double paired:
which was no good for Davies.
Level
Level 20
Ante: 50,000 Button Ante: 100,000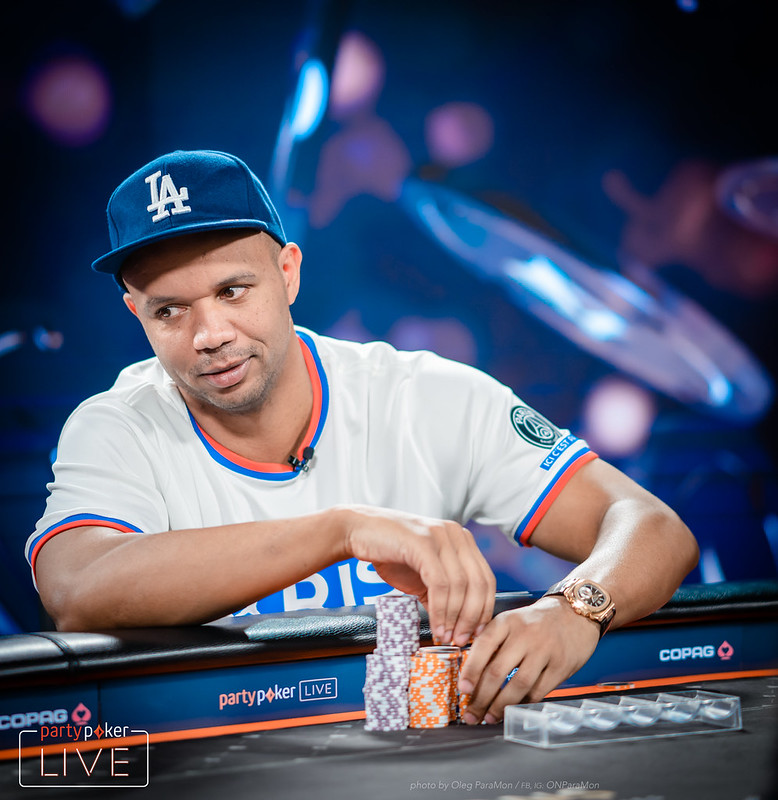 Phil Ivey took a stand against a now big stacked (and gear up-shifting) Sam Greenwood, who'd just moved in preflop in mid position for
, his 4,710,000 putting the rest of his opponents to the test for their tournament lives.  Ivey called all in for 2,130,000 with
.  Though Greenwood flopped the nuts with
, the runner-runner
gave Ivey his reward for his risk, and he doubled with a full house.
Sam Greenwood called preflop with
, Phil Ivey with
and Cary Katz checked his button with
.  On the
flop, Greenwood checked, Ivey bet 200,000 and Greenwood alone called, with the same hand.
Both players checked the
turn.  The
river saw Greenwood lead for a hefty 600,000 and Ivey laid his hand down.
Level
Level 19
Ante: 40,000 Button Ante: 80,000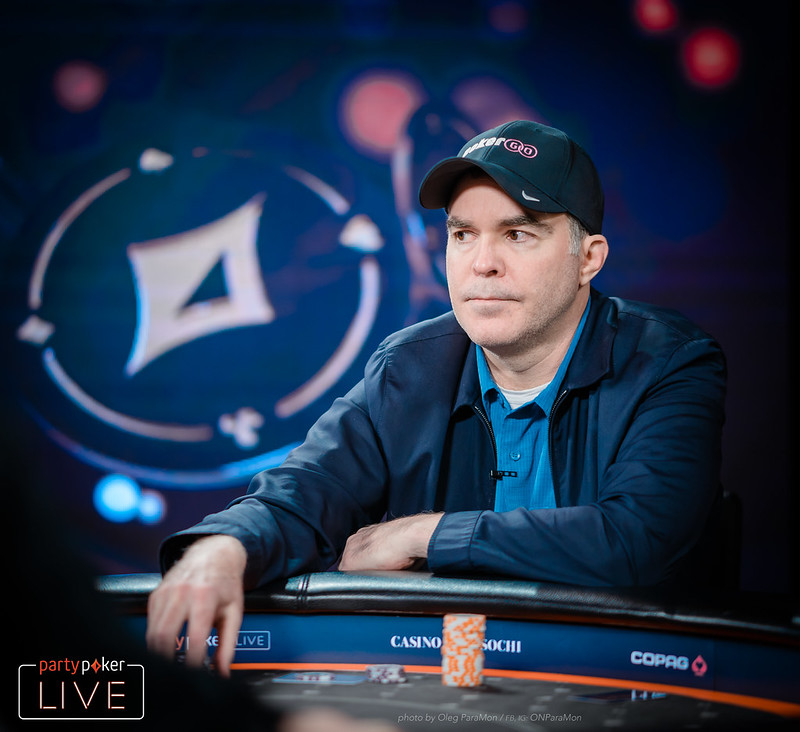 Picking up
, Cary Katz moved in for his 840,000 over the top of two limpers. One of them was Wai Kin Yong with
, who re-shoved, getting it heads up with Katz.  The runout of
favoured the all-in player, and Katz is right back in the mix.
Fiveway limping for 60,000 (starting with Wai Kin Yong holding
) started a pot with a
flop. Everyone checked it, holding:
Rudoy:

Katz:

Davies:

Van Blarcum (button):
.
The turn
brought the two players with sevens a straight.  It checked through to Van Blarcum, who bet 205,000, called by Katz alone.  The river brought in a higher straight for Van Blarcum, who was paid to the tune of 350,000.
First hand after two tables became one, Wai Kin Yong shoved when it folded to him in the hijack with the mighty
.  Next to act Mikhail Rudoy asked for a count (1,350,000) then rejammed with
.  Everyone else folded (including Cary Katz with
) and the cards were on their backs.
Rudoy flopped a set:
and with the
turn, Yong was drawing to one of two queens left in the deck to make his straight.  Lo and behold: there it was on the river –
.  Yong doubles and is now in possession of a very healthy stack.
You're all caught up!
No more pages to load