Event #5 $50,000 Short Deck
Level
Level 23
Ante: 100,000 Button Ante: 200,000
No flops for a few hands.  Action has included both players calling in the cutoff with
(Yong) and
(Ivey) only to fold to raises from their opponents (Yong at the time with
, then Ivey with
).
Yong came out slightly ahead over these multiple small confrontations, then won the biggest pot of heads up so far after spiking a gutshot with
on the river of a
board.  He bet 700,000, and Ivey used up two timebank cards before callin with
(two pair).
Wai Kin Yong has built his stack up by about a million chips in small pots at the start of heads up, including taking advantage of his button with
.  He raised to 460,000 after Phil Ivey limped for 160,000 with
, the latter making the call but folding when Yong bet 400,000 on the
flop.
Action is fast and cagey, with the first ten hands involving three walks.
Level
Level 22
Ante: 80,000 Button Ante: 160,000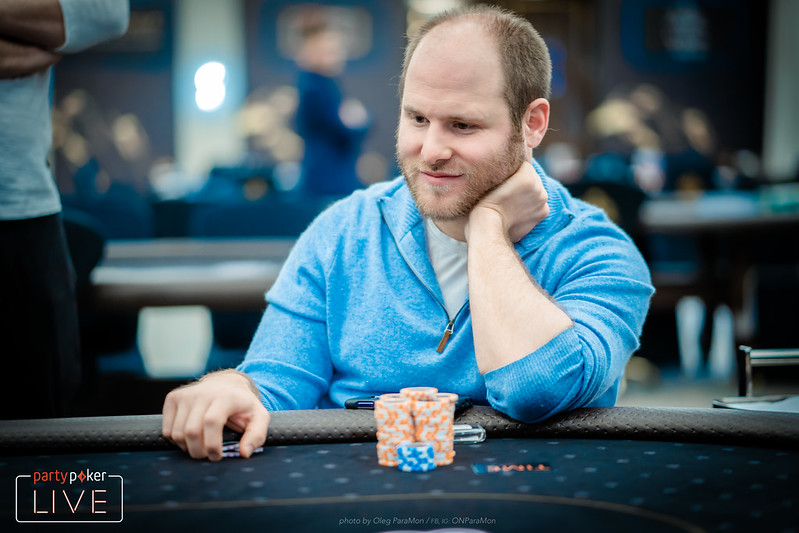 Phil Ivey called in the hijack with
; Sam Greenwood checked the button with
.  A flop of
boded action, and it did not disappoint.  At this stage, however, it was limited to a 200,000 lead from Ivey, called by Greenwood.
Ivey turned quads with the
turn and checked them, Greenwood checking behind.
The river:
.  Ivey bet 400,000, Greenwood raised to 1,950,000 (about half his remaining chips) and called when Ivey moved all in.  He saw the bad news represented by his opponent's maximum aces and suddenly we are heads up, Ivey with a dominating chip lead.
| Player | Chips | Change |
| --- | --- | --- |
| Phil Ivey | 11,640,000 | 4,240,000 |
| Wai Kin Yong | 3,360,000 | 360,000 |
| Sam Greenwood | Busted | -4,700,000 |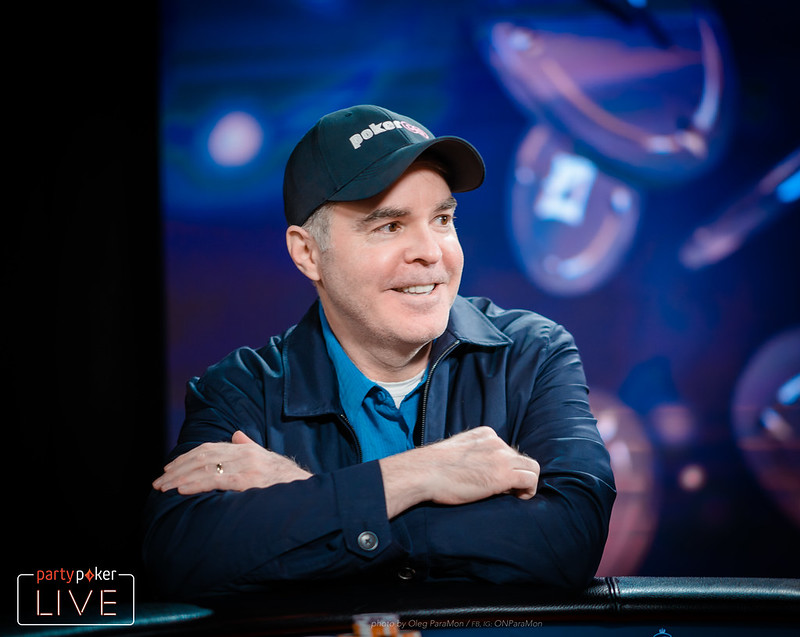 Cary Katz jammed the cutoff for 910,000 holding
.  Lurking behind him was Sam Greenwood with
and the second biggest stack: he got a call and failed to improve on a
board.
Another final table and another almost-trophy for Katz, who has put on a bravura performance so far this series.
It folded to cutoff Wai Kin Yong, who moved in for 2,000,000 with
. Button (and short stack) Cary Katz, took the plunge with
, hitting a full house on the river as the board ran out
.
The very next hand, Yong, down to 1,405,000, called all in with
when Phil Ivey made another pressuring under the gun jam with
.  He held over the
runout – all-in players are currently doubling with abandon.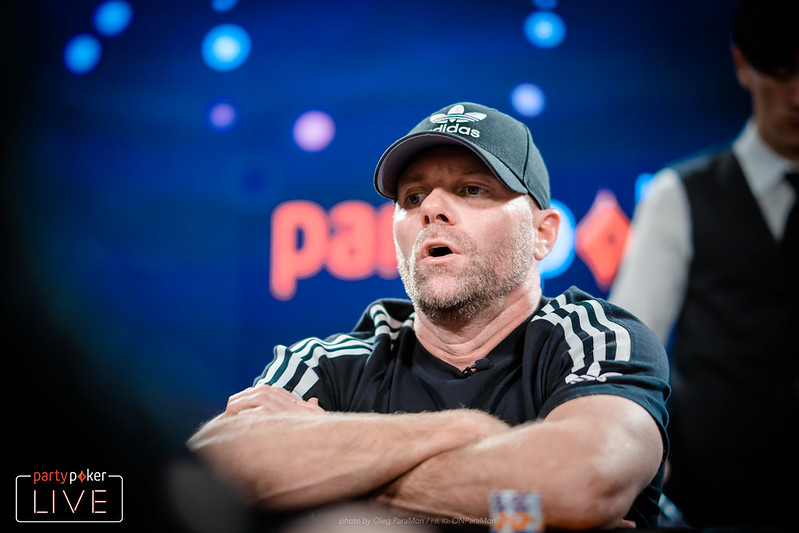 Aaron Van Blarcum moved all in blind after a Phil Ivey and Wai Kin Yong couple of calls – Ivey, with
re-shoved getting Yong (with
) out of the way. Van Blarcum, to his surprise, turned over
and proceeded to chop the pot.
It was a short reprieve, however, as the next hand he moved in with
, isolated by cutoff Sam Greenwood with
.
"Let me chip up one more time," asked Van Blarcum, but the deck did not comply, running a board out of
.
Level
Level 21
Ante: 60,000 Button Ante: 120,000
Wai Kin Yong moved all in for 990,000 when it folded to him in the hijack with
.  Over to button Aaron Van Blarcum, who snap-called him with
from a stack of 1,260,000.  Hands went on backs, the board running out
.  Yong breathes more easily with over 2,000,000 while Van Blarcum drops to a felt-brushing stack of 270,000.
| Player | Chips | Change |
| --- | --- | --- |
| Phil Ivey | 8,730,000 | 1,430,000 |
| Sam Greenwood | 3,360,000 | 700,000 |
| Wai Kin Yong | 2,130,000 | 490,000 |
| Cary Katz | 555,000 | -1,225,000 |
| Aaron Van Blarcum | 270,000 | -1,190,000 |
You're all caught up!
No more pages to load