Level
Level 14
Blinds
30,000 / 60,000
Big Blind Ante
60,000
The chip leader has been mixing it up like a cocktail on this final table, the only player who can put everyone to the test for their tournament lives, playing hands of all sorts from all positions.  Most recently, Artur Martirosyan flatted under the gun with
, prompting flats from Aaron Van Blarcum (
) and Cary Katz (
) in the middle before Mikita Badziakouski elected to just set the lot of them all-in – with
.  Martirosyan took a little while to consider, but threw his hand away, as did the rest of his opponents.
A couple of hands later, a well-timed three-bet from Martirosyan with
recovered a few chips for the sole Russian finalist.
Returning as the shortest stack today, Sam Greenwood's spot radar is working well; he's shoved three times for c. 300,000, uncalled, including recently with
on the button as the blinds rise once more, to 30,000/60,000.  A tablemate could be heard calling him a "short stack ninja – how do you get those through?"
Under the gun, Aaron Van Blarcum raised to 85,000 with
, playing a stack of just over a million chips.  Over to chip leader Mikita Badziakouski in the cutoff (playing double this stack), who elected to flat with
, flopping top pair on a heads up
board.  Van Blarcum led out for 75,000, but folded to Badziakouski's raise to 175,000.
Badziakouski has also picked up a few pots with either preflop uncontested raises or timely flop bets, slowly chipping up so far.
Level
Level 13
Blinds
20,000 / 40,000
Big Blind Ante
40,000
Two premium preflop hands for Cary Katz in the opening minutes: first he flat called an Artur Martirosyan open (to 80,000) with pocket queens in the big blind, check-calling the 60,000 his opponent bet on the
flop, then taking the pot down with a 50,000 lead on the
turn.
Then he flatted his button with
when it folded to him, seeing a heads up flop with the same opponent when he checked his big blind (with
).  Martirosyan flopped a pair:
.  He check-called a bet of 60,000 from Katz and both players then checked the
turn.  On the
river, Martirosyan led out for 50,000 and Katz made the call with his ace-high.
Returning second shortest in chips and now with eight big blinds, Wiktor Malinowski picked up
on the small blind and moved all in over the top of a button raise from Artur Martirosyan (to 80,000) with
.  He was called unsurprisingly swiftly, and failed to outdraw the big slick over the
run-out.
The first hand of the final table, Luc Greenwood opened to 80,000 (with 840,000 behind) under the gun plus one with
, called by cutoff Aaron Van Blarcum with
.  Over to chip leader Mikita Badziakouski, who three-bet to 280,000 holding
.  Greenwood thought for a short while, but passed his hand, as did Van Blarcum.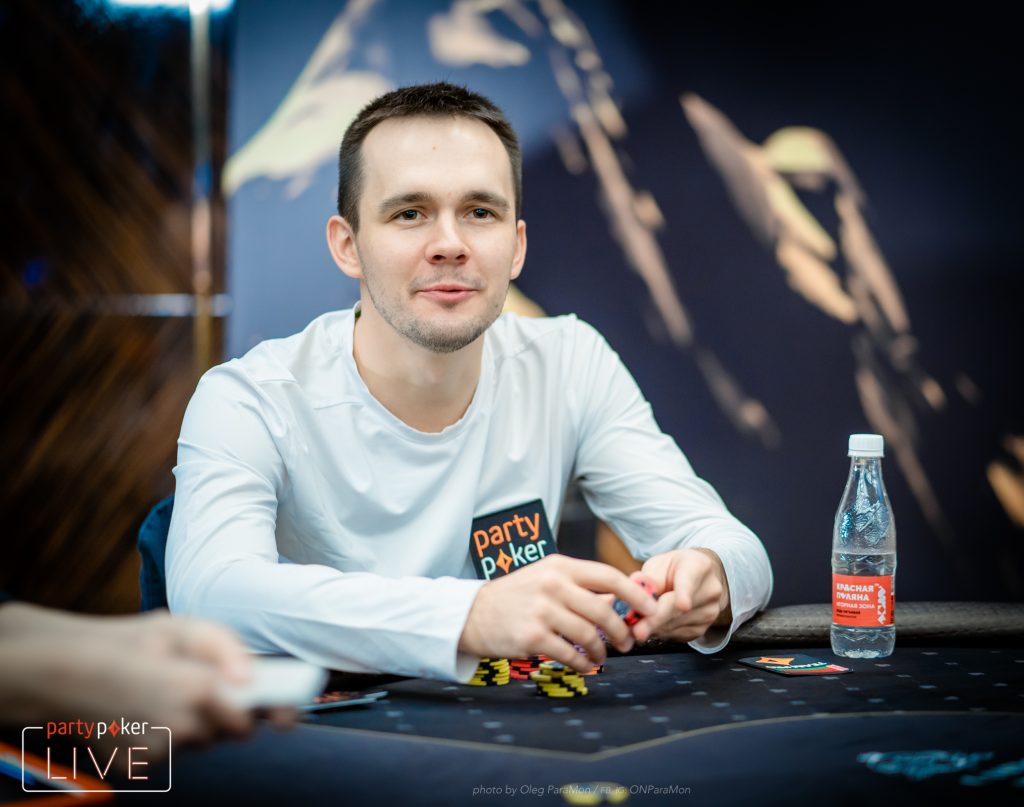 After the three $25,000 events kicking off the partypoker LIVE MILLIONS Super High Roller Series Sochi this week, today's final table will see seven seasoned super high rollers compete for the trophy and its accompanying $765,000 in prize money in Event #4: $50,000 No Limit Hold'em. As expected, the raising of the buy-in proved no obstacle to the enthusiasm of the elite group of poker players gathered in Russia for this week of high-stakes NLH tournaments.
A total of 45 entries generated a total prize pool of $2,250,000 in this event and all of it will be awarded today; with Kahle Burns' exit on the bubble, all seven returning players are guaranteed at least $112,500 for having made it to Day 2.
| | |
| --- | --- |
| Place |  Prize |
| 1 |  $765,000 |
| 2 |  $495,000 |
| 3 |  $337,500 |
| 4 |  $225,000 |
| 5 |  $180,000 |
| 6 |  $135,000 |
| 7 |  $112,500 |
In contention are some of the most experienced Super High Roller crushers in the business, including Cary Katz (who finished fourth in Event #1 here on Saturday for $105,000), Luc and Sam Greenwood and Aaron Van Blarcum who is making an astounding third final table appearance (out of four events in Sochi so far).  Van Blarcum has already won over a quarter of a million dollars here and, lying second in chips on the final table, is in good shape to challenge for the title.
Rounding out the final table are online crusher Wiktor "limitless" Malinowski, Artur Martirosyand and chip leader (and partypoker Pro) Mikita Baziakouski.
Event #4: $50,000 NLH Unofficial Final Table
| | | | |
| --- | --- | --- | --- |
| Seat | Player | Chip Count | Big Blinds |
| 1 | Aaron Van Blarcum | 1,245,000 | 31 |
| 2 | Cary Katz | 1,170,000 | 29 |
| 3 | Mikita Badziakouski | 1,565,000 | 39 |
| 4 | Artur Martirosyan | 1,105,000 | 28 |
| 5 | Wiktor Malinowski | 400,000 | 10 |
| 6 | Luc Greenwood | 920,000 | 23 |
| 7 | Sam Greenwood | 350,000 | 9 |
Live coverage of the final table action restarts at 7am EDT/2pm local time in line with the cards up stream on PokerGO.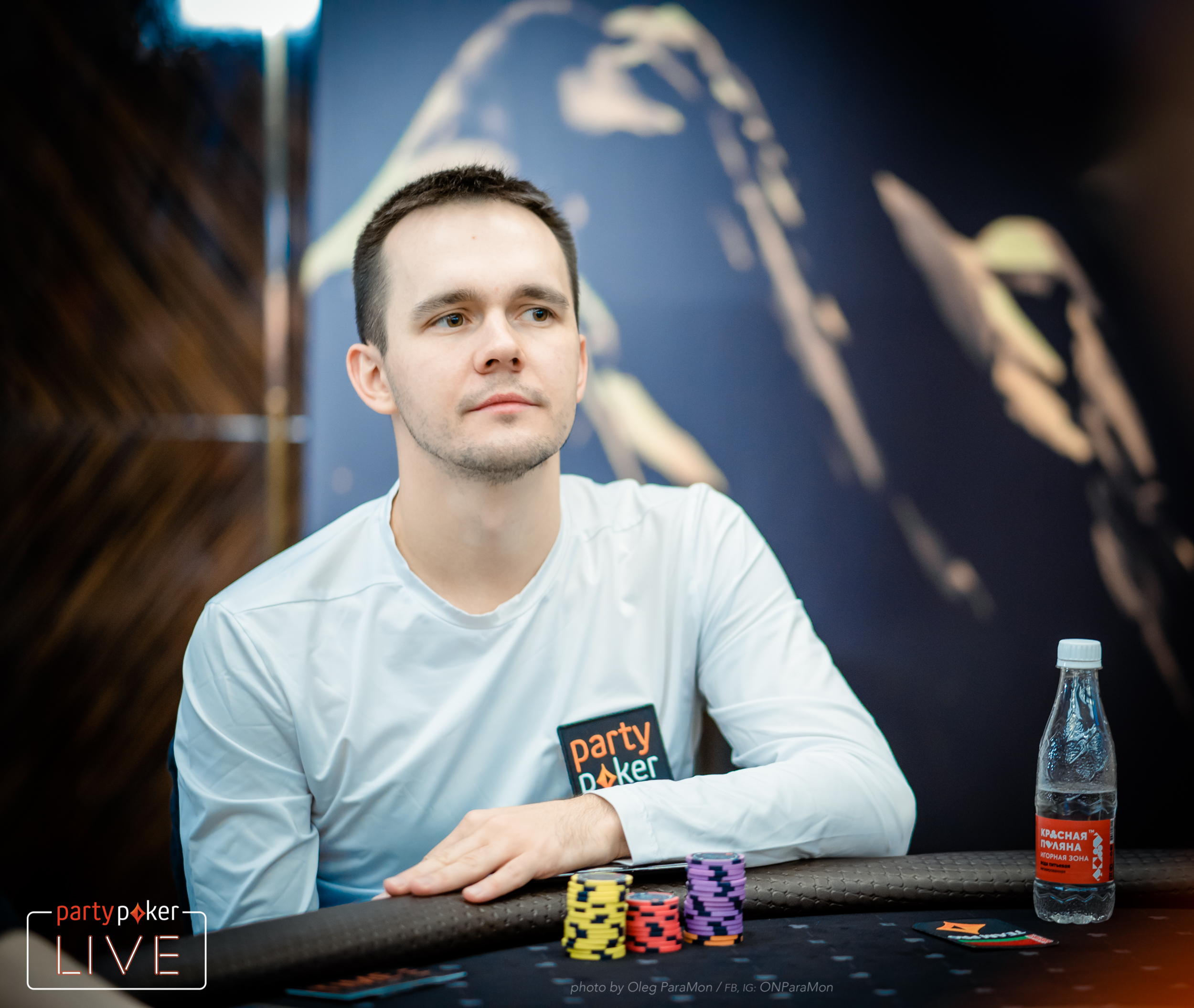 The partypoker LIVE MILLIONS Super High Roller Series in Sochi has now seen Day 1 of Event #4: $50,000 No-Limit Hold'em come to an end on level 13 with 31:31 remaining on the clock. The first $50,000 buy-in event of the series drew 45 players and by night's end, only seven remained with partypoker pro Mikita Badziakouski sitting on top of the leaderboard with his 1,565,000 in chips.
Badziakouski may have finished atop the chip counts but his day was no walk in the park as he took on multiple hurdles en route to bagging the lead. The Belarus native saw his momentum pick up after a hand with Paul Phua when Badziakouski pushed in a pot-sized bet on the turn and river with his flopped straight. Phua paid him off and Badziakouski began his heater.
The final two tables were set just moments after Badzuakouski took down that pot from Phua and it was not long before the two had it out for each other again. Phua pushed his remaining chips into the middle with big slick and looked excited to get a call from Badziakouski until he turned over a pair of aces. The board came down clean and Phua took an exit, adding the rest of his chips to Badziakouski's stack who did not waste them as he kept pace throughout the last stages of the night and will be entering the final day as the leader.
Closest behind the partypoker pro on the totem pole is Aaron Var Blarcum with 1,245,000. Blarcum is now playing a back-to-back final table session that saw his first appearance end with a sixth-place finish for $91,500 which brought his total live earnings over the $3.5 million mark. The American will be starting the day in much better shape than his first final table and will be looking to take down his first event of the series.
Rounding out the top three is Cary Katz who undeniably one of the best in the business with a resume that not many can beat, having over $27 million in career earnings. Katz will be coming into Day 2 with 1,170,000 and more than enough high stakes experience to take down this event, adding yet another Super High Roller victory under his belt.
Wiktor Malinowski, otherwise known as "limitless" is an online crusher who climbed from freerolls to the biggest buy-ins that any site had to offer. The Polish pro will be starting the final day with 400,000 which is second last on the leaderboard but will surely be someone to watch for as the action unfolds on the final day.
Filling out the other three seats in this star-studded final table are Artur Martirosyan (1,105,000), Luc Greenwood (920,000), and Sam Greenwood (350,000). Martirosyan is a relatively unknown player to the high roller scene but the Greenwood brothers have been around for block once or twice. Luc will be bumping is live career earnings over $4.4 million tomorrow and Sam will see his resume hit the $21.5 million mark at least. Both are heavy hitters that will make their presence felt tomorrow when Day 2 kicks-off.
Event #4: $50,000 NLH Unofficial Final Table
| | | | |
| --- | --- | --- | --- |
| Seat | Player | Chip Count | Big Blinds |
| 1 | Aaron Van Blarcum | 1,245,000 | 31 |
| 2 | Cary Katz | 1,170,000 | 29 |
| 3 | Mikita Badziakouski | 1,565,000 | 39 |
| 4 | Artur Martirosyan | 1,105,000 | 28 |
| 5 | Wiktor Malinowski | 400,000 | 10 |
| 6 | Luc Greenwood | 920,000 | 23 |
| 7 | Sam Greenwood | 350,000 | 9 |
Play began at 3 p.m. (MSK) with an impressive four tables kicking off the action and by the time late registration had closed there was a total of 45 entry slips sold which accumulated a prize pool of $2,250,000. The top seven were then set to find a payday with a min-cash worth $112,500 and a top prize of $765,000 headed to the eventual winner.
Event #4: $50,000 No-Limit Hold'em final table begins at 1 p.m. (MSK) on Tuesday, March 10, with the action continuing until a winner is crowned, taking home the $765,000 first-place money.
Watch PokerGO coverage of the partypoker LIVE MILLIONS Super High Roller Series Sochi. Subscribe right now to catch all of the best hands, played by the best poker players
You're all caught up!
No more pages to load