Event #1 $25,000 Short Deck
Level
Level 19
Blinds
40,000 / 80,000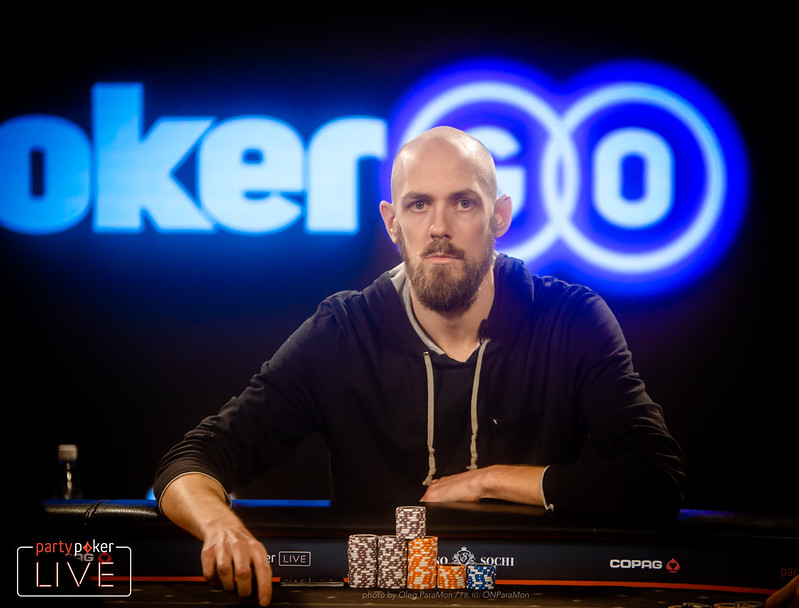 A big flip sent Stephen Chidwick down to a felt-brushing stack, his
all in preflop after Aaron Van Blarcum three-bet his original raise to 230,000 all in with
– to a total of 1,440,000.  The board brought help for Van Blarcum:
and he doubled through.
Moments later Chidwick's last 235,000 was all in preflop with his own
, called by John Cynn with
.  Chidwick stayed ahead over the
run out to keep this final six handed, but only momentarily.  The high roller veteran leaves the table in 6th, winning $63,000.
Stephen Chidwick opened to 180,000 under the gun plus one holding
, called by cutoff Wai Leong Chan with
and button Cary Katz (
).  On the flop of
, Chidwick checked, Wai Leong Chan bet 325,000, called by Chidwick alone.
The turn:
.  Check to Wai Leong Chan again, who now bet 600,000, eventually prompting a fold.
Aaron Van Blarcum opened to 250,000 in the hijack with
, finding cutoff Jiang Xie He moving all in over the top holding
.  Now facing a total bet of 1,250,000, button Wai Leong Chan took a little while to pass his own
, but did so, leaving Van Blarcum to make a quick call.
The board remained safe for the queens as it rolled out
, but He'd picked up straight outs on the turn, which came good for the short stack with the
river.
Level
Level 18
Blinds
30,000 / 60,000
Multiple time bank cards were used by Cary Katz who faced a decision for his tournament life courtesy of Aaron Van Blarcum on the river of a pot that took about three times as long as any previous hand on the final.
Katz had checked behind, holding
, on a
flop, then bet when it was checked to him on the
turn.  Van Blarcum, holding
, made the call, then set Katz all in when the river paired the board with the
.
A pained tank ensued, as Katz ran through the possibilities regarding his opponent's holding.  These included, "You could have made a snap decision and just bluffed," as well as the fact that, "I was ecstatic about the river – until you jammed!"
"Just tell me when I have ten seconds left," said Katz, before finally throwing his hand into the muck.
After three-betting all in preflop with
for 1,600,000 (and picking up 200,000 from initial raiser Wai Leong Chan who passed
), John Cynn lost a pot to Aaron Can Blarcum the very next hand.  Cynn limped for 50,000 with
, then called Van Blarcum's raise to 225,000 (holding
) to see a flop of
.  Cynn checked and Van Blarcum bet 250,000.  Cynn folded.
| Player | Chips | Change |
| --- | --- | --- |
| Wai Leong Chan | 4,005,000 | -95,000 |
| Stephen Chidwick | 2,130,000 | 430,000 |
| Aaron Van Blarcum | 2,010,000 | -25,000 |
| John Cynn | 1,570,000 | -430,000 |
| Xia He Jiang | 1,560,000 | -240,000 |
| Cary Katz | 1,325,000 | -275,000 |
Cary Katz, representing for PokerGO, started the final as the short stack but has doubled through to 1,600,000 after moving all in preflop for 735,000 over the top of a preflop open from Aaron Van Blarcum with
.  Katz held
;  "Anything high it's over…" he sweated, as the flop came down
, but the turn and river fell
securing him the double.
A fiveway limped pot – "not something you normally see on a final table," as commentator James Dempsey noted, ended up with a pot going to Wai Leong Chan after he turned his second pair into a bluff on the river.
A flop of
saw four checks to cutoff Stephen Chidwick who bet 75,000 holding
, called by under the gun first limper Jiang Xia He with
and his neighbour Wai Leong Chan with
.
The turn brought the
and two checks to Chidwick, who bet 175,000.  He folded his bigger ace; Leong Chan made the call.
The river:
.  Now Wai Leong Chan led out for 475,000, turning his pair of queens into a bluff.  After spending a timebank card, Chidwick folded.
You're all caught up!
No more pages to load