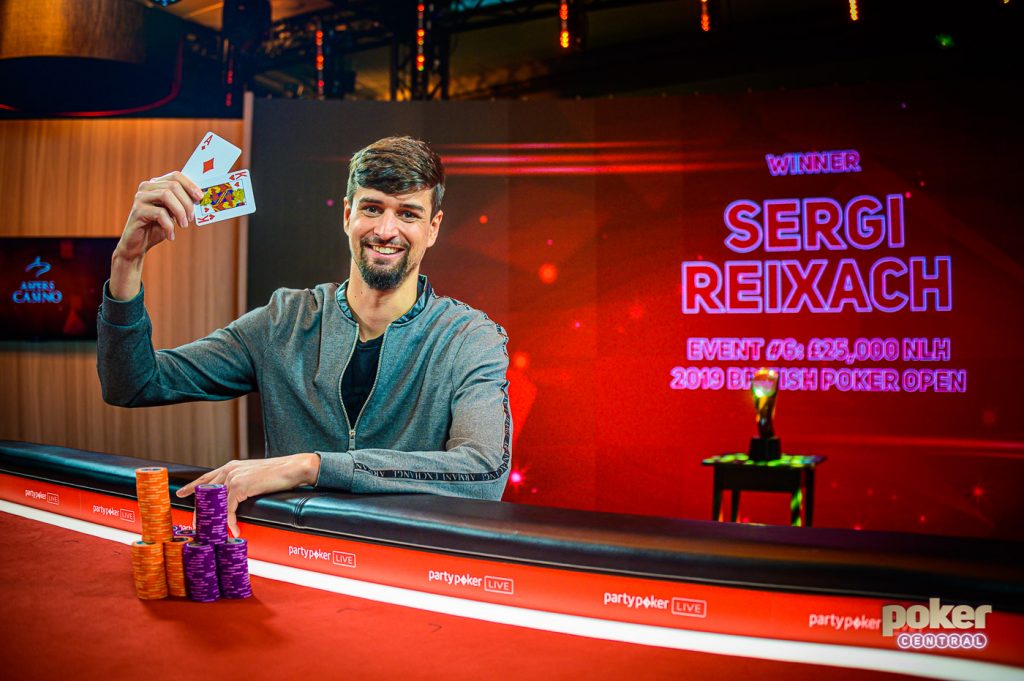 After one of the most bizarre, topsy-turvy final days of the 2019 British Poker Open or indeed any event, Spanish player Sergi Reixach took full advantage of the swings to become Event #6 champion and put himself in the running for the overall leaderboard winner a week from today.
A THREE HOUR BUBBLE
With play starting on the bubble, movements might have been slow to start with, but in truth, they weren't. Players raised, went all-in…and always survived. Despite some three-way all-ins, everyone always stacked chips at the end of the hand and short stacks ruled the felt.
That was until, after almost three and a half hours, Bosnian phenom Ali Imsirovic, who had been chip leader twice during the final table, was all-in and at risk with
and he lost to Sergi Reixach's pocket nines, a hand that would seem fateful come the completion of the entire event just 40 minutes later.
THREE-WAY TO HEADS-UP AND THE END
With four players left, Michael Zhang with
and Elio Fox holding
were both all-in at risk, and were eliminated by Reixach who again held pocket nines which held. Suddenly, Reixach had all the chips, 90% of them in play, and in the first hand of heads-up, he held ace-king against Timothy Adams' shove with king-queen. All the chips went in and Reixach held with minimal sweat to convert his £25,000 entry into a quarter of a million pounds!
A GRACIOUS CHAMPION
"It's been a tough final day," Reixach told us moments after his victory. "The bubble lasted four hours or something – it's probably one of the longest bubbles I ever played.
Reixach appreciated that after that incredible three-way all-in, to then pick up ace-king against king-queen was more than a little fortunate.
"After the bubble burst, I was lucky in a three-way all-in with pocket nines and heads up was just a cooler… and I win!"
An incredible performance, and we'll have another final table right here tomorrow for you. From Event #6, here are all the winners:
Final Table Results:
| | | |
| --- | --- | --- |
| Place | Player | Prize |
| 1st | Sergi Reixach | £253,000 |
| 2nd | Timothy Adams | £154,000 |
| 3rd | Elio Fox | £88,000 |
| 4th | Michael Zhang | £55,000 |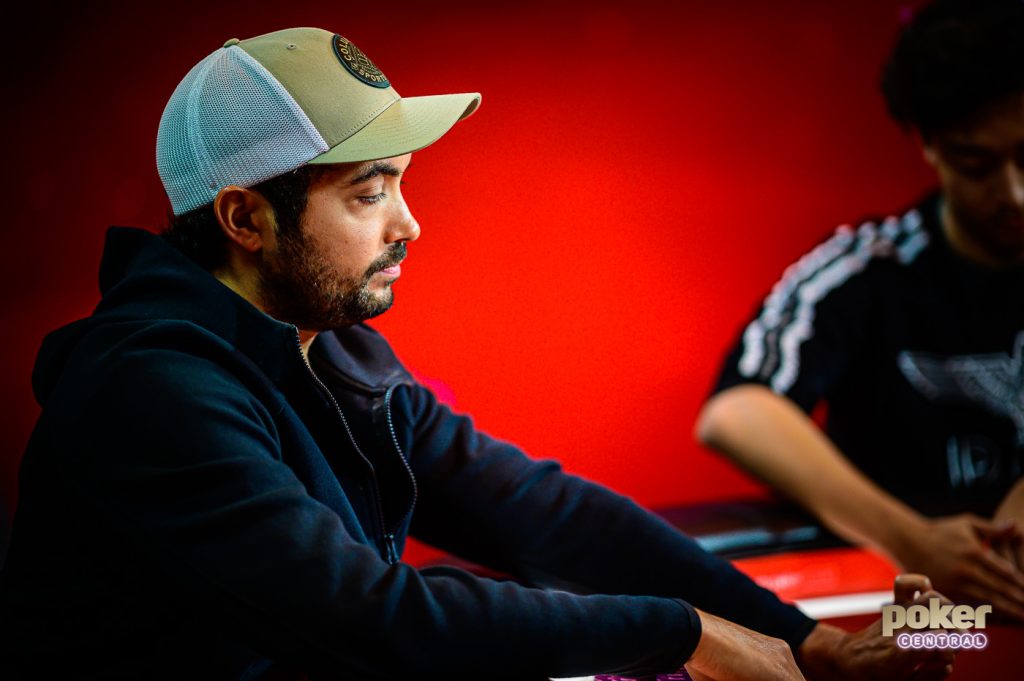 We might have had a three-hour bubble, but there was to be no such lengthy heads-up battle. It took just one hand to find a winner, with Timothy Adams all-in move for 250,000 with
snap-called by Sergi Reixach with
.
The flop of
kept Reixach ahead and when the
fell on the turn, Adams needed to find an ace or nine to stay alive.
Heads-up was over in just that one hand when the
saw Sergi Reixach conquer a tough field in the most incredible of swings. Almost every player at the table had been both chip leader and short stack across the day's play, but in the end, it was Timothy Adams who ended the day with the £154,000 runner-up prize.
Sergi Reixach, however, was crowned champion for £253,000.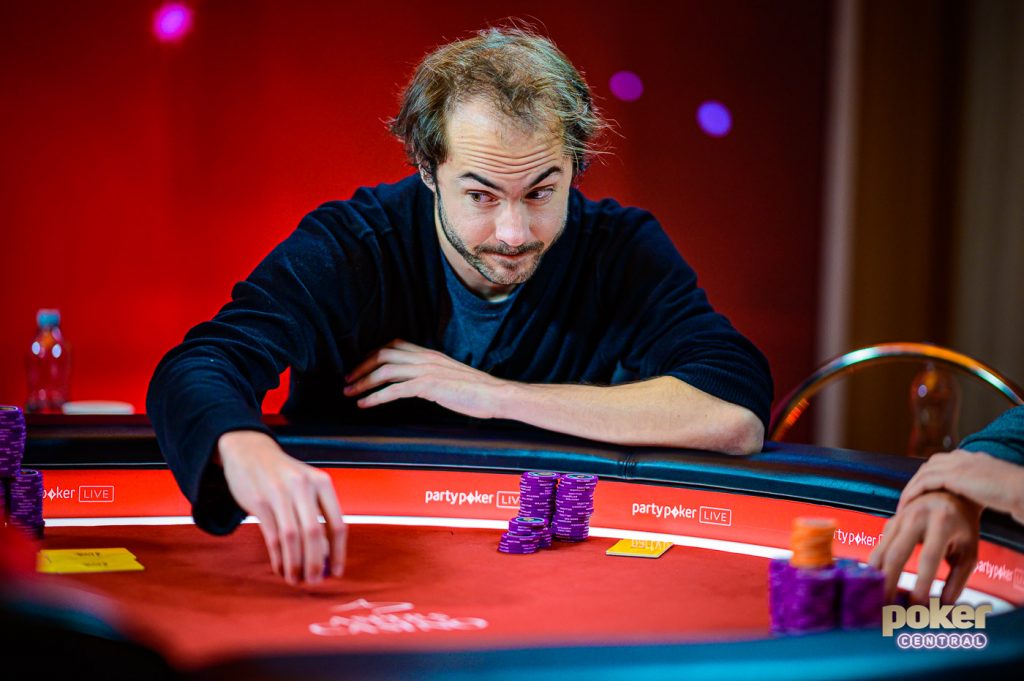 While Timothy Adams mooched away to – quite literally – buy a bowl of rice, Michael Zhang moved all-in for 500,000 exactly from the button position with
.
Elio Fox called in the small blind with
and Sergi Reixach re-shoved all-in from the big blind with
.
Fox made the call for his tournament life and we were three-way to the flop of
, giving Fox a nut flush draw and leaving everyone still in with a chance, although Zhang had the most catching up to do.
The turn of
changed nothing and the
on the river saw Sergi Reixach bust both Elio Fox in 3rd place for £88,000 and Michael Zhang in 4th place for £55,000.
Timothy Adams, having ordered lunch, has returned to discover he has just purchased what Reixach called "a 100k bowl of rice". We're heads up in the most sensational of circumstances.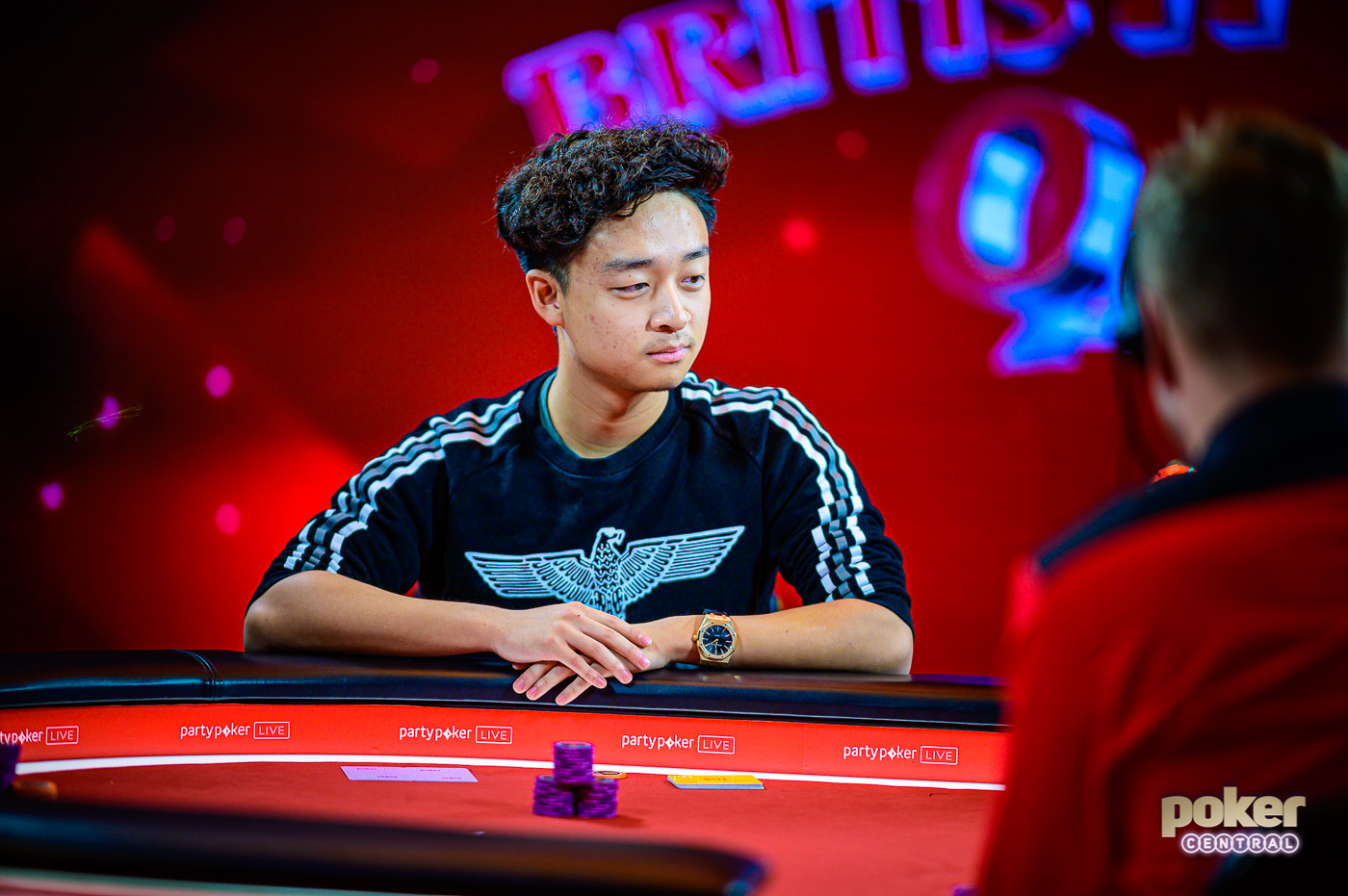 | Player | Chips | Change |
| --- | --- | --- |
| Sergi Reixach | 2,460,000 | 1,600,000 |
| Timothy Adams | 290,000 | -20,000 |
| Elio Fox | Busted | -950,000 |
| Michael Zhang | Busted | -615,000 |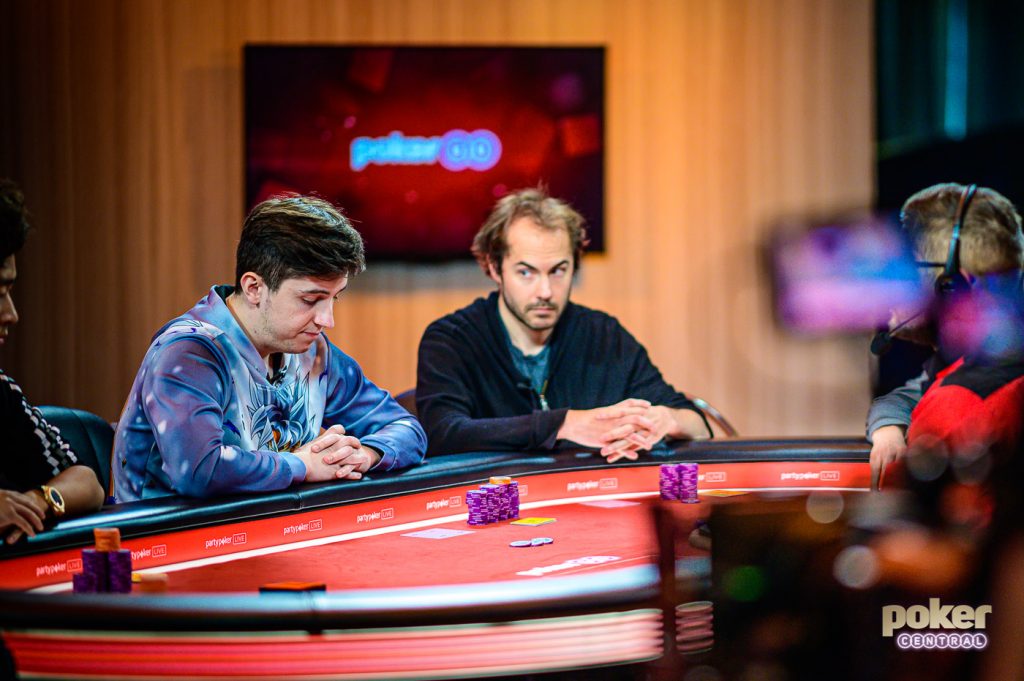 After almost three and a half hours of bubble play, Imsirovic made it 200,000 from his 345,000 stack with
and Sergi Reixach moved all-in with
. Imsirovic made the call.
The flop came
, an awful flop for Imsirovic. It would need to be a king or jack that wasn't a club for the Bosnian to survive, but the turn
gave him three more outs in the non-club queens too.
The river was the
and a brutal, lengthy bubble saw Imsirovic finally become bubble boy in the toughest of circumstances.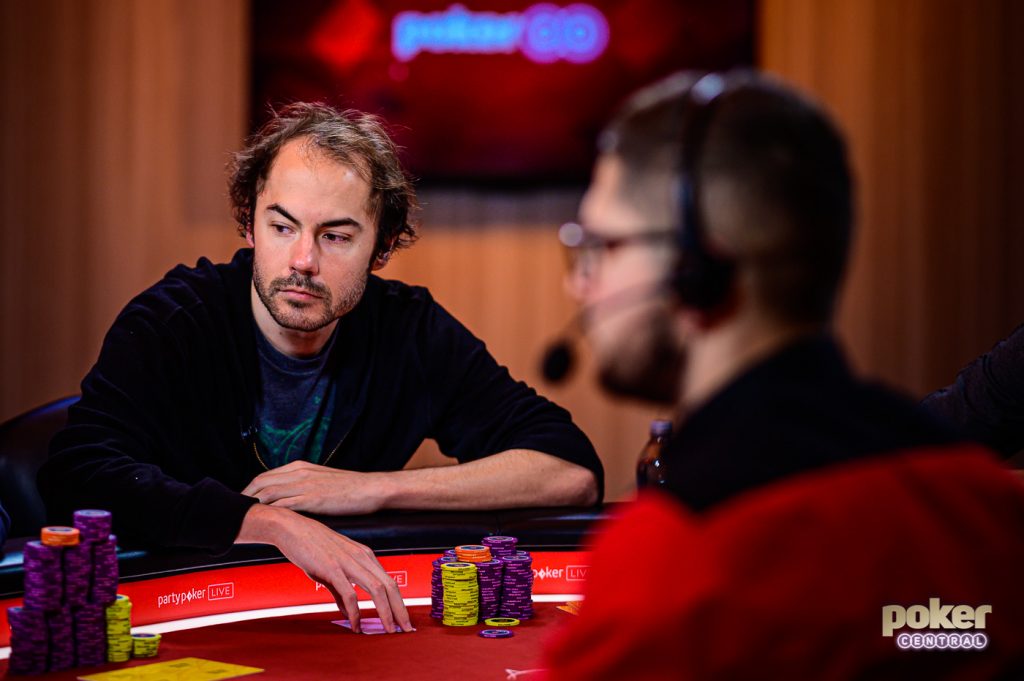 Elio Fox moved all-in for 450,000 with
and Timothy Adams used his time bank extension, eventually calling with
.
It was a 60/40 fight, and Fox smiled before the five community cards, telling the table he felt good and on the flop of
he still did. The
and
river meant Fox had gone back up from short stack to chip leader!
Have we ever seen anything like this? Every short-stack has doubled up when all-in for over three hours, and there have been a lot of all-ins. Amazing stuff. Whoever keeps their composure after the bubble finally does burst could be favorite to win just because of that.
Elio Fox moved all-in with
for 205,000 and Sergi Reixach found the call from his big blind with
for the 450,000-chip pot.
The flop of
saw Fox hold onto the lead and despite his "Jack, no sweat" call, his luck held through the turn of
, which meant only a five would eliminate the overnight chip leader and the
gave him the double up.
Level
Level 7
Blinds
2,000 / 4,000
Big Blind Ante
4,000
Imsirovic made it 150,000 to go with
and was just called by Sergi Reixcah with
.
The flop of
saw Imsirovic put the rest of his stack in (75,000). Reixach was getting good odds but was a 13% dog in the hand. He made the call!
The
turn helped Imsirovic and the
gave Imsirovic the double up.
The players are discussing this incredible bubble of over three hours of no limit poker. 'It must be some sort of record' someone said, as the players headed for a 10-minute break.
In the next hand, Elio Fox moved all-in for 655,000 with
and was called for his stack of 370,000 by Sergi Reixach with
.
The board of
flirted with the most dramatic of runner-runner reverses, but pre-flop favorite Reixach survive. Both Ali Imsirovic and Elio Fox and now under 10 big blinds.
Michael Zhang was all-in pre-flop for 190,000 chips with
and he was called by a re-shove for 310,000 by Ali Imsirovic with
  and then Timothy Adams, the chip leader with 1.1 million and holding just 
Flop of
put Zhang in massive trouble, but the
turn gave Zhang the lead!
The Qs on the river saw both Zhang and Imsirovic survive, with the Bosnian dropping to short-stack. A three-way all-in failed to eliminate a player and there are less than 100 big blinds in play and still everything to play for. Incredible.
| Player | Chips | Change |
| --- | --- | --- |
| Timothy Adams | 795,000 | -240,000 |
| Elio Fox | 715,000 | -195,000 |
| Michael Zhang | 600,000 | 210,000 |
| Sergi Reixach | 400,000 | -15,000 |
| Ali Imsirovic | 240,000 | -330,000 |
You're all caught up!
No more pages to load