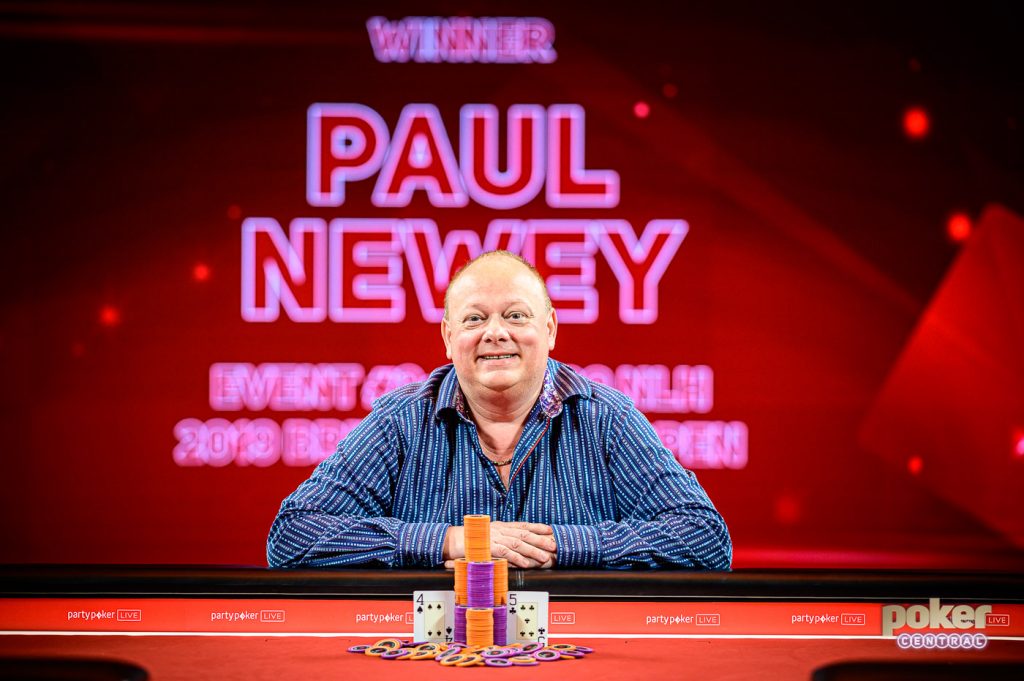 After a fast-paced final table saw all five of his rivals busted within just over two hours of play, Paul Newey became a tournament champion on the day before his 51st birthday as he took down Event #3 of the British Poker Open.
Relive the entire final table on PokerGO right now. Read the Live Reporting action here. 
TOP DOLLAR GOT OFF TO A SLOW START
While the eventual winner Paul Newey folded many of his early hands, others had to move faster to gain ground. Cary Katz was in good shape with ace-nine when he moved all-in pre-flop against Belarussian player Mikita Badziakouski, who held ace-seven. But a seven on the turn spelt doom for Katz and Badziakouski forced himself back into contention.
It would be Sam Greenwood who would bust in fifth place to earn £36,800 for his efforts, holding ace-king on an ace-high board from the flop. But the flop was all diamonds too, and Paul Newey loves a little bling, as the chain around his neck hinted. He had flopped the flush and called off Greenwood's shove on the river to eliminate the Canadian.
NEWEY BUILD A PILE, FOX OUTFOXED
While Paul Newey was suddenly chip leader out of nowhere, the blinds were rising, and two players were forced to make a move or be blinded out of contention. First, Badziakouski busted when his dominated ace-jack was taken down by Newey's ace-queen.
Play was sent heads-up when Elio Fox raised for two-thirds of his stack with
three-handed and Sam Soverel re-raised all-in with pocket kings. Fox called it off and although he hit a queen on the flop, couldn't catch up.
Did you hear the latest from Jens Kyllonen? The Finnish pro thinks a $1,000,000 Pot Limit Omaha tournament can draw 50 players. Read the full story here.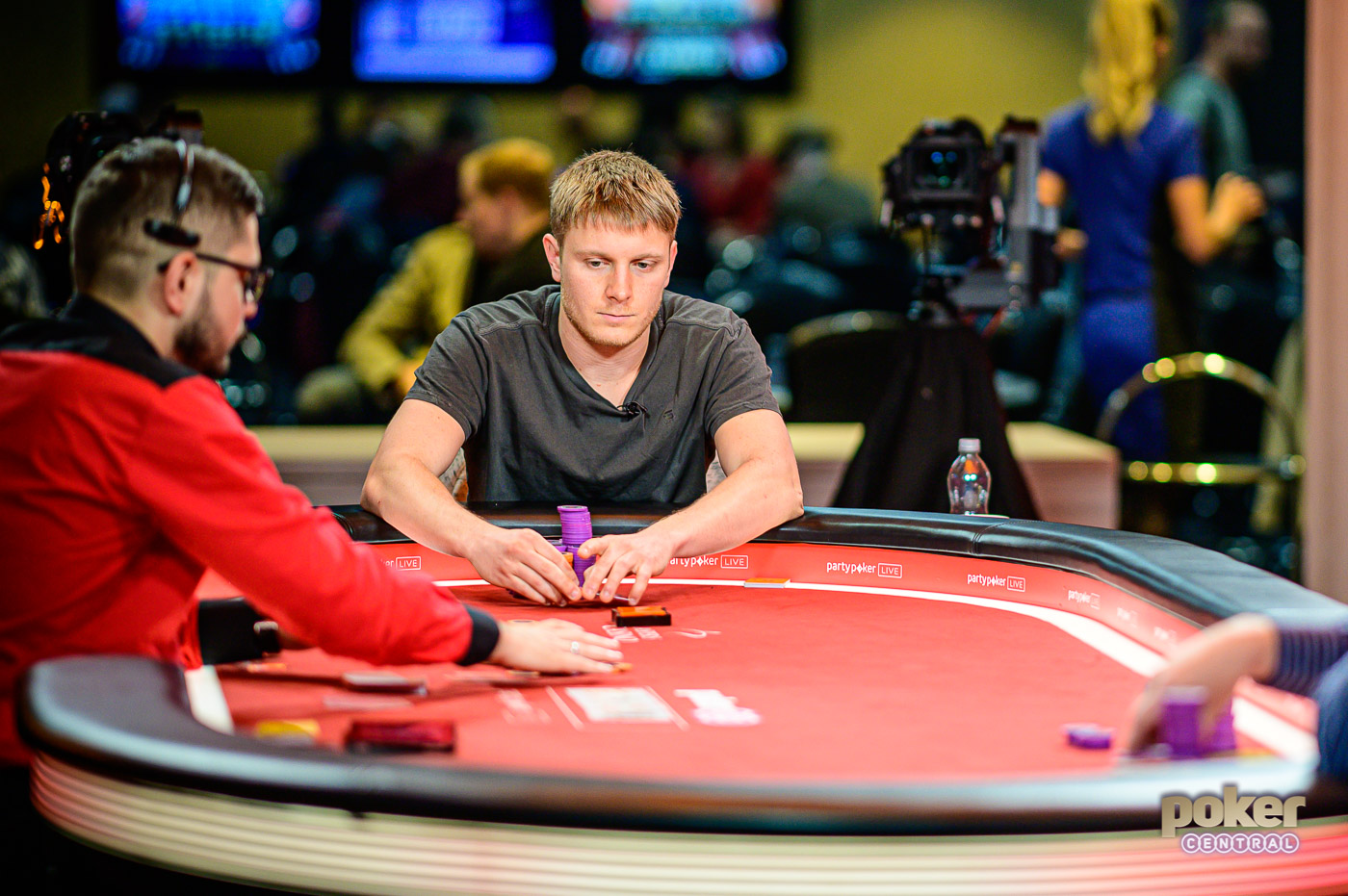 HEADS UP A BRUTAL AND QUICK END
Newey started heads-up a tiny bit behind. But he won the only big pot of the heads-up duel when he was dealt a pair of nines, and raised all-in over the three-bet by Sam Soverel with pocket jacks. The cards were on their backs, almost all of the chips were in the pot and Newey needed a lot of help.
Newey got it in spectacular fashion when a nine landed on the turn to give Newey the hand and very soon afterwards after mopping up Sam Soverel's final two big blinds, the title.
"It's the first time I've won a big live event and I won all my all-ins – that makes it easier!" said Newey after the event. "I was reminding Sam heads up about our heads-up four years ago in Vegas when it was a $10k heads-up tournament and they had to create new blind levels for us!"
Although he played some great stuff to win the title, Newey appreciated his fortune at stages, not just today, but all the way back to Day 1, where he returned from nowhere to climb off the metaphorical canvas.
"I had just over three big blinds at my lowest point and I got lucky again yesterday," he said upon victory. The humble Brit has won his first-ever live event at this level on the eve of his 51st birthday, what a present for the colorful character at the tables.
Final Table Results:
| | | | |
| --- | --- | --- | --- |
| Place | Player |  Country | Prize |
| 1 | Paul Newey | United Kingdom | £156,400 |
| 2 | Sam Soverel | United States | £101,200 |
| 3 | Elio Fox | United States | £69,000 |
| 4 | Mikita Badziakouski | Belarus | £46,000 |
| 5 | Sam Greenwood | Canada | £36,800 |
| 6 | Cary Katz | United States | £27,600 |
The British Poker Open Championship standings are now as follows.
| | | | |
| --- | --- | --- | --- |
| | Name | Points | Payouts |
| 1 | Sam Soverel (2) | 280 | £179,200 |
| 2 | Paul Newey | 200 | £156,400 |
| 3 | George Wolff | 200 | £120,000 |
| 4 | Luc Greenwood | 200 | £119,600 |
| 5 | Steve O'Dwyer | 140 | £72,800 |
| 6 | Stephen Chidwick (2) | 140 | £71,000 |
| 7 | Elio Fox | 100 | £69,000 |
| 8 | Robert Flink | 100 | £41,600 |
| 9 | Mikita Badziakouski | 80 | £46,000 |
| 10 | Gavin Cochrane | 80 | £30,000 |
| 11 | Sam Grafton | 80 | £26,000 |
| 12 | Sam Greenwood | 60 | £36,800 |
| 13 | Joni Jouhkimainen | 60 | £24,000 |
| 14 | Cary Katz | 40 | £27,600 |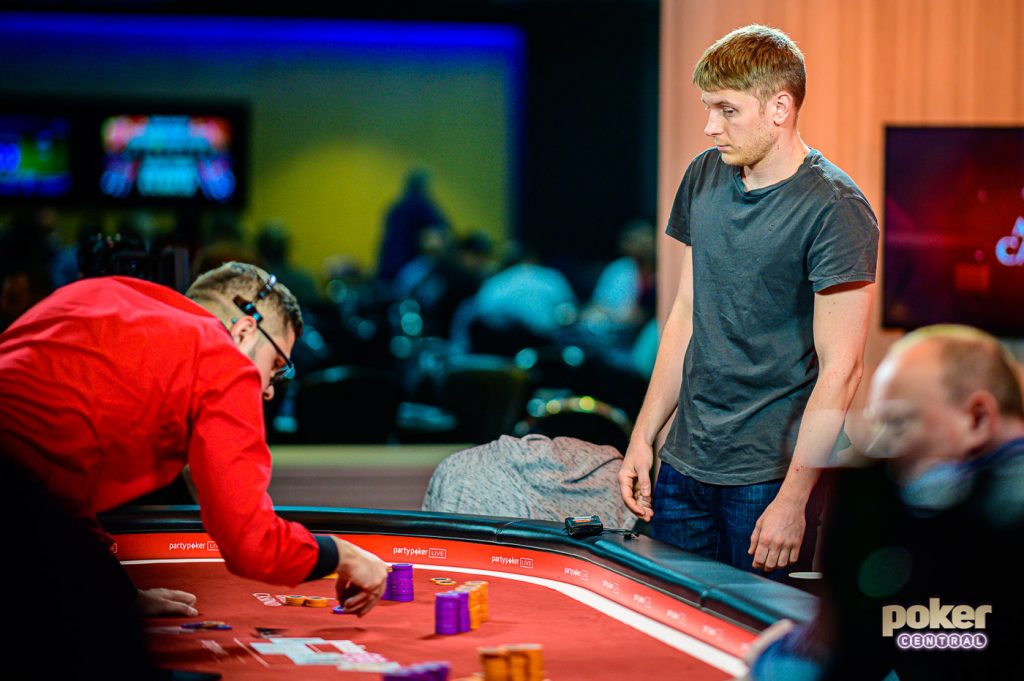 Heads-up lasted just a handful of hands. Paul Newey made it 150,000 with
and Sam Soverel three-bet to 525,000 with
. The inevitable happened as Newey moved all in over the top with just 200,000 chips more than his opponent (2.4m against Soverel's 2.2m) and Soverel snap-called.
Playing for virtually all of the chips, the flop of
held two hearts to encourage Newey but he needed no flush help on the sensational
turn, as that gave Newey a magical set. The king on the river had no significance whatsoever.
"Just my lucky day!" said Newey upon the hand's conclusion, and despite the players not being quite sure of the stacks. eventually the dealer helped them find out that Soverel held just 50,000, less than one big blind, remaining.
"It would be a big comeback," said Newey with a grin as wide as Tower Bridge.
Soverel agreed, tossing it in for the next hand, holding
against Newey's
, but the board of
merely delayed the inevitable as he doubled.
Soverel span his two-big-blind 100,000 chips into the middle for the final hand, with the American's
unable to survive against Newey's
on the entertaining board of
.
Newey came into play fifth in chips from the six remaining players but has won his first tournament on the day before his 50th birthday for £156,400. Many happy returns to Paul Newey, and commiserations to Sam Soverel, who wins £101,200 as his runner-up prize.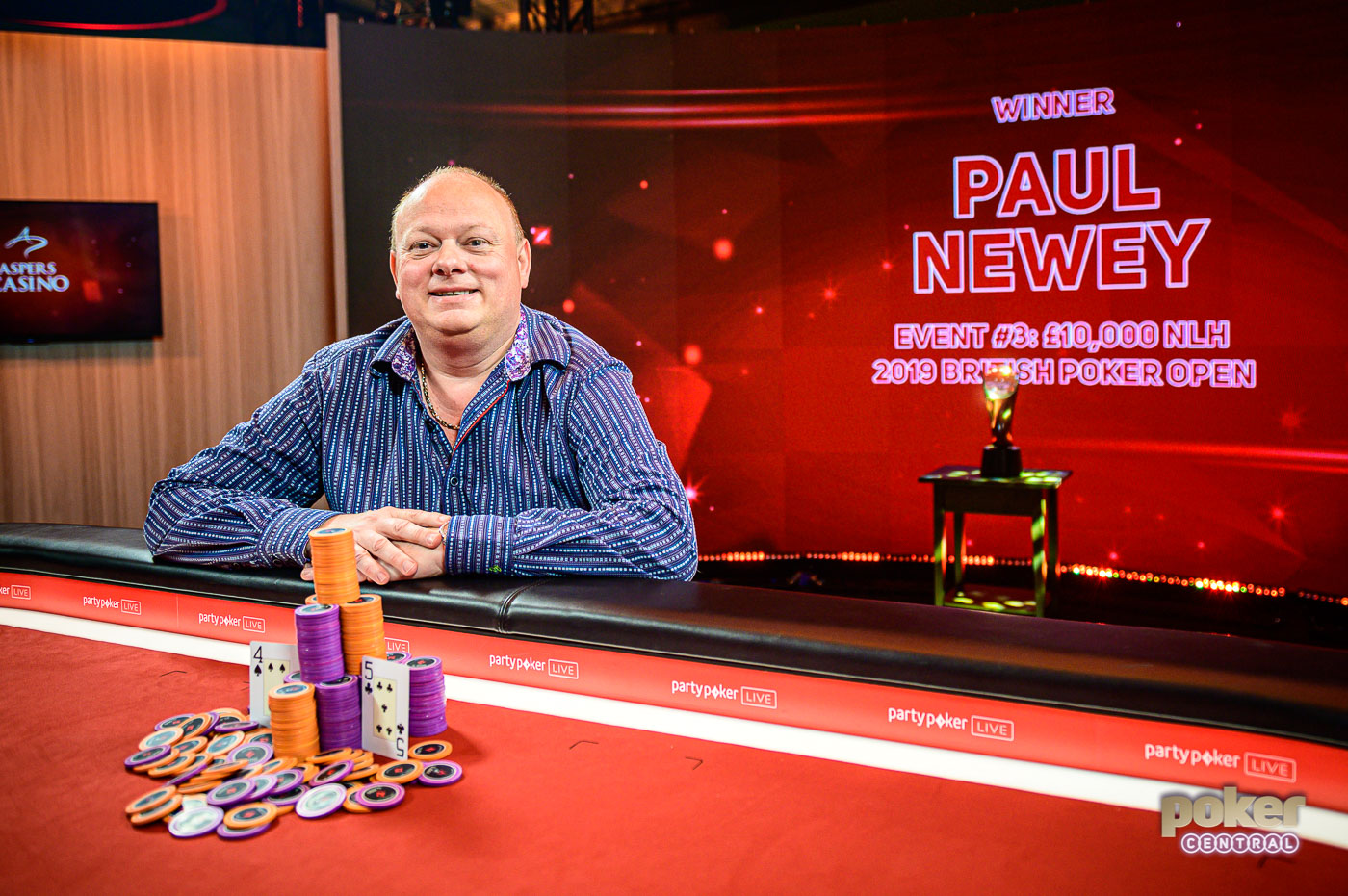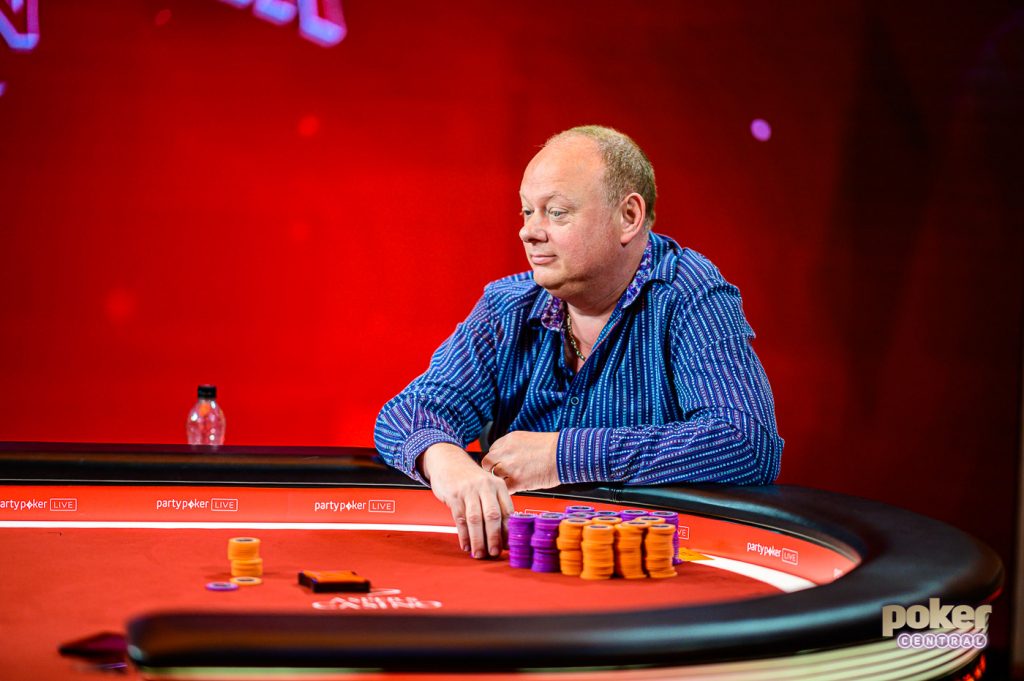 Paul Newey raised to 250,000 chips with
on the button and Sam Soverel called with
.
Soverel checked the
flop and so too did Newey, but on the turn of
, Soverel's check was followed by a bet of 310,000 from Newey. That got a fold from the American, and the Brit couldn't help but assist his opponent with the question on his mind.
"King." says Newey.
Could he be predicting the future as to the winner of Event #3? The stacks have flipped and the Englishman has the lead.
Level
Level 21
Blinds
30,000 / 60,000
Big Blind Ante
60,000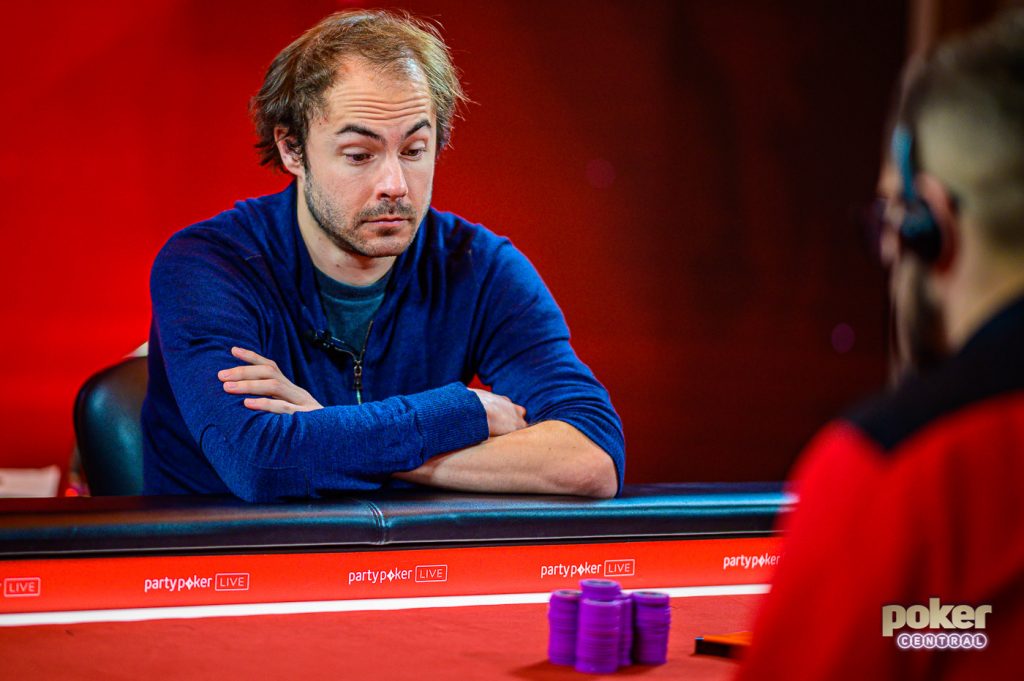 Elio Fox raised to 290,000 with
and while that move worked on Paul Newey, the former Ocean Finance supremo ditching his hole cards, it did not have the same effect on American high roller superhero Sam Soverel.
Soverel, who will lead the race to win the British Poker Open even if he comes second again today – thanks to his runner-up finish in yesterday's Event #2 – raised all-in to cover Fox with a monster hand of 
!
Elio Fox called off the remainder of his 420,000 stack and the board did not help the enigmatic Fox, whose cunning at the table has not been matched by much good luck today.
The run out of
couldn't save the wily Fox and he crashed out in third place, missing out on the heads-up battle, which will be between Paul Newey and Sam Soverel. Who'll win Event #3 of the British Poker Open?
We'll find out very soon.
| Player | Chips | Change |
| --- | --- | --- |
| Sam Soverel | 2,480,000 | 685,000 |
| Paul Newey | 2,120,000 | -80,000 |
| Elio Fox | Busted | -570,000 |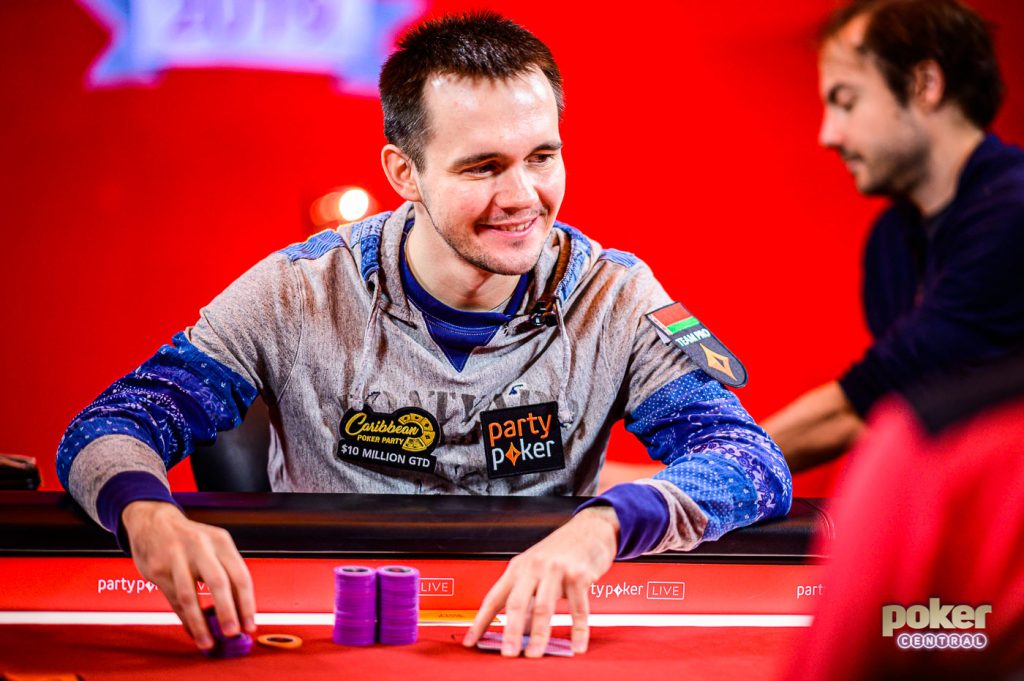 Mikita Badziakouski moved all-in for 460,000 with
and was snap-called by Paul Newey with
.
The flop of
added some chop outs but kept Newey in the lead, and the
on the turn meant Badziakouski could only chop to survive with a four on the river.
That 5th street card was the
and the partypoker pro bid the table farewell, leaving in 4th place for £46,000. Newey currently looks unbeatable.
"It's a lot easier when you get the cards." he conceded politely after that hand.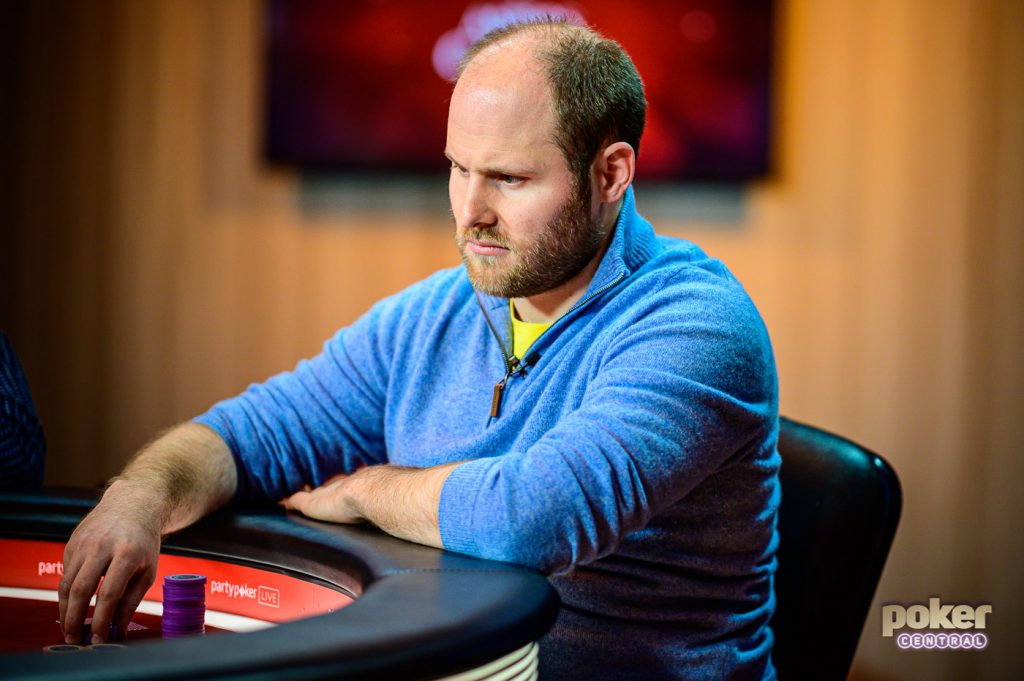 Paul Newey held
and called Sam Greenwood, who had raised pre-flop with
.
The two men saw a stunning flop of
arrive, both men checking for trapping reasons. The turn of
saw Newey check again, but Greenwood fired out 90,000 this time, Newey made a pretty quick raise to 225,000.
Greenwood checked his cards again, used two timebank cards for an extra two minutes of cogitation, and eventually made the call.
The river
saw Newey move all-in, and a grimace from Greenwood came with a reluctant call. Newey loves diamonds, and the man who is 50 tomorrow has the chance of a very nice birthday present with a British Poker Open title if he can keep this lead. Greenwood smiled at the bad news that he'd been flushed out from the flop and removed his microphone before making his way from the table.
| Player | Chips | Change |
| --- | --- | --- |
| Paul Newey | 1,850,000 | 640,000 |
| Sam Soverel | 1,795,000 | -25,000 |
| Elio Fox | 570,000 | -150,000 |
| Mikita Badziakouski | 385,000 | -125,000 |
| Sam Greenwood | Busted | -590,000 |
Sam Greenwood was all-in pre-flop with
and held the lead over Elio Fox, who called with
.
The board of
saw Greenwood double-up again, this time to 590,000, while Fox slips to 720,000, remaining in third place.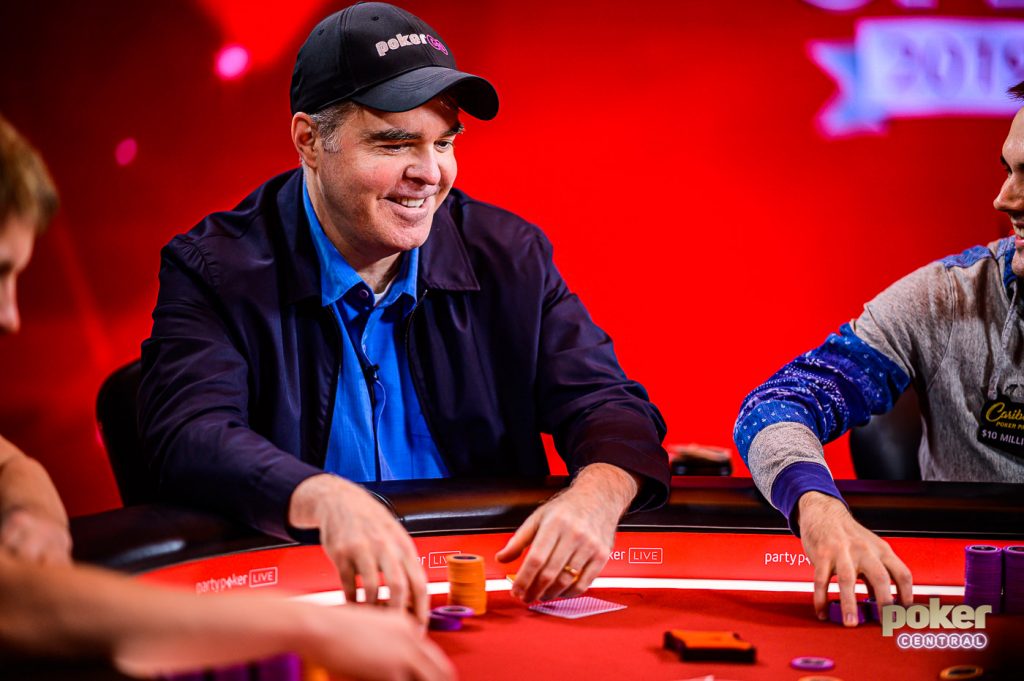 Cary Katz has busted Event #3 of the British Poker Open after two hands saw his chances fail and Paul Newey's take a massive boost.
Katz shoved pre-flop with
for around 300,000 and was called by Mikita Badziakouski, who re-shoved all-in with
, isolating the field then picking up his pair on the turn of a 
board to double through Katz, leaving Katz with just 25,000.
In the next hand, Katz looked down at
and stuck it into the middle, Fox re-shoved with
but his isolation move with 1.2m chips did nothing to dissuade Paul 'Top Dollar Man' Newey, who called all-in for 580,000 with
and rode home the
board to double to 1.2m, Elio Fox losing a large chunk of his chipstack.
| Player | Chips | Change |
| --- | --- | --- |
| Sam Soverel | 1,820,000 | 575,000 |
| Paul Newey | 1,210,000 | 610,000 |
| Elio Fox | 790,000 | -475,000 |
| Mikita Badziakouski | 510,000 | 185,000 |
| Sam Greenwood | 270,000 | -450,000 |
| Cary Katz | Busted | -335,000 |
Level
Level 20
Blinds
25,000 / 50,000
Big Blind Ante
50,000
You're all caught up!
No more pages to load