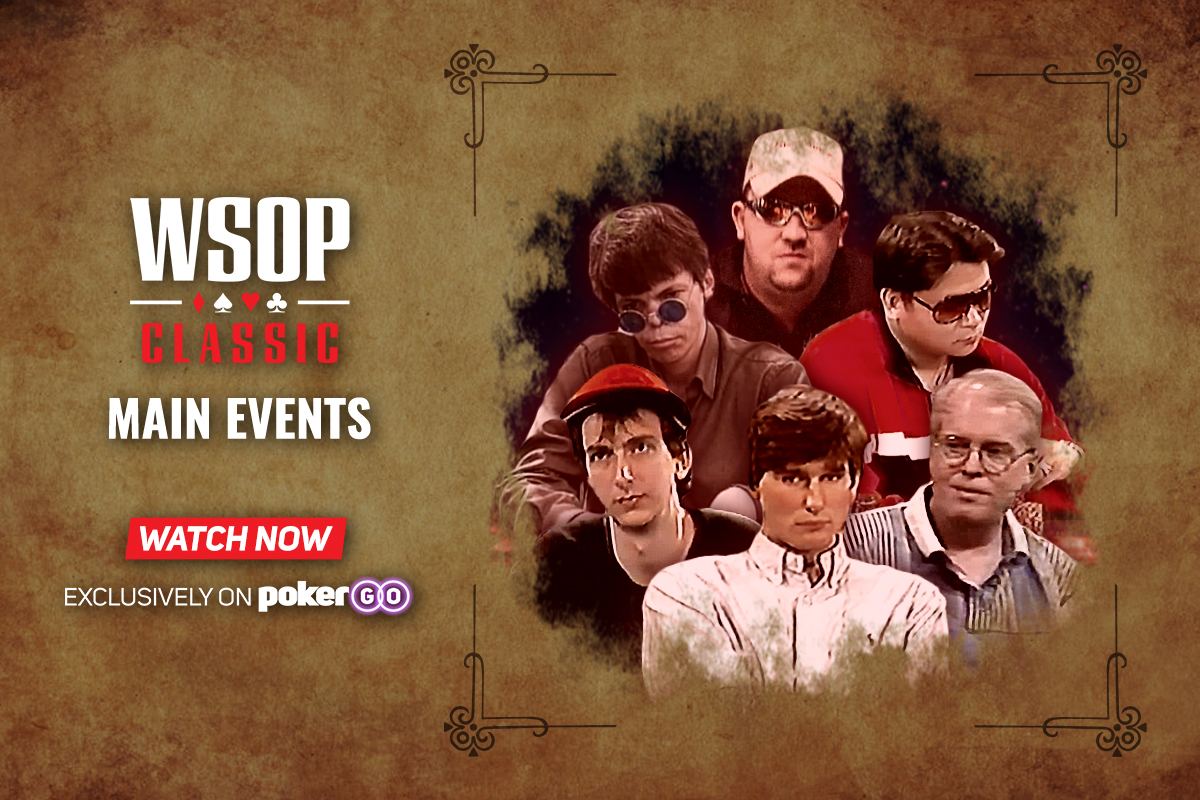 There World Series of Poker (WSOP) collection on PokerGO.com includes nearly 1,200 continuous hours from the WSOP, WSOP Europe, and WSOP Asia-Pacific. It is now about to get bigger with 17 episodes being added to the WSOP Classic collection that consists of everything from 1973 to 2010.
WSOP Classic is split into two distinct categories or Pre-2003 and 2003-2010. The 17 new episodes will fall predominately in the Pre-2003 collection with 14 WSOP Main Events exclusively now available on PokerGO.com. The three episodes that fall in the WSOP Classic | 2003-2010 collection are special commentary episodes from the 2003, 2004, and 2005 WSOP Main Events. Chris Moneymaker and Greg Raymer give deep insights into their final tables and discuss some of the key hands from the episode, while the 2005 WSOP Main Event features both the winner Joe Hachem, and his heads-up opponent Steve Dannenmann.
The 14 episodes that will be part of the WSOP Classic | Pre-2003 collection include some WSOP Main Events that many poker fans may have never seen. From Bobby Baldwin and Hal Flower picking up the gold in the late 1970s, to the 1980s where Stu Ungar won his second title and Doyle Brunson was denied his third win.
The 1990s will feature nine episodes and include watching Russ Hamilton winning the 1994 WSOP Main Event and his weight in silver, the first outdoor final table held at the Fremont Street Experience in 1997, and the infamous, "You call, it's gonna be all over, baby," from Scotty Nguyen during the final hand of the 1998 WSOP Main Event.
All of these iconic WSOP Main Event episodes are now available on PokerGO.com in its WSOP Classic collection that now features 17 WSOP Main Event final tables from 1970 to 1999, and then every final table from 2002 to now.
Newly Added WSOP Classic Main Event Episodes
Event
Featured Players
PokerGO Link
1978 WSOP Main Event
Bobby Baldwin, Jesse Alto, and Crandell Addington
Link
1979 WSOP Main Event
David "Chip" Reese, Johnny Moss, and Hal Fowler
Link
1981 WSOP Main Event
Stu Ungar, Perry Green, Jay Heimowitz
Link
1983 WSOP Main Event
Doyle Brunson, Donnacha O'Dea, and Tom McEvoy
Link
1990 WSOP Main Event
Berry Johnson, John Bonetti, and Mansour Matloubi
Link
1991 WSOP Main Event
Perry Green and Brad Daugherty
Link
1992 WSOP Main Event
Hans Lund and Hamid Dastmalchi
Link
1993 WSOP Main Event
Mansour Matloubi, John Bonetti, and Jim Bechtel
Link
1994 WSOP Main Event
Robert Turner and Russ Hamilton
Link
1995 WSOP Main Event
Dan Harrington, Hamid Dastmalchi, and Barbara Enright
Link
1997 WSOP Main Event
Mel Judah and Stu Ungar
Link
1998 WSOP Main Event
Scotty Nguyen and T.J. Cloutier
Link
1999 WSOP Main Event
Erik Seidel, Huck Seed, and Noel Furlong
Link
2002 WSOP Main Event
Ralph Perry, Robert Varkonyi, and Minh Ly
Link
2003 WSOP Main Event (Special Commentary)
Chris Moneymaker provides commentary
Link
2004 WSOP Main Event (Special Commentary)
Greg Raymer provides commentary
Link
2005 WSOP Main Event (Special Commentary)
Joe Hachem and Steve Dannenmann provides commentary
Link
Connect with PokerGO.com on Facebook, Twitter, and Instagram. Use code "HSD2" for $20 off an annual PokerGO.com subscription now!