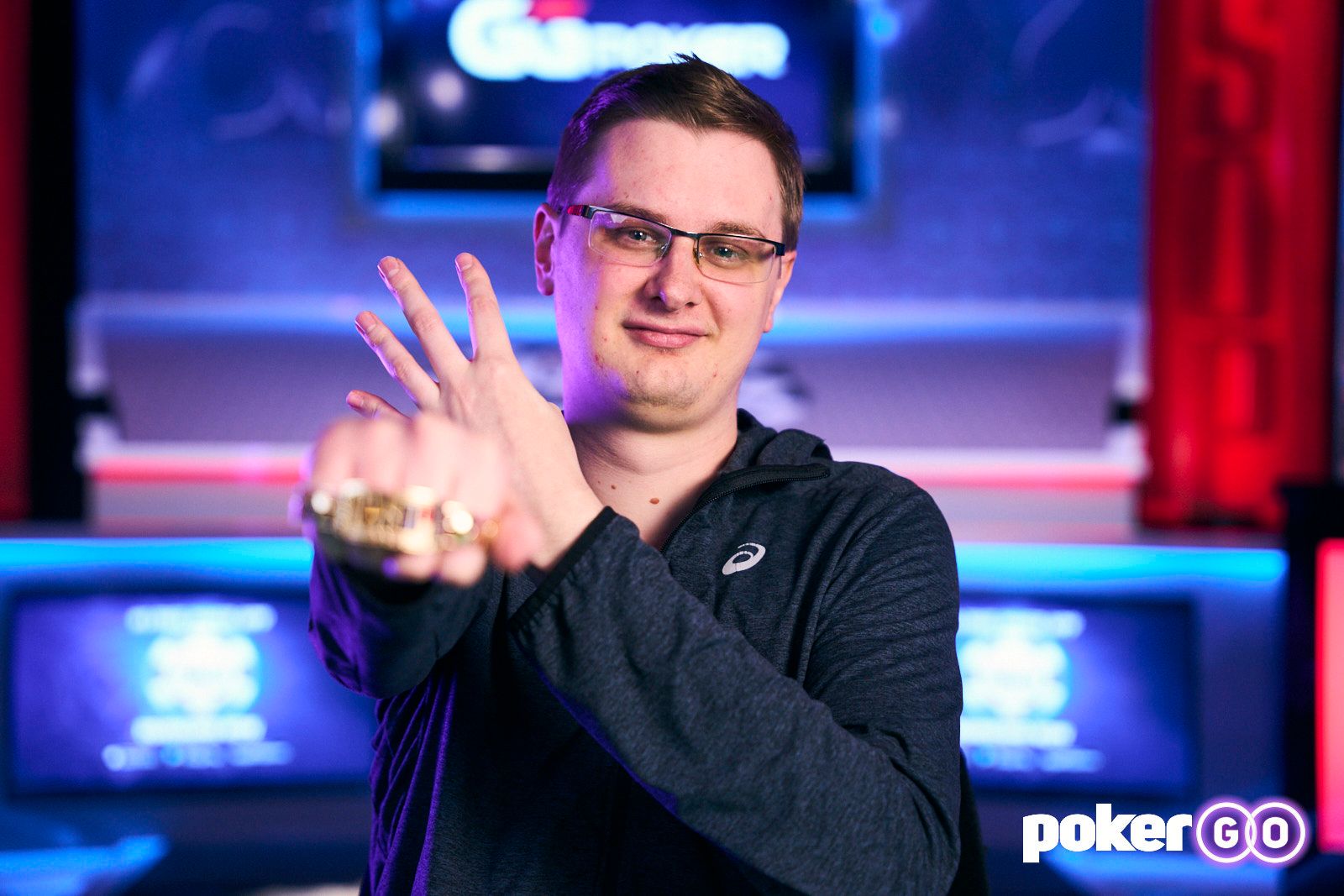 A dramatic day at the felt took place on Day 35 of the 2021 World Series of Poker as Kevin Gerhart, Eelis Parssinen and Cole Ferraro all claimed WSOP bracelets. In the $50,000 Poker Players Championship, Eli Elezra bagged a slim chip lead over superstars such as Daniel Cates, Paul Volpe and Chris Brewer as the final five were reached in 'the one they all want to win'.
Gerhart Grabs Gold Yet Again for Fourth WSOP Bracelet
It's impossible to start anywhere other than Event #62, however, as the irrepressible Kevin Gerhart grabbed gold yet again for his second WSOP 2021 bracelet at the Rio this Autumn. Gerhart's rise to one of the players of the Series gained more ground as he triumphed in the $1,500-entry PLO8 event that saw him win the $186,789 top prize after defeating a dogged Dustin Dirksen heads-up for the title.
The final table began with Gerhart in a slim lead, with Matthew Kaplan, who began the day with the advantage over the rest of the field slightly behind. Kaplan would rally, joining Gerhart in eliminating other challengers such as Roman Hrabec and Sterling Lopez along the way, but Dustin Dirksen then came from nowhere to make it all the way to the final duel.
Gerhart, however, was not going to be denied, as he came back to move ahead of Dirksen before besting him in a final hand where he had kings against jacks to win the bracelet, sending his rail delirious and claiming the top prize of $186,789.
WSOP 2021 Event #62 $1,500 Pot Limit Omaha Hi-Lo 8 or Better
Place
Player
Country
Chips
1st
Kevin Gerhart
U.S.A.
$186,789
2nd
Dustin Dirksen
U.S.A.
$115,440
3rd
Matthew Kaplan
U.S.A.
$81,696
4th
Sterling Lopez
U.S.A.
$58,695
5th
Alexandr Orlov
Russia
$42,823
6th
Roman Hrabec
Czech Republic
$31,733
7th
Michael Trivett
U.S.A.
$23,891
8th
Dylan Wilkerson
U.S.A.
$18,278
Elezra Leads Final Five in Poker Players Championship
It wasn't only bracelet winners who grabbed the headlines on Day 35, as Eli Elezra took the chip lead into the final day of the $50,000-entry Poker Players Championship. Wit ten players starting the day, Mike Wattel was the first player to be busted as he departed for $82,623, just a little less than Daniel Negreanu earned for a run to ninth place ($91,595).
With everyone desperate to make the final five, Nick Schulman was busted in eighth, before Matt Glantz left in seventh place and only one more needed to hit the rail for the day to be complete. That man was Josh Arieh as the popular pro, who already has one WSOP bracelet this series, exited in sixth for a prize of $161,422.
WSOP 2021 Event #60 $50,000 Poker Players Championship Results:
Position
Player
Country
Chips
6th
Josh Arieh
U.S.A.
$161,422
7th
Matt Glantz
U.S.A.
$128,256
8th
Nick Schulman
U.S.A.
$106,120
9th
Daniel Negreanu
Canada
$91,595
10th
Mike Wattel
U.S.A.
$82,623
With just five players left in the hunt for the title, Eli Elezra will be looking to add to his four WSOP bracelets to triumph on Friday after a day's delay will see the final five players compete for the chance to add their names to the Chip Reese trophy.
Elezra will have some tough competition on the final day on Friday, with Paul Volpe, Chris Brewer, Daniel Cates and Ryan Leng standing between him and the title, with Cates and Brewer the only pros without a WSOP bracelet on their resume.
WSOP 2021 Event #60 $50,000 Poker Players Championship
Position
Player
Country
Chips
1st
Eli Elezra
Israel
4,620,000
2nd
Paul Volpe
U.S.A.
4,360,000
3rd
Chris Brewer
U.S.A.
4,325,000
4th
Daniel Cates
U.S.A.
3,875,000
5th
Ryan Leng
U.S.A.
1,625,000
In the $600-entry Deepstack Championship, Cole Ferraro came from behind to clinch a memorable victory as he beat Sami Ruston to the WSOP bracelet and $252,491 top prize. At a final table that constantly saw the lead change hands on multiple occasions, Richard Dixon looked the biggest threat at many times, but after he departed in fifth place, and Belgian pro Bart Lybaert busted in fourth, Ferraro gained the momentum that took him to victory.
After Sami Ruston busted Sean Dunleavy in third place, Ferraro came from behind to deny him the win and claim victory for himself and a first-ever WSOP bracelet after finishing second in a previous event this World Series at the age of just 22.
WSOP 2021 Event #61 $600 Deepstack Championship
Place
Player
Country
Prize
1st
Cole Ferraro
U.S.A.
$252,491
2nd
Sami Rustom
U.S.A.
$156,056
3rd
Sean Dunleavy
U.S.A.
$117,822
4th
Bart Lybaert
Belgium
$89,587
5th
Richard Dixon
U.S.A.
$68,604
6th
Edgardo Rosario
U.S.A.
$52,914
7th
Xiangdong Huang
Canada
$41,108
8th
Ruben Chappell
U.S.A.
$32,169
9th
Ronald Slucker
U.S.A.
$25,359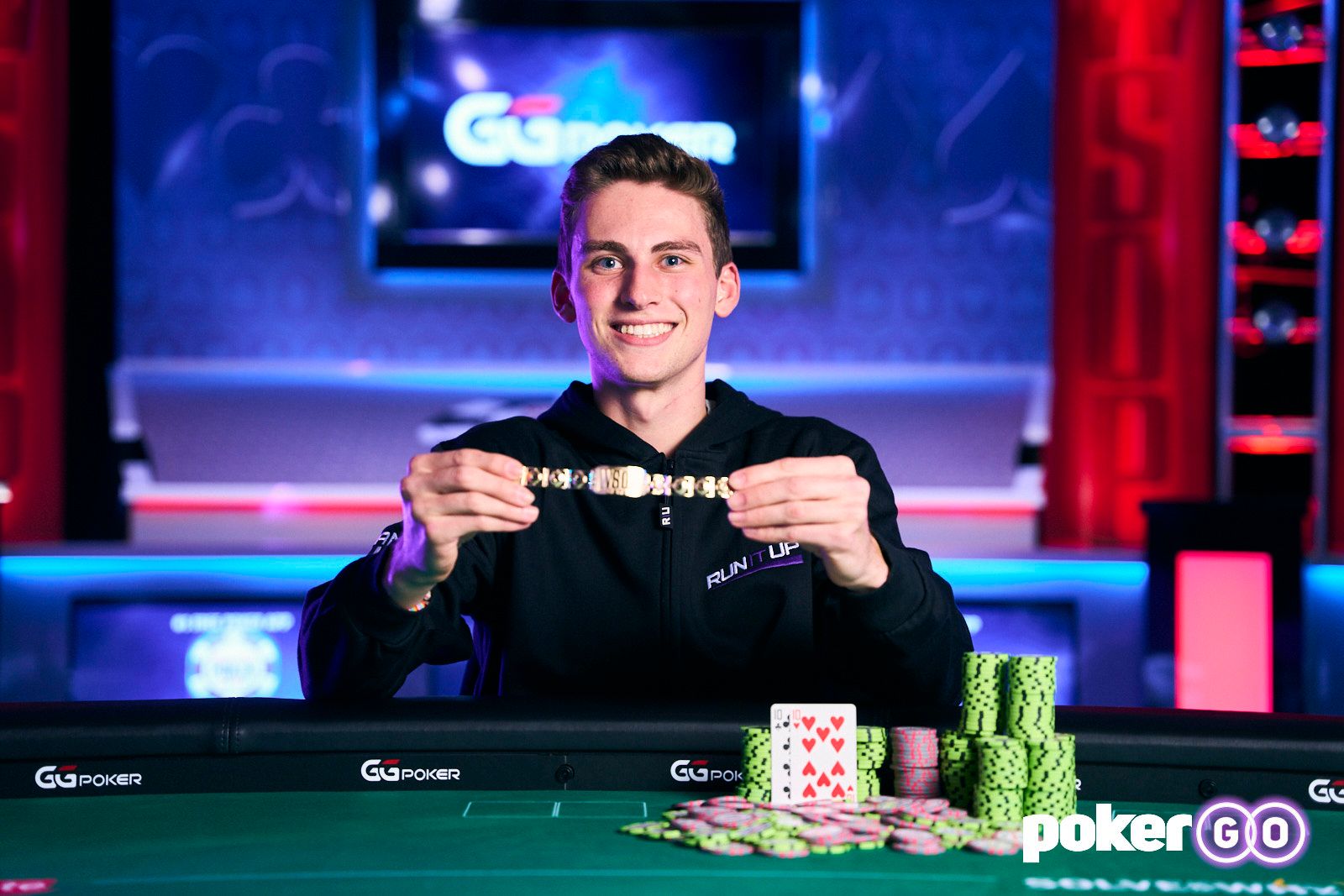 In Event #64, it was Finnish poker powerhouse Eelis Parssinen who won the $545,616 top prize to claim a first WSOP bracelet after years of dominating the online poker scene. Known as 'EEE27' online, Parssinen got the better of Noah Bronstein heads-up with fellow online crusher Niklas Astedt getting all the way to seventh place as the super Swede got close to the win himself.
At an entertaining final table, there were also top finishes for players such as overnight leader David Prociak (4th for $172,332) and Joni Jouhkimainen, who came fifth for $125,940.
WSOP 2021 Event #64 $5,000 NLHE/PLO Mix
Place
Player
Country
Prize
1st
Eelis Parssinen
Finland
$545,616
2nd
Noah Bronstein
U.S.A.
$337,216
3rd
Ezra Abu Gazal
U.S.A.
$239,321
4th
David Prociak
U.S.A.
$172,332
5th
Joni Jouhkimainen
Finland
$125,940
6th
Kyle Arora
U.S.A.
$93,425
7th
Niklas Astedt
Sweden
$70,367
8th
Vikranth Anga
India
$53,824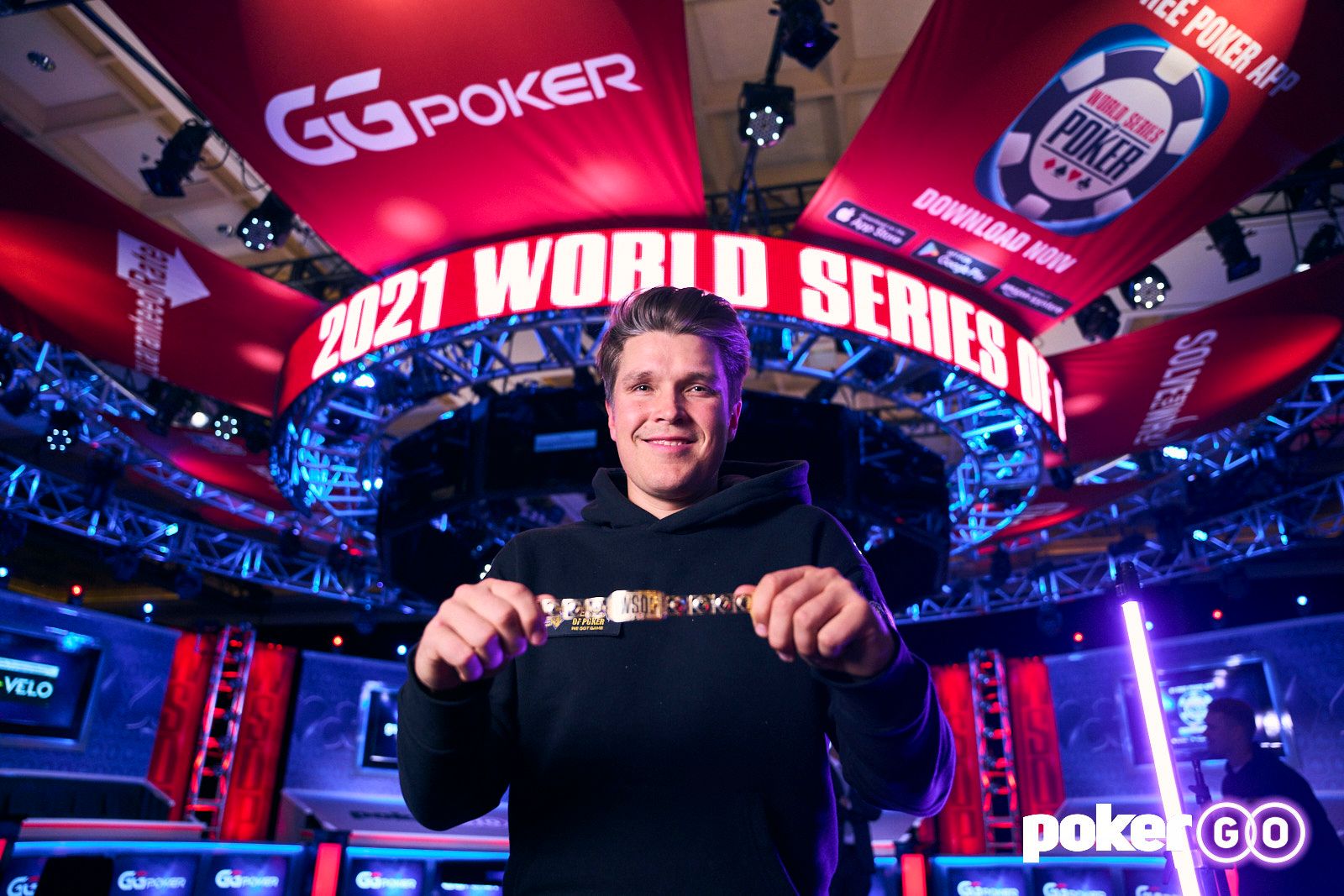 In Event #63, Day 2 of the Salute to Warriors took place, with the $500-entry event seeing 169 players reduced to just nine as the play got down to the final table. It is Bradley Rogoff who leads the way with 8.8 million chips, but he is closely followed by Eric Zhang with 7,175,000.
Elsewhere in the final nine, Marty Zabib will have the most work to do, coming in with the short stack of 2.7 million chips, but others such as Guy Hadas (5.5 million) will be right behind two leaders if they can get off to a good start in tomorrow's finale.
WSOP 2021 Event #63 $500 Salute to Warriors
Position
Player
Chips
1st
Bradley Rogoff
8,800,000
2nd
Eric Zhang
7,175,000
3rd
Guy Hadas
5,500,000
4th
Christopher Corbo
4,475,000
5th
Mitch Garshofsky
4,475,000
6th
Chulhan Choi
3,900,000
7th
Hlib Kovtunov
3,475,000
8th
Anthony Mccurdy
3,350,000
9th
Marty Zabib
2,700,000
Event #65 was one of the most eagerly anticipated events of the day, with the $1,000 Mini Main Event enjoying a mammoth total of 3,821 entries. In what is a freezeout event similar in structure to the $10,000 Main Event which starts tomorrow exclusively on PokerGO, Thomas Byden bagged biggest with over 3.3 million chips finding their way into his bag.
Big names to survive to Day 2 as 282 players did include 2014 WSOP Main Event winner Martin Jacobson whose 1,200,000 will see him well stacked in an attempt to become the first person to win both the Main and miniature version of the Main Event.
With players such as Farid Jattin (2,240,000), Ismael Bojang (1,850,000), Justin Lapka (1,750,000), Brett Shaffer (1,740,000) and Michael Lech (1,040,000) all joining Jacobson high up in the chipcounts, the Swedish former chef will have a heated battle on his hands just as he did seven years ago.
WSOP 2021 Event #65 $1,000 Mini Main Event
Position
Player
Country
Chips
1st
Thomas Boyden
U.S.A.
3,325,000
2nd
Giorgii Skhulukhiia
Russia
3,150,000
3rd
Nicholas Verderamo
U.S.A.
2,560,000
4th
Farid Jattin
U.S.A.
2,240,000
5th
Jinkwang Do
U.S.A.
2,150,000
6th
Georgios Sotiropoulos
Greece
2,135,000
7th
Gareth Devereux
United Kingdom
1,995,000
8th
John Longowa
U.S.A.
1,995,000
9th
Nana Sanechika
Japan
1,955,000
10th
Ye Yuan
China
1,925,000
Finally, Event #66, the $10,00-entry PLO Hi-Lo 8 or Better Championship, saw Brian Hastings take the chip lead through to Day 2 as 101 players of the 194 total entries making it through to the second day of this event. Hastings piled up 447,000 chips to finish some way clear of Tommy Chen (377,500) and Chip Jett (308,500) in second and third place respectively.
Elsewhere in the top 10 chipcounts, there was a place for Brazilian GGPoker ambassador Felipe Ramos (282,500) and Ari Engel (224,000), who is looking to become the only player to win three live WSOP bracelets this World Series.
Position
Player
Country
Chips
1st
Brian Hastings
U.S.A.
447,000
2nd
Tommy Chen
U.S.A.
377,500
3rd
Chip Jett
U.S.A.
308,500
4th
Nick Schulman
U.S.A.
295,000
5th
Matt Livingston
U.S.A.
289,000
6th
Felipe Ramos
Brazil
282,500
7th
Ward Crane
U.S.A.
240,000
8th
Esther Taylor-Brady
U.S.A.
240,000
9th
Ari Engel
U.S.A.
224,000
10th
Dan Colpoys
U.S.A.
223,000
You can watch all the forthcoming action for this year's WSOP Main Event exclusively on PokerGO. Read all about how to do so right here!
Connect with PokerGO.com on Facebook, Twitter, and Instagram. Use code "WSOP2021" for $20 off an annual PokerGO.com subscription now!