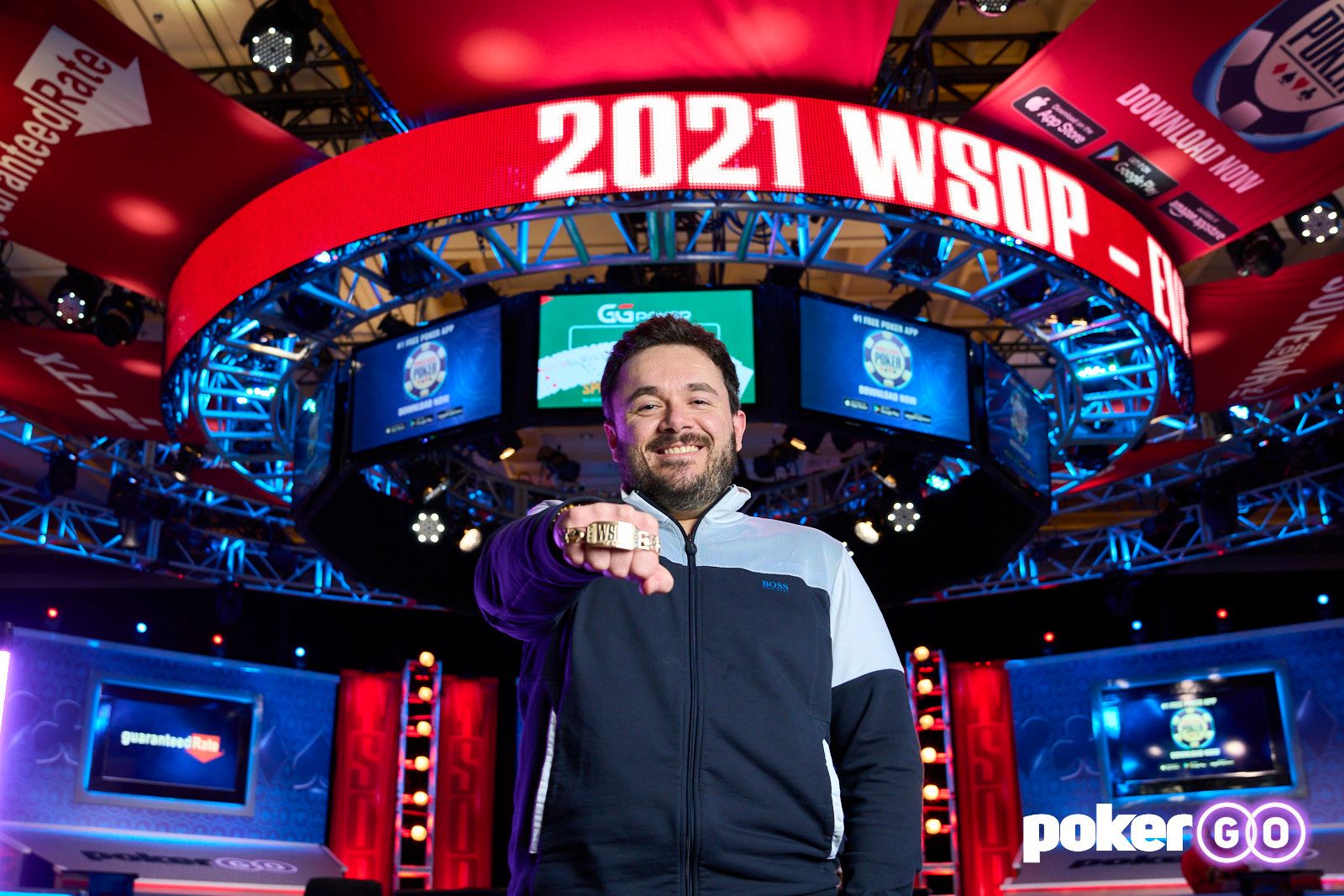 An intense day of action at the felt in the 2021 World Series of Poker saw three bracelets won as Phil Hellmuth fell just short of glory and two first-time bracelet winners joined Anthony Zinno in the winners' circle. With seven events taking place on Monday, we've got the inside track on the runners and riders as more poker greats sprinted for the line.
Hellmuth Misses Out as Zinno Claims Third Title
The seven-handed final table of the Seven Card Stud Championship saw Anthony Zinno claim gold for the third time in his career as he saw of the challenge of former bracelet winners and tournament crushers to prevail.
Phil Hellmuth fell in fourth place as one by one, Zinno either took out his opponents or jockeyed for position at the top of the leaderboard all afternoon.
Eventually, Zinno overcame the challenge of another former bracelet winner James Chen to win his third WSOP title and the massive $182,872 top prize.
You watch all the final table action below or read the full report on the final table here.
WSOP 2021 Event #20 No Limit Hold'em Flip & Go
Place
Player
Country
Prize
1
Anthony Zinno
U.S.A.
$182,872
2
James Chen
Taiwan
$113,024
3
Jose Paz-Gutierrez
Bolivia
$77,227
4
Phil Hellmuth
U.S.A.
$54,730
5
Jack McClelland
U.S.A.
$40,284
6
Stephen Chidwick
United Kingdom
$30,842
7
Jason Gola
U.S.A.
$24,601
Vladimir Peck Closes Out Heads Up Victory
It didn't take long to find the first champion of the day, as Vladimir Peck and Venkata Tayi played out the heads-up battle to close the delayed Event #18, the $2,500 Mixed Triple Draw Lowball event.
Tayi went into play with a lead, but Peck made a wheel straight to overtake his compatriot and sealed the deal just a few minutes later when a jack-low in 2-7 Triple Draw set up victory and gave Peck the top prize of $134,390 and a maiden WSOP bracelet.
WSOP 2021 Event #18 Mixed Triple Draw Lowball
Place
Player
Country
Prize
1
Vladimir Peck
U.S.A.
$134,390
2
Venkata Tayi
U.S.A.
$83,056
3
Joao Vieira
Portugal
$57,558
4
Aaron Rogers
U.S.A.
$40,443
5
Brian Yoon
U.S.A.
$28,818
6
Hal Rotholz
U.S.A.
$20,828
7
Carlos Rodriguez
U.S.A.
$15,272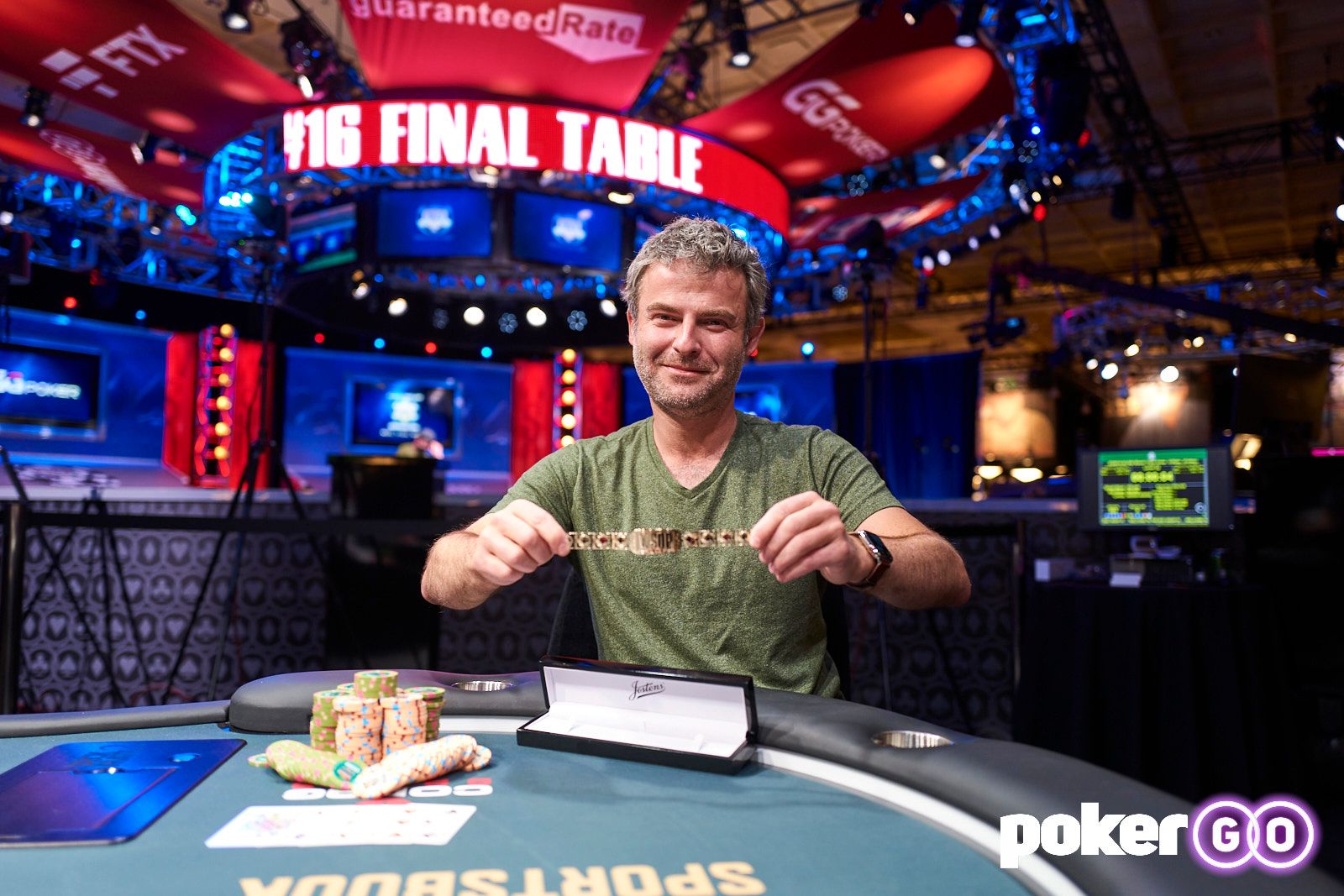 DJ Alexander Spins Peters Out to Claim First Bracelet
Dejuante 'DJ' Alexander topped the 20th Event of the WSOP so far, with a stunning victory in the Flip & Go variant as he saw off the challenge of David Peters at the final table.
With 23 players re-entering the action, Peters took over early on, rising to top the chipcounts at the expense of some great names, with players such as Elio Fox (18th for $7,275), Vojtech Rusicka (10th for $13,460) and Fred Goldberg (8th for $21,435) all failing to make the podium places.
That fate also befell Peters, however, as he crashed out in fourth when his all-in with king-jack was called by Alexander, who had king-queen. It was a marginal call and turned out to be a magical moment for Alexander, who would have had less than a handful of big blinds left if he'd lost that pot.
Instead, he used it as a springboard to victory as he closed it out, winning heads-up against Jason Beck to win $180,665 and his first WSOP jewelry of a career that is now defined by a brilliant call and the inaugural bracelet event in this new poker format.
WSOP 2021 Event #20 No Limit Hold'em Flip & Go
Place
Player
Country
Prize
1
DJ Alexander
U.S.A.
$180,665
2
Jason Beck
U.S.A.
$111,715
3
Jake Schwartz
U.S.A.
$82,675
4
David Peters
U.S.A.
$61,815
5
Huy Lam
Austrialia
$46,695
6
Corey Bierria
U.S.A.
$35,645
7
Rok Gostisa
Slovenia
$27,495
8
Fred Goldberg
U.S.A.
$21,435
Event #17, the $1,500-entry Millionaire Maker, saw Philip Verel bag the overnight chip lead at the end of a busy Day 3 in the event. With 170 players down to just 20 by the close of play, everyone still involved can visualize that million-dollar top prize that will await the winner.
Verel's stack of 12,665,000 chips is marginally ahead of Daniel Lazrus (11,795,000), who already has a WSOP Online Bracelet this year and is aiming to become the only player to win a live and online WSOP bracelet so far in 2021.
WSOP Event #17 $1,500 Millionaire Maker
Position
Player
Country
Chips
1
Philip Verel
U.S.A.
12,665,000
2
Daniel Lazrus
U.S.A.
11,795,000
3
Adam Sherman
U.S.A.
10,875,000
4
Michael Gathy
Belgium
9,800,000
5
Ignacio Moron
Spain
9,585,000
6
Arie Kliper
Israel
9,580,000
7
Jeffrey Gencarelli
U.S.A.
8,980,000
8
Stephen Song
U.S.A.
7,650,000
9
Todd Saffron
U.S.A.
6,400,000
10
Luis Zedan
U.S.A.
5,835,000
Scott Abrams went wire-to-wire on Day 2 as the overnight chip leader continued his domination of the leaderboard for a second day at the felt. As 641 entries have now been whittled down to just 24 hopefuls, there were also end-of-day bags to be filled with chips by other big names.
Abrams' lead is a slim one, with the Henderson, Nevada resident piling up 1,675,000 chips, a short way clear of nearest challengers Jordan Spurlin (1,370,000) and Hernan Salazar (1,230,000). Plenty of superstars will be returning the felt, with Daniel Negreanu (535,000), Dylan Linde (470,000) and Ari Engel (305,000), who is going for his second live bracelet of the Autumn at this year's World Series.
With stellar company in the 24 remaining players, plenty of multiple bracelet winners ended the second day with real hope of winning another bracelet tomorrow and the $170,269 top prize.
WSOP 2021 Event #21 Mixed Omaha Hi-Lo 8 or Better
Position
Player
Country
Chips
1st
Scott Abrams
U.S.A.
1,675,000
2nd
Jordan Spurlin
U.S.A.
1,370,000
3rd
Hernan Salazar
U.S.A.
1,230,000
4th
Ryan Roeder
U.S.A.
1,005,000
5th
Charles Coultas
U.S.A.
985,000
6th
Kosei Ichinose
Japan
890,000
7th
Damjan Radanov
U.S.A.
850,000
8th
Robert Redman
U.S.A.
840,000
9th
Garrett Garvin
U.S.A.
730,000
10th
Michael Kim
Australia
710,000
Angelina Rich Leads Ladies Championship
With 644 entries and a prizepool of $582,180, just 170 players made it through the Ladies No Limit Hold'em Championship, with Angelina Rich bagging the biggest stack of 301,000. She was closely followed in the counts by Lily Keletto (265,000) and Michelle Ferrante (215,100) as players made it through to the next days play, where the money bubble will burst and put 93 ladies in the money.
Plenty of big names have already busted, with Maria Ho, Melanie Weisner and poker legend Kathy Liebert all exiting, but a number of superstars of the game survived too, with Ebony Kenney (137,400), Jamie Kerstetter (133,000) and Xuan Liu (39,800) all making the cut.
WSOP 2021 Event #22 Ladies NLHE Championship
Position
Player
Country
Chips
1
Angelina Rich
Australia
301,000
2
Lily Kiletto
U.S.A.
265,000
3
Michelle Ferrante
U.S.A.
215,100
4
Christina Gollins
U.S.A.
202,100
5
Dusti Smith
U.S.A.
197,400
6
Cherish Andrews
U.S.A.
185,000
7
Courtney Webb
U.S.A.
178,100
8
JJ Liu
Taiwan
168,000
9
Britt Williams
U.S.A.
155,600
10
Brittne Zobrist
U.S.A.
155,600
Finally, the $1,500-entry Event #23, the Eight Game Mix Six-Handed tournament kicked off on Monday night as 484 total entries were reduced to just 144 playes who made it through Day 1 of the three-day event.
Chip leader at the end of the day was Sachin Bhargava, who bagged up 273,400, but he is only a little clear of both David Gee (237,200) and Jay Kerbel (231,600), both of whom were the only other players to total over 200,000 chips by the close of play.
While players such as Yuval Bronshtein, Jason Somerville, Joe McKeehen, Joao Vieira and Shaun Deeb all busted, others such as Josh Arieh (169,300), Daniel Zack (149,400) and Andre Akkari (122,200) all bagged over the average and will harbour hopes of getting closer to glory on Day 2 tomorrow.
WSOP 2021 Event #23 $1,500 Eight Game Mix 6-Handed
Position
Player
Chips
1
Sachin Bhargava
273,400
2
David Gee
237,200
3
Jay Kerbel
231,600
4
Sean Perry
189,000
5
Vasu Amarapu
180,400
6
Michael Mizrachi
178,700
7
David Williams
175,200
8
Kevin Brewer
171,600
9
Bradley Bragg
171,300
10
David Prociak
171,000
Connect with PokerGO.com on Facebook, Twitter, and Instagram. Use code "WSOP2021" for $20 off an annual PokerGO.com subscription now!