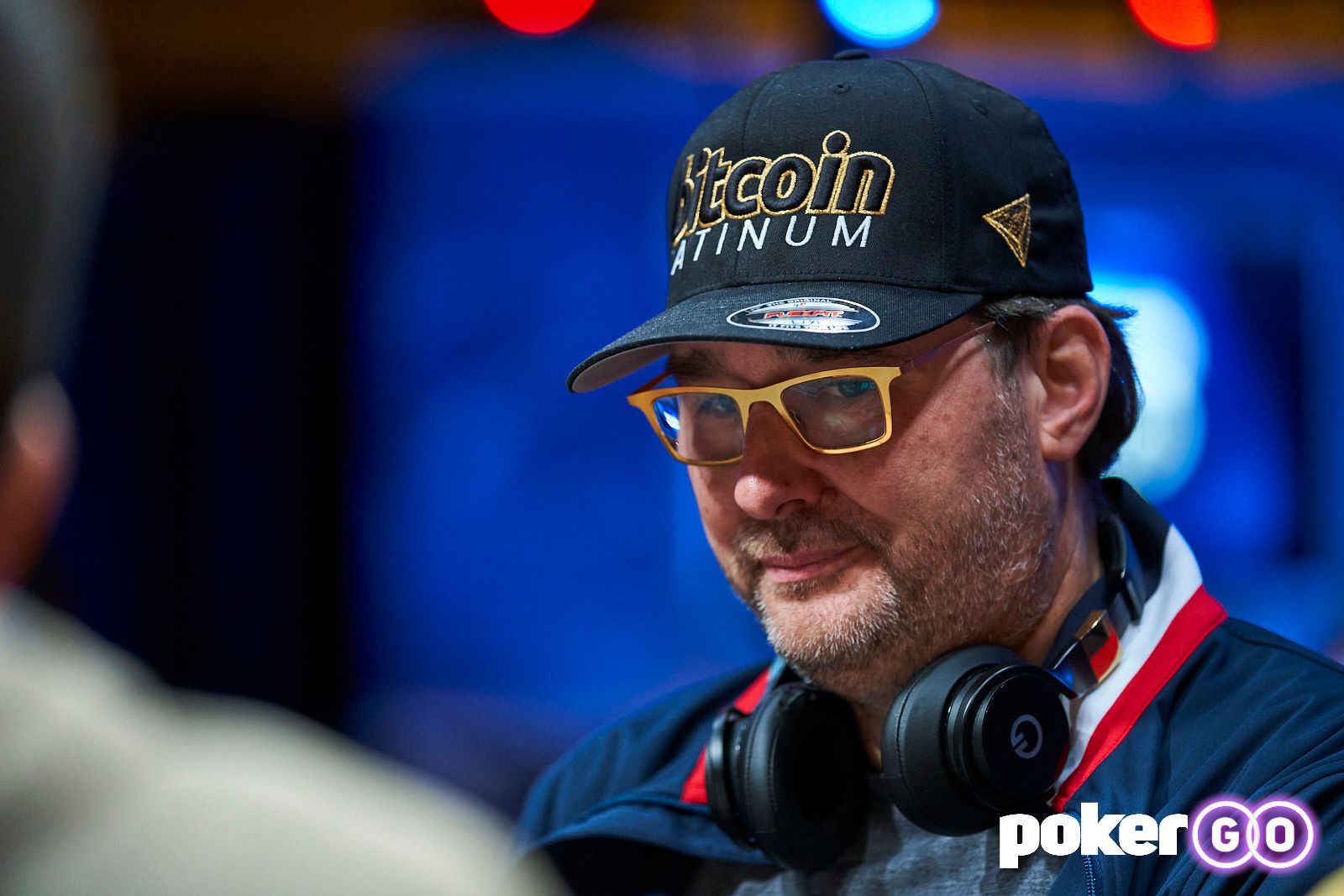 With just seven players remaining in Event #19 of the 2021 World Series of Poker, 15-time WSOP champion Phil Hellmuth is the chip leader heading into the final table.
The Poker Brat will never have a better chance to win his 16th WSOP bracelet and has reached three final tables in the four events he has played so far this series, with over 75% of the events still to come.
Hellmuth Chasing Glory Against World's Best
Phil Hellmuth leads the final seven players to the conclusion of the Seven Card Stud Championship, but the Las Vegas legend is sure to face an almighty battle if he is to claim gold yet again. Hellmuth piled up 751,000 chips to end the day in front, but that's only by a whisker from Anthony Zinno, with 730,000.
Elsewhere at the final table, James Chen (660,000), Jose Paz-Gutierrez (586,000) and Jason Gola (542,000) will want to overcome the current leaders, while the two short-stacks belong to bona fide poker legends, with modern hero Stephen Chidwick (266,000) followed by WSOP and Poker Hall of Fame legend Jack McClelland (185,000).
With a $182,872 top prize up for grabs, Hellmuth and the other three bracelet holders at the final table will be desperate to end the event with the gold, after 62 players played past the money bubble on Day 2, with Dan Zack (10th for $16,262), George Alexander (9th for $17,828) and Scott Bohlman (8th for $20,480) the three players to have cashed so far.
WSOP 2021 Event #19 Seven Card Stud Championship
Position
Player
Chips
1
Phil Hellmuth
751,000
2
Anthony Zinno
730,000
3
James Chen
660,000
4
Jose Paz-Gutierrez
586,000
5
Jason Gola
542,000
6
Stephen Chidwick
266,000
7
Jack McClelland
185,000
Millionaire Maker Down to 170 Players
The Millionaire Maker field was trimmed from 1,174 Day 2 players to just 170 survivors as another massive day's play narrowed the field who are all playing for that million-dollar top prize. It was Darryl Ronconi who bagged the chip lead, with just over 2.5 million chips, but it is not a huge lead, with everyone in the top 10 chipcounts bagging more than 1.5 million.
Some big names to make the cut include Faraz Jaka (1,625,000), Vanessa Kade (1,520,000) Tristan Wade (1,500,000), Day 1b chip leader Stephen Song (1,385,000), Michael Wang (1,310,000), Ryan Hagerty (1,170,000), Craig Varnell (765,000), Michael Gathy (745,000) and Day 1a chip leader Yiming Li (595,000).
Players to bust out of the reckoning on Day 2 included Adrian Mateos, Asi Moshe, Chance Kornuth, Shannon Shorr, Jamie Kerstetter, Calvin Anderson, Daniel Strelitz and two-time WSOP winners Jeremy Ausmus and Tony Dunst.
WSOP 2021 Event #17 Millionaire Maker
Position
Player
Chips
1
Darryl Ronconi
2,545,000
2
Apolinario Luis
2,345,000
3
Thomas Eychenne
2,275,000
4
John Fagg
1,970,000
5
Shahar Levi
1,955,000
6
Michael Mcnicholas
1,670,000
7
Faraz Jaka
1,625,000
8
Arie Kliper
1,615,000
9
Luis Zedan
1,570,000
10
Jeffery Wakamiya
1,555,000
In Event #18, the $2,500 Mixed Triple Draw Lowball event, just 12 players returned to the felt in order to battle for the bracelet. The final table kicked off with seven players in seats after players such as Mike Gorodinsky (12th for $8,582), Jason Daly (9th for $11,364) and Gary Benson (8th for $11,364) all busted.
Brian Yoon led the final seven but would eventually bust in fifth place for $28,818 before the only other player with a WSOP bracelet to their name, Portuguese professional Joao Vieira, cashed for $57,558 in third place.
After a lengthy start to heads-up, both Vladimir Peck and Venkata Tayi decided to play one more level before closing down for the night at past 3am Vegas time. At the close of play, Tayi had 5,575,000 chips to Peck's 3,275,000
WSOP 2021 Event #18 $2,500 Mixed Triple Draw Lowball
Place
Player
Prize
3rd
Joao Vieira
$57,558
4th
Aaron Rogers
$40,443
5th
Brian Yoon
$28,818
6th
Hal Rotholz
$20,828
7th
Carlos Rodriguez
$15,272
Event #20 on the schedule is one that has caused a lot of interest with poker fans as the popular Flip & Go format has been included on the schedule. To say that the action was fast and furious on the opening day of the two-day event would be an understatement as players of huge repute played fast and loose with the rebuy format.
Over the course of the day, 1,232 entries were whittled down to just 23 players still in with a chance of winning the first-ever Flip & Go WSOP bracelet, with players such as Josh Arieh, Gal Yifrach, Daniel Negreanu, Ray Foley, Christian Harder and Andrew Kelsall all failing to make the second and final day.
Plenty of big names from the poker world did survive, however, with former WSOP bracelet winners Fred Goldberg (1,245,000), David Peters (1,105,000), Alex Epstein (515,000) and Elio Fox (435,000) all looking to add to their number tomorrow. The chip leader with 23 remaining is Huy Lam with a massive 3,150,000 chips, close to double that of his nearest challengers Corey Bierria (1,880,000) and Krista Farrell (1,700,000).
WSOP 2021 Event #20 $1,000 Flip & Go
Position
Player
Chips
1
Huy Lam
3,150,000
2
Corey Bierria
1,880,000
3
Krista Farrell
1,700,000
4
David Towson
1,600,000
5
Mark Ingram
1,385,000
6
Joao Valli
1,350,000
7
Fred Goldberg
1,245,000
8
Roman Hrabec
1,200,000
9
Rok Gostisa
1,115,000
10
David Peters
1,105,000
With 640 entries, just 199 players survived Day 1 of the $1,500 Mixed Omaha Hi-Lo or Better Event #21. The chip leader was Scott Abrams, who bagged up 275,000 chips, but he was closely followed by Ari Engel with 230,000.
Engel is one of the players who has already won a WSOP bracelet this Autumn at the Rio and is well-positioned to become the first to make it two in terms of live event bracelets in 2021.
WSOP 2021 Event #21 $1,500 Mixed Omaha Hi-Lo or Better
Position
Player
Chips
1
Scott Abrams
275,000
2
Ari Engel
230,000
3
Nathaniel Katzoff
222,500
4
PJ Cha
215,000
5
Cody Scherer
207,000
6
John Cernuto
178,000
7
Yonatan Smith
177,500
8
Edward Han
167,000
9
Derek McMaster
162,500
10
Julien Martini
150,500
Connect with PokerGO.com on Facebook, Twitter, and Instagram. Use code "WSOP2021" for $20 off an annual PokerGO.com subscription now!