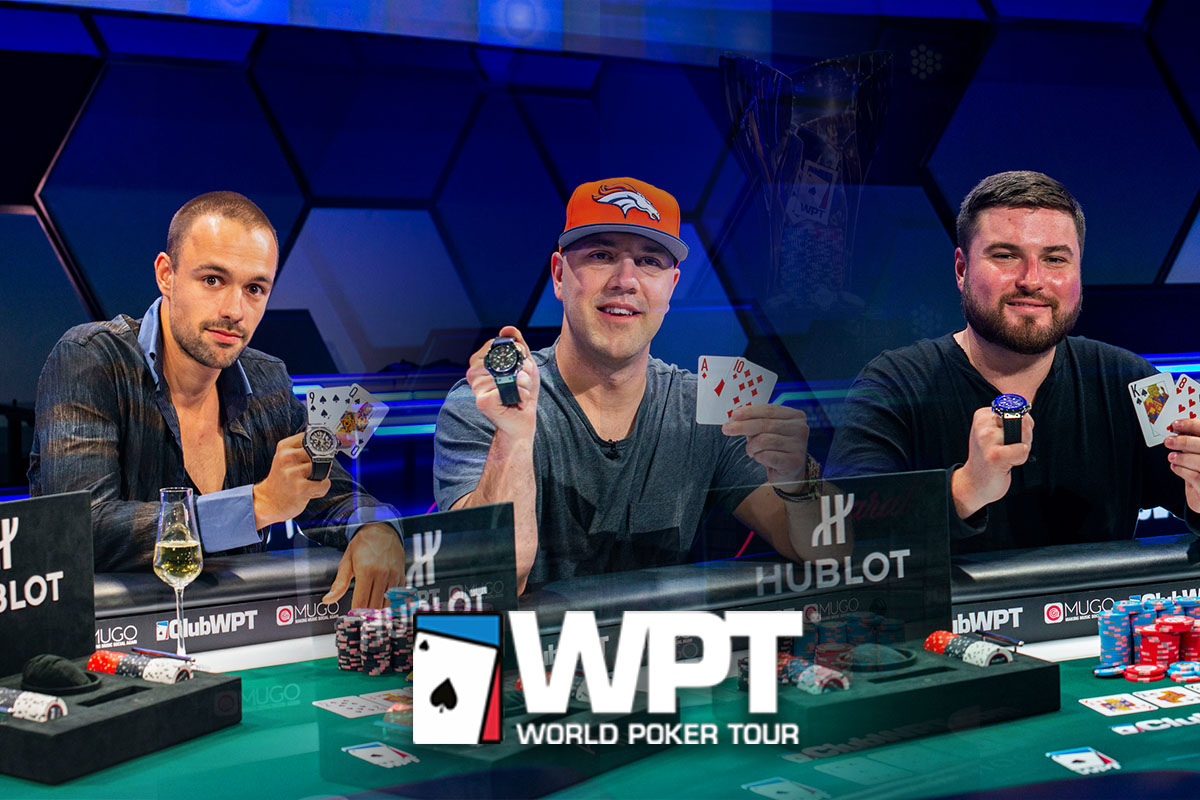 When the dust had settled on the action, three epic final tables had produced three very worthy winners at the HyperX Esports Arena in Las Vegas, Nevada where the World Poker Tour Season XVII action was rounded out in style.
From Choctaw to Hollywood and everywhere across the great United States of America, players had arrived at their nearest World Poker Tour Main Event hoping to get their names on the famous trophy. Only so many were lucky enough to win, and with Craig Varnell, James Carroll and Ole Schemion proving skilled enough to claim three massive titles, it was a dramatic few days at the HyperX Esports Arena from May 31st to June 3rd.
JAMES CARROLL WINS SEMINOLE HARD ROCK POKER SHOWDOWN FOR $715,175
Kicking things off was James Carrol, who arrived at the WPT Seminole Hard Rock Poker Showdown as chip leader but didn't have it all his own way at a fantastic final table. While a lot of the talk pre-final was about Maria Ho, it would be Eric Afriat who would run Carroll closest, edged out during their heads-up battle.
"It feels great," Carroll told WPT immediately after the win. "It's surreal. It feels fantastic. I'm very happy right now."
An hour ago, @MariaHo was the short stack. Now she's all 😃😆😀 with three left at the #WPTShowdown final table!
Watch LIVE: https://t.co/5rUlItuiNK pic.twitter.com/l3PMyKpukV

— PokerGO (@PokerGO) May 31, 2019
James Carroll was behind at points heads-up but came back to lead by 3:1 on Afriat when the chips went into the middle with Carroll's pair of sixes holding against the two over for Afriat. The race was over, and Carroll spoke with huge respect for all his opponents but in particular Eric Afriat, who already had two WPT titles. Carroll's victory pushed him up to third in the Hublot Player of the Year standings and can't wait to take his victory purse to the World Series of Poker.
"It's nice to lock up a win before having to spend $150,000 worth of buy-ins," he laughed in the aftermath of the final. With a big series ahead for the Boston-based player, James Carroll might just be a name you hear more and more of throughout the summer in Las Vegas.
WPT Seminole Hard Rock Poker Showdown Results: 
| | | |
| --- | --- | --- |
| Place | Player | Result  |
| 1st | James Carroll | $715,175 |
| 2nd | Eric Afriat | $465,120 |
| 3rd | Maria Ho | $344,960 |
| 4th | Jerry Wong | $257,815 |
| 5th | Ami Alibay | $194,610 |
| 6th | Chad Eveslage | $148,380 |
You can catch up on the action from the WPT Seminole Hard Rock Showdown right here.
CRAIG VARNELL WINS WPT CHOCTAW FOR $379,990
Comeback king Craig Varnell was the victory at the WPT Choctaw Main Event final table, returning from having just three big blinds at one point to triumph against all the odds.
Despite coming into the final table second in chips, Varnell's luck disappeared and he looked out of contention, only to battle back in spectacular style and
WPT Choctaw Main Event Results:
| | | |
| --- | --- | --- |
| Place | Player | Result  |
| 1st | Craig Varnell | $379,990 |
| 2nd | Will Berry | $243,330 |
| 3rd | Nick Pupillo | $179,430 |
| 4th | Trung Pham | $133,770 |
| 5th | Stacey Jones | $100,850 |
| 6th | Austin Lewis | $76,890 |
As well as celebrating his victory at the table, Varnell was toasting his 36th birthday and was proud of the way he fought back into the tournament just when it mattered.
Can Craig Varnell comeback and win #WPTChoctaw? @imgrinding1 is the chip leader after this HUGE double. 💪
Watch the @WPT: https://t.co/MRnHZZyXfF
Sign up: https://t.co/5rUlItuiNK pic.twitter.com/ur0qIUu3rO

— PokerGO (@PokerGO) June 1, 2019
"I made a really bad call when we were three-handed," Varnell told WPT on-screen in the minutes after his victory. "I was really upset for a while, but after I got short here and doubled up I think I played really well."
With Varnell now jumping to over $2.3 million in tournament winnings, Craig Varnell has achieved his dream, and in beating Will Berry heads-up, has truly announced himself on the International poker scene. He was keen to credit his opponents for making it as tough as they did for him to succeed.
"Everyone played really well. I think everyone had the chip lead in this thing. That usually doesn't happen, the chips usually go to one or two people. In this one, chips were just moving around the table, so that made it a little difficult."
Varnell admits that his high-risk strategy means that he either wins big or goes home early. He's unlikely to ever min-cash. But when that gameplan pays off, it makes dreams come true and Varnell is the WPT Choctaw Main Event champion.
You can relive the WPT Choctaw Main Event final table here on PokerGO.
OLE SCHEMION WINS BACCARAT CRYSTAL WPT TOURNAMENT OF CHAMPIONS FOR $379,990
After a mammoth heads-up tussle with World Poker Tour's own anchorman and commentator Tony Dunst, German high roller Ole Schemion captured the Baccarat Crystal WPT Tournament of Champions title and earned $440,395 in the process.
That's a #WPTBaccaratTOC double for @tonydunsttv!@WPT action continues LIVE: https://t.co/5rUlItuiNK pic.twitter.com/XTo3R6Yyoz

— PokerGO (@PokerGO) June 4, 2019
With a thrilling final table leading to a heads-up for the ages, it was a classic battle of two highly-established players giving no quarter. German high roller Ole Schemion beat Tony Dunst in a dramatic final hand where Dunst flopped top pair and Schemion the second nut straight and all the money went in just 17 hands into the duel.
"Champion of champions," Schemion exclaimed after the final table when interviewed by the WPT presenter Vince van Patten. "It feels great, it was a tough final table. It was a nice game – I enjoyed it."
Baccarat Crystal WPT Tournament of Champions Results:
| | | |
| --- | --- | --- |
| Place | Player | Result  |
| 1st | Ole Schemion | $440,395 |
| 2nd | Tony Dunst | $250,265 |
| 3rd | Ryan Tosoc | $166,845 |
| 4th | Simon Lam | $115,945 |
| 5th | Griffin Paul | $84,140 |
| 6th | Nick Schulman | $63,890 |
If you missed the dramatic ending, you can watch how the entire final day played out on PokerGO exclusively here.
As the World Poker Tour heads into Season XVIII, you can bet on several certainties in the Main Events to come, especially when they end at the HyperX Esports Arena – there will be drama, excitement and players will win life-changing money. Watch the World Poker Tour on PokerGO so subscribe right now.