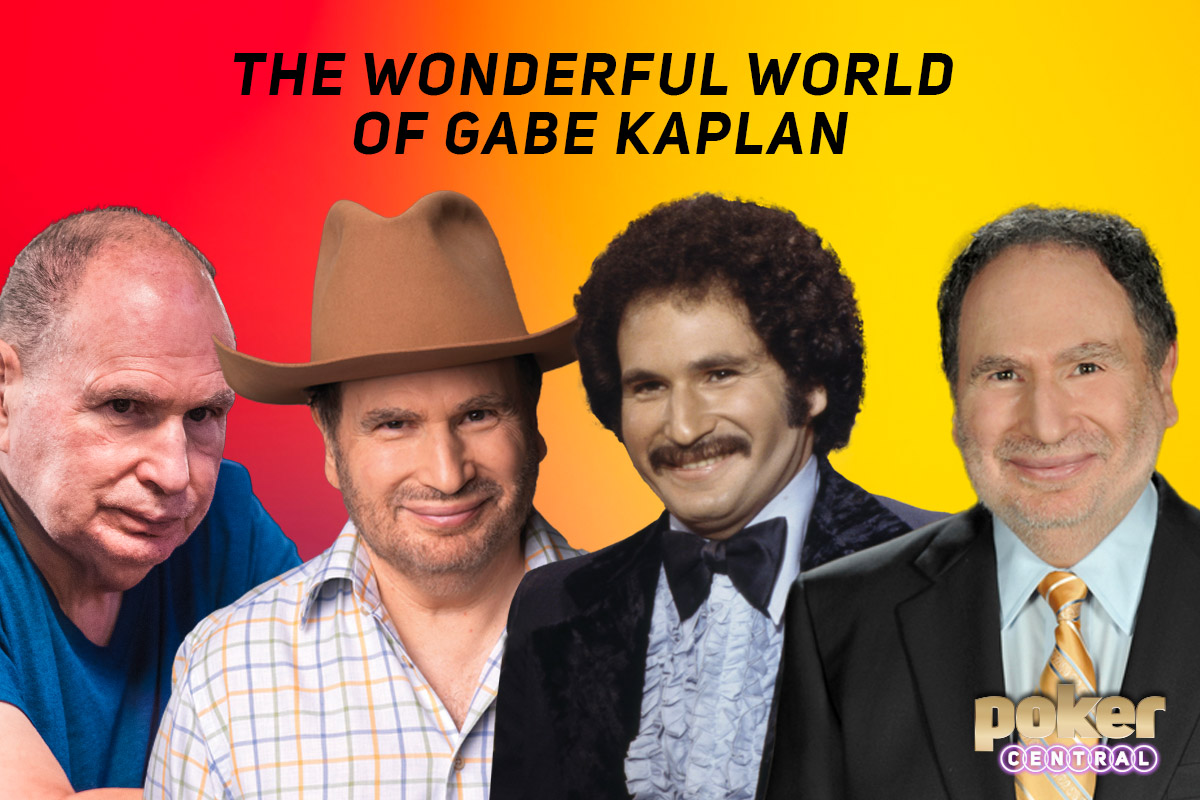 Plenty of poker players venture away from the table to commit their insight to poker commentary. Think of how much we all enjoy Nick Schulman behind the mic when he's not busy winning WSOP bracelets. Other celebrities, such as actors, are a dab hand at adapting to poker and turn their hand to the odd high stakes game.
Imagine a player, then, who has been both a highly successful television actor, become a professional poker player, then mastered the art of poker commentary.
There's no need to imagine at all if you're a fan of Gabe Kaplan.
WELCOME BACK, KAPLAN
Gabe Kaplan began life hoping for a career in professional baseball, but after working as a bellboy, started work on a stand-up routine, leading to appearances on popular TV shows such as The Tonight Show with Johnny Carson.
Stardom on the stage was one thing, but it was clear that Kaplan's mischievous smile and comedic ability to make the audience feel like they were whispering jokes back to the screen in secret leant itself brilliantly to television comedy. It was with his own work, in collaboration with Alan Sacks, that Kaplan brought Welcome Back, Kotter to the small screen, in a series that was extremely popular with young and old where Kaplan played a teacher who returns to help the school where he himself studied growing up. Some of the jokes were top-notch and Kaplan performed them with glee.
For many years, Kaplan blended his love of comedic acting with poker, playing in – and winning poker events – since 1978. Taking down the Amarillo Slim's Superbowl of Poker in Las Vegas in 1980 for $190,000, Kaplan was at the top of his game and he couldn't resist the lure of the card game where quick mental acuity and witty repartee are valuable skills. Kaplan was turning a profit and merged into a poker professional.
KAPLAN THE KING OF POKER AFTER DARK
As you'll know if you subscribe to PokerGO, Poker After Dark is a legendary show and was themed for much of its original six series run. By the time Poker After Dark appeared, Kaplan was not only a recognized player at the highest level but a commentator too. His stand-up skills, acting ability and poker knowledge combined into one of the best commentators in poker history.
Kaplan was at his best at the table, where a big pot brought an even bigger thrill to the fans who watched him, with the $150,000 Cash Game episode featuring Eli Elezra, Patrik Antonius, Alan Meltzer, David 'Viffer' Peat and Tom Dwan an all-time classic. It included an incredible three-way hand where Kaplan is knee-deep in the action against the late Alan Meltzer and Tom Dwan, where even a wheel couldn't carry the pot home.
CALLING THE ACTION
Another episode where Kaplan was in his element was the Commentators episode, which welcomed Kaplan to the felt along with other luminaries in his industry niche, such as Howard Lederer, Joe Sebok, Ali Nejad, and Kara Scott. It was unmissable TV.
It wasn't just on Poker After Dark where Kaplan brought the drama. High Stakes Poker was a hugely successful series, and it was brought to life by A.J. Benza and Kaplan, where big stacks of cash went over the line with regularity.
There are so many examples of Gabe Kaplan being a boss at the table then laughing about the game behind the microphone that the game feels like it owes him a lot. Will he one day become a member of the much-fabled Poker Hall of Fame? Like his comic one-liners, it seems only a matter of time before it lands, and when it happens, the poker world will applaud.
Subscribe to PokerGO today to watch all of Gabe Kaplan's appearances in events such as Poker After Dark and High Stakes Poker. Sign up today and you'll have access 24 hours a day, 7 days a week. Use promo code WATCHPARTY until April 30 for 30 days of free access to the full PokerGO library of content.