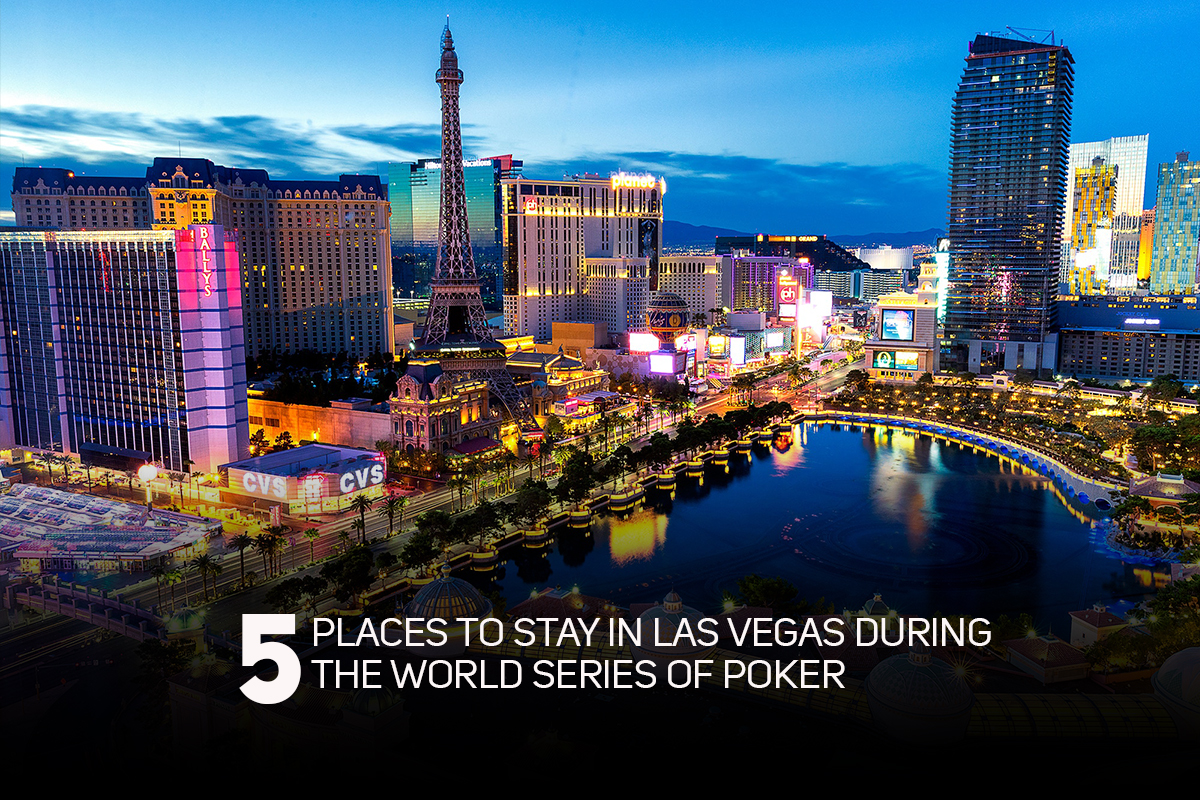 When it comes to traveling to Las Vegas and the 2019 World Series of Poker, everybody can't wait to get to the poker paradise that invites you to dance with lady luck the second you're through the baggage claim at McCarran International Airport. But what options do you have and how should you plan ahead after you've checked which Championship Events and lower stakes tournaments you want to play?
Rent a House
Whether it's through Airbnb or other temporary rental homes or private rooms, rooming or renting in a house that is already ready to cater for most visitors has many advantages. Being able to cook for yourself has obvious benefits for poker players that are used to designing their own schedule, and there are so many options that you can be flexible for short or long-term stays. When you rent a house make sure you get a rental car. If you can afford to play the World Series of Poker, you can also afford a rental car and even if you don't need it every day, it's still a convenience that's great to be able to fall back on.
Extend Your Stay
There are a lot of short-term vacation rental options on or near the Strip or The Rio. From the Extended Stay or the Flamingo Palm Villas right next to the Rio to other options scattered around the city, these are budget options that are usually good value. If anything, Flamingo Palms Villas is an excellent value while spots like the Extended Stay are a bit grimier at night but it does add something to that Las Vegas flavor.
Hotel or Motel
Staying at a hotel has plenty of benefits for poker players of any level. You don't have to worry about cooking or cleaning, your bed is even made for you and there's often a 24-hour concierge service that can help you get around without having to worry about Uber orders going around the block three times before they pick you up. Plus, room service. This is by far the best option for those coming for a weekend visit, or anything up to 10 days. Insider tip: The Palms has just finished some incredible renovations and is walkable to the World Series of Poker.
Stay with a friend
Staying with a friend or friends in rented accommodation is a terrific idea and has obvious positives to carry with you throughout the series.  Whether your events go well or not, having fellow poker players to bounce ideas off or chat through hand histories with is a huge advantage over those who don't.
Live it Up at The Rio Villas
With just 14 of these exclusive rooms available, and prices ranging from $1,500 up to over $10,000 a night, this one might be worth keeping up your sleeve for when you hit it big in the Main Event, assuming the Rio don't provide their suite gratis for the victor. Each villa has its own dedicated butler, Egyptian cotton pillowcases and private pool as well as a fire pit and a 'champagne' bubble bath. Book up before Phil Hellmuth does! Not too sure about the big spend?
Now that you know where to stay and how to live, make sure to check out this list to ensure you're not forgetting anything important! In addition to that, watch the World Series of Poker on PokerGO by subscribing right now. PokerGO brings both the best live poker action as well as amazing on-demand original content and show replays.