This is the second of two parts highlighting the career achievements of newly inducted Poker Hall of Fame member Mori Eskandani. Read Part 1 here first if you haven't.
The announcement of Mori Eskandani's induction into the poker's Hall of Fame came at the end of a long and busy summer for the man behind Poker PROductions. Despite the 62-year old's day-to-day role is no longer requiring him to be on the floor watching everybody's every move, he was at the Rio nearly every minute of every day, overseeing and assisting when needed and being there for his team in case of technical difficulties or other unforeseen problems.
In this interview, we take a deeper look at what it takes to put together the production for live events such as the Super High Roller Bowl and World Series of Poker, the post-production process of fine tuning and piecing together the produced shows for ESPN, and in addition to that Mori dives into his bottomless well of epic stories from his time producing High Stakes Poker.
---
47 Days of Live Poker
No matter the time of day, or the day of the week, Eskandani can be found roaming the Rio hallways during the World Series of Poker. Whether it's checking up on his team producing the Twitch live streams or the big main set that plays host to all of PokerGO's action, it shows how Eskandani is basically the poker grinder equivalent of a producer, always wanting to be in the middle of the action.
Meetings for the 2018 summer of action, stretching from the first day of the Super High Roller Bowl until the final day of the Big One for One Drop, started in January. At that point in time the PokerGO Studio was still mid-construction, and with both construction underway and planning for right around 50 days of action from the Rio coming together all at the same time, meticulous planning was required.
Every chair, table, light, camera, and piece of sound equipment is meticulously mapped out in the months leading up to the big events, as well as marking down where the talent will stand during interviews and who that talent will be. But once all that is set in stone, and the overarching logistics are in place, it's out of Eskandani's hands.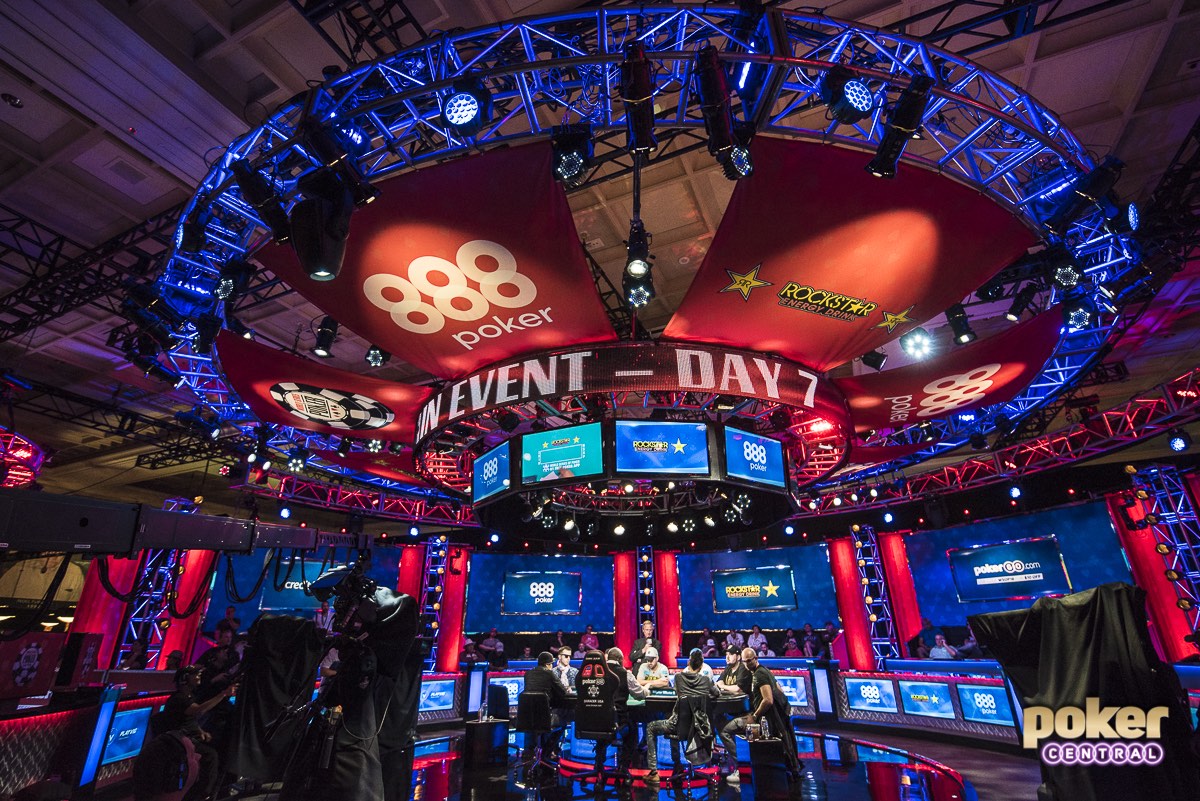 "When we have everything in place, we're at the mercy of the cards and poker," Eskandani joked.
"I'd like to know if there's any event outside the World Series of Poker that does 47 days of live streaming, with most days having multiple streams going on. That's what we did this summer, it's what we planned for, and still, there are so many variables because it's poker, where sometimes you just get stuck with 36 players at the end of the night and no possibility of showing the final table the next day."
The variables of producing a live poker event the scale of the World Series of Poker can't be understated, but Eskandani's praises his staff for their flexibility and ability to adjust on the fly and time and time again entertain poker fans from all over the world.
"Even when you feel like you're ready, as soon as the bell rings you're going to be very-very nervous, but once the cards are in the air and the game is running, I'm pretty relaxed. The producers and directors know what to follow and what to do, and the cards are ultimately what makes the show."
From Live Stream to Packaged ESPN Show
On top of all the live action fans were able to enjoy throughout the summer, the WSOP Main Event was also being recorded for post-production on a far larger scale. While the live show sometimes misses big moments, the cameras are always rolling, registering every second of feature table action as well as a plethora of big moments being filmed on the outer tables.
All this footage is gathered, re-watched and put together piece by piece into what you've ultimately enjoyed for many, many years on ESPN. Eskandani, still very much involved in the proof watching of these produced shows, no longer finds himself among the true grinders of the process of turning hundreds of hours of footage into a condensed hour-long broadcast, he shares some unique insights into this process.
"Believe it or not, it used to take us two full weeks of post-production to make one hour of the packaged shows. We've gotten a lot better and more efficient at it, and right now I'd say that it takes up to five days. "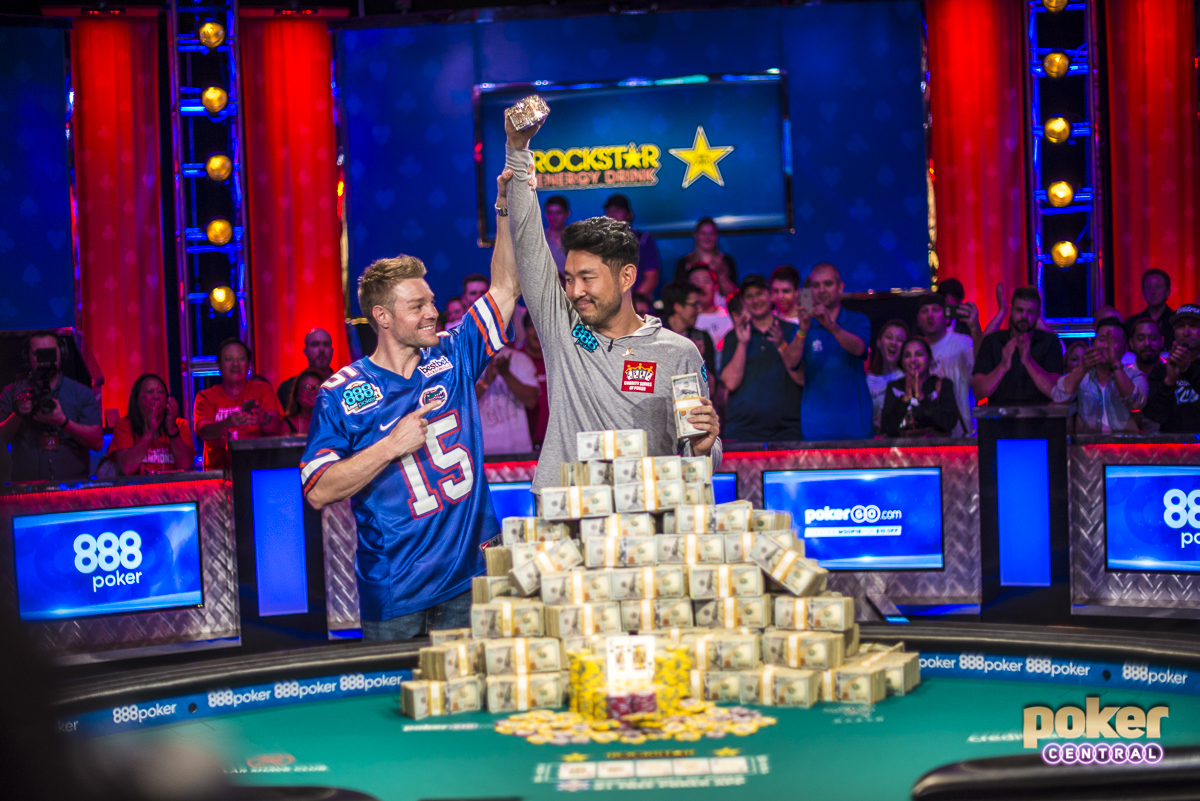 The totality of poker hours shown on ESPN taking you from 7,784 players to John Cynn being the last one standing is right around 18, involving re-cutting, re-voicing, editing, formatting, removing slow parts of the game, and telling the story that leads to the culmination of emotions at the final table. Eskandani explained that it can take up to 50 to 60 edits per show until the final product is agreed upon, because unlike live broadcasts, once the packaged shows air, there can't be as much as a single mistake.
"You can't have a single mistake in these packaged shows. It's just impossible. You can watch al the shows we've packaged over the years and you won't find mistakes. I hear from people all the time about mistakes in the graphics, in the commentary or otherwise, but people have to remember that all of that is done live and in the moment. Mistakes happen, and the benefit of the packaged shows is that we have time to comb through everything and make sure it's perfect."
Perfection is something driven individuals and high performances strive for in all walks of life, and Mori Eskandani is no different. The way in which he seeks perfection, however, has changed drastically over time. The entire road traveled to poker's Hall of Fame can be traced back to his time as a full-time professional player, where he competed against some of the best the game has ever seen for many years.
The Show That Never Got Made
As referred to in Part 1 of this interview, Eskandani slowly but surely played fewer poker hands until he ultimately no longer considered himself a professional player in 2005. This date, of course, is an obvious result of the rising tide lifting all boats in the post-Moneymaker era, but if it hadn't been up to Eskandani himself, his full time playing carer would've ended a few years earlier.
"The initial idea that became Poker Superstars was something Henry Orenstein and I worked on for more than two years in the early 2000s. We wanted to live broadcast a Seven Card Stud game with a $400,000 buy-in, playing down until there was one winner. The players in the game would've been Chip Reese, Doyle Brunson, Phil Ivey, Barry Greenstein, Howard Lederer, Gus Hansen and Henry himself."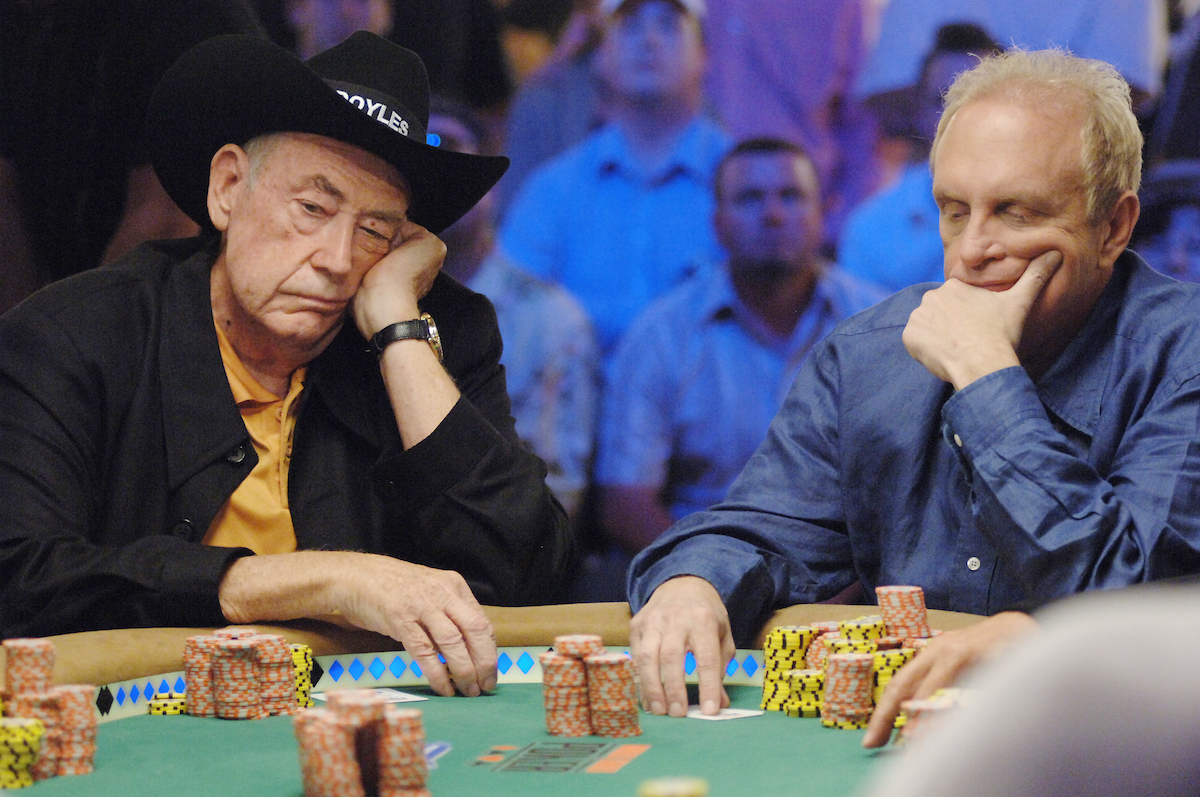 Being a few years too early for this grand idea, there were no takers from the big broadcasting platforms and this show never got made. A few years later Moneymaker turns the poker world upside down, and the sky becomes the limit, flushing both the game and it's TV product with opportunity, money and the ability to show the highest stakes on TV. High Stakes Poker was the first of its kind, bringing high stakes cash games to a global audience, that until that point was used to just watching tournaments, and being left with a single winner.
Eskandani is very candid about what it took to put High Stakes Poker together, citing that for every player there had to be a good reason to want to play in a big game. Some pros think they have an edge on everyone, some pros only need one of two good spots, and from the perspective of recreational players, it was quite common to just be enamored with the idea of measuring their skills and heart versus that of the best in the world.
Striking this delicate balance was something Eskandani excelled at, resulting in what is still widely considered as the most entertaining poker action ever filmed.
"Jerry Buss, may he rest in peace, always told me, 'You can come to my arena to sit and watch the players, I can come to this arena and actually get on the court.'"
Tom Dwan's Million Dollar Backpack
While not everyone believed High Stakes Poker was played for with real money, as Eskandani referred to getting many comments in the early years of people thinking that it was a 'made for TV' show, the concept thrived and recreational players wanted to be seen, and most of all wanted to measure themselves against the top pros of that era. One of the most tempting players to challenge by both old-school pros and recreational players was Tom Dwan, who shot up to poker stardom through his numerous appearances on High Stakes Poker and Poker After Dark.
Now almost 10 years ago, Dwan made his debut on Season 5 of High Stakes Poker, winning more than a million dollars during the taping of that show. While the adrenaline must've been rather high during play, Eskandani recalls a crazy sequence of events after the lights had been turned off that quite possibly had Dwan and Eskandani reaching their peak heart rate in a matter of seconds.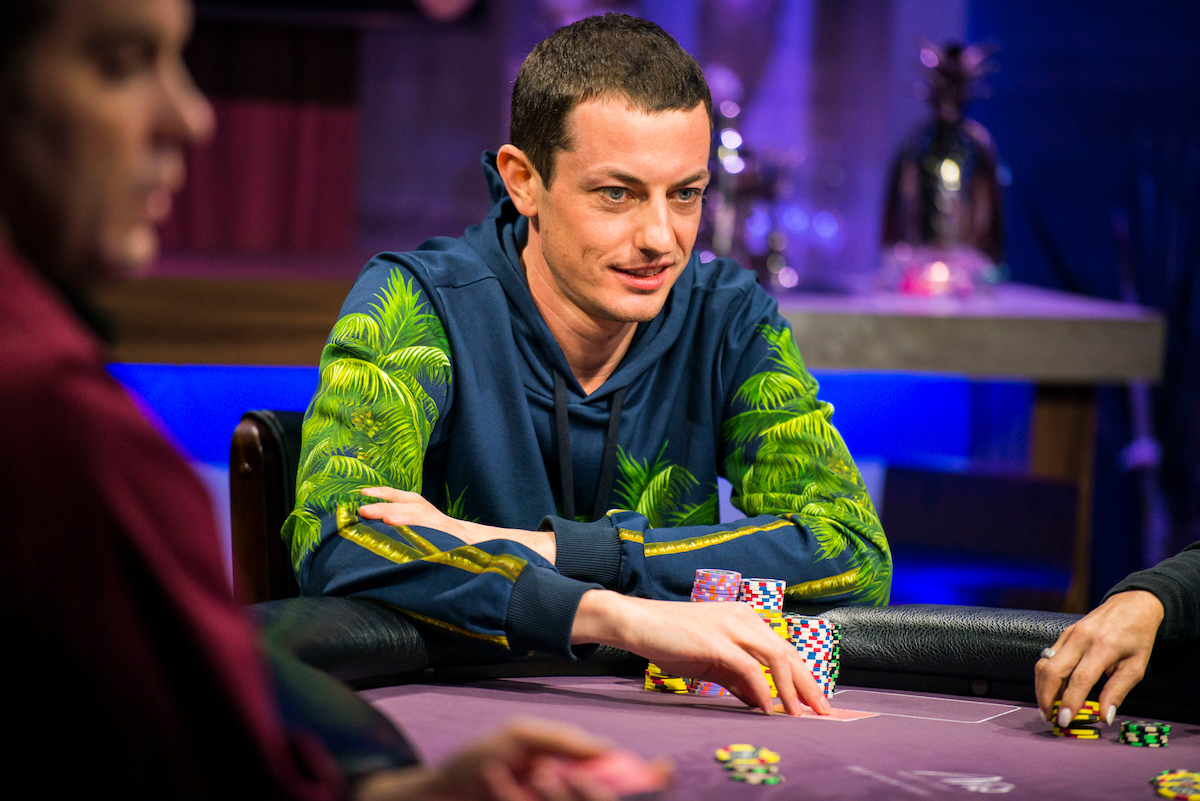 For the opening sequence of that season of High Stakes Poker, the plan was for Dwan to smash the ice sculpture with a hammer, which was prominently on display during the show, in the back alley behind the Golden Nugget hotel, playing on the idea that Dwan has just crushed this season of the show. This is where disaster nearly struck.
Dwan had put down his backpack during the taping of this intro in the alleyway next to the Golden Nugget, a place with a fair bit of foot traffic, and in that backpack, was more than a million dollars in chips and cash.
"After we're done the filming, we're both waiting for our cars at the valet, and all of a sudden Tom goes, 'Oh my god, where is my backpack?'"
"We sprinted back across the property, and there was the backpack, sitting right next to a dumpster. Nobody had touched it all the money was still inside. In that moment, I joked with Tom and said, 'You won this money twice now!'"
The Future of Live and Televised Poker
During the peak of the poker boom, Tom Dwan's celebrity in poker peaked and so did poker on TV. After a long hiatus from the spotlights, Tom Dwan has started making appearances again on shows such as Poker After Dark and the Triton Super High Rollers. As the PokerGO Studio gets ready for the upcoming Poker Masters, Poker After Dark broadcasts being shown live up to eight times per month and original content being released on PokerGO with regularity, poker is more accessible than ever before for a global audience of both players and fans, but more than anything the game itself is something that will never again be like it once was.
Since High Stakes Poker was first being taped the game itself has changed tremendously, and recreational players are no longer chomping at the bit to wager it all. As a producer looking to put together the most exciting product for T that can sometimes be a challenge, but Eskandani also looks at the future of the game with lots of excitement.
"It's not just the technology that has changed, the game itself has changed. I'm still trying to wrap my head around going from poker being a game where you'd stare someone down to see if they have it or not, to running simulations and top players using algorithms to find out when to shove and what the proper calling ranges are. For me, the challenge is in finding how to make that new brand of poker exciting, because it's the game that all the top players play these days."
"After more than 25 years of being around the game every single day, I thought I had seen it all, but right now I'm seeing plays that I've never seen before. The new wave of players has completely taken the game to a different level, and it's our job to some their character and build on that."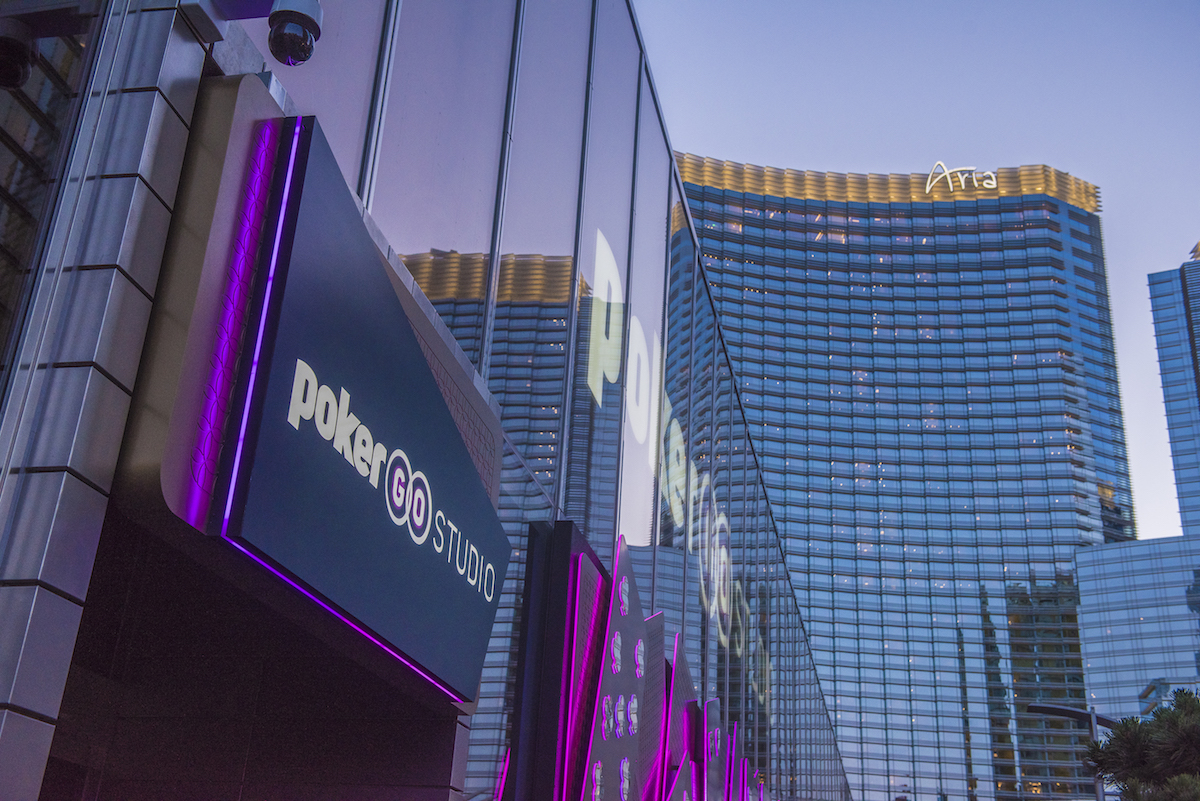 Eskandani is not close to being done in poker, as he continues to evolve along with the game and what the needs of its audience are. If there's one person to be close to the fire on this, there's nobody better than the latest inductee into the Poker Hall of Fame.
"The challenge right now is to show the game of poker, that's all about bluffing, raising and beating your opponents, in a way so that both the new audience and players connect with its original audience and players. All the top players right now are brilliants minds, and while we can see that their play is exciting, the task is now to show who they are, how they make their decisions. That's the challenge, to make that exciting."
Learn more about the invention of the hole card camera on Stories from the Felt on PokerGO featuring Herny Orenstein and Mori Eskandani. Subscribe to PokerGO right now to enjoy more than 100 days of live poker action every single year as well as an extensive on-demand library that includes every episode of Poker After Dark. For more stories from behind the scenes, listen to this podcast with Poker Central's Chief Digital Officer JR McCabe.