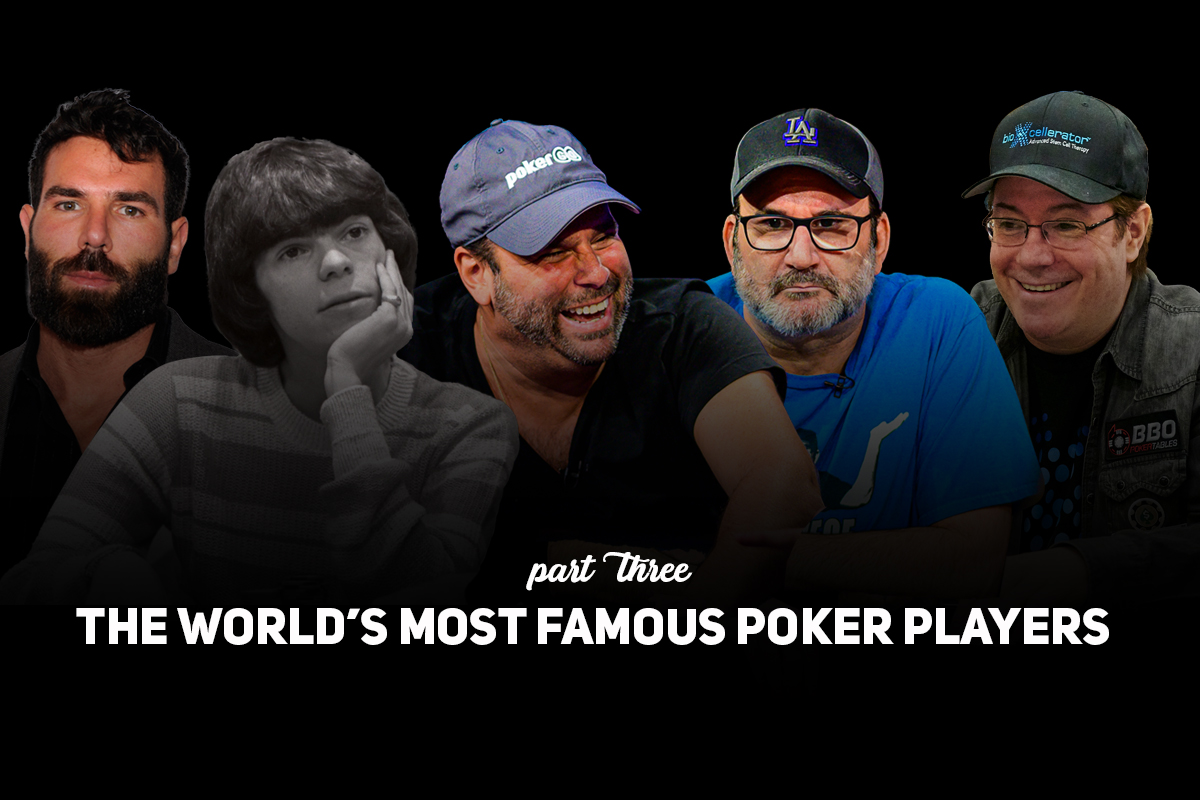 On our journey to get you up to speed on the who's who of poker, we've arrived at Part 3. There are too many famous poker players to stick into one article which is why we're doing a four-part series on the biggest names in the game and today we've arrived at a category that includes marquee personalities, some of the greatest of all time as well as guys that could fit into the category of "bad boy" as well as "entertainer."
The Poker Legends Who Go Against the Grain
Poker has always been a game that attracts rebels, with the very nature of playing poker for a living being something that sits opposite life of convention and order. Poker can often be organized chaos, a game where anything can happen and the best mavericks make jokes while sitting in the eye of the hurricane.
Stu Ungar is one such example, winning two World Series of Poker Main Events while living the kind of life that should come with a health warning. The eponymous Ungar has never truly been replaced in the game of poker and he is a true Legend of the Game, as featured in our exclusive series digging into the colorful history of the game's most game-changing players. Ungar's life was also described in the book One of a Kind.
Mike Matusow is another great example of the maverick poker player who has brought so much more to the game that merely his results. Having been to the final table of the WSOP Main Event too, Matusow has become synonymous with the lighter side of the game in recent years and is a big friend to poker legend, Phil Hellmuth. The Mike 'The Mouth' Matusow Podcast is the perfect 'Mouthpiece' for many poker players of great repute and has led to many stories in the poker world going from railside rumor to global news story.
The World Series Mavericks
Everyone loves a quirky World Series winner but it's not only the champions that we love to watch. From runner-up Sam Farha to record-breaking winner of $12 million Jamie Gold, there are many players for whom the World Series has been a stepping stone onto a platform onto a bungee jump into the stratosphere of success.
The WSOP Main Event changes players lives, and none more so than those thrust into the final table spotlight. Such players as Darvin Moon, the logger who may well have changed history if he'd won the Main Event and many others have graced the glorious Rio stage in Las Vegas and emerged as some our favourite big names in the game.
The Biggest Personalities
It's impossible to have those clean-living elite players who eat kale and run for miles each morning without having the opposite, and mavericks such as Randall Emmett are great for the game because they represent us all. Randall Emmett has quickly emerged as both a fan-favorite and someone who will illicit taking to the Twitter streets to voice their displeasure with his antics.
Taking it up a notch, if you've ever had a big night out at a poker game then taken it on somewhere crazy, then you're probably tuning into players such as Dan Bilzerian comforting yourself that at least you only woke up next to one live tiger and silk curtains. Bilzerian might be the ultimate maverick, someone who can't resist taking it up not one notch, but a thousand. In a way, he may need his mysterious brother's input just to keep him on a level. But we don't want any of the mavericks we love reined in, do we? We love them just the way they are.
Want to watch exclusive footage of all of your favorite famous poker players in action? Subscribe to PokerGO today and never miss a live poker stream of your favorite cash game action like Poker After Dark or classic tournament action from the past, such as the World Series of Poker archive.