Last week, the PokerGO Studio at the ARIA Resort & Casino in Las Vegas was announced by Poker Central. This week, we spoke to Poker Central's VP of Content Sam Simmons about what it took for this to come together and why this space is a game changer for poker fans and players.
"The feedback has been great so far," Simmons said, as the news quickly spread through the poker world.
"A lot of people are excited about this, not only from a viewership standpoint of being able to watch these events being played on a premier set with a premier production team, but also to experience these events. The fan experience is an important element of the PokerGO Studio, as we see it becoming a destination for poker fans, putting the ARIA at the epicenter for high stakes poker."
Given its specific location in Las Vegas, the PokerGO Studio is truly at poker's epicenter.
"For those familiar with the Las Vegas Strip, you'll see the PokerGO Studio logo on your left-hand side when you're driving up to the main entrance of the ARIA Resort & Casino. Tourists and poker fans alike will walk by the PokerGO Studio from the ARIA to the strip every single day, exposing countless people to the game. From a promotional and visibility perspective in the poker capital of the world, that's huge, and we're very excited about that."
The PokerGO Studio plays host to a maximum of nine tables, allowing for up to 81 players to be playing in the 10,000-square foot space right on the Las Vegas strip. The PokerGO Studio will play host to all Poker Central's events including the Super High Roller Bowl, Poker Masters, and U.S. Poker Open.
Reiterating the importance of the fan experience, Simmons adds, "Fans will love the opportunity to come in and be a part of the action. The studio is equipped with designated viewing areas, giving fans a chance to be a fly on the wall for poker's highest stakes tournaments. That to us is a very exciting part of what this place is."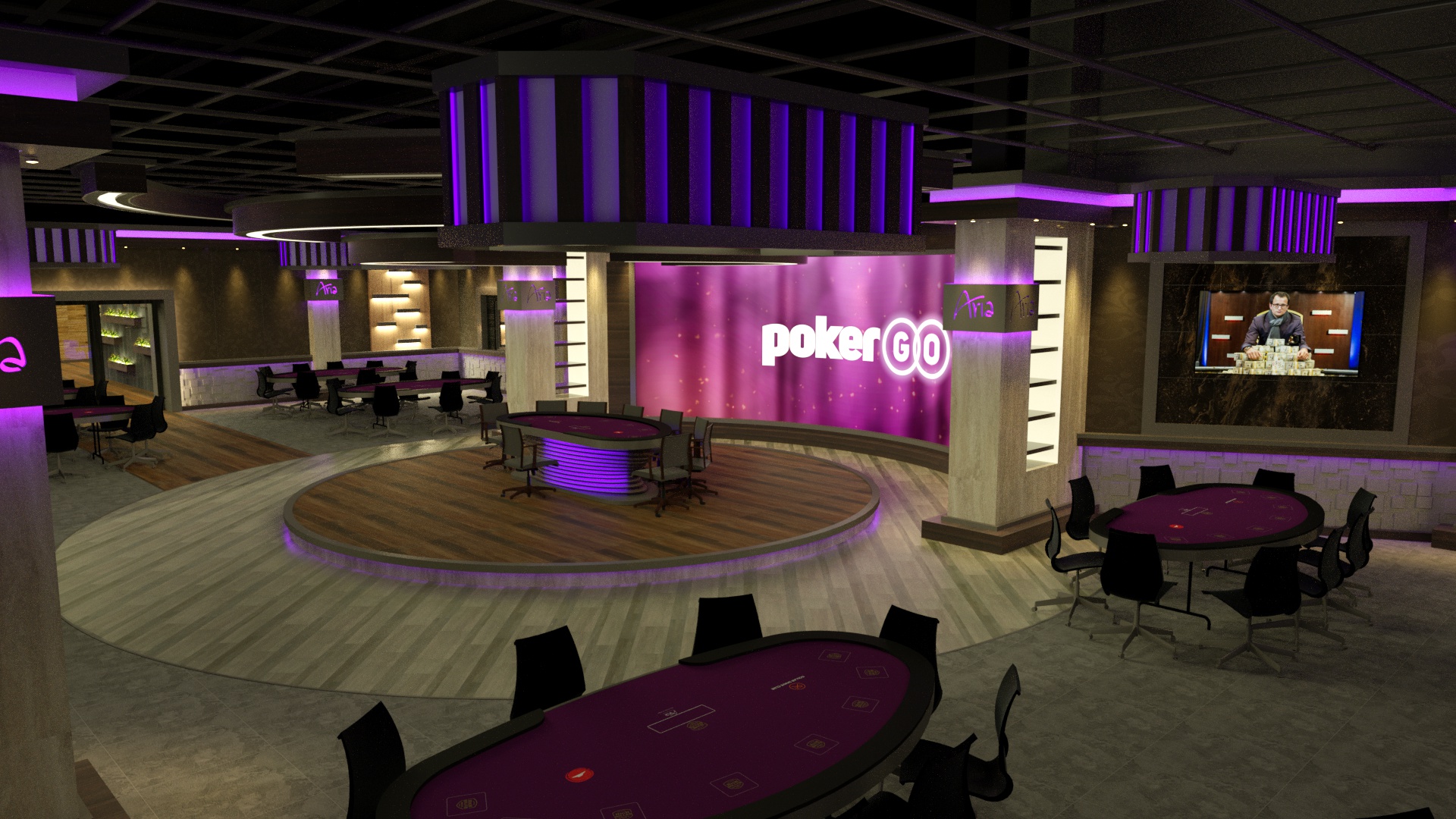 PokerGO launched in May of 2017 with live coverage of the Super High Roller Bowl where Kevin Hart took center stage and saw its high stakes tournaments broadcasted from temporary studios at the ARIA during its first year. The dedicated PokerGO Studio gives its high stakes events a permanent home, and Simmons speaks to how this enormous project came together and how it will change the feel of all Poker Central events.
"From the initial plans and designs to getting the permits, engineers to set up a control room, and breaking out walls to being able to open the studio in May, this studio has been in the making for well over a year."
With many different people involved in the process of realizing this project, Simmons shares praise for those involved, highlighting four instrumental people in particular.
"The way the PokerGO Studio came together was like a puzzle, and I can say that we had a great team working on it every step of the way. For example, it's been instrumental that both Bobby Baldwin and Cary Katz are poker players and behind this project. Our Chief Digital Office J.R. McCabe, who was with Time Inc. before joining Poker Central, brought in a ton of expertise from building out their studio during his tenure there, and of course, Mori Eskandani and his stellar team of producers and engineers have made this space perfect for all kinds of poker productions."
Cary Katz is Poker Central's founder and ranked 28th on poker's all-time money list while MGM President and COO Bobby Baldwin has four World Series of Poker bracelets including the 1978 Main Event.
Simmons continues, "We at Poker Central take pride in knowing and understanding the needs of the players and being able to tailor the studio to them is part of what makes this place so special. The players are what make our events special, and the studio was built with them in mind."
"The PokerGO Studio is a place where players are going to want to play. It's experiential, comes with a lot of amenities for the players, and the ones that were in the know about this place have delivered a ton of great feedback thus far."
The world's biggest events have a new home.
Introducing the PokerGO Studio at @AriaLV. pic.twitter.com/rHTT4M4haB

— PokerGO (@PokerGO) April 7, 2018
Looking into the future of PokerGO, the PokerGO Studio and the game as a whole, Simmons has nothing but positive thoughts for both fans and players.
"We see this studio as monumental to the poker industry, and one of the things we want to do is usher in a new era of televised poker. The Super High Roller Bowl will mark the first time the studio will be in full use, using all of its available tables, and while there's already a special atmosphere surrounding the event, we think it will be heightened by the look and feel of the playing environment for both fans and players."
After two nights of Poker After Dark action, the World Poker Tour brings the final table of its inaugural Bobby Baldwin Classic Main Event from the studio, followed by the Super High Roller Bowl. On top of the live action, the PokerGO Studio also provides PokerGO with a lot of versatility to create original content, in line with what was released in 2017 such as the Super High Roller Club and Stories from the Felt.
"There are limitless possibilities for what we can now create, and as we can't film poker every single day, we'll be looking at potentially creating talk shows, game shows or even reality shows. Having this space at our disposal full time will provide us with a ton of flexibility for what we will produce. So, with that said, May can't come soon enough!"
For more information on the PokerGO Studio, stay tuned to Poker Central. Listen to Sam Simmons on the Poker Central Podcast, and Mori Eskandani on Heads Up with Remko, as both shows this week were dedicated to the announcement of the studio. If you're new to PokerGO, subscribe right now and enjoy our extensive on-demand library of content as well as more than 100 days of live poker every year.