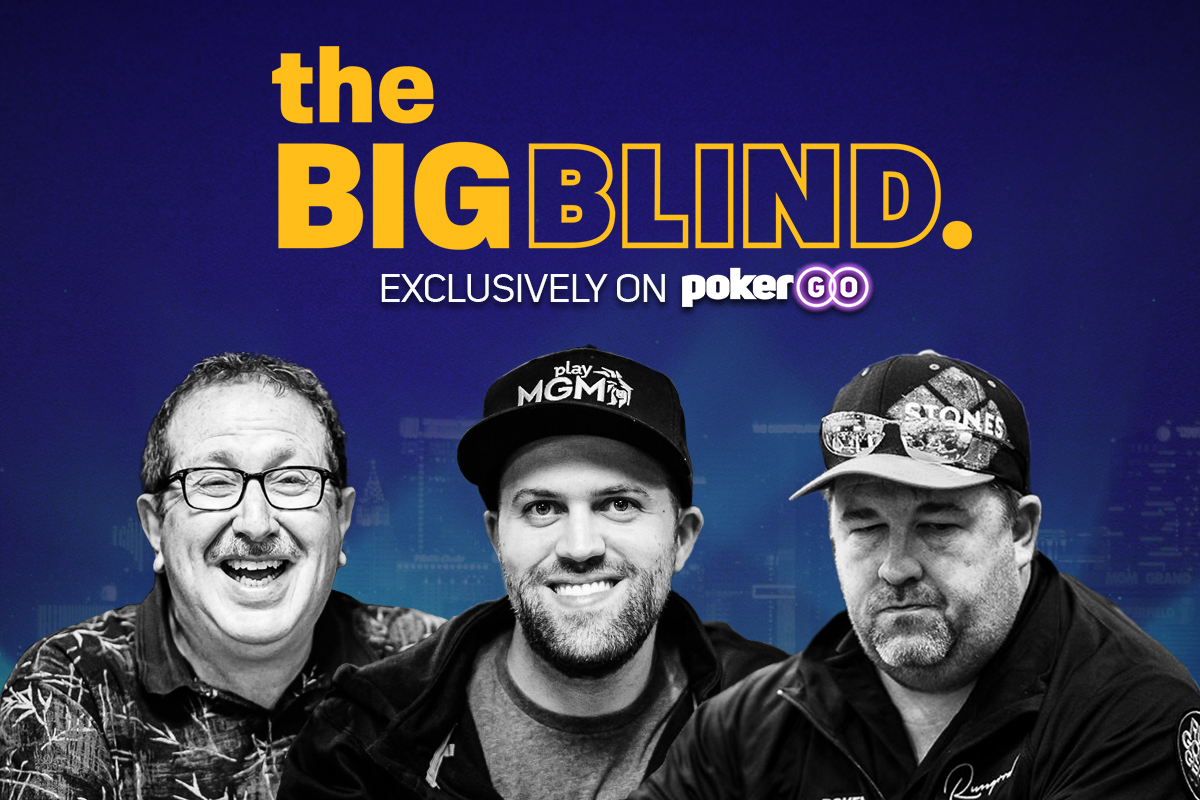 Poker trivia show "The Big Blind" on PokerGO is down to its quarterfinals and with four exciting three-way battles on tap it's time for you to get caught up on the action! For those new to the show, The Big Blind pits some of your favorite poker personalities up against each other for a battle of poker, gambling, and Las Vegas trivia hosted by Jeff Platt.
The first round was contested by a total of 18 players and on every episode, one person would get eliminated. Don't want any spoilers? Scroll no further and jump into the episode that speaks to you the most!
The Big Blind Round 1 Match-Ups
Game 1
Game 2
Game 3
Game 4
Game 5
Game 6
Norm Macdonald
Joey Ingram
Norman Chad
Alex Jacob
Prahlad Friedman
Barstool Nate
Chris Moneymaker
Jamie Kerstetter
Sarah Herring
Ben Yu
Scott Vener
Barstool Smitty
Justin Young
Jared Jaffee
Mike Matusow
Matt Berkey
Garry Gates
PFT Commenter
WATCH
WATCH
WATCH
WATCH
WATCH
WATCH
So, now that all the people who are looking to avoid spoilers have jumped over to PokerGO we can dive into the upcoming quarterfinals. Across four nights of action, The Big Blind will be brought down to just two matches of three, the semifinals on December 30th and January 3rd. Then, on January 6th, the grand final will be played out as the final three players will battle over the $30,000 prize pool.
Who would be a better storyteller 📚:@themouthmatusow or @AuntyChardonnay#thebigblind https://t.co/6xIuFQt0em pic.twitter.com/7UMW9r95mc

— PokerGO (@PokerGO) December 3, 2019
The quarterfinals are as follows.
The Big Blind Quarterfinals
Game 1
Game 2
Game 3
Game 4
Justin Young
Alex Jacob
Garry Gates
Barstool Nate
Jamie Kerstetter
Norman Chad
Sarah Herring
Barstool Smitty
Chris Moneymaker
Joey Ingram
Ben Yu
Scott Vener
Watch Game 1 of the Quarterfinals on PokerGO today as Justin Young, Jamie Kerstetter, and Chris Moneymaker square off to for a spot in the Semifinals. Topics in Game 1 include Baccarat, Vegas Showtime, MGM Grand and Phil Ivey!
On Friday, December 21st, Alex Jacob, Norman Chad, and Joey Ingram face off to battle in categories such as Rounders, Vegas restaurants, and Stu Ungar. The action then continues on Monday, December 23rd when Garry Gates, Sarah Herring, and Ben Yu battle over Tom Dwan, poker songs, and Fear and Loathing in Las Vegas. The fourth and final quarterfinals match-up takes place on Friday, December 27 when Barstool Nate, Barstool Smitty, and Scott Vener tangle over Vegas history, MIxed Games, and Blackjack.
Don't miss out on The Big Blind and an extensive library of live and on-demand on PokerGO so subscribe right now. You can also find Poker After Dark, Super High Roller Bowl, and World Series of Poker episode on PokerGO.