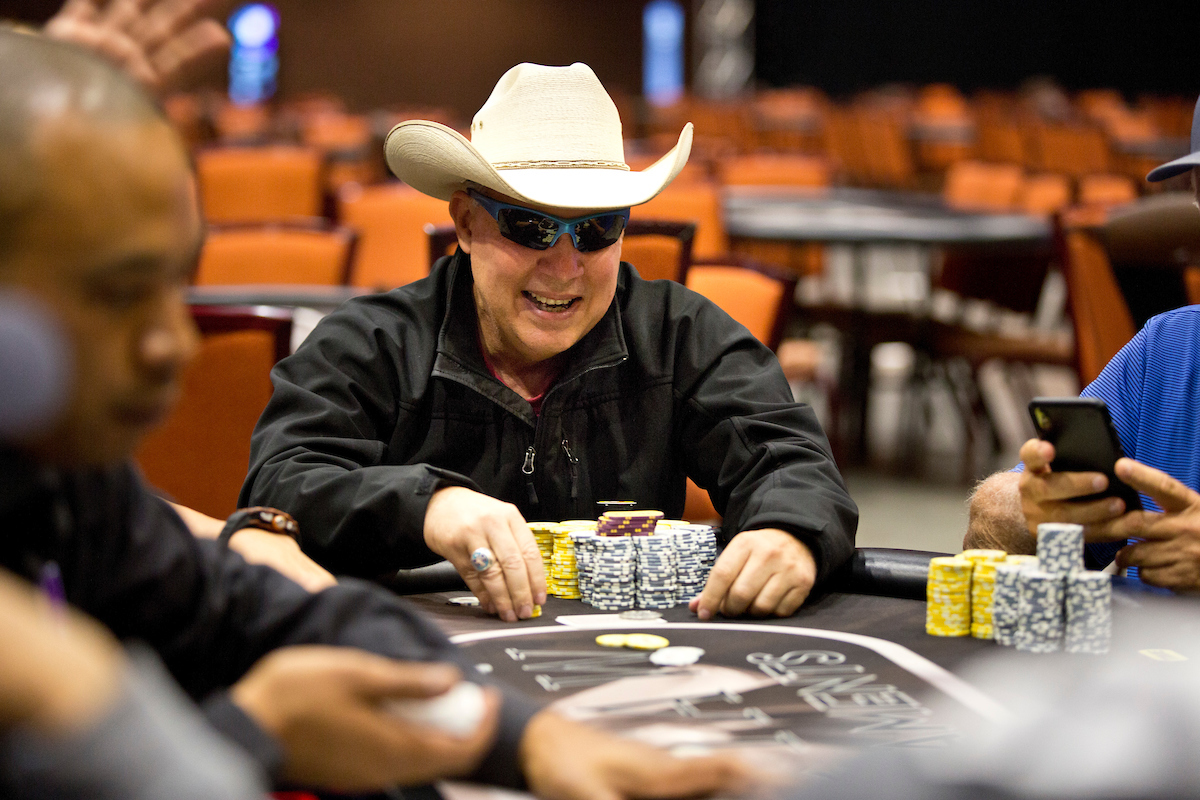 When the remaining six players sit down to compete in the WPT Choctaw Main Event final table, one man will be doing so in a cowboy hat with a song in his heart. There are poker players, there are entertaining poker players…and then there is Stacey Jones.
THE COWBOY TURNED COUNTRY SINGER
"My Dad was really more of a cowboy than I am," says Jones, a country music fan and singer who learned enough about farming to know he wanted a different life for himself. "I've been in country music all my life and used to run back and forth to Nashville. But I got tired of that, and now I stay in Texas."
Jones runs a bar he openly admits to having created with the aspiration that it would end up like the one in the TV show of the same name, Cheers. Two decades later, he has a place where everybody knows everyone else's name and he couldn't be prouder of it.
"It's a fun place, a safe place and I've got great staff. My manager, bartenders and security staff are the best."
THE MAN WITH NOTHING TO LOSE
Jones has such happiness in his life now that he arrives at the WPT Choctaw final table in Las Vegas with a can-do attitude and admits that with his chip-stack being the lowest at the final table, he has nothing to lose.
"I'm really short-stacked. I had to lay a hand down to Craig Varnell and two hands later, Joe went out, making the final six. I've made several final tables in small tournaments, but this is my first time running deep in a WPT Main Event."
The businessman, who is a recreational poker player, only enters the WPT Choctaw once a year and knows that the odds are against him winning.
"They've all got big chip stacks and I don't, but I like a long shot. I would love to get my name on that trophy. I want a piece of poker history and for that reason, I want it more than they do."
WIN OR BUST IN VEGAS
Jones' belief is that while the poker professionals at the table might be looking at the pay-outs and trying to ladder up, he's going for the win without compromise.
"Understand this – I like money, but I want that title. It may be my only opportunity."
Jones drove seven hours from Texas to Choctaw to play the event down to the final table but didn't mind the commute. With Oklahoma close, he felt like they were his kind of people and enjoys the company of "relaxed Southern folk". What will he make of the Hyper eSports Arena in Las Vegas, Nevada?
"I haven't been to Vegas for 20 years. I don't care much for flying, but I'm really excited to be going and playing."
Jones plans on playing some World Series of Poker tournaments during his poker sojourn and will stay at least a week in order to take it all in. When it comes to who he's likely to target at the final target, he has one player in mind.
LOOKING FOR ACTION
"I never pick a guy and say, 'He's my Huckleberry', but I think Craig Varnell will give me action. I watched him on television, and he likes to get involved. I watched him back in 2015 on the World Poker Tour and he called a guy's all-in with A-7 off-suit – the other guy had queens."
Having followed the action, Jones concedes that to have any chance of winning, he need to find action quickly, probably within the first 12-18 hands to stay in contention. But if he can double up, he's sure to be a dangerous opponent. He'll bring his A-Game to the biggest game in town.
"I won't change. I'll play the game that's got me this far and I'll enjoy myself even if I go out first, but it would be a great thrill to get my name on that trophy. I'm going to give it my best."
When it comes to action, Stacey Jones will bring it as well as seek it. If you hear a crooning voice in the Vegas air in the early hours of June 1st, it might just be a country singer winning his first-ever World Poker Tour Main Event. To watch the WPT final tables, simply subscribe to PokerGO today and get 24-hour access to the best poker content in the world.
WPT Choctaw Official Final Table Seat Draw: 
1 Nick Pupillo     3,135,000 (78 BB)
2 Will Berry         7,575,000 (189 BB)
3 Stacey Jones      980,000 (25 BB)
4 Craig Varnell    6,230,000 (156 BB)
5 Austin Lewis    2,560,000 (64 BB)
6 Trung Pham    2,600,000 (65 BB)
Final Table Payouts
| Place | Prize | WPT POY Points |
| --- | --- | --- |
| 1 | $379,990* | 1,000 |
| 2 | $243,330 | 800 |
| 3 | $179,430 | 700 |
| 4 | $133,770 | 600 |
| 5 | $100,850 | 500 |
| 6 | $76,890 | 400 |
*includes $15,000 Baccarat Crystal WPT Tournament of Champions Seat