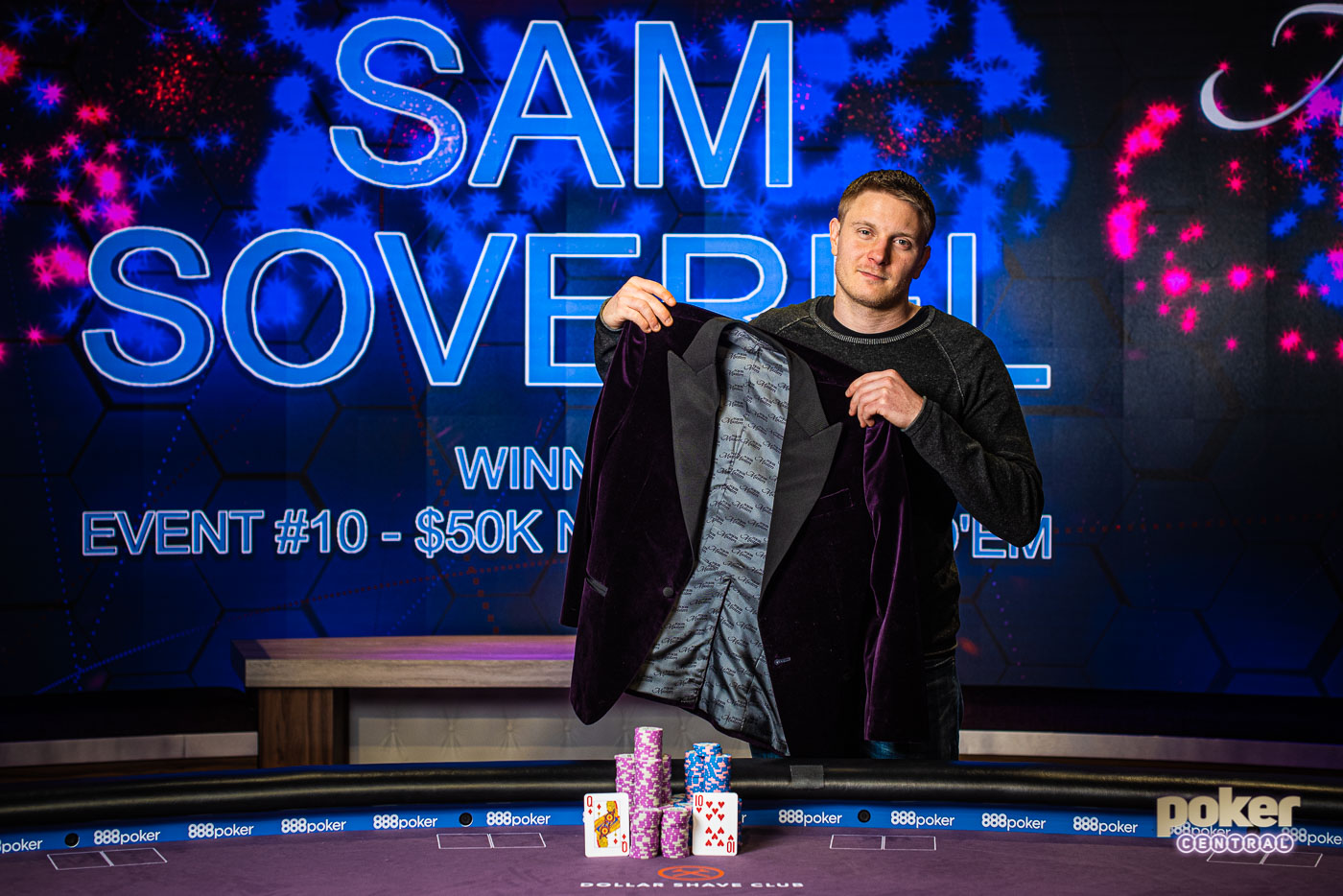 In what will go down as one of the most impressive showings in a single poker tournament series, Sam Soverel has closed out his historic Poker Masters championship run by winning the $50,000 Main Event for $680,000. In total, Soverel recorded seven final tables across 10 events, cashing for a total of $1.4 million including the $100,000 top prize for being the top points getter. On the final day of the series, Soverel both beat Chris Hunichen heads-up in the final event as well as receiving the Purple Jacket from the hands of 2018 champion Ali Imsirovic.
"It's exciting to win," Soverel said after taking down the Main Event and Purple Jacket. "I just like being in action all the time and when you win you get to play the longest."
About his play, his performance, and dominance, Soverel said, "A lot of the guys I thought were really good I saw make mistakes online recently and I actually think now that the playing field is a lot more level than I originally thought."
While Soverel doesn't make any claims on where he stands on the hypothetical global ladder of tournament players, he does admit that he feels much more comfortable than before.
"I'm glad I don't feel like I'm at a big disadvantage when playing these guys whereas in the past I kind of felt like that. I come from a cash background and I know I didn't study enough and understand things like the impact of the big blind ante, but I understand it a bit better now and I think that my live background helps me a lot in the rest of the game."
Relive the entire $50,000 Poker Masters Main Event on PokerGO right now with commentary provided by Ali Nejad and Nick Schulman.
2019 Poker Masters Event #10 Results
1
Sam Soverel
350
$680,000
2
Chris Hunichen
245
$442,000
3
Elio Fox
175
$272,000
4
Stephen Chidwick
140
$170,000
5
Seth Davies
105
$136,000
The final table of the Main Event started with six players of which one would go home empty-handed. That player turned out to be Ali Imsirovic who busted on the bubble when his top pair top kicker failed to hold up against Stephen Chidwick's straight and flush draw. The river gave Chidwick a straight and Imsirovic busted in sixth place.
Stephen Chidwick can catch the world and @aliImsirovic needs to hold on the $50K bubble! 🥶
Watch live: https://t.co/2WejBkkB1z #PokerMasters pic.twitter.com/xUV7A2Tydf

— PokerGO (@PokerGO) November 14, 2019
The next big clash was between Seth Davies and Sam Soverel as the former picked up queens against the latter's kings. This hand sent Davies to the rail and Soverel asserted himself as one of the biggest stacks trailing only Chris Hunichen. Busting in fourth place was Stephen Chidwick who found himself in similar trouble as Davies, running queens into kings. This time it was Hunichen who had kings and Chidwick exited the PokerGO Studio.
Elio Fox maneuvered himself into the Top 3 but at that point, he got coolered by Soverel in a full house vs full house clash. Holding ten-seven versus Soverel's eights, the board ran out seven-four-nine-nine-nine, and Fox's full house was inferior by just one pip. After calling off most of his chips on the river, Fox busted just a few hands later in third place.
The heads-up battle did not last long as on the final hand, with Hunichen facing nearly a 4:1 disadvantage, Soverel put him all in with queen-ten and Hunichen called it off with deuces. Soverel hit a queen and end the tournament.
Sam Soverel saved the best for last! Beats @BigHuni and wins almost $1.5 million plus the #PokerMasters Purple Jacket. https://t.co/2WejBkkB1z 🏆💰🕺 pic.twitter.com/HB6SgNw6wT

— PokerGO (@PokerGO) November 15, 2019
2019 Poker Masters Championship Final Standings
Name
Points
Earnings
Results
1
Sam Soverel
1160
$1,396,800
7
2
Kahle Burns
630
$585,950
3
3
Chance Kornuth
630
$556,400
3
4
Sean Winter
480
$495,350
4
5
Ali Imsirovic
450
$497,600
3
6
George Wolff
420
$404,500
3
7
Alex Foxen
330
$169,450
3
8
Kristen Bicknell
300
$408,000
1
9
Sergi Reixach
300
$369,000
1
10
Isaac Baron
300
$223,100
1
New to PokerGO? Subscribe right now and never miss another minute of thrilling live action. Next up: Super High Roller Bowl Bahamas kicks off on Saturday, live on PokerGO.