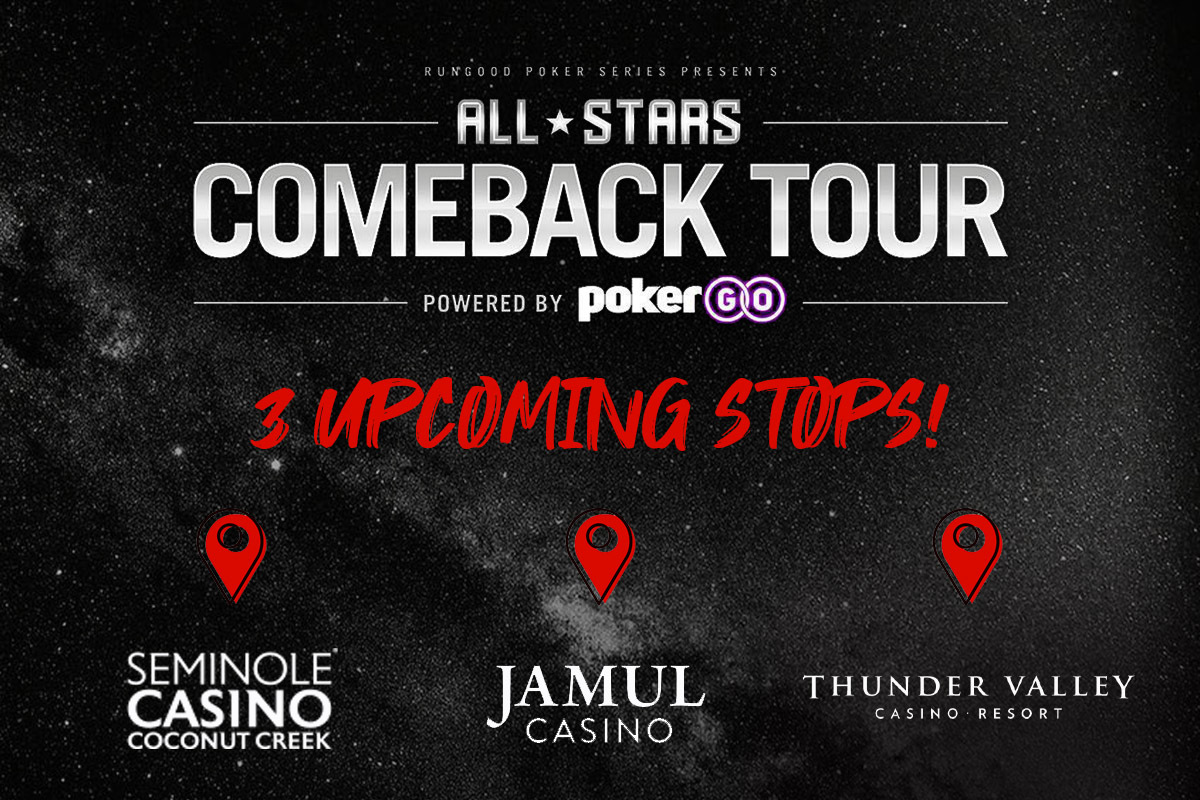 The "All-Stars Comeback Tour Powered by PokerGO" season continues with three more scheduled stops before the end of September.
The RunGood Poker Series heads to Seminole Coconut Creek Casino from August 23-29 with five ring events on the schedule. The series will then head out west with a return trip to Jamul Casino San Diego from September 7-12 with seven events on the schedule, before making its first-ever appearance at Thunder Valley Casino & Resort from September 23-26 with a three-event schedule.
"We all look forward to our return to Jamul and are excited about being a part of the Thunder Valley Casino Resort roster of special events," said Hayley Hochstetler, VP of Media of RunGoodGear.com. "Seeing the tour grow to be successful in all parts of the country has been one confidence boost after another as we continue to get back on our feet."
Each stop will continue to award two $550 seats into the end-of-year RGPS: All-Star ProAm with one seat allocated to the Main Event winner, and the other to the Casino Champion Points winner.
The RGPS: All-Star ProAm is a 64-seat tournament held from inside the PokerGO Studio at ARIA Resort & Casino in Las Vegas, Nevada, from December 11-12, 2021. So far 24 seats have been locked up with six seats in the form of celebrity invitations, and 18 seats in the form of tour seat qualifiers.
Survivor's Robert Mariano and Tyson Apostol, YouTube's Brad Owen, Twitch streamer Gernader Jake, and 2003 WSOP Main Event champion Chris Moneymaker each are among the celebrity invitations, while PokerGO commentator Jeff Platt and poker professional Jamie Kerstetter are two of the tour seat qualifiers. A full list of celebrity invitations and tour seat qualfiers are listed below:
RGPS: All-Star ProAm Qualifiers – Celebrity Invitations

Robert Mariano
Tyson Apostol
Brian Frenzel
Chris Moneymaker
Brad Owen
Gernader Jake
RGPS: All-Star ProAm Qualifiers – Tour Seat Qualifiers

Andra Zachow
Jamie Kerstetter
Tyler Burke
Joe Walters
Jennifer Gianera
Cody Stanford
Chase Turner
Sam Washburn
Matt Riffel
David Hengen
Chris Christian
Jeff Platt
Kerry Hildebrand
Armando Mesina
Farid Karimi
Freeman Kauffman
Anthony Kellen
Tai Reyes-Purpero
Upcoming Events
For players wanting to qualify into the RGPS: All-Star ProAm, three stops are currently scheduled for the remainder of the 2021 season:
August 23-29: Seminole Coconut Creek Casino in Coconut Creek, Florida
September 7-12: Jamul Casino in San Diego, California
September 23-26: Thunder Valley Casino & Resort in Lincoln, California
"The excitement of coming back to the felt and getting to finish what we started one year ago has the office buzzing. The landscape may have changed but the heart and soul of the tour remain the same, said Tana Karn, president of RunGoodGear.com, owner of the RunGood Poker Series. "Let's finish what we started."
Detailed schedules for each stop currently under contract are available online. Players can look forward to the delivery of a big stage feel for an affordable buy-in once again. Further details can be found on the RunGood Poker Series website.
Throughout the year, PokerGO News will provide updates on the All-Stars Comeback Tour season including upcoming stops, and a list of qualifiers for the RGPS: All-Stars ProAm that will be held at the PokerGO Studio in December.
Connect with PokerGO.com on Facebook, Twitter, and Instagram. Use code "FTF" for $20 off an annual PokerGO subscription now!