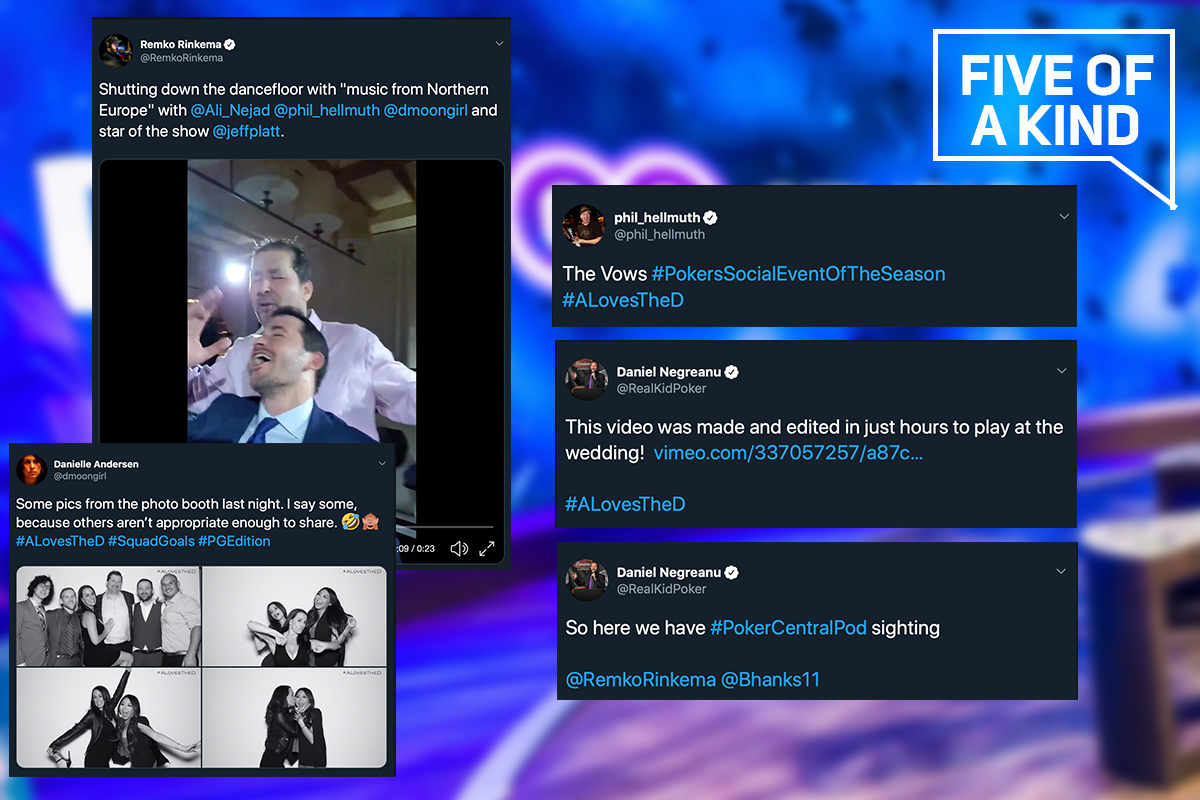 As you are well accustomed to by now, Five of a Kind selects and presents the best moments from social media for you in a nice bite-sized recap of the best action! Today, we look back at the Daniel Negreanu & Amanda Leatherman wedding which was attended by many of poker's finest players. But first, the after video from the wedding photographers themselves!
This video was made and edited in just hours to play at the wedding! https://t.co/HffyssBghX#ALovesTheD

— Daniel Negreanu (@RealKidPoker) May 19, 2019
The Photo Booth!
Danielle 'dmoongirl' Andersen was doing work on the dancefloor as can be seen in the video below, but she also got some great snaps with the likes of Jason Somerville, Maria Ho, and Eugene Katchalov!
Some pics from the photo booth last night. I say some, because others aren't appropriate enough to share. 🤣🙈 #ALovesTheD #SquadGoals #PGEdition pic.twitter.com/tigngDtqwD

— Danielle Andersen (@dmoongirl) May 18, 2019
My Slick Moves!
As evident by the video below, my dance moves are at an all-time high currently! Watch and learn as Brent Hanks and I absolutely tear it up! A full coaching package and video instructions are to follow.
So here we have #PokerCentralPod sighting@RemkoRinkema @Bhanks11 pic.twitter.com/VxnzGitEbK

— Daniel Negreanu (@RealKidPoker) May 18, 2019
The Moment of the Night
A cinematic moment unlike you've ever seen before on a wedding dancefloor came together when I happen to film as a classic Swedish House Mafia tune "Don't You Worry Child" dropped. Lead actor Jeff Platt was supported by an introduction from Ali Nejad followed by a Danielle Andersen cameo and "best supporting actor" Phil Hellmuth for a moment that might get nominated for a Global Poker Award next year.
Shutting down the dancefloor with "music from Northern Europe" with @Ali_Nejad @phil_hellmuth @dmoongirl and star of the show @jeffplatt. pic.twitter.com/LsYxyAUKEN

— Remko Rinkema (@RemkoRinkema) May 18, 2019
Okay, The Real Moment of the Night
And there it is! Phil Hellmuth and Maria Ho captured the vows of the Negreanu-Leatherman wedding for all to enjoy. It was a truly spectacular event in a brilliant location. Congrats to the newlyweds!
The Vows #PokersSocialEventOfTheSeason #ALovesTheD pic.twitter.com/OFXp4jmRxH

— phil_hellmuth (@phil_hellmuth) May 18, 2019
#ALovesTheD 💃🏼🕺🏽 pic.twitter.com/acrEszuiXp

— Maria Ho (@MariaHo) May 18, 2019
Got something to add for next week? Let us know on Twitter. Want to watch exciting poker action 24/7 and more than 100 days of live action every single year? Subscribe to PokerGO right now.