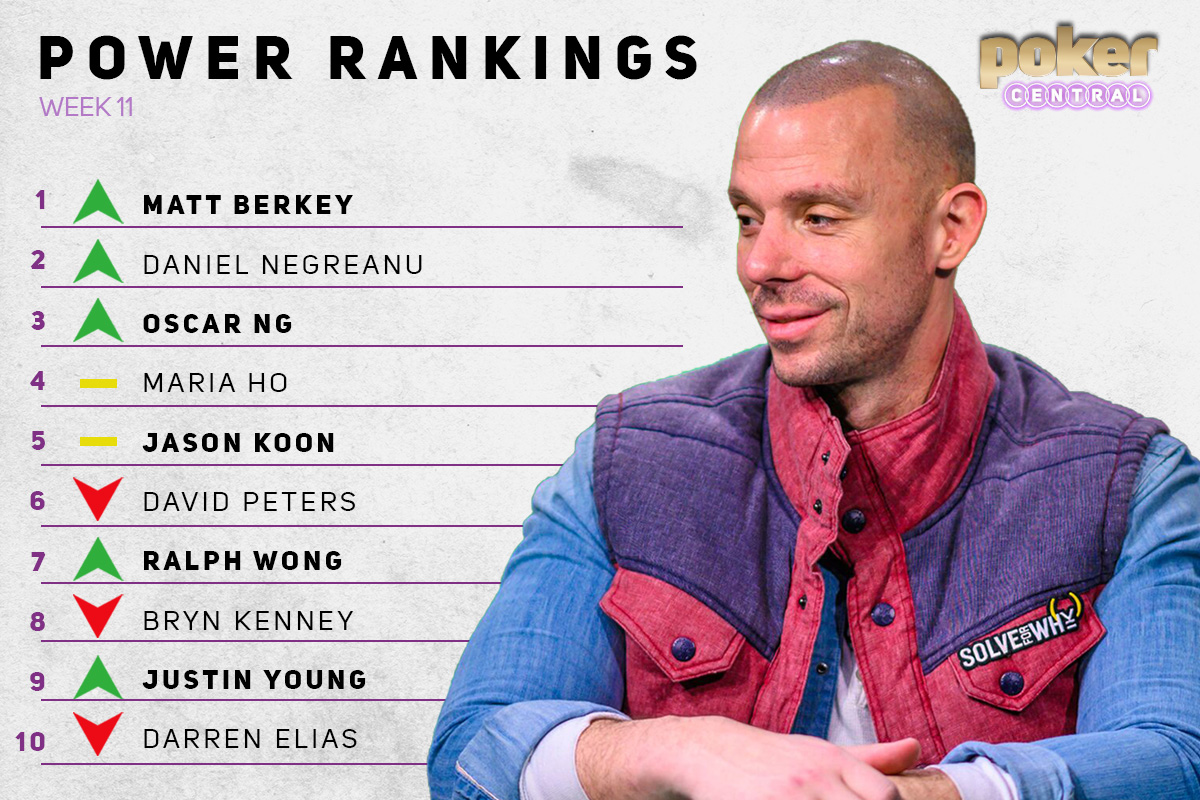 What a shuffle this week after the Super High Roller Cash Game on PokerGO for two straight nights! Here is the Week 11 Poker Central Power Rankings and the entire Top 3 is brand new. Daniel Negreanu makes his return in the Top 10 after four straight weeks of ranking just outside of the Top 10. Maria Ho, Jason Koon, and Bryn Kenney remain extremely steady and while the first two maintain their positions, Kenney ranks lowest since Week 3 but still sits at No. 8.
As the rankings this week are largely shaped by two nights of Super High Roller Cash Game, relive all the action on PokerGO right now.
The Poker Central Power Rankings are voted on each week by five-panel members who use their own criteria to determine player relevance leading to a list of 25 players that score points from 65 down to 1. The criteria loosely include player results, social media influence, some good ol' drama or other things of note that make ear perk up and our eyes grow bigger. Got beef with our decisions on a week-to-week basis? Hit us up on @PokerCentral on Twitter and jump into the conversation.
Read up on the previous weeks: Week 10 – Week 9 – Week 8 – Week 7– Week 6 – Week 5
| | | |
| --- | --- | --- |
| | Last week | This Week |
| Matt Berkey | 17 | 1 |
Berkey McFly had two terrific nights of play inside the PokerGO Studio and if you include his dominant performance on Live at the Bike, he's now put together a real streak with three straight winning sessions in televised games! I'm unsure whether the jokes will fade about Berkey being unlucky when the cameras start rolling, but his display was very, very impressive against the likes of Daniel Negreanu, Justin Young, Oscar Ng, and Bob Bright.
Berkey ranked sixth in the first week of these rankings, dropping steadily to his lowest rank in Week 7 when he sat 27th. Berkey is one of the few players who has been ranked every single week since the start.
| | | |
| --- | --- | --- |
| | Last week | This Week |
| Daniel Negreanu | 13 | 2 |
One of the players that have also been ranked every week is Daniel Negreanu. While he still hasn't tasted the No. 1 spot, Negreanu started the year in second behind Chino Rheem followed by two weeks at No. 3 before slowly dropping all the way to 22nd in Week 7. Since Week 7, Negreanu has climbed up steadily resulting in a second place this week. Negreanu booked a win on the Super High Roller Cash Game and was involved in plenty of exciting hands of which this is one.
Easy.

Just turn 0.7% into 100% by the river.

Rinse.

Repeat. https://t.co/17xSQK0uwl

— Daniel Negreanu (@RealKidPoker) March 20, 2019
| | | |
| --- | --- | --- |
| | Last week | This Week |
| Oscar Ng | Unranked | 3 |
The new kid on the block is Oscar Ng, going from unranked all the way to third place overall this week! Oscar is not new to poker by any means having played in Las Vegas, Los Angeles, and predominantly in Macau, but he is very new to the wider poker audience. Even though the cards and runouts weren't on his side during the action on Monday, Oscar made a real impression on the fans by not backing down from anyone and playing his creative self into the hearts and minds of both his opponents and fans. It might be a while before we see Oscar again, but when he does it will be a guaranteed spectacle!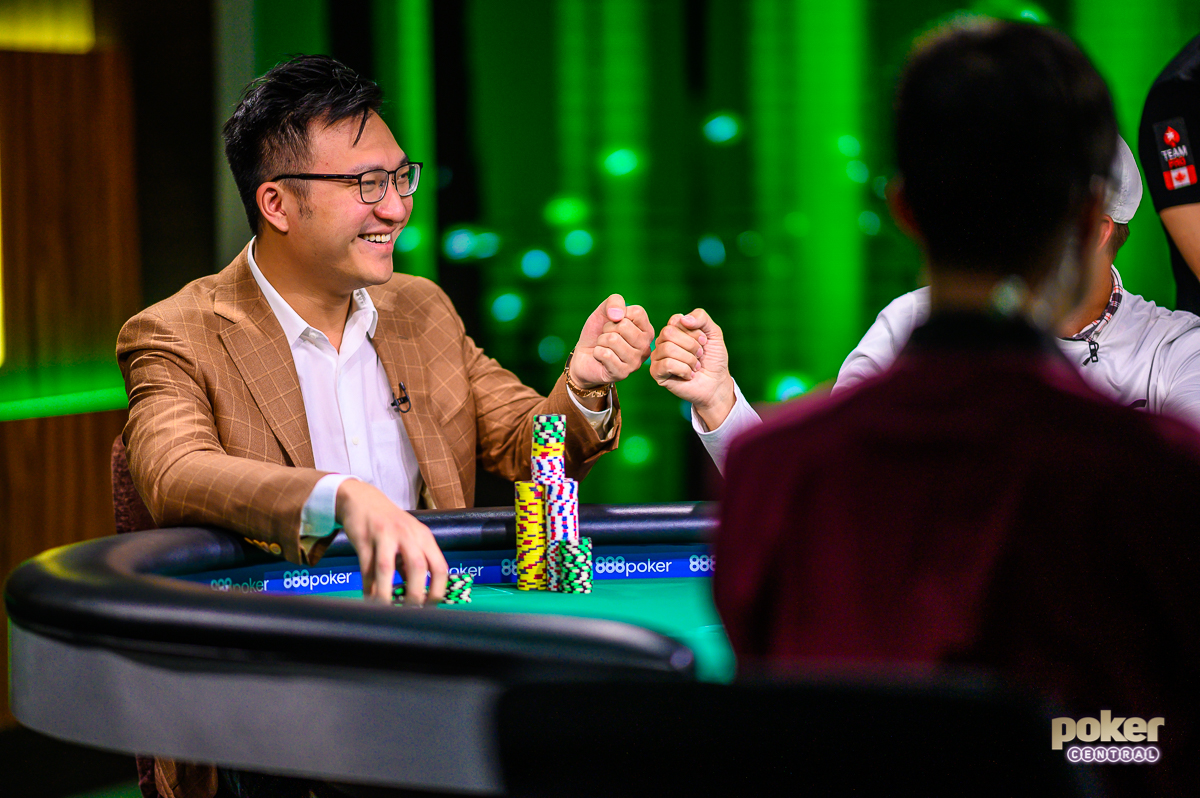 | | | |
| --- | --- | --- |
| | Last week | This Week |
| Maria Ho | 4 | 4 |
On the Poker Central Podcast, Maria Ho was dubbed "the best ambassador of the game right now," and I find it hard to disagree with that take! Ho has done it all in recent weeks and added a Global Poker Awards nomination to that list. This coming week you'll get to see her in action during the Poker After Dark Femme Fatale II and it would surprise nobody if she collected the award on April 5th on PokerGO.
My thoughts on being nominated for 'Broadcaster of the Year' by the Global Poker Awards. pic.twitter.com/E2FpZupWn3

— Maria Ho (@MariaHo) March 18, 2019
| | | |
| --- | --- | --- |
| | Last week | This Week |
| Jason Koon | 5 | 5 |
Jason Koon's Triton Series dominance continues to echo in the Power Rankings as he maintains his fifth place this week. Koon collected $4.5 million in just a week worth of action on Jeju in South-Korea and later wrote a blog about how intense and exhausting his lifestyle has been. Definitely worth a read!
I wrote a blog. It's titled I'm Tired.https://t.co/4mYggIPIyq

— Jason Koon (@JasonKoon) March 15, 2019
| | | |
| --- | --- | --- |
| | Last week | This Week |
| David Peters | 1 | 6 |
After three straight weeks at No. 1, David Peters dropped down to sixth place after a quiet week. Peters has had a stellar year so far and looks to contend for the Top 3 of the all-time money list if he keeps this up. On the Poker Central Podcast, Peters spoke about his career achievements and the way he's been able to improve year after year.
| | | |
| --- | --- | --- |
| | Last week | This Week |
| Ralph Wong | Unranked | 7 |
Ralph Wong received votes on four occasions, but he was last considered back in Week 7. Wong has played on Poker After Dark in the past and his Super High Roller Cash Game play along with a really funny Tweet about his dad warning him to be careful with his stack puts him seventh on the ranks this week. Looking back on the action he was involved in, the hand below is a fold that most people would never be able to make!
What. A. Fold. @WhatsW0ngWithU lays down a full house on this week's #SHRCashGame 😲
Catch up on demand: https://t.co/dm4tiTcAfZ
Subscribe: https://t.co/5rUlItcHWc pic.twitter.com/V8vOVk3laR

— PokerGO (@PokerGO) March 21, 2019
| | | |
| --- | --- | --- |
| | Last week | This Week |
| Bryn Kenney | 6 | 8 |
One of the most consistent and popular players in the world, Bryn Kenney, remains in the Top 10 for the eighth straight week. Kenney didn't have a noteworthy week but still coasts on an excellent start of 2019 in which he's cashed for nearly $5 million already! Kenney has a U.S. Poker Open win, took down the Aussie Millions Main Event and chopped the biggest Super High Roller at the Triton Series with Timothy Adams and it's still only March!
| | | |
| --- | --- | --- |
| | Last week | This Week |
| Justin Young | Unranked | 9 |
Dubbed "One of the most underrated and under the radar players in the world," by Brent Hanks on the Poker Central Podcast, Justin Young makes his first appearance on the Power Rankings. It was only in the first week that Young received a single vote before jumping into 9th this week. Young impressed on the Super High Roller Cash Game and the man with $5.2 million in career tournament earnings might get noticed more as we get closer to the World Series of Poker where he always puts in serious volume.
| | | |
| --- | --- | --- |
| | Last week | This Week |
| Darren Elias | 7 | 10 |
Darren Elias just missed out on winning a fifth World Poker Tour title as David 'ODB' Baker blocked his effort to extend his record by taking down the L.A. Poker Classic, but on the Power Rankings, Elias is holding steady. While ODB was pushed just outside of the Top 10, Elias holds steady for another week.
On The Bubble
Bagging the biggest win of his career, David 'ODB' Baker found himself in the Top 3 last week only to drop to 11th on this week's rankings. Other names that just missed out are Sean Winter, Ronny Beda, Kitty Kuo, Joey Ingram, Phil Hellmuth, and Stephen Chidwick.
Tune in again next week for the latest Poker Central Power Rankings! Until then, listen to Brent Hanks and me discuss this week's rankings on the Poker Central Podcast. Looking to watch the latest live and on-demand poker action? Subscribe to PokerGO right now.