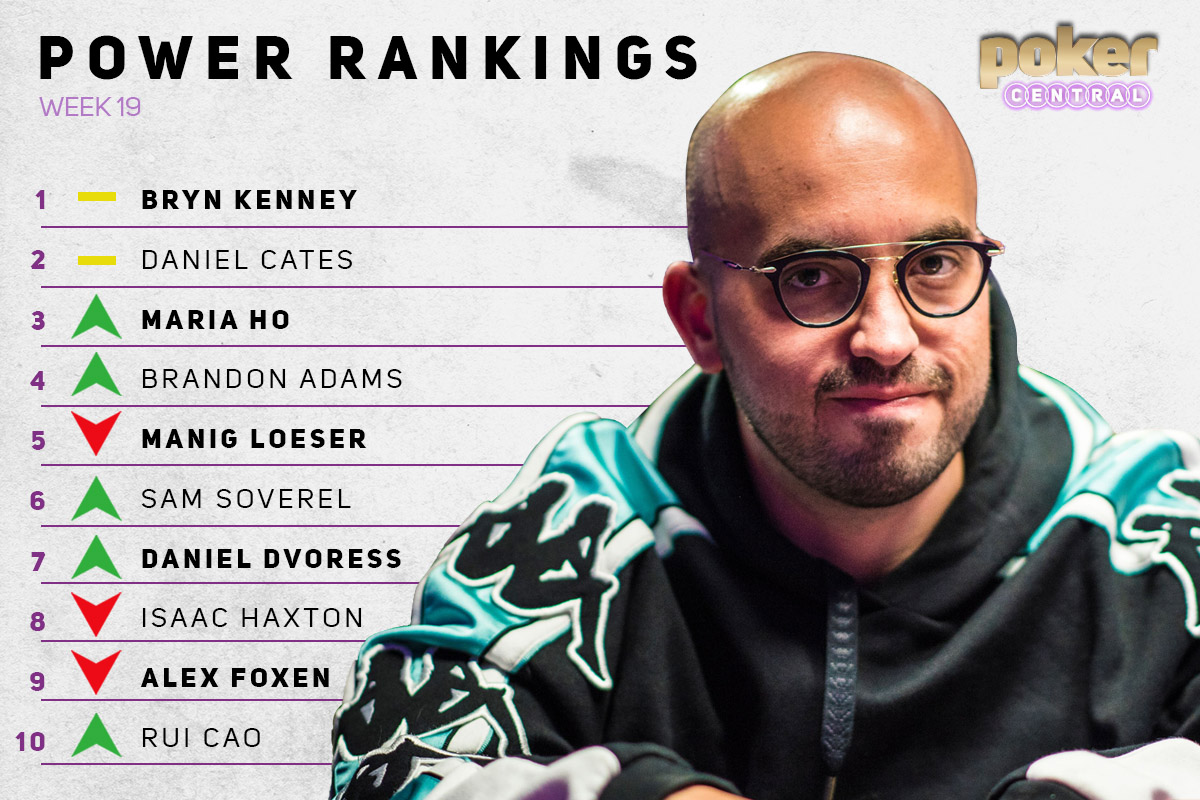 The Top 2 remains unchanged for the first time in Poker Central Power Rankings history as Bryn Kenney bagged another massive win while Dan 'Jungleman' Cates kept up with his great social media antics while battling at massive stakes in Montenegro. Further down we see Brandon Adams and Sam Soverel jump into the Top 10 due to their showing on the Super High Roller Cash Game while Triton players Rui Cao, and Daniel Dvoress also made their debut inside the Top 10.
The Poker Central Power Rankings are voted on each week by five-panel members who use their own criteria to determine player relevance leading to a list of 25 players that score points from 65 down to 1. The criteria loosely include player results, social media influence, some good ol' drama or other things of note that make ear perk up and our eyes grow bigger. Got beef with our decisions on a week-to-week basis? Hit us up on @PokerCentral on Twitter and jump into the conversation.
Read up on the previous weeks: Week 17 – Week 16 – Week 15 – Week 14 Week 12 – Week 11 – Week 10
| | | |
| --- | --- | --- |
| | Last week | This Week |
| Bryn Kenney | 1 | 1 |
All he does is win! Bryn Kenney took down back-to-back events at the Triton Super High Roller Series to put himself at $9.1 million for the year in tournament cashes! Kenney has now broken his personal best from 2017 and it's only May, he leads the year in total money earned in tournaments and it's safe to say that he'll add another few million later this year to what could potentially become the second best tournament year of all time behind only Justin Bonomo's 2018.
| | | |
| --- | --- | --- |
| | Last week | This Week |
| Dan Cates | 2 | 2 |
First, there was the photo, then there was the video, and now it's just a matter of keeping constant tabs on Jungleman's social media pages because it just seems to be a never-ending stream of gems! Thanks, Joey for grabbing these IG stories and saving them for generations to come.
Someone needs to get @junglemandan out of Europe ASAP ! The man has developed a smoking habit while playing $2k-$4k-$8k due to his losses lol and has turned into a professional nickname giver.

Ike "The Prince of Darkness" Haxton ? pic.twitter.com/4D6Kex0MC8

— Joey Ingram 🤙🏻🤙🏻 (@Joeingram1) May 12, 2019
| | | |
| --- | --- | --- |
| | Last week | This Week |
| Maria Ho | 4 | 3 |
Are you ready for Maria Ho's big final table? Come join the crowd at the Hyper X Esports Arena at the Luxor in Las Vegas on Thursday, May 30th. At this point, I'm not sure what could ever push Maria out of the Top 10 because when considering all the prep she's putting in for this WPT final table we can only imagine she's gonna crush at the WSOP as well!
"My Parents Taught Me That Success is Not Based on Keeping Score Through Dollar Signs," Maria Ho.
| | | |
| --- | --- | --- |
| | Last week | This Week |
| Brandon Adams | 35 | 4 |
He put together the Super High Roller Cash Game on PokerGO, he came, he saw and he conquered. Brandon Adams won the biggest pot of the two nights when his kings held up in the video below.
Yes, @badams78 can continue to build! 📈
KK vs. AK for $120K and a #SHRCG scoop! 💰 pic.twitter.com/S4h9GHH0jp

— PokerGO (@PokerGO) May 16, 2019
| | | |
| --- | --- | --- |
| | Last week | This Week |
| Manig Loeser | 3 | 5 |
Dropping a few spots this week after his big EPT Grand Finale win in Monte Carlo, Manig Loeser holds relatively steady on the rankings. Loeser also ranks sixth overall on the GPI Top 300 and his big Monte Carlo win has pushed him up to 11th on the 2019 Player of the Year rankings.
If you're just waking up, time to catch up on the big news overnight: Manig "@swordfish007" Loeser is the latest #EPTMonteCarlo champion, defeating China's Wei Huang in 15-hour epic. "It was quite a fight," Loeser said. Full details: https://t.co/KoxQgRlUPH pic.twitter.com/oeOGXngSsN

— PokerStarsBlog (@PokerStarsBlog) May 5, 2019
| | | |
| --- | --- | --- |
| | Last week | This Week |
| Sam Soverel | Unranked | 6 |
According to Brent Hanks, Sam Soverel is one of the funniest guys in poker, but his usually quiet demeanor at the table shows otherwise. It would be funny for Soverel to join us on the podcast if he wants to let loose with a beverage or two because at least after the hand below he'll have a reason to rant.
A 🤢 turn for Sam Soverel, a strong Super High Roller Cash Game start for @Stokes222! #SHRCG pic.twitter.com/wpJZhpbZqo

— PokerGO (@PokerGO) May 15, 2019
| | | |
| --- | --- | --- |
| | Last week | This Week |
| Daniel Dvoress | 26 | 7 |
The Canadian crusher did more damage at the Triton Super High Roller Poker Series, raking in $2.7 million across a staggering five cashes in eight events. Dvoress now ranks 13th on the Player of the Year race, nearly topping his career year already with $3.8 million in total earnings to put him 8th on Canada's all-time money list just behind Mike Watson.
| | | |
| --- | --- | --- |
| | Last week | This Week |
| Isaac Haxton | 5 | 8 |
Isaac Haxton grabbed three more cashes in Montenegro for a total of a little over a million dollars to push his career total to just shy of $26 million and 13th all-time. Haxton drops a few spots on the rankings but climbing from 20 to 13 on the all-time money list in the last six months is surely a sign of what's to come for him, as he's only $1.8 million behind Dan Smith who's currently in 10th.
| | | |
| --- | --- | --- |
| | Last week | This Week |
| Alex Foxen | 7 | 9 |
He's now lead the GPI overall standings for 32 straight weeks and unless Rainer Kempe, Stephen Chidwick, or David Peters rips off a huge WSOP, it's quite possible that Foxen will take his No. 1 spot and turn it into a year-round thing. Foxen had a quiet showing at the Triton Series but remains in the Top 10 of the Power Rankings.
| | | |
| --- | --- | --- |
| | Last week | This Week |
| Rui Cao | Unranked | 10 |
A high stakes legend for many many years, Rui Cao is largely an unknown quantity to the poker fans that watch the game on TV in the United States. Cao, however, has been playing the biggest cash games for many years and in Montenegro, he recorded the biggest and only win of his career this week for $3.5 million by beating Paul Phua heads up.
🙃Unfortunately, i got busted out in 🥈2nd place by Rui Cao at the
🔱#TritonMontenegro2019 Short-Deck Main event!
🔥It was a Great Run, Great players and Amazing Company!
🧨On to the next event!

🔴Come Watch the event LIVE NOW!https://t.co/QZVrtvqfu7 pic.twitter.com/on367468aX

— Paul Phua Poker (@paulphuapoker) May 12, 2019
On the Bubble
On the bubble of this event were plenty of big names as Jason Koon, Joey Ingram, Daniel Negreanu, Steve O'Dwyer, and Paul Phua fell just short of a place in the Top 10.
Tune in again next week for the latest Poker Central Power Rankings! Until then, listen to Brent Hanks and me discuss this week's rankings on the Poker Central Podcast. Looking to watch the latest live and on-demand poker action? Subscribe to PokerGO right now.