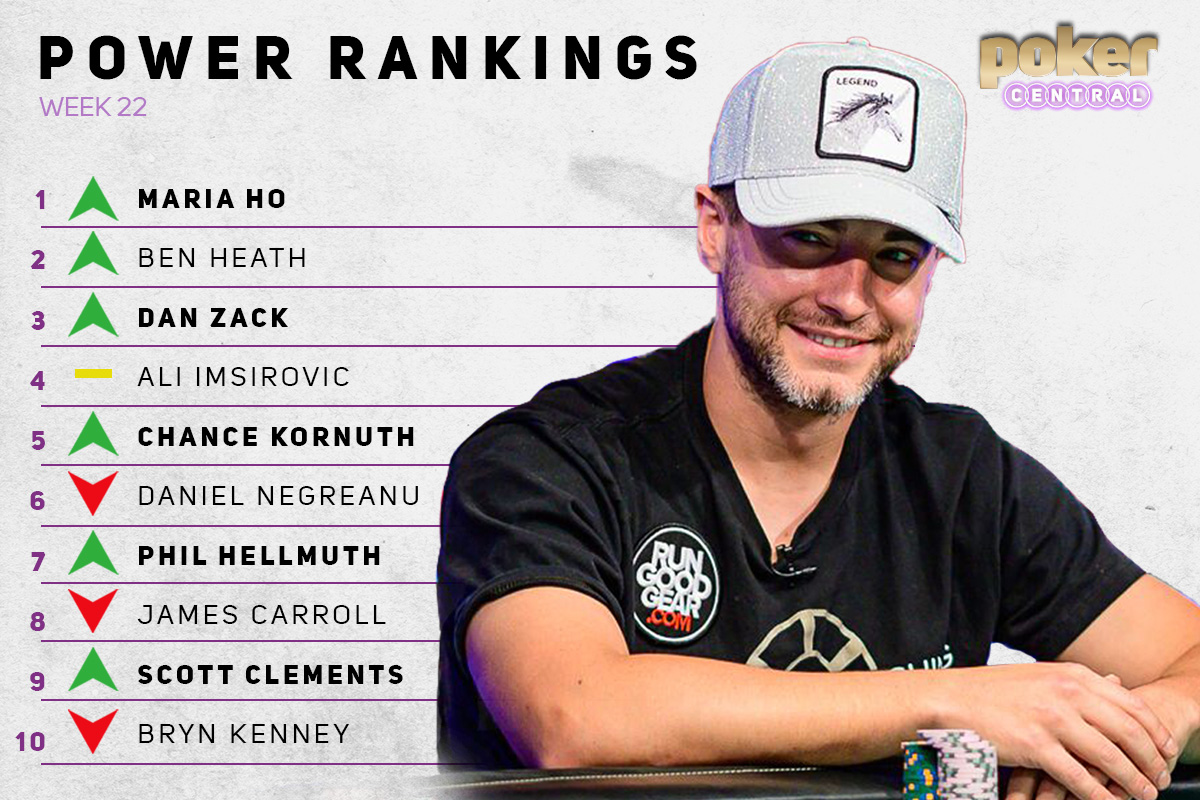 The World Series of Poker is into its second week and the rankings are thoroughly shaken up again by the plethora of winners and big storylines. It will come as no surprise that Maria Ho – a Power Rankings fan favorite – is back on top after her impressive performance week of action while no fewer than four players make their debut in the Top 10: Ben Heath, Dan Zack, Chance Kornuth, and Scott Clements. Let's dive in!
The Poker Central Power Rankings are voted on each week by five-panel members who use their own criteria to determine player relevance leading to a list of 25 players that score points from 65 down to 1. The criteria loosely include player results, social media influence, some good ol' drama or other things of note that make ear perk up and our eyes grow bigger. Got beef with our decisions on a week-to-week basis? Hit us up on @PokerCentral on Twitter and jump into the conversation.
Read up on the previous weeks: Week 21 – Week 19 – Week 17 – Week 16 – Week 15 – Week 14 Week 12 – Week 11 – Week 10
| | | |
| --- | --- | --- |
| | Last week | This week |
| Maria Ho | 3 | 1 |
The Summer of Maria Ho is still only beginning and she's racking up results. After finishing third in the WPT Seminole Hard Rock Poker Showdown, Ho followed this up with a deep run in the WSOP $5,000 No Limit Hold'em where she took fifth place for $91,211. Ho's now sitting on $843,445 in earnings this year, making this her best year to date already and keeping her on track for a seven-figure tournament year. Oh, and come see Maria at the PokerGO booth tomorrow!
The first "Meet & Greet" of the summer is gonna be 🔥🔥🔥!
See everyone Saturday at 12 PM! ⬇️⬇️⬇️ pic.twitter.com/tx5nn2LKAK

— PokerGO (@PokerGO) June 7, 2019
| | | |
| --- | --- | --- |
| | Last week | This week |
| Ben Heath | Unranked | 2 |
Ben Heath had the biggest score of his career just a few days ago, winning the $50,000 High Roller for $1.4 million after beating Andrew Lichtenberger heads up. Heath's career earnings are now $4.5 million putting him 14th all-time on the UK's money list. Read the article below to learn more about what Heath had to overcome before winning this event.
From struggling with social anxiety to securing #WSOP50 gold. @RemkoRinkema on how Ben Heath won his first @WSOP bracelet. https://t.co/2njZRzzLkO

— Poker Central (@PokerCentral) June 4, 2019
| | | |
| --- | --- | --- |
| | Last week | This week |
| Dan Zack | 53 | 3 |
"What is a Dan Zack?" will forever be a great quote, but everybody will now have an answer for that question! Dan Zack took home his first WSOP gold bracelet in the $2,500 Triple Triple Draw mix event which also vaulted Team Poker Central Podcast into the $25k Fantasy League lead. While the lead only lasted two days, Zack is now on everybody's radar just like he was on Matt Glantz's many years ago. 
https://twitter.com/MattGlantz/status/1135783641399697408
| | | |
| --- | --- | --- |
| | Last week | This week |
| Ali Imsirovic | 4 | 4 |
Ali Imsirovic is an animal. For the third straight week, Imsirovic has maintained his fourth-place on the Power Rankings largely due to another big WSOP final table where he was only outlasted by Shannon Shorr, Daniel Strelitz, and Ognjen Sekularec cashing for $129,018. Imsirovic now has two Top 4 finishes at the WSOP as well as four ARIA High Roller Top 5 finishes in the last month.
Sitting at 720k in the aria 10k at 8kbb! 12 left and 7 paid. Two 6 figure scores in one day??? pic.twitter.com/jGxf9reFOR

— Ali (@aliImsirovic) June 7, 2019
| | | |
| --- | --- | --- |
| | Last week | This week |
| Chance Kornuth | Unranked | 5 |
Chance Kornuth is also off to a hot start at the 2019 WSOP, making two big final tables to kick things off. Kornuth took sixth in the $50k High Roller and fourth in the $10k Short Deck for a total of $340,000 and we are expecting to see him do a lot more damage in the coming weeks. Oh, and Chance was responsible for the first Hellmuth blowup of the summer!
Hellmuth: "I'm not blaming the dealer, it's just fucking bullshit. I had you trapped. You didn't deserve to win the pot."
Kornuth: "There's one thing I've learned in my poker career, Phil. Something that obviously you haven't. You never deserve anything."https://t.co/ew8VxYYqxA pic.twitter.com/hV2EI5YjtK

— PokerNews (@PokerNews) June 2, 2019
| | | |
| --- | --- | --- |
| | Last week | This week |
| Daniel Negreanu | 1 | 6 |
Another day, another vlog! What is there left to say for us if Daniel Negreanu documents literally every second of the day in his brilliant vlogs. The results are not yet where he wants them to be but his mindset is right, the Raptors are looking strong and his wife delivers all the support in every possible way!
| | | |
| --- | --- | --- |
| | Last week | This week |
| Phil Hellmuth | 8 | 7 |
Many people would not have guessed that Phil Hellmuth's first final table at the 2019 World Series of Poker would come in the online event! Hellmuth showed his skill without live reads and his classic antics to intimidate opponents to collect a nice $35,000 payday! Hellmuth also will be on the next special episode of the Poker Central Podcast so stay tuned for that!
Hello @UncleRonAA! Heading to @PokerGo studio to film a podcast w @BHanks11, Brent told Uncle Ron to sit in the back, BUT…Uncle Ron might have self-esteem issues!! #POSITIVITY #NiceGuys pic.twitter.com/MaTMDWv17B

— phil_hellmuth (@phil_hellmuth) June 7, 2019
| | | |
| --- | --- | --- |
| | Last week | This week |
| James Carroll | 2 | 8 |
After nearly grabbing the top spot last week, James Carroll drops down to eighth place this week still feeling the love after his impressive WPT victory.
"I've been through some super tough times for the past five years, so this feels good." – James Carroll conquers the fourth-largest WPT field of all-time to win his second WPT title. @PokerTraditions on Carroll's #WPTShowdown triumph. https://t.co/PUvA05qO6C pic.twitter.com/7xqUq8wjcP

— World Poker Tour (@WPT) May 31, 2019
| | | |
| --- | --- | --- |
| | Last week | This week |
| Scott Clements | Unranked | 9 |
There's no man who loves a good glass of wine and some mixed games more than Scott Clements. Clements locked down his third career WSOP bracelet after six straight second places and that, of course, deserves a celebration! Clements now has $7.9 million in career earnings.
After 12 years and six 2nds. Finally got that elusive 3rd Bracelet. Thank you for all the support. pic.twitter.com/2AFka63cN9

— Scott Clements (@BigRiskky) June 6, 2019
| | | |
| --- | --- | --- |
| | Last week | This week |
| Bryn Kenney | 5 | 10 |
Bryn Kenney has already left town even though the World Series of Poker is in full swing but he left his mark finishing 14th in the $50,000 High Roller. Kenney still holds an incredible lead in the 2019 money list standings with $9.2 million over Paul Phua with $6.2 million. A Main Event win from an unknown player is not even enough to take the No.1 spot at this rate!
On the Bubble
Falling just short of the Top 10 are notables such as Shannon Shorr, Craig Varnell, Daniel Cates, Andrew Lichtenberger, John Smith, and Sam Soverel. Randall Emmett is also making his way back up the rankings but his 10th-place finish in the $5,000 No Limit Hold'em wasn't enough to get Top 10 votes.
Tune in again next week for the latest Poker Central Power Rankings! Until then, listen to Brent Hanks and me discuss this week's rankings on the Poker Central Podcast. Looking to watch the latest live and on-demand poker action? Subscribe to PokerGO right now.