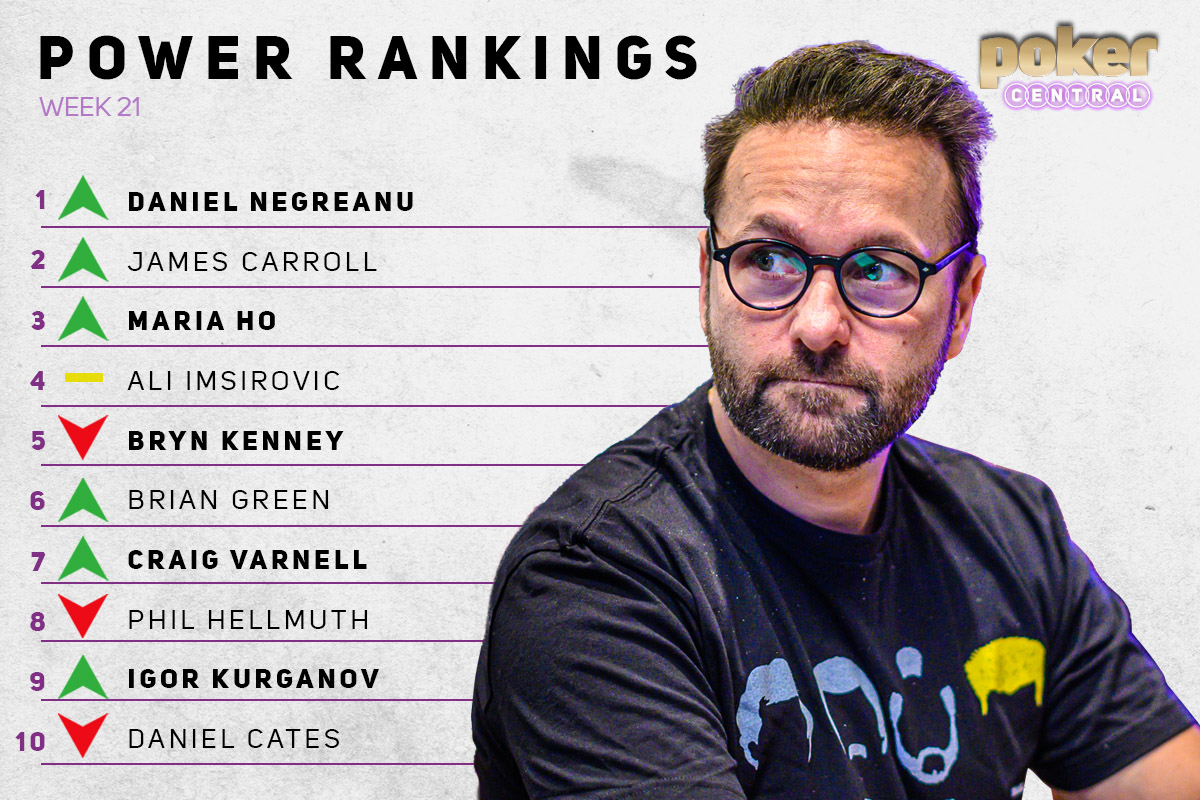 The World Series of Poker is in full swing and the World Poker Tour is amidst the epic finale of their seventeenth season, so there are plenty of movers and shakers on this week's Poker Central Power Rankings! This week, Daniel Negreanu grabs his first No. 1 spot of the year, James Carroll falls just a few points short, Maria Ho is back up to a third place and we welcome Brian Green, Craig Varnell, and Igor Kurganov into the Top 10 for the first time.
The Poker Central Power Rankings are voted on each week by five-panel members who use their own criteria to determine player relevance leading to a list of 25 players that score points from 65 down to 1. The criteria loosely include player results, social media influence, some good ol' drama or other things of note that make ear perk up and our eyes grow bigger. Got beef with our decisions on a week-to-week basis? Hit us up on @PokerCentral on Twitter and jump into the conversation.
Read up on the previous weeks: Week 19 – Week 17 – Week 16 – Week 15 – Week 14 Week 12 – Week 11 – Week 10
| | | |
| --- | --- | --- |
| | Last week | This week |
| Daniel Negreanu | 3 | 1 |
Believe it or not, this is Daniel Negreanu's first ever appearance at the top of the Poker Central Power Rankings! Negreanu had previously been ranked in the Top 10 no fewer than 11 times, topping out at No. 2 but the crazy fan engagement regarding him selling action for the World Series of Poker along with making the first big final table right off the bat has got him into second place! Negreanu finished sixth in the $10,000 Super Turbo Bounty event go get his summer underway and we're confident he will hold steady near the top for many weeks to come if he keeps this up! Follow along with Negreanu's summer through his vlogs, the second episode you can find below right here.
Day 2 and we're already at our first Final Table of the year looking for bracelet #7!https://t.co/txuOXtILKm

— Daniel Negreanu (@RealKidPoker) May 31, 2019
| | | |
| --- | --- | --- |
| | Last week | This week |
| James Carroll | Unranked | 2 |
Taking down the massive World Poker Tour Seminole Hard Rock Poker Showdown for $751,175 puts James Carroll firmly in second place. Carroll trails Negreanu by only a few points after winning his second ever WPT title to bring his career earnings to four million dollars. Brent Hanks chimed in as well with some positive notes on Carroll's impressive play.
"James 'Crolldaddy' Carroll put on a clinic to capture his 2nd WPT title. He overcame a brilliant performance by Maria Ho, and a pesky Eric Afiat to take down more than $700K, plenty of ammo for WSOP. Personally, I can't wait to play golf him this summer, lining my pockets with some of that cheese."
ICYMI last night, James Carroll (@JamesCarroll103) started the night as the #WPTShowdown final table chip leader and ended his run by lifting the Champions Cup for the second time to win $715,175. Full recap from @HyperXESALV. https://t.co/cZARpuYFnK pic.twitter.com/zaLEePOb0d

— World Poker Tour (@WPT) May 31, 2019
| | | |
| --- | --- | --- |
| | Last week | This week |
| Maria Ho | 9 | 3 |
It wasn't the result she had dreamed of when the day started, but finishing in third place behind only James Carroll and Eric Afriat is no joke! Ho collected $344,960 for her efforts for the second biggest score of her live poker career. Congrats Maria, we were all rooting for you, not let's get a bracelet! Relive this WPT final table on PokerGO now by using the link below.
First off, huge congrats to @JamesCarroll103 for taking down #WPTShowdown. It wasn't my time but for the first time I truly allowed myself to stay in the moment. To just be. I didn't play flawless poker but I'm still very proud of the decisions I made & for the fight I had in me.

— Maria Ho (@MariaHo) May 31, 2019
| | | |
| --- | --- | --- |
| | Last week | This week |
| Ali imsirovic | 4 | 4 |
He almost did it! Ali Imsirovic was one card away from is first ever World Series of Poker gold bracelet but a nine on the river cracked his kings. Imsirovic was heads-up with Brian Green in the $10,000 Super Turbo Bounty and the latter won the final showdown when the stacks were virtually tied catching two nines with ace-nine versus kings. Imsiroviv was all smiles, however, feeling great about this start to his summer with a $213,644 score.
| | | |
| --- | --- | --- |
| | Last week | This week |
| Bryn Kenney | 1 | 5 |
As the biggest winner of the year to date, Bryn Kenney has nothing left to prove at the World Series of Poker but it seems as though he was looking for some action versus Shaun Deeb. Kenney, however, decided against it as the WSOP for a high roller like him is simply not big enough aside from the biggest events.
Course I'm gonna try to get a price who wouldn't? U think ur so good and ur the delusional one bud but I don't care to get into that. Not interested in betting 150..that doesn't change anything more or care to scrounge up action just wanted to show u ur soft

— Bryn Kenney (@BrynKenney) May 29, 2019
| | | |
| --- | --- | --- |
| | Last week | This week |
| Brian Green | Unranked | 6 |
One of the rankers said it best regarding Brian Green, "The 50th annual WSOP is officially underway and yesterday we crowned the first bracelet winner of the summer. Brian Green took down Event 2 the $10k Bounty Super Turbo defeating young phenom Ali Imsirovic heads up. That is why you will see him in this week's rankings!"
Congratulations to Brian Green. , the first WSOP gold bracelet winner of 2019. He won $345,669 and his first WSOP bracelet.https://t.co/23rYcFf5vk pic.twitter.com/mWYlKML7NE

— WSOP (@WSOP) May 30, 2019
| | | |
| --- | --- | --- |
| | Last week | This week |
| Craig Varnell | 14 | 7 |
The final table of the World Poker Tour Choctaw event gets underway today, live on PokerGO, and Craig Varnell is one of the top contenders! Varnell showed him being in good form by cashing the $10,000 Super Turbo Bounty event for $13,070 and that might spark him into running the table tonight on PokerGO! Tune in live at 7:30pm ET.
| | | |
| --- | --- | --- |
| | Last week | This week |
| Phil Hellmuth | 5 | 8 |
Phil Hellmuth is a legend and Hall of Fame member and it's pretty obvious that he also deserves a medal for his excellent use of social media. This week alone, there were so many gems that we have a hard time picking one to summarize who Phil keeps getting ranked without a much-needed result! Hellmuth MC'd Gavin Smith's memorial fundraising tournament, believing in his Golden State Warriors, showing us his beautiful suite at the ARIA, and soaking up the roast hosted by the World Poker Tour.
GSmith! Thinking of you…RIP…Poker Celebrities Come Out to Play the Gavin Smith Memorial Poker Tourna… https://t.co/zd3pIjGgXi via @YouTube

— phil_hellmuth (@phil_hellmuth) May 30, 2019
| | | |
| --- | --- | --- |
| | Last week | This week |
| Igor Kurganov | Unranked | 9 |
Igor Kuragnov has a great chance at winning his first World Poker Tour final table today as the Live Updates are going on right now on the WPT website. Kurganov is still in the hunt with five remaining players and $443,475 up top along with entry into the Baccarat Crystal WPT Tournament of Champions worth $15,000.
| | | |
| --- | --- | --- |
| | Last week | This week |
| Daniel Cates | 2 | 10 |
Daniel 'Jungleman' Cates is a fan favorite and we're excited for what might go down on social media this summer as it's been a bit quiet! Jungleman is on his way out of the Top 10 for the first time in many weeks but perhaps this tenth place might be the proper motivation for him to get back into some shenanigans.
On The Bubble
Just outside of the Top 10 we're finding a bunch of big names including Matthew Wantman, Kitty Kuo, Art Papazyan, Loren Klein, and Sam Greenwood.