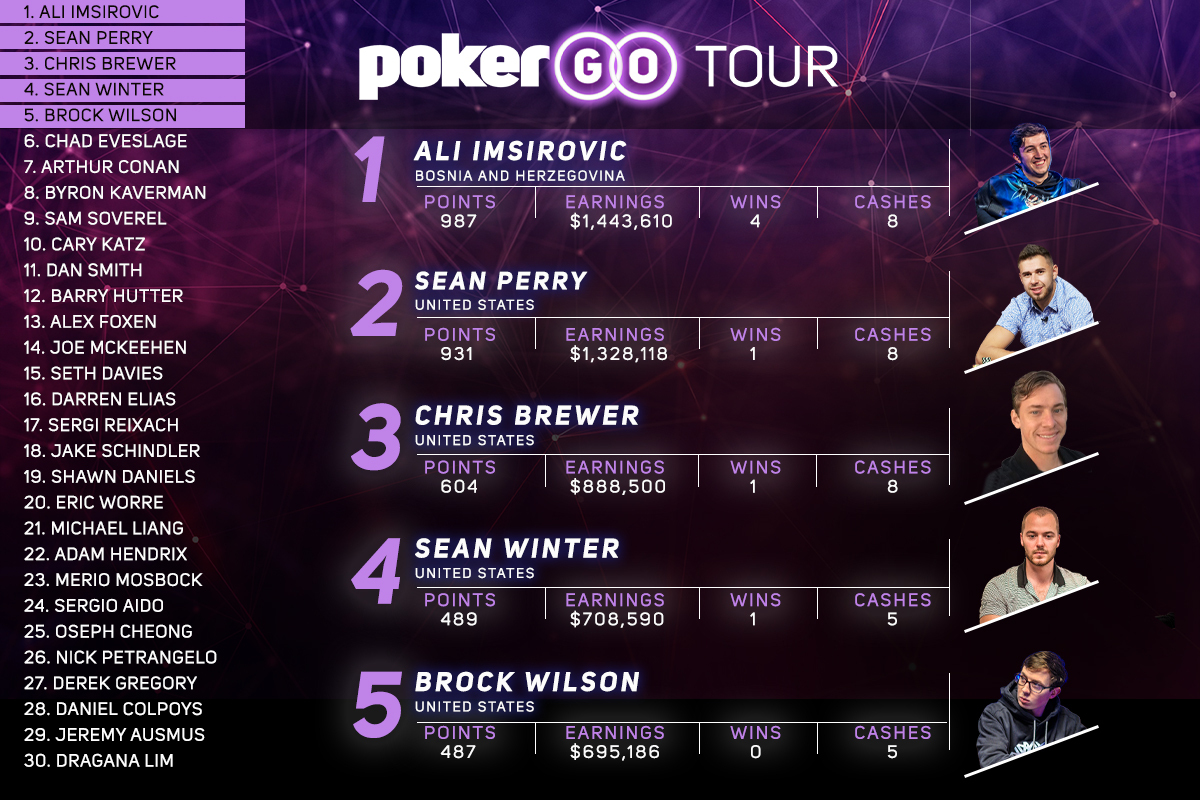 The PokerGO Tour is underway for 2021 with tens of millions of dollars at stake across 150 tournaments spanning across the globe. The PokerGO Tour will celebrate the most elite professional poker players with the PokerGO Tour Rankings showcasing who holds the top spot in the world of high-stakes poker players.
The top performer in the PokerGO Tour will be awarded $100,000 in prize money and be named Player of the Year, while cash prizes of $50,000 and $25,000 will also be awarded to the player that finishes second and third, respectively.
Following the conclusion of the $50,000 Super High Roller and $25,000 High Roller from the Seminole Hard Rock Poker Showdown at Seminole Hard Hotel & Casino in Hollywood, Florida, the PokerGO Tour Leaderboard has been updated through the month of April.
Poker Masters Purple Jacket winner Ali Imsirovic currently sits in the top spot with 987 points on the back of his four wins, eight cashes, and $1,443,610 in earnings. Following a three-way chop in the $25,000 High Roller, Sean Perry closed the gap on Imsirovic as the Las Vegas local now sits with 931 points off his one win, eight cashes, and $1,328,118 in earnings.
Chris Brewer collected two cashes at the Seminole Hard Rock Poker Showdown to move into third place on the PokerGO Tour Leaderboard. Brewer has amassed $888,500 in earnings, along with one win and eight cashes to sit with 604 points ahead of Sean Winter who has 489 points, while Brock Wilson rounds out the top five following his fourth-place finish in the $25,000 High Roller to sit on 487 points.
New entrants into the PokerGO Tour Leaderboard fill out the rest of the top ten as Chad Eveslage, Arthur Conan, and Byron Kaverman all make their first appearance. Sam Soverel dropped down a few places buy remains in ninth, while Cary Katz moves into tenth following his 13th-place finish in the $25,000 High Roller.
PokerGO Tour Leaderboard
Rank
Name
Points
Wins
Cashes
Earnings
1st
Ali Imsirovic
987
4
8
$1,443,610
2nd
Sean Perry
931
1
8
$1,328,118
3rd
Chris Brewer
604
1
8
$888,500
4th
Sean Winter
489
1
5
$708,590
5th
Brock Wilson
487
—
5
$695,186
6th
Chad Eveslage
461
1
1
$767,576
7th
Arthur Conan
440
1
1
$733,320
8th
Byron Kaverman
402
—
1
$670,285
9th
Sam Soverel
376
1
3
$563,746
10th
Cary Katz
250
1
4
$327,840
Note: PokerGO Tour Leaderboard accurate at the date of this article.
The next set of tournaments that are part of the PokerGO Tour schedule are the ARIA High Rollers running from May 5-8 with two $10,000 buy-in tournaments and two $25,000 buy-in tournaments. Tournaments are rake-free for on-time registrations before the scheduled start time of 2 p.m. PT, and levels are 40-minutes in duration, with registration closing at the start of Level 7 following the competition of the 60-minute dinner break. The 30-second shot clock is in play for all ARIA High Rollers, with players receiving six 30-second time extensions. Full information on the upcoming ARIA High Rollers can be found here.
Connect with PokerGO on Facebook, Twitter, and Instagram. Use code "HSD2" for $20 off an annual PokerGO subscription now!