Earlier today, Doyle Brunson announced his retirement from the game of poker at the end of this summer, leading to a flurry of responses on social media about the "Godfather of Poker" leaving the game behind him for good. Brunson, currently playing in the $10,000 No Limit 2-7 tournament, is still in contention for his 11th bracelet, while the man he's tied with at 10, Phil Ivey, has just been eliminated.
Upon Ivey hitting the rail and heading for the exit, we caught up with him briefly to discuss Brunson's status in the game, and what he's meant for the public image of it.
"He's an icon," Ivey stated strongly. After a brief pause, he added, "He's one of the best to have ever done it, especially if you look at all the years he's been doing it for. The guy's been doing it for a very long time at the top level, and he's still a winning poker player. He just rolls in there and wins the money."
Over the years, Ivey and Brunson battled for countless hours in Bobby's Room as well as in some of the biggest tournaments. The first time poker fans saw Brunson and Ivey square off was during the first season of the World Poker Tour, when they both made the final table of the Bellagio Five Diamond WPT Championship. Alan Goehring won the tournament for $1,011,886 while Ivey and Brunson finished in third and fourth place.
In addition to their clash at the WPT, Ivey and Brunson both made the final table of the inaugural $50,000 H.O.R.S.E.in 2006. This event, later rebranded as the Poker Players Championship, was won by one of Brunson's good friends; Chip Reese. Ivey, just 29 years old at the time, went on to finish in third place while Brunson took eighth out of 143 entries.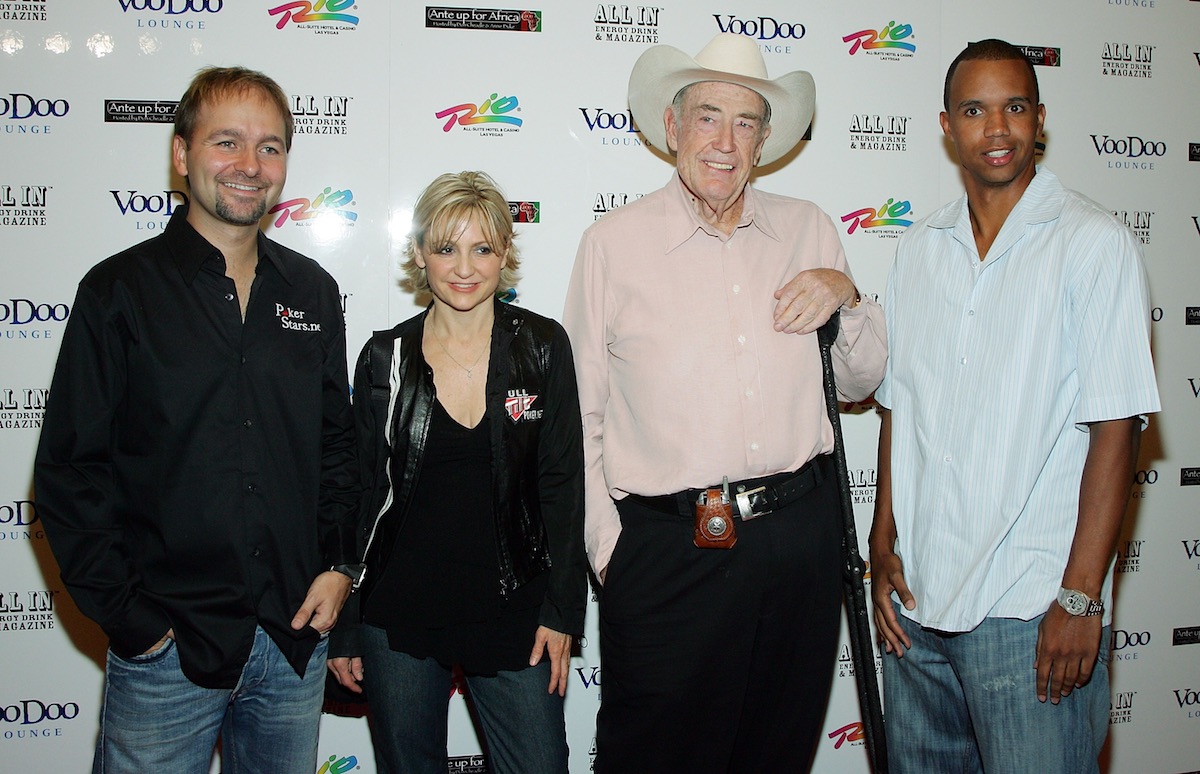 Speaking about the first time playing against Brunson, which happened to be in a big cash game, Ivey said, "He was already a legend, and of course I already knew him. It was like a dream coming true, the first time I got to play with him."
Phil Ivey's WSOP Bracelets
Doyle Brunson's WSOP Bracelets
Year
Tournament
Payout
Year
Tournament
Payout
2000
$2,500 Pot Limit Omaha
$195,000
1976
$5,000 Deuce to Seven Draw
$80,250
2002
$2,500 7 Card Stud Hi/Lo
$118,440
1976
WSOP Main Event
$230,000
2002
$2,000 S.H.O.E.
$107,540
1977
$1,000 Seven-Card Stud Split
$62,500
2002
$1,500 7 Card Stud
$132,000
1977
WSOP Main Event
$340,000
2005
$5,000 Pot Limit Omaha
$635,603
1978
$5,000 Seven-Card Stud
$68,000
2009
$2,500 No-Limit 2-7 Draw Lowball
$96,367
1979
$600 Mixed Doubles
$4,500
2009
$2,500 Omaha/7 Card Stud Hi/Lo
$220,538
1991
$2,500 No Limit Hold'em
$208,000
2010
$3,000 H.O.R.S.E.
$329,840
1998
$1,500 Seven-Card Razz
$93,000
2013
A$2,200 Mixed Event
$51,840
2003
$2,000 H.O.R.S.E.
$84,080
2014
$1,500 Eight Game Mix
$166,986
2005
$5,000 NLHE 6-Max
$367,800
Ivey, inducted into the Poker Hall of Fame in 2017 during his first year of eligibility, is often named in the same breathe as Brunson when it comes to highlighting the game's legendary players, but the New Jersey native is quick to dismiss of any comparison.
"I'm nowhere near Doyle. He's been playing for 50 more years than I have, and he's one of the pioneers of poker. For people to even mention me in comparison to Doyle is an honor. Doyle is a guy who started playing when poker was still just poker. Things were different back then, while now it's the cool thing to do."
Watch Phil Ivey and Doyle Brunson square off in the Super High Roller Cash Game on PokerGO.
Looking back on how Brunson saw the game change throughout his lifetime, and how that even applied to Ivey in the early days of his career, he said the following.
"Back when he [Doyle] was coming up, if you told someone you were a poker player, you might as well have been telling them that you were a drug dealer. Even with myself, in my limited experience before being on TV, when I told people that I played poker for a living, they would look at you a little differently. Everyone in poker owes Doyle a huge 'Thank you' for all that he's done for the game."
For now, Ivey and Brunson remained tied on the all-time WSOP bracelet ranking with 10, but with Ivey back playing every event, he might surpass him sooner than later. Ivey and Brunson appeared on numerous episodes of Poker After Dark back in the day, all of which you can find on PokerGO.