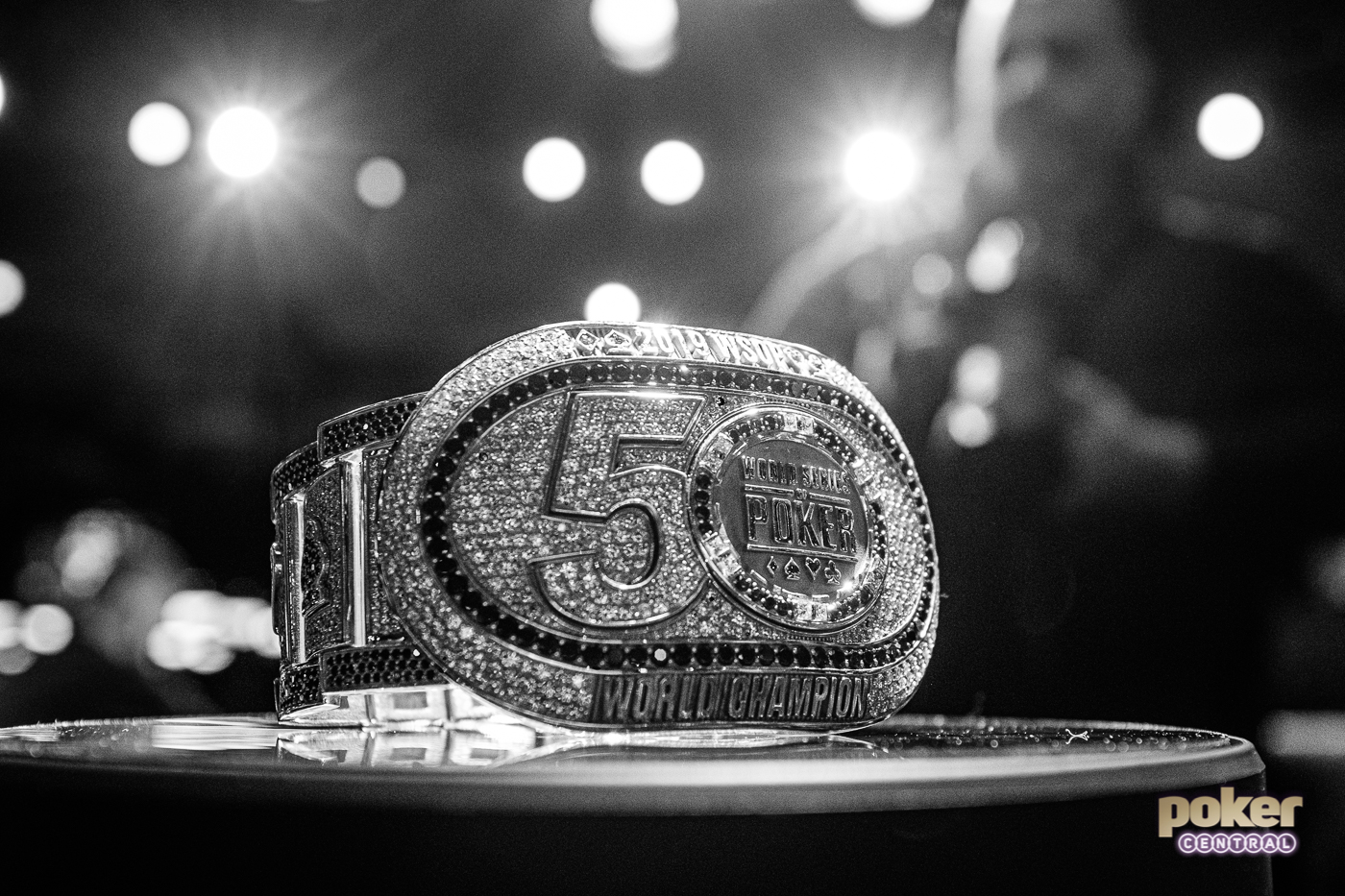 The World Series of Poker is in the can for another year. Sending the WSOP on its way, poker players have been celebrating its crazy final table rails, going all misty-eyed for the past two months…and handing out showers. It's to get under the water and wash that Rio grime away.
OFF THE RAILS IS FINE
Some love them, some don't. This poker fan is clearly a supporter of the raucous rails that punctuated the Main Event coverage.
Not a huge poker guy. But I'm a little hooked by all the zaniness. Poker should be a little off the rails. Wanna get nuts, let's get nuts!! https://t.co/USdgQlBAYd

— Rob Carlin (@RobCarlinNBCS) July 17, 2019
HOLDING STACKS
David Williams misses the days when players would have heaps of chips to push into the middle. Maybe he's just going all sentimental about his runner-up finish.
Popular opinion: I miss the days when they didn't color up and the guys had castles and were betting two hands stacks. #WSOP50

— David Williams (@dwpoker) July 17, 2019
NAME THAT CHILD
Natasha and Jason Mercier not only celebrated having a large percentage of Garry Gates' action this Main Event final table, but they very nearly had to call their second child Dario Mercier.
Cant believe we re this live to name our 2nd kid Dario!!!!!🤰🏻🤗

— Natasha Mercier (@natasha_mercier) July 17, 2019
STAYING AHEAD OF THE GAME
Layne Flack is all for self-improvement, and it's to his credit. If everyone had his attitude, the WSOP might be unbeatable!
The more i watch poker on TV and online. I become more and more aware of how different the game is and how much there is for me to still learn. Does not pay to be stubborn in my ways or no limit poker will pass right passed me. If it hasn't already. #humbled

— layne flack (@back2backflack) July 17, 2019
TIME FOR SHOWERS
Showers for one, showers for all, showers for the fold, showers for the call. It's time to get under the damn tap one more time, poker players. Turn it up hot!
hey idiots u don't need to make a "good bye vegas" tweet no one cares that u got buried and wasted 2 months of your life out here.

— 🐷🐷🐷🐷🚿🚿🚿🚿🚿 (@slaymericainc) July 17, 2019
THE BEST OF THE BEST
With the $25k Fantasy League finally complete, congratulations are in order to Team Riess, who, with their star man Dario Sammartino leading the way, overcame the fur-figure mark, the only team to do so.
Here are the top five players, and you can check out the full standings for the final league table right here.
Top Five Players:
| | | | | | |
| --- | --- | --- | --- | --- | --- |
| Rank | Player | Team | Price | Points | Points per $ |
| 1 | Dario Sammartino | Riess | 34 | 376 | 11.06 |
| 2 | Daniel Negreanu | Fleyshman | 105 | 305 | 2.9 |
| 3 | Shaun Deeb | Noori | 102 | 297 | 2.91 |
| 4 | Nick Schulman | Negreanu | 10 | 247 | 24.7 |
| 5 | Calvin Anderson | Fleyshman | 26 | 246 | 9.46 |
Elsewhere, in the WSOP Player of the Year Race, players such as Robert Campbell, Daniel Negreanu, Dan Zack and Shaun Deeb have been left with a big choice. Do they play the WSOP Europe in October and November? If they want that banner enough they will!
Re-watch the final table of the WSOP Main Event on ESPN and PokerGO in non-ESPN affiliated regions. Read about ninth-place finisher Milos Skrbic's story right here. Read the story of Timothy Su, who finished in eight-place, right here. Read about Kevin Maah's elimination in fifth place right here. The story of Garry Gates' fourth-place finish and Alex Livingston's third place can be found in the links.