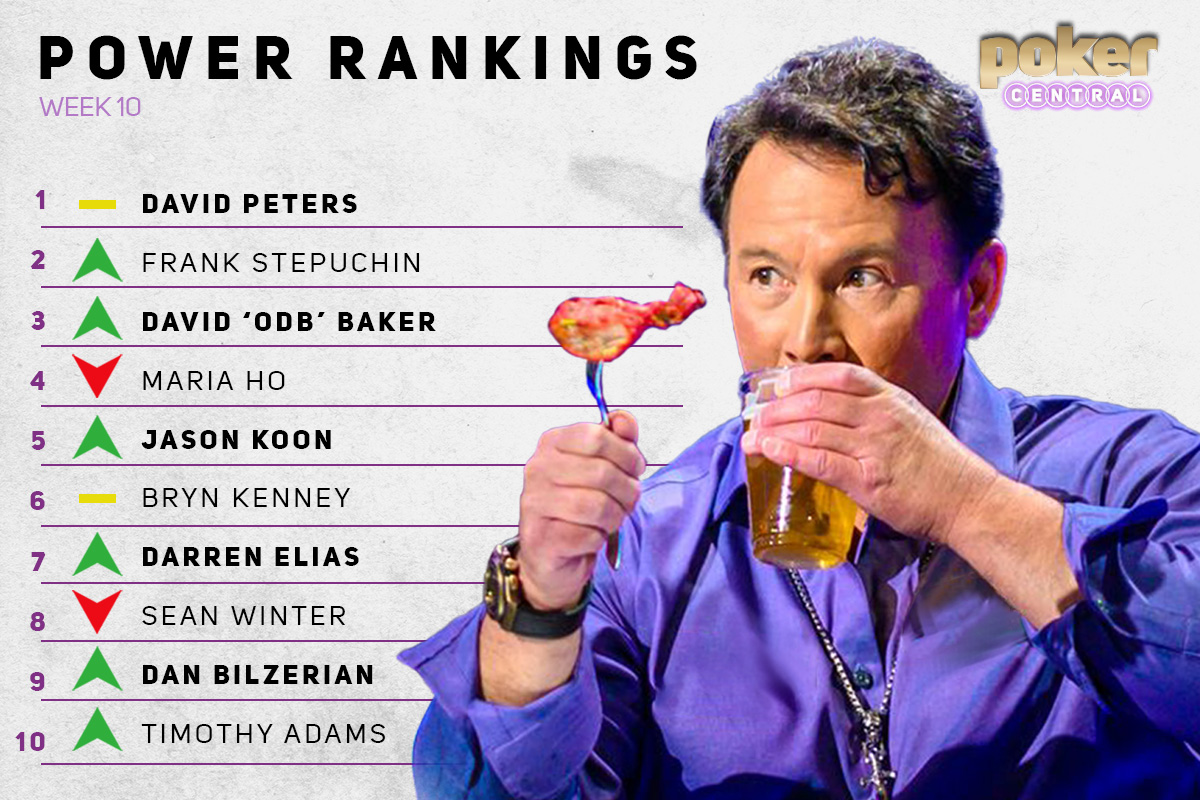 Part of the excitement of the weekly Poker Central Power Rankings is the ever-changing dynamics of what's being deemed worthy of votes. In my absence, a 10-day vacation to Costa Rica, I had a hard time keeping up with all the action, but two big themes kept shining through, the World Poker Tour and Triton Super High Roller Series. It's safe to say that those players dominate, as most of the Top 10 is made up from players attached to those events, all while David Peters holds strong at No. 1.
This week sees two unranked players jump into the Top 10, while there are three others that make big jumps up. Frank 'Chicken Wing' Stepuchin made a lasting impression at the WPT Garden Poker Championship final table to jump into second place with his winning antics while David 'ODB' Baker jumped into third place by notching up a career-defining win in the WPT L.A. Poker Classic for his first seven-figure score. As far as the Triton players goes, Jason Koon went on a tear, Bryn Kenney did his usual damage and Timothy Adams improved on his career best with a massive win.
The Poker Central Power Rankings are voted on each week by five-panel members who use their own criteria to determine player relevance leading to a list of 25 players that score points from 65 down to 1. The criteria loosely include player results, social media influence, some good ol' drama or other things of note that make ear perk up and our eyes grow bigger. Got beef with our decisions on a week-to-week basis? Hit us up on @PokerCentral on Twitter and jump into the conversation.
Read up on the previous weeks: Week 9 – Week 8 – Week 7– Week 6 – Week 5
| | | |
| --- | --- | --- |
| | Last Week | This Week |
| David Peters | 1 | 1 |
The 2019 U.S. Poker Open win by David Peters continues to resonate with the voting panel, albeit the gap between him and the current second-place player, is rapidly getting smaller. Despite losing some votes, Peters did add another seven-figure score to his resume on Jeju where he finished fifth in the Main Event for just over a million dollars. Peters now has back-to-back seven-figure scores in a two-week span leading to him closing the gap even more so with Erik Seidel who's ahead of him on the all-time money list by $2.1 million right now. Listen to David Peters tell his story on the Poker Central Podcast.
| | | |
| --- | --- | --- |
| | Last Week | This Week |
| Frank Stepuchin | Unranked | 2 |
In my absence, here's Brent Hanks on the magic of Frank Stepuchin, who became a legend at the WPT Gardens Poker Championship final table.
"Franky Chickenwing is my current flavor of the week. This guy came to a WPT final table with a cold beer in one hand, and a chicken wing in the other. Every big pot he played, he had his chicken wing in his hand while making a critical decision for hundreds of thousands of dollars in equity."
Winner winner, chicken dinner.
The many faces and 🍗 of @WPT champion Frank Stepuchin! pic.twitter.com/OVoMQPdqWf

— Poker Central (@PokerCentral) March 13, 2019
| | | |
| --- | --- | --- |
| | Last Week | This Week |
| David 'ODB' Baker | 12 | 3 |
Voting panel member and Poker Central photographer Drew Amato said the following about David 'ODB' Baker, one of the most passionate players in the game.
"David 'ODB' Baker is a legend in the game. Monday's WPT title pushed him past $5.5 million in earnings, with his first recorded score dating all the way back to 1993. ODB can finally check off a WPT victory on his long list of poker accomplishments. It's always great to see someone who has had such a positive impact on the industry, as well as being so respected by his peers, take down something of this magnitude!"
ICYMI: @audavidb took down the #WPTLAPC final table for $1 million and his first @WPT title! @MatasCimbolas 🥈, @DarrenElias 🥉.
Watch the final table replay exclusively on PokerGO!
▶️ https://t.co/TR7PoS8Qu9 pic.twitter.com/e1SDTT6aIW

— PokerGO (@PokerGO) March 12, 2019
| | | |
| --- | --- | --- |
| | Last Week | This Week |
| Maria Ho | 2 | 4 |
Dropping just two spots this week is Maria Ho. Still being carried by her impressive win at the L.A. Poker Classic, Maria is a fan favorite and clearly also a panel member favorite. Maria joined the commentary team during the WPT final tables on PokerGO, and she clearly keeps grinding away herself as well.
Having two grown men yell "You got nasty, soooo nasty" while jumping up and down in reference to putting a bad beat on someone is why I don't put headphones on. #freeentertainment

— Maria Ho (@MariaHo) March 13, 2019
| | | |
| --- | --- | --- |
| | Last Week | This Week |
| Jason Koon | 13 | 5 |
I was shocked to see Jason Koon ranked this "low" given the insane week he's just had on Jeju. Koon notched up four massive scores, a fourth, sixth and two outright wins in what is considered one of the toughest High Roller series. Koon dominated the Triton series, cashing for a total of $4.5 million and that puts him third on the 2019 Money List behind only Bryn Kenney and PSPC winner Ramon Collilas. Koon now sits on $27.9 million in career earnings, putting him eighth all-time.
| | | |
| --- | --- | --- |
| | Last Week | This Week |
| Bryn Kenney | 6 | 6 |
Kenney might've not notched up a win at Triton, but he did improve on his career-best score by finishing second in the Main Event for $3 million. This score eclipses Kenney's career-best result by more than a million, and his first seven-figure score in almost a year. Kenney now has roughly $5 million in earnings in 2019, doing exactly what he told me in an interview during the U.S. Poker Open where he claimed that this year would be a comeback year after a relatively slow 2018.
| | | |
| --- | --- | --- |
| | Last Week | This Week |
| Darren Elias | 9 | 7 |
If he had pulled it off, I'm sure Darren Elias would've taken the No. 1 spot on this week's rankings. Elias, however, fell short of winning his fifth WPT title by finishing in third place behind Matas Cimbolas and David 'ODB' Baker L.A. Poker Classic Main Event for $473,280. Read more about Elias' epic career in the feature interview below.
Distribution of Luck or a Home Field Advantage? Darren Elias Speaks About Seeking Fifth WPT Title
| | | |
| --- | --- | --- |
| | Last Week | This Week |
| Sean Winter | 3 | 8 |
Dropping from third to eighth, Sean Winter is slowly losing traction after missing out on the U.S. Poker Open title by just a few points. Winter was on a tear at the PokerGO Studio and struck fear in the eyes of all his opponents, and he followed that up with a high roller final table at the L.A. Poker Classic. As these rankings go though, Winter will likely drop out without a big score in the coming week.
| | | |
| --- | --- | --- |
| | Last Week | This Week |
| Dan Bilzerian | 26 | 9 |
He's back! All it took was one Tweet by Blitz, dealing out a funny burn to Dan 'Jungleman' Cates on Twitter. Relevant? Maybe not. Funny? Definitely. Bilzerian ego was definitely very hurt by what Cates said as it motivated him to Tweet at a person for the first time since dealing so well deserved heat at Peta three weeks ago.
Definitely won more money than your ass in poker, that's a fact

— Dan Bilzerian (@DanBilzerian) March 14, 2019
| | | |
| --- | --- | --- |
| | Last Week | This Week |
| Timothy Adams | Unranked | 10 |
He made it! But just barely. Shannon Shorr was right on his heels, but Timothy Adams is very deserving of this spot in the Top 10. Adams took down the Triton Super High Roller Series Main Event down for $3.5 million after a heads up deal with Bryn Kenney for by far the largest score of his career. This marked Adams' first seven-figure score and it sees him sky-rocket the Canadian all-time money list into fourth place behind only Sam Greenwood, Jonathan Duhamel, and the untouchable Daniel Negreanu.
🙌Congratulations to @Tim0theeAdams on🥇winning the HKD 2,000,000 NLH 🔱Triton Main Event!!

Timothy Adams Beat Bryn Kenney to win a Grand Total of
💵HKD27,760,000 (approx USD$ 3608800)#MainEvent #TritonSHR #Poker #Highstakes #Millionaire #Winner #NLHE pic.twitter.com/0y7NqSMvZi

— Triton Poker (@tritonpoker) March 9, 2019
On The Bubble
Timothy Adams just barely made the Top 10 as Stephen Chidwick tied him in points but Adams received the highest vote of the two. Also near the top were WPT Gardens runner-up Shannon Shorr, Daniel Negreanu, Rainer Kempe, Justin Bonomo, and Kristen Bicknell.
Tune in again next week for the latest Poker Central Power Rankings! Until then, listen to Brent Hanks and me discuss this week's rankings on the Poker Central Podcast. Looking to watch the latest live and on-demand poker action? Subscribe to PokerGO right now.