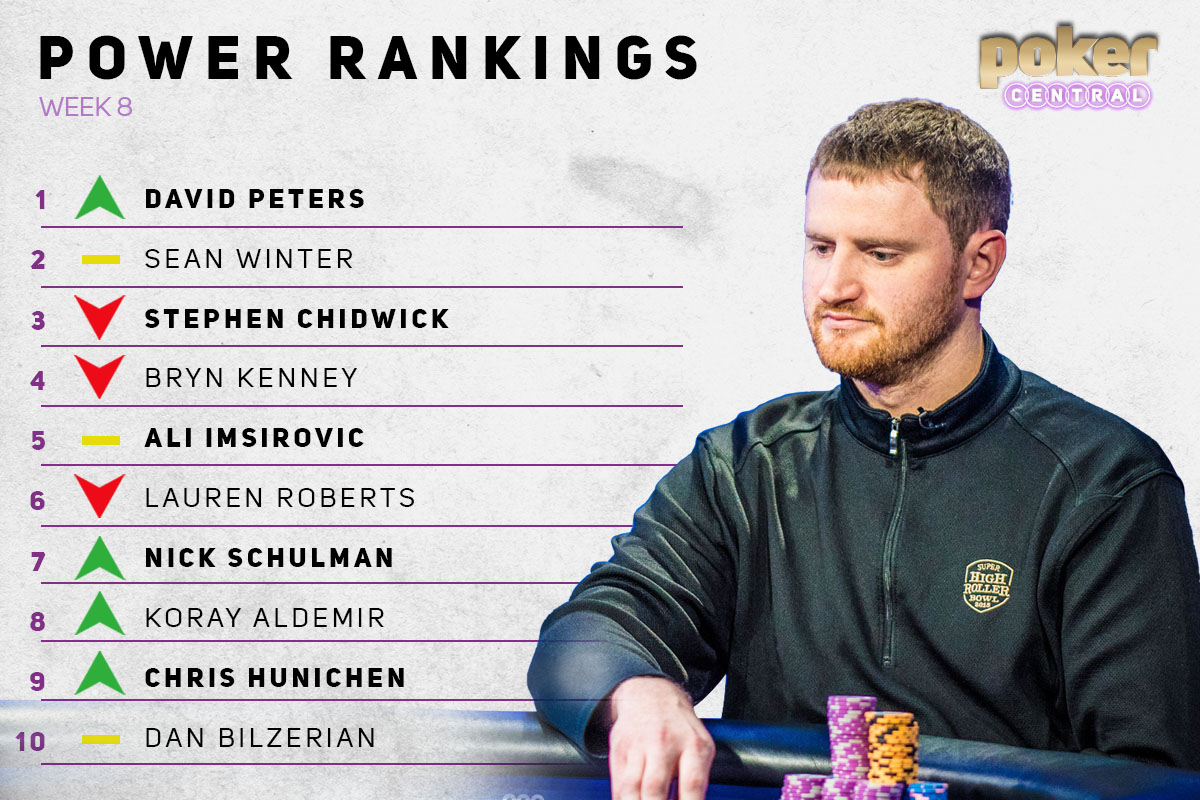 These last two weeks, the eyes of all poker fans were locked in on the ongoings at the PokerGO Studio. As the U.S. Poker Open saw, arguably, its most fascinating outcome with a battle for the overall trophy as well as the $100,000 Main Event culminate at the same time. Because of this 11-day stretch of high stakes events, the rankings this week are absolutely dominated by these results.
The Poker Central Power Rankings are voted on each week by five-panel members who use their own criteria to determine player relevance leading to a list of 25 players that score points from 65 down to 1. The criteria loosely include player results, social media influence, some good ol' drama or other things of note that make ear perk up and our eyes grow bigger. Got beef with our decisions on a week-to-week basis? Hit us up on @PokerCentral on Twitter and jump into the conversation.
Read up on the previous weeks: Week 7– Week 6 – Week 5 – Week 4 – Week 3.
The Week 8 Poker Central Power Rankings
It's an abomination! No, I'm not talking about David Peters being ranked first overall this week, but I'm taking issue with the entire panel – myself included – for not having Peters ranked at all these last few weeks. The quiet assassin that he is, Peters largely flies under the radar despite ranking fifth on the all-time money list and already having cashed for more than $2 million this year.
There are no arguments to be made for Peters not being ranked other than the panel overlooking his consistency. Having won the U.S. Poker Open $100,000 Main Event, as well as the overall USPO Championship, make Peters a deserving No. 1, and it's highly likely he'll be hovering near the top of the ranks for many weeks to come as the international high roller circuit travels to Jeju for the Triton Super High Roller Series. Watch more from David Peters right here. Peters was voted the unanimous No. 1 this week, becoming the third unanimous leader after Chino Rheem and Stephen Chidwick earlier this year.
Holding steady at No. 2 is Sean Winter. For Winter, this No. 2 place comes with a sour taste as he had the No. 1 spot well within reach. Last week, Winter was a large favorite to win the U.S. Poker Open Championship but an unlikely outright win by David Peters in the $100k changed everything. All things considered, it was a tremendous week for the soon-to-be father who got a bit choked up speaking to Maria Ho after his elimination from the Main Event. Read more about Sean Winter here.
Sean @Nolez7 Winter busts the $100K Main Event before sharing some big news with @MariaHo! Can the 👶 run good continue or will @dpeterspoker17 complete the comeback?
Sweat the #USPO Championship LIVE: https://t.co/5rUlItuiNK pic.twitter.com/TB3GuD6pCz

— PokerGO (@PokerGO) February 24, 2019
Is he one of the all-time greats? A win or loss at the U.S. Poker Open surely doesn't change that conversation but his consistent results keep piling on for this to become an inevitable talking point. While the hyper-competitive Brit might still be licking his wounds after falling just short of a U.S. Poker Open title defense, he can already look at a hot start to 2019 that will keep him in contention for every possible leader board. Read more about what his peers think about the level Chidwick is playing at right now.
Bryn Kenney drops slightly from 3 to 4 this week, falling short of another big score at the U.S. Poker Open. Kenney is already in Japan to get ready for the Triton Super High Roller Series in Jeju, South Korea, and some good results there might propell him to the top next week.
His position on the rankings didn't change, but Ali Imsirovic won another event right after taking down Event #5 at the U.S. Poker Open for $442,500. Imsirovic took down the WSOP Circuit event at the Rio for $96,659 beating a field of 179 entries and with that Asher Conniff heads up.
Won it 🙂 pic.twitter.com/PQ08E4lrcM

— Ali (@aliImsirovic) February 27, 2019
The love for Lauren Roberts continues to resonate with the voting panel as she holds fairly steady in the Top 10 after winning a $10,000 No Limit Hold'em at the U.S. Poker Open. Read more about Lauren Roberts' story right here in a feature interview on Poker Central.
Daddy Schulman paid for a very his newborn daughter during the U.S. Poker Open by winning the $25,000 Mixed Game Championship after beating Brandon Adams heads up. Schulman cashed for $270,000 after also finishing fifth in a $25,000 event for $120,000 earlier that week. Schulman had a shot at the overall title at the final table of the $100,000 Main Event but he busted out before reaching the money and points.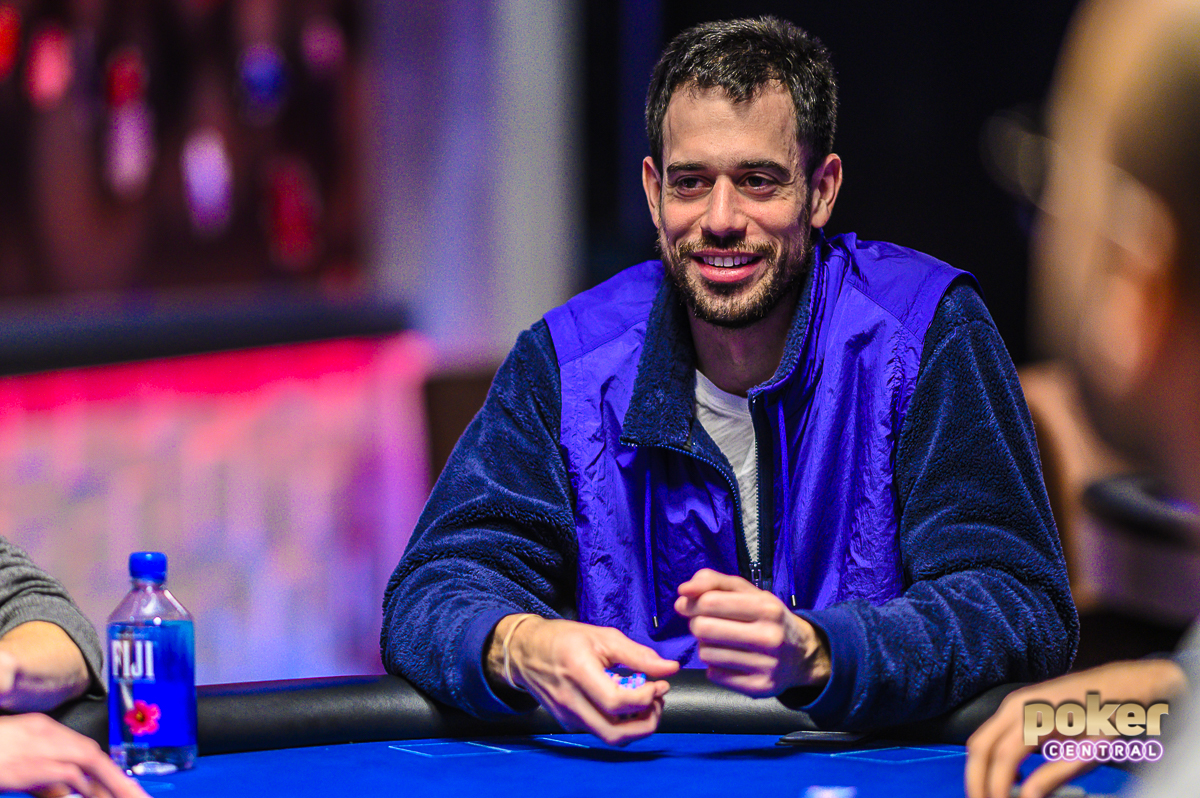 Germany represent! Last week, for the first time since the rankings started, no German was represented in the Top 10. Rainer Kempe had defended the honors of the nation of high rollers for four straight weeks before dropping off steeply, but Koray Aldemir gladly takes over his role this week after he won the massive $50,000 at the U.S. Poker Open. Aldemir defeated a field of 41 entries on his way to a $738,000 score. This marks Aldemir's third-largest career score and you can relive it right here on PokerGO.
From unranked last week to ninth overall this week, Chris Hunichen made a mark by dominating the U.S. Poker Open $100,000 Main Event. In the end, Hunichen bowed out to David Peters but recorded the largest score of his career by taking home $858,000. Hunichen now has three big scores in $100,000 events since late December of 2018, and more big moves are to be expected from the legendary online grinder.
Second to the legend Dpeters in the USPO $100k main event for $940k and my biggest score!! Much thanks to the @ARIAPoker for an amazing series, excellent service, excellent atmosphere, best place in US to play! #USPO$100kMainEvent

— Chris Hunichen (@BigHuni) February 24, 2019
Oh hi, Dan. While appearing in an Instagram photo with Cardi B was seen by many as good exposure for the game of poker, him then photoshopping her seemed to be the opposite. Even the not-so-politically correct people at Barstool Sports thought that this was out of line, but for now Bilzerian remains to be ranked in the Top 10 due to his appeal to the masses as a "poker player."
On The Bubble
Dropping out of the Top 10 this week are Ben Yu, Phil Galfond, Kristen Bicknell and Jordan Cristos. While still getting plenty of votes, it wasn't enough to stay at the top and the same can be said for Phil Hellmuth, Maria Ho, and others that received votes such as Raine Kempe, Jeff Platt, Brent Hanks, and Bill Perkins.