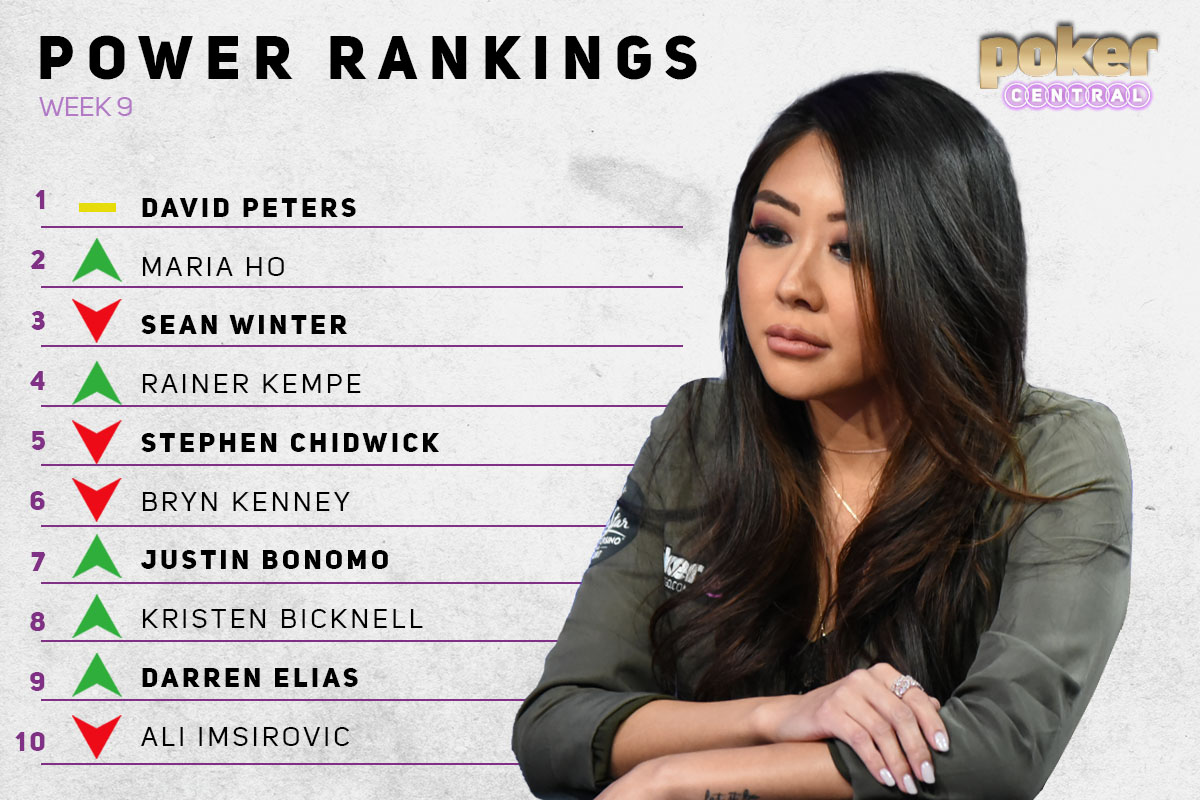 The U.S. Poker Open is well in our rearview mirror as the Week 9 Power Rankings roll in, yet the players from this high roller series continue to dominate. Players from the World Poker Tour L.A. Poker Classic – Darren Elias, David 'ODB' Baker, and John Smith – have made big jumps but only one of them made the Top 10. On the other hand, Rainer Kempe and Maria Ho – arguably poker's premier power couple – both notched up wins at the Commerce to give them both huge boosts into the Top 4.
Justin Bonomo was the only player – for now – to make the Top 10 after few weeks on the fringes because of a win at the Triton Super High Roller Series, and while Jason Koon's massive win last night came after the ballot deadline, I'm sure that next week we'll have tons of players from that epic series taking over this list.
The Poker Central Power Rankings are voted on each week by five-panel members who use their own criteria to determine player relevance leading to a list of 25 players that score points from 65 down to 1. The criteria loosely include player results, social media influence, some good ol' drama or other things of note that make ear perk up and our eyes grow bigger. Got beef with our decisions on a week-to-week basis? Hit us up on @PokerCentral on Twitter and jump into the conversation.
Read up on the previous weeks: Week 9 – Week 7– Week 6 – Week 5 – Week 4 – Week 3
The Week 9 Poker Central Power Rankings
| | | |
| --- | --- | --- |
| | Last Week | This Week |
| David Peters | 1 | 1 |
After weeks of disrespect, David Peters jumped from nothing into the top spot last week due to his win in the $100,000 Main Event at the U.S. Poker Open as well as the overall U.S. Poker Open Championship. Peters holds onto his top spot for another week despite it being a quiet one, having built up enough of a buffer to fend off the birthday girl.
Watch more from David Peters right here, or listen to him on the latest edition of the Poker Central Podcast where Brent Hanks and myself dive deep into his life story and career. A feature interview with Peters can be found here.
| | | |
| --- | --- | --- |
| | Last Week | This Week |
| Maria Ho | 14 | 2 |
Winner, winner, chicken dinner! On her birthday, Maria Ho closed one out at the L.A. Poker Classic. It must've been itching like crazy to play as she was the on-camera host and analyst for the U.S. Poker Open, and she found a great way to scratch the itch taking down the $25,000 High Roller for $276,690.
This marks the second biggest result of her live tournament career after finishing second to Allen Bari in a World Series of Poker bracelet event back in 2011 for $540,020. This win puts Ho across the $3 million earnings mark. Ho beat Kristen Bicknell heads up who took home $180,070 and also eclipsed the $3 million earnings mark coincidentally!
You believe a wash is going to change the cards; I believe in birthday run good. We've all got our superstitions. pic.twitter.com/6rIQ1vgljy

— Maria Ho (@MariaHo) March 6, 2019
| | | |
| --- | --- | --- |
| | Last Week | This Week |
| Sean Winter | 2 | 3 |
Dropping one spot but staying near the top, Sean Winter added a small result to his stellar start of 2019 by finishing third in the High Roller won by Maria Ho. Winter remains the leader in the High Roller Player of the Year standings, of which you can read an updated overview right here. Read more about Sean Winter, his career, dedication, and personality right here. Winter also leads the 2019 Player of the Year race.
| | | |
| --- | --- | --- |
| | Last Week | This Week |
| Rainer Kempe | 27 | 4 |
He captured his fourth outright win of the year and jumps into fourth overall on the Power Rankings! It's been a great year so far for Rainer Kempe who took down the $25,000 High Roller at the L.A. Poker Classic for $270,905. Also finishing in the money in this event were Jeremy Ausmus and Ali Imisirovic. Kempe is now rapidly closing in on the $20 million career earnings mark with $19.7, he sits fourth on the GPI overall standings and second on the 2019 Player of the Year race.
Won the 25.000$ highroller at LAPC for my fourth trophy of the year. Especially grateful to share that moment with a lifelong supporter of mine @JohnnyBaxPoker pic.twitter.com/WpL19b1H49

— Rainer Kempe (@GatsbyKempinho) March 5, 2019
| | | |
| --- | --- | --- |
| | Last Week | This Week |
| Stephen Chidwick | 3 | 5 |
He narrowly missed out on back-to-back wins in the U.S. Poker Open, and a quiet week sees him drop down to fifth on the Power Rankings. Chidwick remains second on the overall GPI standings, fifth in the 2019 Player of the Year race and No. 1 in the hearts and minds of his peers who believe he's the best player in the world right now.
| | | |
| --- | --- | --- |
| | Last Week | This Week |
| Bryn Kenney | 4 | 6 |
Bryn Kenney had a quiet U.S. Poker Open but took down one of the $25,000 No Limit Hold'em events for $450,000 and he followed that up by taking fourth in one of the Triton Super High Rollers for half a million. This series in Jeju is a very pricey one, but that seems to be Kenney's sweet spot. Kenney drops two spots on this week's rankings.
| | | |
| --- | --- | --- |
| | Last Week | This Week |
| Justin Bonomo | 40 | 7 |
It wasn't Justin Bonomo's greatest showing at the U.S. Poker Open, but I can only imagine how tired his arms must be from hoisting endless trophies in 2018. Indicative of Bonomo's insane success, it almost feels like a quiet year so far as he only has two outright wins after taking down a Short Deck event in Jeju for $586,114. Bonomo has four cashes in 2019, two wins, for a total of nearly $1.2 million and jump into seventh place because of his Triton win.
| | | |
| --- | --- | --- |
| | Last Week | This Week |
| Kristen Bicknell | 13 | 8 |
Kristen Bicknell finished second to Maria Ho in the $25,000 High Roller at the L.A. Poker Classic, seeing her jump up from 13 to 8 on the list. Bicknell fell just short of a big win at the U.S. Poker Open, finishing fifth in the $25,000 event won by Ali Imsirovic, and her consistent results to start the year have kept her in the Top 10 here!
| | | |
| --- | --- | --- |
| | Last Week | This Week |
| Darren Elias | Unranked | 9 |
From unranked to the Top 10! Darren Elias is one of the most celebrated No Limit Hold'em tournament players who doesn't frequent the high rollers as he's the World Poker Tour record holder with four wins. In L.A. Elias worked hard on adding a fifth title and next week he'll try to close it out in Las Vegas. Watch Elias in action, live and exclusively on PokerGO, as he has the L.A. Poker Classic chip lead with just six players remaining.
PokerGO has been your live stream home for the last two seasons of World Poker Tour action and more final table coverage is coming next month. Starting March 11, the L.A. Poker Classic, Gardens Poker Championship, and Borgata Winter Poker Open will crown champions live from Luxor's Hyper X Esports Arena.
Fame & Fortune: Four-Time WPT Champ Darren Elias' Road to Las Vegas
| | | |
| --- | --- | --- |
| | Last Week | This Week |
| Ali Imsirovic | 5 | 10 |
After his win at the U.S. Poker Open and a WSOP Circuit event in Las Vegas, Ali Imsirovic topped out at fifth on the weekly Power Rankings. Imsirovic came close to nabbing a High Roller win in Los Angeles but that honor went to Rainer Kempe. Imsirovic nearly dropped out of the Top 10 and he will need a score next week to remain among these greats.
On The Bubble
See ya later, Dan Bilzerian. As irrelevant as his recent Instagram posts were, they somehow carried weight for him to be ranked, but now that this has faded, we are possibly another few weeks removed from him popping up again. Falling just short of making it into the Top 10 this week were John Smith and David 'ODB' Baker who made big runs at the LAPC.
If it wasn't for these rankings being due on Wednesday, Jason Koon would've for sure made the Top 10, as he currently sits in 14th place. New players that received points this week were Paul Phua, Mike Matusow, Christopher Soyza, Peter Jetten, Tom Dwan, and Gabe Patgorski. The Triton High Roller Series will likely dominate, but who will take the top spot?