Bryn Kenney takes the No. 1 spot, Phil Galfond goes from nowhere to No. 2, and much more! The Poker Central Power Rankings for Week 5 are here and there's plenty of notable news to get through to tie these rankings together!
Every week, Poker Central will release its own Poker Power Rankings as the committee of five voters make their selections based on who's hot in the game right now! Agree? Disagree? Want to chime in? Hit us up on Twitter to chime in with your hottest takes on our rankings of your favorite players.
In case you missed it, check out the Week 4, and Week 3 rankings right here as Chino Rheem dominated the start of the year.  
New On The List
Plenty of names were shuffled on the list this week, but there were also some new noteworthy mentions that had never appeared on the list before. Norman Chad's hilarious Twitter video got him a bump that nearly put him in the Top 10, while Farah Galfond's support for her husband who launched Run it Once Poker got votes along with Dolly's Game subjects Mike Gorodinsky, Dan Zack, and top performers from the Aussie Millions, Johannes Becker and Andrew Hinrichsen.
Goodbye, For Now
For now, we say goodbye to Daniel Strelitz, Randall Emmett, Gus Hansen, Talal Shakerchi, Lex Veldhuis, Pizza Kid, Brian Altman, and Dan Bilzerian who are no longer ranked as of this week. While some, like the Pizza Kid, enjoyed a brief stint of glory, I wouldn't be surprised to see the likes of Emmett, Bilzerian and Veldhuis make a return to this list in the coming weeks.
The Poker Central Power Rankings Week 5 Top 10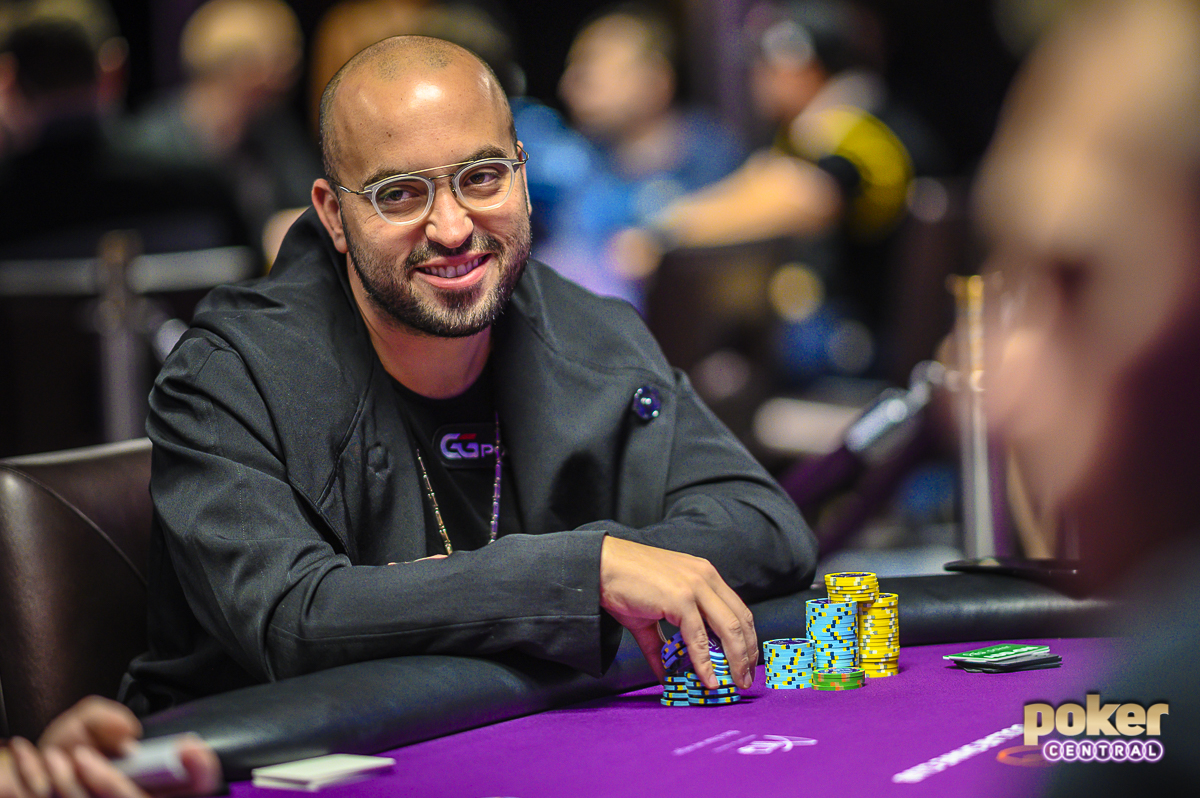 | | | |
| --- | --- | --- |
| | This Week | Last Week |
| Bryn Kenney | 1 | 16 |
He did it! Finally, everyone's favorite fast-talking big-swinging high roller crusher has done it! Bryn Kenney won a big Main Event at his favorite series of the year, the Aussie Millions, by taking down one of the year's biggest $10,000 Main Events. Kenney defeated a field of 822 players on his way to a three-handed deal that will be talked about for many years to come. We spoke to Kenney about this win, read the full article here, and he said the following.
"It feels amazing because I finally got my first Main Event final table, which turned into my first win in such an event. Aussie Millions is a special place because of its fun environment, lots of fans, an amazing city, and amazing tournaments. I hope they run more high rollers in the future because lots of people love playing here."
Kenney is very well deserving of the No. 1 spot on the Power Rankings, jumping into ninth on poker's all-time money list as he now sits on a staggering $26.6 million in career earnings and looks primed for another run at Player of the Year honors.
| | | |
| --- | --- | --- |
| | This Week | Last Week |
| Phil Galfond | 2 | Unranked |
What has Phil Galfond won lately, you might ask? Well, he's continued to win over poker fans all over the world as the highly anticipated launch of Run it Once Poker finally became a reality on February 6. In December, Galfond joined the Heads Up with Remko Podcast to talk about the ongoing Run it Once developments, and it's deserving of a massive congratulations that players in certain markets can now play online poker on this platform that's looking to reshape online poker. Check out more details below, check out Twitch as many streamers are flocking to Run it Once and try it out for yourself if you are in a market that allows for online poker.
Run It Once Poker is LIVE!

This community has been so awesome & supportive, and I couldn't be prouder that we've reached this day. Any continued support, whether it be playing, spreading the word, or just watching a RIO streamR, means the world to me ❤️https://t.co/jllVHraRYt

— Phil Galfond (@PhilGalfond) February 6, 2019
| | | |
| --- | --- | --- |
| | This Week | Last Week |
| Daniel Negreanu | 3 | 3 |
No news today! The name, the legacy, the awards and the ongoing stream of conscientious on social media will always keep Daniel Negreanu relevant on these Power Rankings so it seems. While I personally heavily disagree with ranking Negreanu this high after a relatively quiet week, putting him at No. 15 on my big board, it's hard to deny that Negreanu will always be the center of attention.
It's much easier and less controversial to tell people what they want to hear even if you don't believe it to be true.

I've never been one afraid of controversy which means it should increase the number of haters I encounter, and I'm good with that 💯

— Daniel Negreanu (@RealKidPoker) January 30, 2019
| | | |
| --- | --- | --- |
| | This Week | Last Week |
| Cary Katz | 4 | Unranked |
He did it again! Almost exactly a year after winning the PCA $100,000 Super High Roller for $1.4 million, Cary Katz took down the $100,000 Super High Roller at the Aussie Millions for almost exactly the same amount but in Aussie Dollars! Katz continues his ascend on the all-time money list, as he's now 25th all-time with $18.4 million, on top of his large role as an influencer and innovator in the game through Poker Central, PokerGO and the introduction of the Big Blind Ante.
| | | |
| --- | --- | --- |
| | This Week | Last Week |
| Phil Hellmuth | 5 | 2 |
Besides banking a three-pointer that didn't count and being courtside at the Warriors game, Phil Hellmuth didn't do much this week to warrant a top spot on the list, but the voters agreed that a slow Hellmuth-week was still enough for a spot in the Top 10. Hellmuth drops a few spots but is likely to remain in the Top 10 as there's a strong Pro-Hellmuth movement among the voting crowd for these rankings.
W one of my favs: @PeterGuber! Hollywood Legend! And Owner of @Warriors and @Dodgers #POSITIVITY #PHNiceLife pic.twitter.com/inwm51dScI

— phil_hellmuth (@phil_hellmuth) February 7, 2019
| | | |
| --- | --- | --- |
| | This Week | Last Week |
| Chino Rheem | 6 | 1 |
We're in the third week of the Poker Central Power Rankings and for the first time, Chino Rheem is not at the top. Rheem's PCA win and Aussie Millions score still resonate strongly, and if Rheem creates even the slightest ripple in the water this week, we could see him maintain a top spot for the foreseeable future.
| | | |
| --- | --- | --- |
| | This Week | Last Week |
| Toby Lewis | 7 | 6 |
The man who crushed the Aussie Millions dropped just one spot, and with some of Lewis' favorite events coming up in the U.S., we are anticipating him to remain near or in the Top 10. For now, Lewis ranks third on the 2019 Player of the Year race after four scores Down Under for a total of A$1.6 million.
| | | |
| --- | --- | --- |
| | This Week | Last Week |
| Kitty Kuo | 8 | 5 |
Down three spots this week, Kitty Kuo continues to string together epic Tweets to solidify her spot in the Top 10 rankings. Kuo attended David Yan's wedding in New Zealand, burned her hand while cooking, and booked an Airbnb in the hot and humid city of Auckland without air conditioning. There's never a dull moment in Kitty Kuo's life!
Predicting now Kitty will make a tweet in a few hours talking about how she booked an airbnb plus with no air conditioning and can't sleep

— Russell Thomas (@RunGoodRussell) February 6, 2019
| | | |
| --- | --- | --- |
| | This Week | Last Week |
| Rainer Kempe | 9 | 4 |
Sitting on a huge lead in the early 2019 Player of the Year standings, Rainer Kempe nearly slips out of the Top 10 due to the rapid ascent of Bryn Kenney, Phil Galfond, and Cary Katz. Kempe closed out his Australian adventure by cashing in the $100,000 Super High Roller to bring his earnings for the year up to $2.1 million.
| | | |
| --- | --- | --- |
| | This Week | Last Week |
| Doyle Brunson | 10 | 10 |
Last but not least, Doyle Brunson closes out the Top 10 after two fun nights of Dolly's Game action. Relive both nights of high stakes mixed games on PokerGO right now. While Brunson himself has a bad session, Frank Kassela (14th), Eli Elezra (12th), and Mike Gorodinsky (17th) booked wins despite falling just short of the Top 10 on the Power Rankings.
Yeah, I was the only loser in Dolly's game. 113,000 was divided among the other 6 players. And I thought I had a good lineup. What does that say about how bad I'm playing?

— Doyle Brunson (@TexDolly) February 6, 2019
On the Bubble:
Falling just short of the Top 10 this week are Aussie Millions Main Event runner-up Mike Del Vecchio (11th), Eli Elezra (12th), Haralabos Voulgaris – Props on the Porzingis trade and shouting out Phil Galfond – in 13th place.