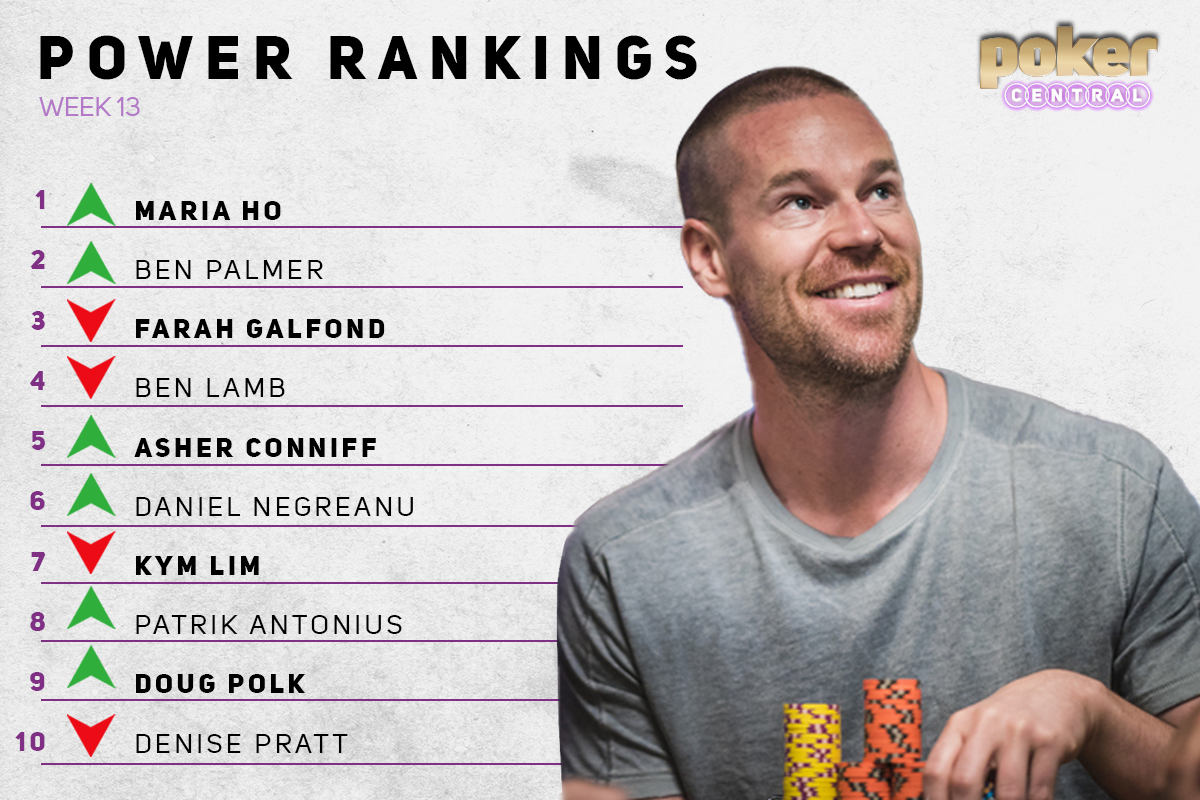 The week was quiet, very, very quiet! After Femme Fatale on Poker After Dark and tons of big live events wrapping up all over the world, we were in for a little lull in the action. Things are picking up again tonight with the Global Poker Awards and thrilling Poker After Dark Pot Limit Omaha action in the works, but until then, we had another list of rankings to compile.
Entering the Top 10 for the very first time today are two huge names: Doug Polk and Patrik Antonius. Maria Ho takes the top spot, however, as she takes the reigns from Farah Galfond. Asher Conniff also makes his debut on the list after taking down a WSOP circuit event during this slow week.
The Poker Central Power Rankings are voted on each week by five-panel members who use their own criteria to determine player relevance leading to a list of 25 players that score points from 65 down to 1. The criteria loosely include player results, social media influence, some good ol' drama or other things of note that make ear perk up and our eyes grow bigger. Got beef with our decisions on a week-to-week basis? Hit us up on @PokerCentral on Twitter and jump into the conversation.
Read up on the previous weeks: Week 11 – Week 10 – Week 9 – Week 8 – Week 7– Week 6
| | | |
| --- | --- | --- |
| | Last week | This Week |
| Maria Ho | 2 | 1 |
There it is! Maria Ho has taken the No. 1 spot as the voting panel narrowly pushed her into the lead as the Top 3 were separated by just 10 points. Ho has been ranked every week and remains a consistent factor in the Top 10 for many weeks to come as she's one of the favorites to win a Global Poker Award at the PokerGO Studio on Friday night!
Missed @MariaHo on Monday? She's back the "Femme Fatale II" finale on @PokerGO! Start watching now! #PokerAfterDark https://t.co/Q0VlMTmr2a pic.twitter.com/U7KMaFWeNs

— Poker Central (@PokerCentral) March 26, 2019
| | | |
| --- | --- | --- |
| | Last week | This Week |
| Ben Palmer | 4 | 2 |
Winner winner, chicken dinner! Ben Palmer took down the WPT Venetian event to capture the biggest win of his career worth $431,655 and a seat into the $15,000 Baccarat Crystal Tournament of Champions in June!
Ben Palmer (@Bennyp03) becomes the all-time winningest player in @VenetianPoker history by winning #WPTVenetian for $431,655! We'll see Ben at the @Baccarat Crystal Tournament of Champions this June. https://t.co/YPtmWGuMO8 pic.twitter.com/s0RW6gsvy5

— World Poker Tour (@WPT) March 27, 2019
| | | |
| --- | --- | --- |
| | Last week | This Week |
| Farah Galfond | 1 | 3 |
Farah drops two spots on the rankings as her momentum from Femme Fatale II carries on along with an appearance on the Poker Central Podcast. Listen to the full podcast below.
Double trouble on this week's #PokerCentralPod!@RemkoRinkema & @Bhanks11 sit down with @SneakieNesie & @Farah_Galfond during #PokerAfterDark's "Femme Fatale II" cash games!
Listen: https://t.co/754bn7m4rC pic.twitter.com/SlGjT9JAT7

— Poker Central (@PokerCentral) April 1, 2019
Also, this:
You: "Televised poker is so serious, no one ever talks!"
Also you: "Too much talking, stick to the poker!"@Farah_Galfond:#PokerAfterDark https://t.co/5rUlItuiNK pic.twitter.com/Fon5gHZ7oT

— PokerGO (@PokerGO) March 26, 2019
| | | |
| --- | --- | --- |
| | Last week | This Week |
| Ben Lamb | 3 | 4 |
The Uruguay gambling extravaganze featuring Ben Lamb, John Cynn, and Jonathan Depa carries weight into this week of the Power Rankings. I seriously think we could make a movie about this adventure, and it might take a few more years before all the juicy details will reach the surface. For those that missed the action, check out Lamb's Tweets about this crazy streak.
Having one of the cooler experiences of my life. Let me explain…@partypokerlive put on a amazing event in Rio de Janeiro, Brazil. Beautiful city and the venue, Copacabana Palace was amazing. Like out of a movie. In the 25k high roller tournament @EnjoyPde added 500k…

— Ben Lamb (@BenbaLamb) March 25, 2019
| | | |
| --- | --- | --- |
| | Last week | This Week |
| Asher Conniff | Unranked | 5 |
WPT Champions Club member Asher Conniff took down a nice chunk of change this week by taking down the WSOP Circuit Main Event at Bally's in Las Vegas for $193,147. This brings Conniff's career tournament earnings up to $2.2 million and a nice Top 10 rankings here on Poker Central!
Congrats to @misterashmoney for winning the Circuit Main Event @BLVPOKER for $193,147!https://t.co/DK9aH85Jdl pic.twitter.com/7X4LRUtLfD

— WSOP (@WSOP) April 2, 2019
The poker community can be incredibly negative at times.. but when you win a tournament, the wave of support and love is really amazing and uplifting

— Asher Conniff (@misterashmoney) April 5, 2019
| | | |
| --- | --- | --- |
| | Last week | This Week |
| Daniel Negreanu | 27 | 6 |
The soon-to-be-married Daniel Negreanu stayed active on Twitter despite announcing that he would be taking it a bit easier on the social media streets! Negreanu appeared on Canada's sports broadcast network where he was asked the following question:
Who's the best poker player in the NHL? 🃏

"If I don't say my good buddy Phil Kessel, he'll be really mad at me." – @RealKidPoker 😂#IceSurfing pic.twitter.com/Y4CapkOk8J

— Sportsnet (@Sportsnet) April 3, 2019
| | | |
| --- | --- | --- |
| | Last week | This Week |
| Kym Lim | 5 | 7 |
I think Kym Lim is one of my new favorite players. Playing tremendous on Poker After Dark along with a witty and creative Twitter account, what else can a big poker fan ask for? Lym drops from five to seven but remains one of the most popular players right now!
Big stack both days but unfortunately today the chips all came from my purse and not from my opponents https://t.co/ntxZ40v5ub

— Kym Lim (@KymLim86) March 27, 2019
| | | |
| --- | --- | --- |
| | Last week | This Week |
| Patrik Antonius | Unranked | 8 |
Patrik Antonius hosted the first annual Patrik Antonius Poker Challenge in Tallinn, Estonia this week and we always love to see top players use their brand and resources to put on an event that brings poker players together. One of the players that made it out for this event was Dan 'Jungleman' Cates and the two poker superstars played plenty of massive pots to make for some entertaining live-streaming action.
| | | |
| --- | --- | --- |
| | Last week | This Week |
| Doug Polk | Unranked | 9 |
Doug Polk was on fire this week on Twitter. Polk touched a variety of topics including weight loss, trading ethics, and some poker talk while also trolling us on April Fools with some nice new Upswing courses.
I'M FIRED UP https://t.co/ChNdsD0hdX pic.twitter.com/4K2zh6v5Q8

— Doug Polk (@DougPolkPoker) April 3, 2019
| | | |
| --- | --- | --- |
| | Last week | This Week |
| Denise Pratt | 6 | 10 |
There's nobody like Denise Pratt in poker! She joined us on the podcast last week, which you can listen to by subscribing to the Poker Central Podcast on your favorite podcasting app, and she dropped more expletives than Brent Hanks! Read all about her story in the article below or watch her in action on Poker After Dark on-demand.
Loud, Rowdy, Blunt, and Full of Life: Denise Pratt Takes Over the PokerGO Studio
On The Bubble
Falling just short of the Top 10 this week are Kitty Kuo, David Peters, Sean Winter, and recent WPT Deepstacks high roller winner Steve O'Dwyer.
Tune in again next week for the latest Poker Central Power Rankings! Until then, listen to Brent Hanks and me discuss this week's rankings on the Poker Central Podcast. Looking to watch the latest live and on-demand poker action? Subscribe to PokerGO right now.