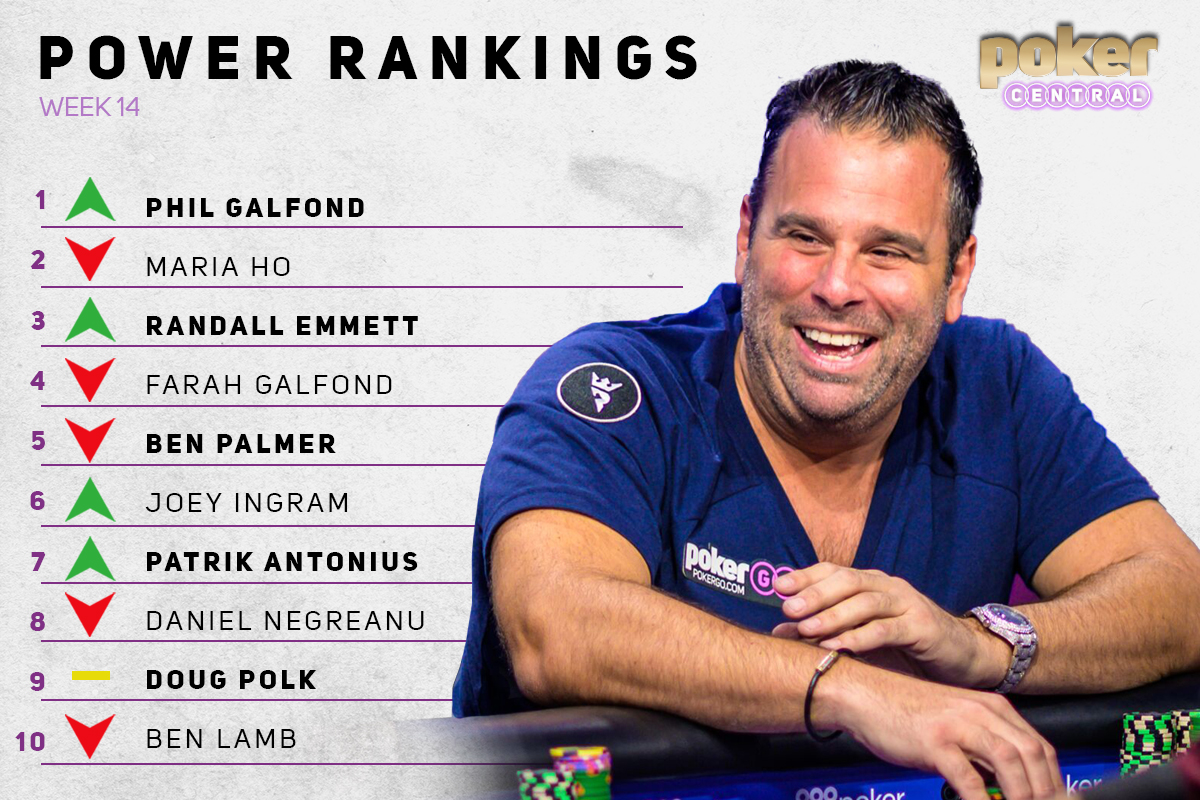 There it is! The Power Rankings are in and it's Phil Galfond who jumped to the top of the list after jumping on the Poker Central Podcast as well as hosting "Run it Once" week on Poker After Dark. As a result of the highly entertaining two nights of action, Randall Emmett went from unranked to third while Joey Ingram makes his debut in the Top 10 as well.
The Poker Central Power Rankings are voted on each week by five-panel members who use their own criteria to determine player relevance leading to a list of 25 players that score points from 65 down to 1. The criteria loosely include player results, social media influence, some good ol' drama or other things of note that make ear perk up and our eyes grow bigger. Got beef with our decisions on a week-to-week basis? Hit us up on @PokerCentral on Twitter and jump into the conversation.
Read up on the previous weeks: Week 12 – Week 11 – Week 10 – Week 9 – Week 8 – Week 7
| | | |
| --- | --- | --- |
| | Last week | This Week |
| Phil Galfond | 33 | 1 |
He doesn't need an introduction and no arguments need to be made against him. Phil Galfond is a deserving No.1 after a very strong week that's continuing his stellar 2019. A newborn, a brand new poker website, playing and commentating on Poker After Dark, Phil Galfond does it all and does it all very well.
PLO legends headlined @RunItOnce week and Hollywood brought the 🗣. @drew_amato goes #ThroughTheLens to highlight @PhilGalfond's return and @joeingram1's debut on #PokerAfterDark! https://t.co/BljpRqrMlj pic.twitter.com/UDL2ZpeCOw

— Poker Central (@PokerCentral) April 10, 2019
| | | |
| --- | --- | --- |
| | Last week | This Week |
| Maria Ho | 1 | 2 |
A constant in the Top 10 of the Poker Central Power Rankings, Maria Ho once again shows that she's unstoppable and arguably the game's premier ambassador in 2019. Collecting a Global Poker Award for "Broadcaster of the Year," Ho continues to impress and add to her brand as a top player, presenter, and ambassador.
I didn't expect that winning Broadcaster of the Year would mean so much to me. Thank you all for continually tuning in and for supporting me and the game of #poker we all love! This one's for you!#GlobalPokerAwards pic.twitter.com/6BhC5rXsuf

— Maria Ho (@MariaHo) April 6, 2019
| | | |
| --- | --- | --- |
| | Last week | This Week |
| Randall Emmett | Unranked | 3 |
Brent Hanks dubbed him, "The Mike Matusow of 2019," in the most complimentary way possible and it's easy to see why. Emmett brings an unfiltered stream of high energy positivity to the tables, entertaining both players and fans along the way. On "Run it Once" week, Emmett found himself outside of his No Limit Hold'em comfort zone but that didn't seem to bother him one bit. This is Emmett's first appearance in the Top 10
Randall Emmett with a totally normal reaction to beating @PhilGalfond in a hand of PLO. 😳🔊🆙https://t.co/5rUlItuiNK pic.twitter.com/Eueo9eHFHl

— PokerGO (@PokerGO) April 10, 2019
| | | |
| --- | --- | --- |
| | Last week | This Week |
| Farah Galfond | 3 | 4 |
Farah has become a fan favorite among the Poker Central voting panel, maintaining her spot in the Top 10 this week by dropping just one spot down to fourth. Farah jumped into the commentary booth while her husband Phil was raining poker misery down on his opponents inside the PokerGO Studio and we thoroughly enjoyed her presence.
I'm about to jump in the booth. My first ever guest commentary. I think I'm going to be awesome. https://t.co/hQq36lu4PT

— Farah Galfond (@Farah_Galfond) April 10, 2019
| | | |
| --- | --- | --- |
| | Last week | This Week |
| Ben Palmer | 2 | 5 |
He has to be followed to be understood but Ben Palmer is one of those in the poker world who won't let an opportunity slide by to speak his mind. Palmer is on his way out of the Top 10 but still sits at No. 5 after a strong Poker Central Podcast appearance along with his WPT Venetian win just two weeks ago.
| | | |
| --- | --- | --- |
| | Last week | This Week |
| Joey Ingram | 36 | 6 |
Joey Ingram is the undisputed social media king of poker, blending together both play, entertainment, gossip, and a good dose of out-of-line activities. Appearing on Poker After Dark for the very first time during "Run it Once" week, Ingram did well mixing it up with the likes of Phil Galfond and Randall Emmet!
Finished up the Poker After Dark session up about $8000 after a couple really huge hands to end the session. We were in for $20k and made the big rebound 🔥🚀🔥

YouTube video up tomorrow from today's session. Thanks for all the messages & support ♥️♥️♥️ pic.twitter.com/cgE2nq1w4w

— Joey Ingram 🤙🏻🤙🏻 (@Joeingram1) April 9, 2019
| | | |
| --- | --- | --- |
| | Last week | This Week |
| Patrik Antonius | 8 | 7 |
Patrik Antonius wrapped up his first ever tournament series in Tallinn, Estonia, and we are here to celebrate that with him. Give Antonius a follow on Instagram as he's working hard to do positive things in poker. Rumor has it Antonius will play the WSOP Main Event this summer along with some high stakes cash games and we are ready to get him back on the podcast when he shows up!
| | | |
| --- | --- | --- |
| | Last week | This Week |
| Daniel Negreanu | 6 | 8 |
No play for Daniel Negreanu again this week but that doesn't matter for the king of Twitter. Negreanu touched on a plethora of topics, as always, most notably how exciting this weekend in sports was and how perhaps only his very own wedding would compete with it!
What a weekend:

Tiger in contention at Masters

Raptors and Clippers in playoffs

VGK at home for game 3

Then top it all off with GAME OF THRONES!

Maybe the best weekend of the year.

Oh shit, aside from that wedding thing I'm doing 😂@RadioAmanda ❤️

— Daniel Negreanu (@RealKidPoker) April 13, 2019
| | | |
| --- | --- | --- |
| | Last week | This Week |
| Doug Polk | 9 | 9 |
Doug Polk also remains in the Top 10 through chiming in on every possible topic on Twitter ranging from the NBA Playoffs to ethics and from taxes to Game of Thrones. It will be nice to see Polk back at the tables again at some point but who knows whether he'll ever get motivated again to duke it out at the felt after having expanded his focus into many other areas.
| | | |
| --- | --- | --- |
| | Last week | This Week |
| Ben Lamb | 4 | 10 |
The train has nearly reached its final stop as it pertains to the Ben Lamb gambling extravaganza. The story is still just as epic but until we hear more juicy details, Lamb might've seen his last week in the Top 10. But because it's so good, here's one more look at the Twitter thread that's worthy of being turned into a book or perhaps a TV show.
Having one of the cooler experiences of my life. Let me explain…@partypokerlive put on a amazing event in Rio de Janeiro, Brazil. Beautiful city and the venue, Copacabana Palace was amazing. Like out of a movie. In the 25k high roller tournament @EnjoyPde added 500k…

— Ben Lamb (@BenbaLamb) March 25, 2019
On The Bubble
Lots of big names fell just barely outside of the Top 10, most notably Ali Imsirovic and Seth Davies. Davies and Imsirovic both won events that counted towards High Roller Player of the Year while the former also took home the Breakout Player of the Year award at the Global Poker Awards. Other names that just fell short were David Eldridge, Jared Jaffee, Matt Berkey, Loni Harwood, Brad Owen, and Phil Hellmuth.
Tune in again next week for the latest Poker Central Power Rankings! Until then, listen to Brent Hanks and me discuss this week's rankings on the Poker Central Podcast. Looking to watch the latest live and on-demand poker action? Subscribe to PokerGO right now.