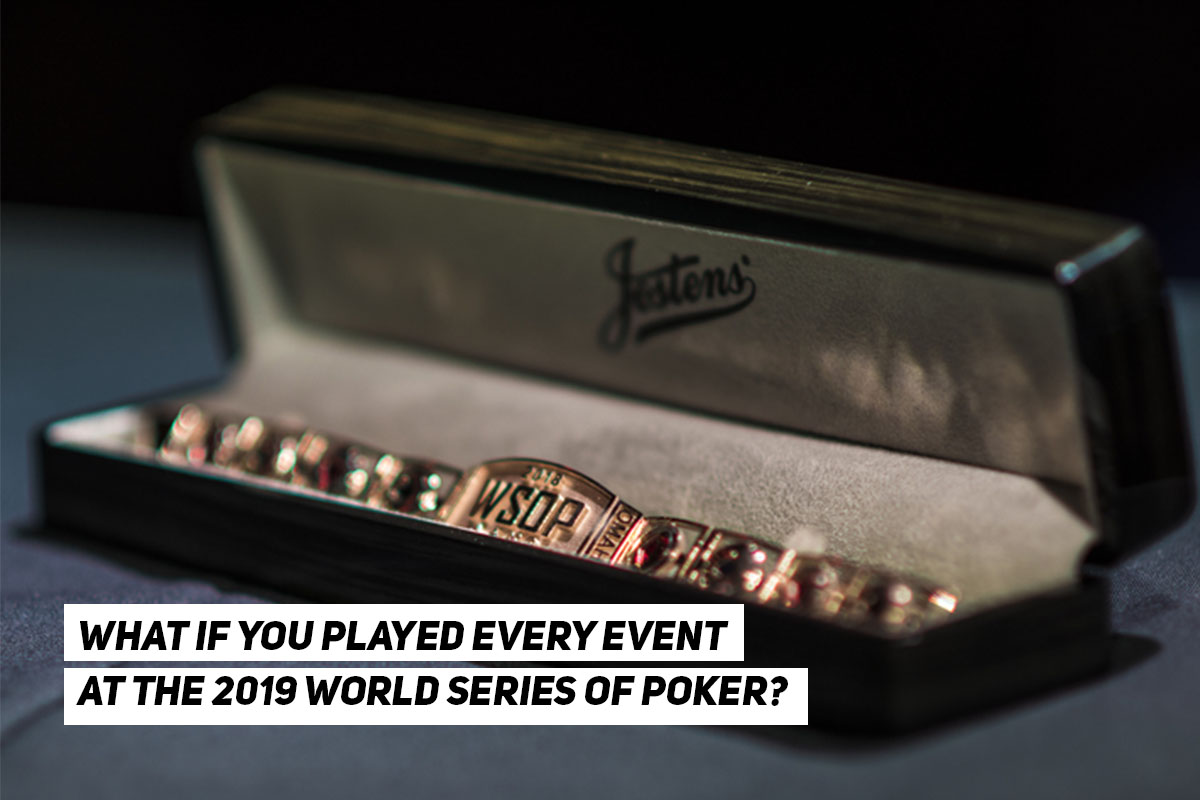 Disclaimer: Playing every event at the World Series of Poker is not advised, because if you're bricking 20 straight events to start your summer it might be good to take a day off! However, if you enjoy a bit of pain and hypothetical misery, this might be the right article for you!
The 50th World Series of Poker is now just a matter of days away. From Abilene to Zeeland, players from across America are already planning trips to take on the best players from all over the world. But what if you go for everything rather of just a few of the lower buy-in tournaments? What if you don't stop at the schedule of Championship Events and take shots like wedding guests at the Negreanu nuptials?  What if you played every event at the 2019 World Series of Poker?
BREAKING DOWN THE NUMBERS
If you've got a spare $783,790 under your mattress and want to make a name for yourself, then catapulting yourself into the record books at the 50th World Series of Poker won't be simple. In fact, to buy-in every single event would take an extraordinary level of dedication that doesn't just extend to participation.
Not only would you have to re-enter as much as you could to spend that amount, but you'd also have to suck at the game and run extremely poor, because making a Day 2 could rule you out of other events, or cause you to run between events, lowering the possibility of you being able to rebuy back into that event. Cardio could be crucial here.
HOW MUCH WOULD IT TRULY COST?
Just because it would cost over three-quarters of a million bucks to take part in the WSOP and lose the lot, that doesn't tell the whole story. In order to play all events, it might be best to bust them all quickly If you were to play every event and bust as soon as you could, let's say within the first two hours, what would be your hourly rate?
Well, there are 89 events, so you'd be taking part for a paltry 178 hours – a month's work at eight hours per day. At that rate of entry and unsuccessful participation, you'd lose a cool $4,400 an hour, and there are plenty of other places to go in Las Vegas to lose your money at that rate of dollar bills.
WINNING AT THE WORLD SERIES
On reflection, playing every event might just be too crazy even for Daniel 'Jungleman' Cates to attempt as he further morphs into Dan Bilzerian. We're yet to see any Prop Bets regarding mass participation on Twitter and even Daniel Negreanu has admitted that he's going to have to pace himself with his marathon schedule, so every event may be a stretch even for our imagination.
There's more than one way to win the World Series and it doesn't stop at the Main Event. You could focus on Championship Events, plump for crushing the low buy-in tournaments or be a Weekend Warrior, smashing into Vegas and grabbing the glory in just two or three days.
However you choose to enjoy it, we can't wait to capture all the drama, with editorial content, podcasts, and tons and tons of streaming action of the 50th World Series of Poker to you this summer. Subscribe to PokerGO today and you'll be right there with us every step of the way.