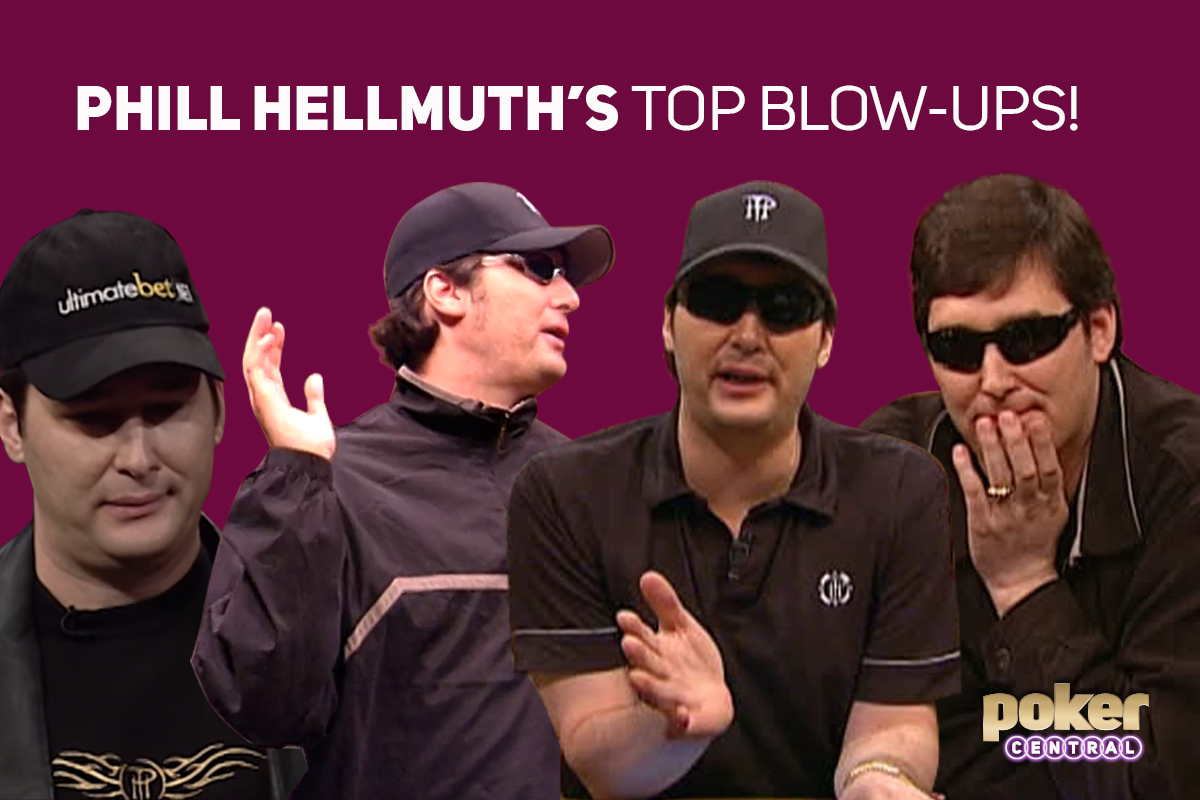 It's fair to say that Phil Hellmuth has a reputation for winning at poker. Some of Hellmuth's top poker moments have come at the World Series of Poker where he has won a record 15 bracelets. But the best poker involving Poker After Dark player have come in PAD episodes featuring Phil Hellmuth. Hugely popular in Poker After Dark YouTube videos, Hellmuth is one of the most popular Poker After Dark players ever to grace the stunning PokerGO Studio at the ARIA Resort. One reason for that is that when he loses, the Poker Brat often blows his top!
THE BIRTH OF THE POKER BRAT
The Poker Brat has always had the ability to blow his top, but never was he more combustible than when taking on friends. Hellmuth's clash with the legendary former actor and stand-up comedian-turned-commentator Gabe Kaplan in this hand was something for the ages.
There's something innately pleasing about watching an otherwise sanguine Hellmuth explode with fury as a perceived injustice, and whenever he's "mad as hell" with nowhere to go, the table get the full force of the Poker Brat!
TAKING ON LEGENDS
Many of the greatest Poker After Dark moments were those that featured the very biggest names at the times clashing in a massive all-in pot. That was never truer than when two legendary Phil's clashed in this unforgettable pot.
Hellmuth is way ahead of Phil Ivey pre-flop, but his chances of winning the hand are reduced considerably when he flops top set but Ivey makes the straight. When the turn and river compound his agony, Hellmuth finally blows, leading to much laughter from tablemates like Daniel Negreanu. Run for cover!
SO MANY WAYS TO BLOW UP
Whether it's an epic rant against a player getting lucky or bemoaning his own lack of fortune, Hellmuth's ability to snap out of the focused player he is at most times, vent his anger then return to winning ways is legendary. In some ways, it helps him to get it out of his system, because when he keeps it in, it seems to affect him more.
Take a look at this hand he loses to a delighted Alex Keating. Having doubled through Keating in the penultimate hand of the night, Hellmuth then proceeds to bust to the same opponent in the final hand of the night during that PAD Cash Game. Even running it twice doesn't help.
WIN OR LOSE, HELLMUTH WON'T CHANGE
It doesn't always go wrong for the Poker Brat. Here, Hellmuth sweats with aces and manages to get it in good and survive, but as ever, it's the waiting that hurts and Jean-Robert Bellande is in no mood to go quickly into the night.
Phil Hellmuth could win 20 WSOP bracelets – his declared ambition – as well as another WSOP Main Event. He could clear up on Poker After Dark and scoop in every pot bar one on High Stakes Poker. But if he loses that one pot and is unlucky to do so, stand well back and enjoy the fireworks, because there will always be a part of the Poker Brat in Phil Hellmuth.
You can enjoy some epic Poker Brat moments on PokerGO by subscribing today. Why wait, when you can access the best poker coverage in the world 24 hours a day, 7 days a week?