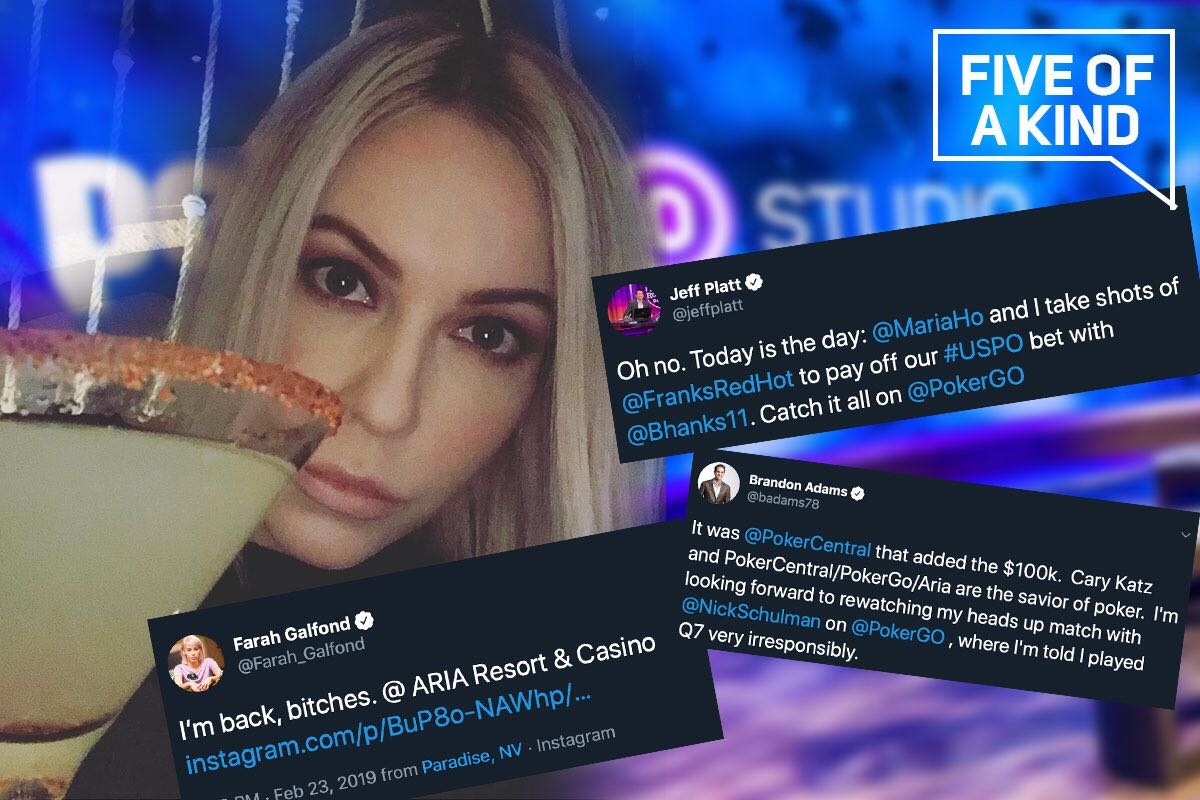 The U.S. Poker Open has wrapped up and it's time to get back into our normal grind. As they always say when referring back to big life events, "I'm glad we have the photos so we can look on it," and that's what we're doing today in this edition of Five of a Kind. Every week, Five of a Kind brings you a summary of the funniest and best moments from Twitter and here's what we're serving up today.
Ho's Highlights
Everyone's favorite reporter, who plays a heck of a game herself, Maria Ho, was once again doing her thing at the PokerGO Studio during the U.S. Poker Open. Sharing four amazing moments from the events, Ho once again shows us that she can do it all. From dealing with "National Treasure" Brent Hanks and day-time TV aficionado Jeff Platt to doing commentary with Ali Nejad to interviewing both winners and runner-ups and taking shots of Frank's Hot Sauce to own up on lost prop bets, it was a winner of a series for Maria.
Highlight of the #USPO:

Working with such an exceptional group of people both in front of the camera and behind the scenes.

Lowlight of the USPO:

Losing the @FranksRedHot challenge to @Bhanks11. 🔥

Thanks for letting me be a part of it and thanks to all those that tuned in! pic.twitter.com/AaDemj8PJi

— Maria Ho (@MariaHo) February 25, 2019
Things Get Spicy with Frank's Hot Sauce!
As part of the broadcast of the U.S. Poker Open, Brent Hanks, Maria Ho, and Jeff Platt made a friendly wager that involved some high-level spice! After Brent came out on top, Maria, the runner-up finisher, had to take one shot of Frank's Red Hot while Jeff was tasked with taking two. Both Jeff and Maria took their shots like champs, once again proving that Frank's really does go on everything and with everything, as it even works as a great way to settle prop bets!
Oh no. Today is the day: @MariaHo and I take shots of @FranksRedHot to pay off our #USPO bet with @Bhanks11. Catch it all on @PokerGO pic.twitter.com/28d1dSjcEF

— Jeff Platt (@jeffplatt) February 23, 2019
Praise from the Lieutenant
He was lovingly dubbed 'Lieutenant Lavender' for his aptly selected purple dress shirts during the Poker Masters, and the love was felt from his end as well as Brandon Adams had high praise for the U.S. Poker Open this week. Adams praised the event for it's $100,000 added for the winner and beautiful setting at the PokerGO Studio at ARIA Resort & Casino. Adams came very close to taking the U.S. Poker Open down and eventually finished in fifth place.
It was @PokerCentral that added the $100k. Cary Katz and PokerCentral/PokerGo/Aria are the savior of poker. I'm looking forward to rewatching my heads up match with @NickSchulman on @PokerGO , where I'm told I played Q7 very irresponsibly.

— Brandon Adams (@badams78) February 23, 2019
Norman Chad: PokerGO Ambassador?
Everyone's favorite color commentator, who's delivered some of the most famous lines in poker history during its iconic World Series of Poker Main Event broadcast, Norman Chad, was tuned into the U.S. Poker Open as well.
Chad clearly caught Ben Yu's final table but missed the memo on the reasons why Ben was dressed the way he was. Yu impersonated Cary Katz, wearing a button-down shirt combined with a black jacket and PokerGO hat. I'm sure that at this point we're merely a deep Cary Katz Main Event run removed from Chad pulling one of these looks off as well, just like how he did for John Hesp and Michael Dyer in the last two years.
Watching the U.S. Poker Open 25k NLHE final table on @PokerGO, I note the following:
1. All the twentysomething punk wizards are now thirtysomething punk wizards.
2. Ben Yu is wearing a PokerGO baseball cap, probably to get a free subscription; I should try that.

— Norman Chad (@NormanChad) February 20, 2019
A Winner Friendship!
During the U.S. Poker Open, Lauren Roberts became the first female winner of a High Roller Player of the Year event by taking down the $10,000 No Limit Hold'em event for $218,400. Read the feature story on her right here. As seen in the picture below, Roberts also credits poker superstar Bryn Kenney with a lot of her success and it was great to see her take this big one down!
Your friendship has been one of the greatest gifts of my life. ❤️❤️❤️🥰🥰🥰. Thank you @BrynKenney for believing in me! pic.twitter.com/LGX5Ot1VPs

— Lauren Roberts (@PlayPokerLkAMan) February 19, 2019
Farah's Back!
Did she ever really take a break from the action? Farah and Phil Galfond became parents not too long ago, and with Farah fully recovered, she decided to jump back into the big game. Her story on Instagram showed that she battled with Matt Berkey – who seemingly cleaned up the game based on the size of his stack – and we're looking forward to Farah tweeting more pics from the room that's now known as Table 1at ARIA Resort & Casino.
Kitty Update!
Five of a Kind would not be complete without a shoutout to everyone's favorite poker player on Twitter. It's good to know that Kitty's a fan of A Star is Born featuring Bradley Cooper and Lady Gaga and according to her live reads, these two are actually in love. So who am I to question her intuition because she clearly makes much better reads than I do!
I think they should date, the movie is too true to believe they should stay together, sorry I fall in love too much in the movie pic.twitter.com/L9uQOO2EJY

— kitty kuo thomas (@kittykuopoker) February 26, 2019
Suggestions for Five of a Kind? Send them into Poker Central on Twitter. New to PokerGO and ready for some poker action? Subscribe right now and never miss another big moment.