Last night, Lauren Roberts battled her way through the final table of Event #3 of the U.S. Poker Open that included the likes of Koray Aldemir, Stephen Chidwick, Brandon Adams and Sean Winter. Roberts outlasted 91 entries to claim the $218,400 first prize and made personal and poker history. The win was her first live tournament triumph and her USPO victory was the first by a woman. When it was all said and done, Roberts was the happiest player in Las Vegas.
"This is huge for me. I've never won anything before and so especially for women, old people, and for amateurs. I love this game, I played with some phenomenal players and I learn every time I play a tournament. I happened to run good in some of these coin flips and they can make or break a tournament."
Growing Up with Gambling
Roberts grew up with gambling and poker. Her father, who has a Ph.D. in Physics from MIT, loved gambling and became very proficient at counting cards. That skill was used from time to time in Atlantic City, but it was the home poker games that taught Roberts the basics.
When Roberts was a little girl, her grandfather taught her how to play Five and Seven Card Stud. As Roberts began her professional career away from the felt, those games and lessons always lingered. In an interview with Paul Phua Poker, Roberts, who has an MBA from Carnegie Melon, said, "During the poker boom, my dad told me to become a poker player. I was laughing because I was managing a hedge fund at the time."
It wasn't until her life took a dark turn that she listened to her father's encouragement. Roberts was diagnosed with cancer more than a decade ago and after 16 surgeries across a three-year span, she found herself unable to leave her home.
"That's when I started playing poker and I fell in love with the game."
Ascending up the Live Tournament Ranks
Getting deeper and deeper into the game, Roberts eventually made her debut on the actual felt when her father showed her around the live casino environment. Balancing her play between tournaments and cash games, Roberts recorded her first tournament result in 2011 followed by her first results in World Poker Tour and World Series of Poker events in 2014 and 2015.
Prior to the 2019 U.S. Poker Open, Roberts' biggest result was an seven-place finish in the World Poker Tour Five Diamond Main Event in 2017 where she cashed for $173,552. Last night, however, Roberts claimed her first ever live victory in U.S. Poker Open Event #3, a $10,000 No Limit Hold'em event where she beat out 91 entries to capture the first prize of $218,400.
The call and the #USPO win! Lauren @PlayPokerLkAMan Roberts beat @kooraay90 for the Event #3 title!
▶ https://t.co/5rUlItuiNK pic.twitter.com/sO6MtcFA0f

— PokerGO (@PokerGO) February 17, 2019
Trading & Poker: The Same But Different
A successful trader in the financial markets for over three decades, Roberts is no stranger to high-pressure situations, variances and facing the toughest competition. The experience she carries with her from her profession, if anything, has prepared her well when it comes to facing off against the best in the world at the felt.
"The skills needed to do well in the financial markets and poker are identical. It's so so similar, the discipline, the patience, the bankroll management, they are all just very similar. The same concepts can even be applied in both places and I think that a lot of good poker players could do well in the markets."
"My work has prepared me well for everything, including the spankings that you can take in poker sometimes, those brutal bad beats, just like you do in the financial markets sometimes."
While the skills, preparation, and dedication are big factors for Robert's success, it goes without saying that her passion for the game and its players is the driving force that keeps her coming back for more. Roberts says that she plays poker every chance she gets, as a lot of the models she uses for trading have some elements of automation it allows her to play poker on the side.
"I'm lucky, I can do the two things I love the most in the world every day, I'm very very blessed."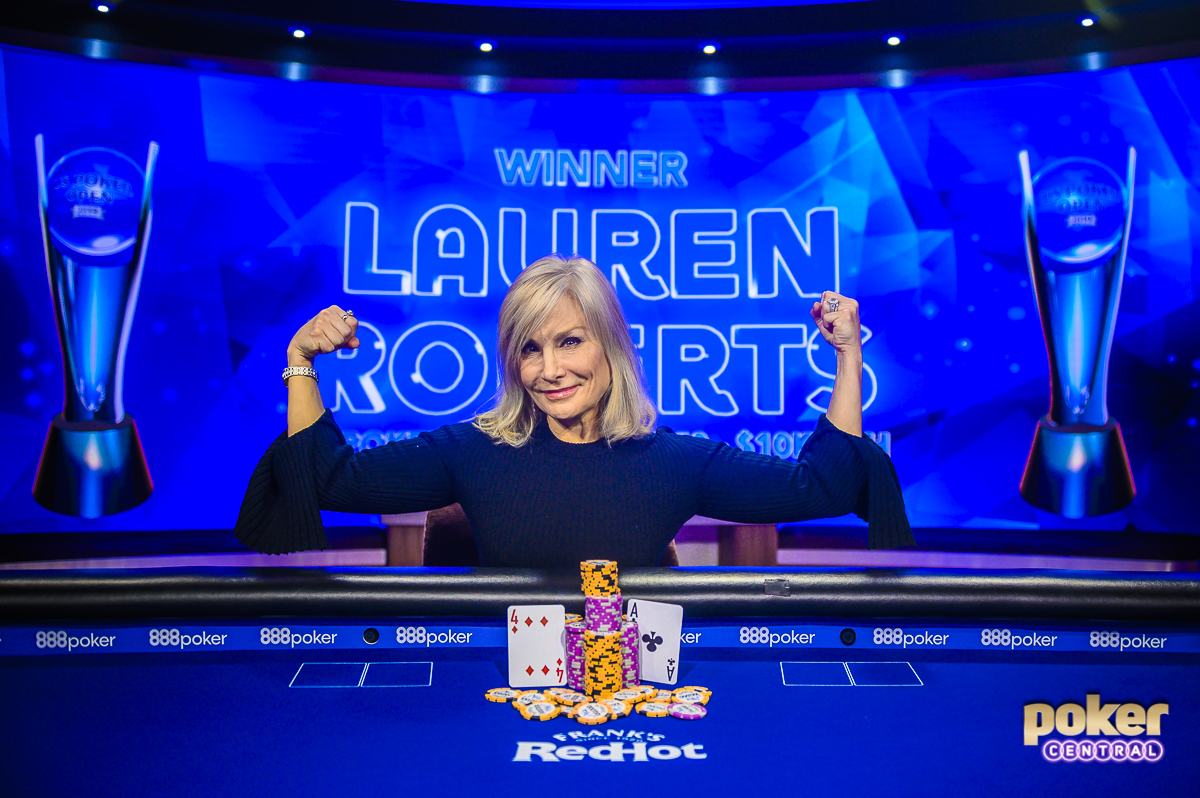 Connecting with the Game on a Deeper Level
Not only does Roberts love the game, but she also relates to its players on a deeper level.
"I love poker players as they march to their own tune. They're very intelligent, fun, and I love the challenge of the game because it's like exactly like the financial markets. There are always multiple ways to skin the cat, multiple ways to do well. You can learn from every player you encounter and it's so challenging."
As Roberts looks into the coming events, she doesn't think she has a real shot at winning the overall U.S. Poker Open Championship and its $100,000 first prize. As the likes of Stephen Chidwick and Sean Winter make final table after final table and battle in games Roberts hasn't ventured much into such as Short Deck and the 8-Game Mix, she will pick her spots and potentially jump into more No Limit Hold'em events later this week.
"Playing at this level brings with it some very valuable lessons and that's another reason why this win is just so amazing. Poker is a hard way to make a living and the best players I know study all the time. These guys work for years and years and years, so just like with anything else, it's worth it when you put that kind of work into it when you finally get a big win."
Last night, Roberts got her first big win and showed everyone that with hard work, study and a combination of fatherly and grandfatherly advice, you can create your own success in a game that ultimately rewards those that refuse to give up chasing a dream.
Watch Lauren Roberts in action during the U.S. Poker Open on PokerGO. New to PokeGO? Subscribe right now. Follow Lauren Roberts on Twitter right here.