As Justin Bonomo notched up another career-defining win on Tuesday night in Las Vegas to close out the 2018 World Series of Poker by taking down the Big One for One Drop for $10,000,000, everyone, himself included, quickly ran out of words to describe the insanity of his last seven months.
Luckily for all of us, we have the numbers.
For a frame of reference on Justin Bonomo's 2018, he's done a number of things that nobody in their wildest dreams could've seen coming. Since the start of the calendar year, 198 days ago, Bonomo has cashed for $24.9 million which would put him ninth on poker's all-time money list. The last seven months in isolation put Bonomo $2.1 million ahead of Phil Hellmuth's career earnings and tied with both John Juanda and Bryn Kenney.
In 2017, Bryn Kenney was the biggest winner in live events cashing for $8.5 million, while the 2016 money-list leader Fedor Holz raked in $16 million. With this win, Bonomo now has locked up the biggest year in the history of poker, eclipsing the $22.3 million-year Dan Colman had back in 2014.
After beating Fedor Holz heads-up in the 2018 Big One for One Drop, Bonomo now leads poker's all-time money list, jumping from third to first, leapfrogging Erik Seidel and Daniel Negreanu, and becoming the first player to eclipse the $40-million mark in career tournament earnings. At age 32, Bonomo seemingly has become a first-ballot Hall of Famer and he struggled to find the words to describe his emotions after now having won the three biggest high roller events of 2018 with Super High Roller Bowl China, the Super High Roller Bowl and today's event.
"Disbelief, happiness, it's all over the place. The adrenaline has been going through me like crazy."
Bonomo was extra excited about taking the number one spot on the all-time money list, but adding context by saying that he doesn't feel as though that list is a measure of who a great player is.
"At the end of the day I feel like this past year I've played fantastic poker, and so much of it has been streamed, been on TV and and on the internet, and people have gotten to see how I've played, and that's something I've been really proud of. I'm not going to say that I'm the best player in the world, but I'm very confident that I'm up there and I'm very proud of what I've done."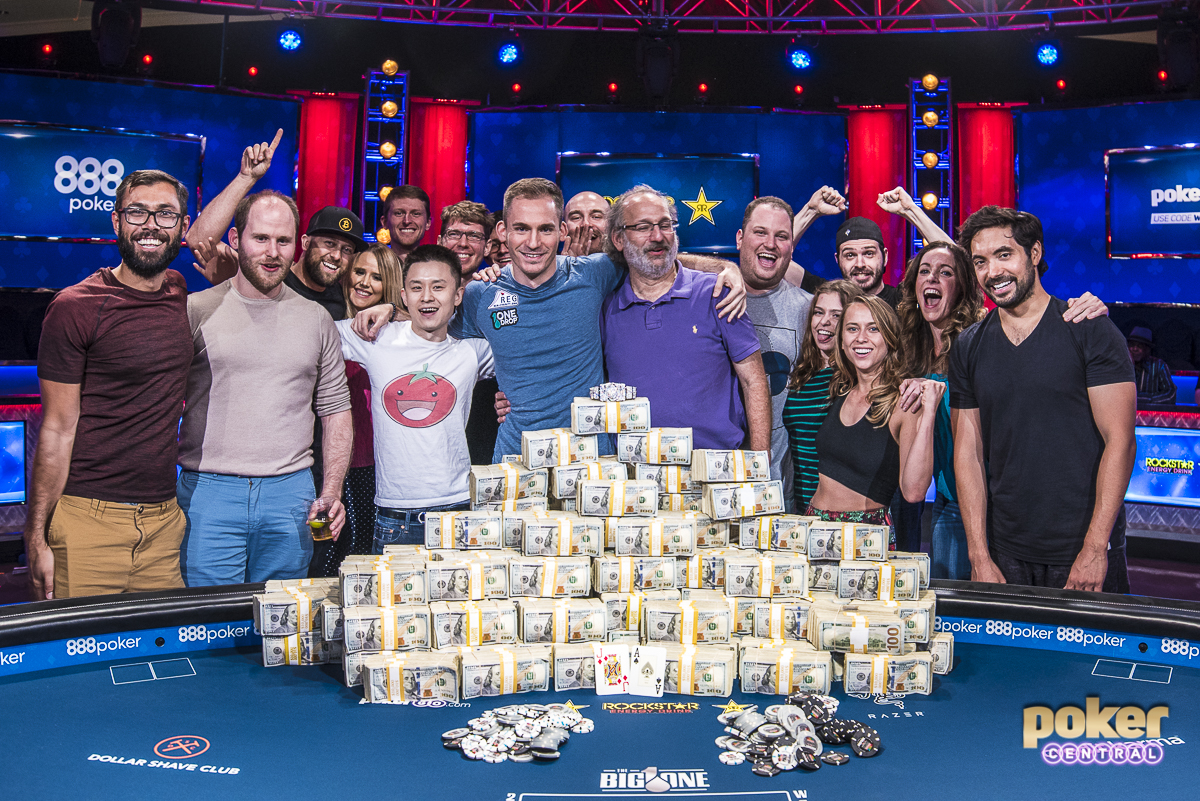 Calling the ability and opportunity to play in this $1,000,000 tournament a great privilege and responsibility, Bonomo took every possible step to be as prepared as he could be. Daily meditation, study and extra rest readied him for this battles against some of the world's best players, and it all paid off as he became the sixth player in poker history to win eight-figures in a single event.
After a series of big wins, Bonomo was able to take a bigger piece of himself in this event, but it being a million dollar buy-in still made him take nowhere near half his own action. In a way, however, being able to share this win with so many of his friends who invested in him, made things extra special.
"I get to share this win with literally hundreds of people because I sold action on the internet as well. Also, some of my closest friends in the world helped me prepare for this, so I'm happy to give back to them, and that makes it feel a lot more special."
During the winner interview on ESPN with Joe Stapleton, Bonomo stated clearly that he's going to donate a large portion of his winnings to the One Drop Foundation, and he spoke glowingly about the work they've been doing by providing clean water to people in need. Bonomo nearly apologized for elimination David Einhorn on the bubble, as the philanthropist is known to donate every single dollar he wins in poker tournaments to charity.
"I will give a lot of money back to charity, but at the same time I'm not as well off as him," Bonomo said about wanting to do well and give back like Einhorn does.
Adding an extra cherry on top for today's victory, Bonomo's father was in attendance watching his son win the biggest tournament of his career. After previous trophies and bracelets ended up in the hands of mama Bonomo, this one went right to his dad.
"It feel really nice to be able to give him an extra special bracelet so he'll have something to keep of his own," Bonomo said about gifting his third-career bracelet to his father.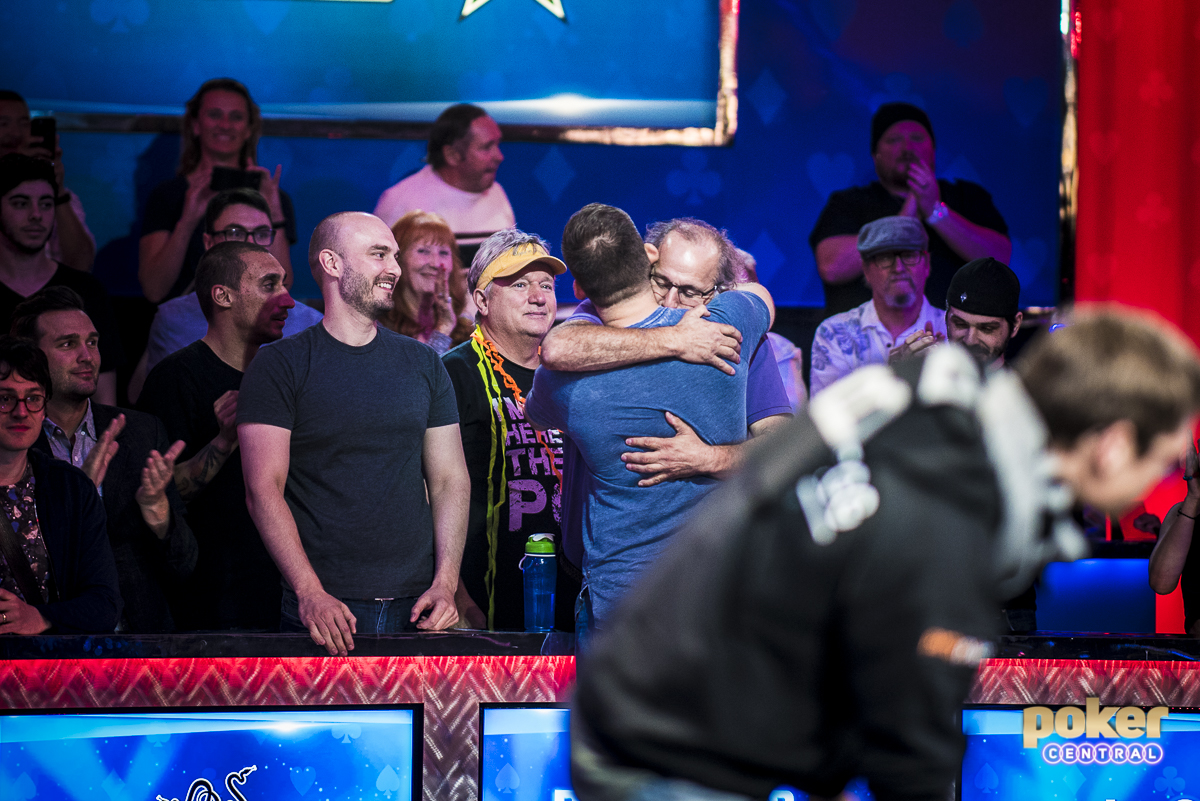 After a stellar seven-month run, Bonomo feels like he has nothing left to prove and looks forward to some much-needed time off, including a return visit to Burning Man. Despite his off-the-charts results, he still doesn't lose sight of how being complacent in poker is not something anyone can afford to do.
"I'll never be complacent with my poker game, I understand that the game is very complex and I have a burning curiosity for any situation in which I don't know what to do. That feeling ignites my curiosity for needing to know the answers, and I think that's one of the lucky factors I've had throughout my career, and it has made me into the good player that I am today."